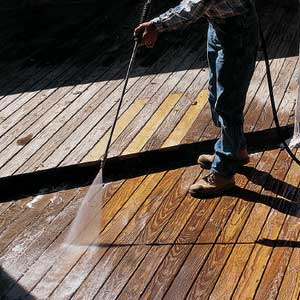 Choosing the Right Cleaner

There are dozens of deck-cleaning products on the market. Most contain one of the following four chemicals as their main ingredient. Each is effective for different types of stains.

Sodium hypochlorite: This chemical—chlorine bleach—is good for removing mildew but isn't effective on dirt or other stains. So mix it with an ammonia-free detergent. Thoroughly rinse the deck after using this chemical because it can eat away at the wood, resulting in fuzzing and premature graying.

Sodium percarbonate: When mixed with water, this chemical forms hydrogen peroxide (an oxygen-based bleach) and sodium carbonate, which acts as a detergent. It is good for removing dirt, mildew and weathered wood.

Oxalic acid: This is effective in removing iron stains and the brown-black tannins that frequently occur with cedar and redwood decks. This acid is commonly found in deck brighteners. Oxalic acid isn't effective against mildew, so you may want to use it after cleaning the deck with a bleach-based cleaner.

Sodium hydroxide: Also known as lye, this is the key ingredient in most finish lifters or removers. Don't leave it on too long, or it can eat away at the wood.

Be very careful when working with any of these chemicals, especially when they're in their most concentrated (premixed) form. Wear the proper safety equipment and follow the manufacturer's directions to the letter. Rinse the surface thoroughly and allow it to dry before refinishing.

D-I-Y CLEANER
Here's a deck cleaner you can make yourself. Recommended by the U.S. Depart-ment of Agriculture Forest Products Laboratory, it's good for mildew and dirt.

•1 qt. sodium hypochlorite solution (household bleach) •1/3 cup powdered laundry detergent •3 qts. warm water

In a 5-gal. plastic bucket, add the bleach and detergent to the water, then brush the cleaner onto the deck. Rinse thoroughly before applying a finish.

Caution: Do not use a detergent that contains ammonia. Ammonia and bleach react to form a poisonous gas.