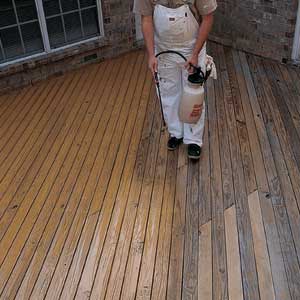 Step 3: Applying the Stain
Once all of the repairs have been made and the deck is clean, it's time to apply a protective finish. Clear finishes and transparent stains are fine for new wood, but for older decks, Starling recommends using a semitransparent stain.

"The grain still shows through, but the pigment gives the old wood a clean, uniform color and helps the new wood blend in," he says. The pigment also provides extra protection from the damaging effects of the sun and will last longer than clear finishes. Unlike paint, stain is absorbed by the wood and does not form a film on its surface, so it will not peel or chip.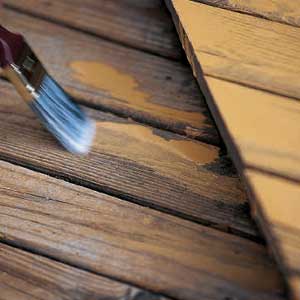 Starling uses a sprayer and 2-in. brush to apply the stain. "Spraying is fast, and puts more stain on the wood than rolling or brushing," Starling says. Most painters and homeowners are better off spraying on a generous coat of stain and then following up with a roller or brush to spread out puddles and work the finish into the wood. Starling, however, uses a modified technique. "Rollers push the stain off the wood and down the cracks," he says. "I don't get paid to paint dirt beneath the deck." Starling sprays on a light coat, most of which is quickly absorbed into the wood. He uses the brush to remove puddles. "If the stain's too thick, it dries blotchy," he explains. Starling recycles the excess stain for use on exposed end grain.

Starling recommends starting at an inside corner and working out, applying the stain parallel to the deck boards. To avoid staining the nearby brick, he uses a small piece of cardboard as a spray shield; the brush provides even more control around deck railings and posts.

This 700-sq.-ft. deck required about 5 gal. of stain — almost twice as much as the estimates indicated on the can. Explains Starling, "Old wood can get thirsty. On some decks, I'll need to apply two or three coats of stain in order to get a uniform finish."

Subsequent coats should be applied while the first coat is still wet or they will not be absorbed into the wood. Stain won't peel, but it can wear away, especially in high-traffic areas. Starling recommends applying a fresh coat every other year. A clear water repellent can be applied between stainings for extra protection.