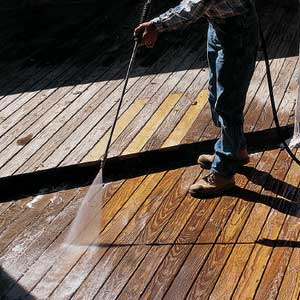 Step 2: Cleaning the Surface

Here's the bad news: Every deck should have an annual cleaning. Assuming they have been maintained regularly, most decks can be revived with just a deck cleaner. Some products, like Thompson's Deck Wash ($10, 1 gal. covers 250 sq. ft.), you mix in a bucket and apply to the deck; others, like GE's Weathermate ($30, 1 gal. covers 500 sq. ft.), come in containers with integral applicators that you hook up to a garden hose. Once on the deck, most still require a stiff-bristle brush and a lot of elbow grease to work the mixture into the wood.

Always wear eye protection and gloves when working with concentrated chemicals. You'll also want to protect nearby plants. The level of plant protection depends on the type and concentration of the chemicals you choose. For weak solutions and "plant-friendly" cleaners, you may need to only mist the plants before and after using cleaning. Powerful deck restorers can burn leaves on contact; in that case you should cover nearby plants with plastic sheeting.

For tackling tough stains, use a pressure washer (about $70 a day). Graf recommends using a fan-type nozzle instead of a pinpoint nozzle that can dig into the wood. For removing the mildew, Graf mixes his own cleaning solution (see "Choosing the Right Cleaner," on the facing page), which he feeds into the intake hose on the washer.

Go over the deck with a stiff-bristle brush, and then rinse. Allow the deck to dry thoroughly before staining.