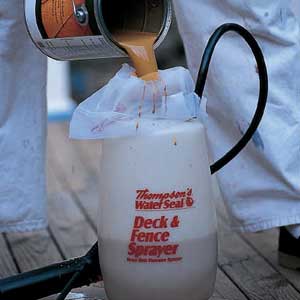 Step 2: Cleaning the Surface
Here's the bad news: Every deck should have an annual cleaning. Assuming they have been maintained regularly, most decks can be revived with just a deck cleaner. Some products, like Thompson's Deck Wash ($10, 1 gal. covers 250 sq. ft.), you mix in a bucket and apply to the deck; others, like GE's Weathermate ($30, 1 gal. covers 500 sq. ft.), come in containers with integral applicators that you hook up to a garden hose. Once on the deck, most still require a stiff-bristle brush and a lot of elbow grease to work the mixture into the wood.
Always wear eye protection and gloves when working with concentrated chemicals. You'll also want to protect nearby plants. The level of plant protection depends on the type and concentration of the chemicals you choose. For weak solutions and "plant-friendly" cleaners, you may need to only mist the plants before and after using cleaning. Powerful deck restorers can burn leaves on contact; in that case you should cover nearby plants with plastic sheeting.
For tackling tough stains, use a pressure washer (about $70 a day), which is the best way to remove sun-damaged wood fibers and tackle scrub-resistant stains. Graf recommends using a fan-type nozzle instead of a pinpoint nozzle that can dig into the wood. For removing the mildew, Graf mixes his own cleaning solution (see "Choosing the Right Cleaner," on the facing page), which he feeds into the intake hose on the washer.
Go over the deck with a stiff-bristle brush to work the cleaner into the wood fibers, and then rinse. The boards should be kept damp in order for the cleaning solution to work effectively. Allow the deck to dry thoroughly before staining.
Choosing the Right Cleaner
There are dozens of deck-cleaning products on the market. Most contain one of the following four chemicals as their main ingredient. Each is effective for different types of stains.
Sodium hypochlorite:
This chemical—chlorine bleach—is good for removing mildew but isn't effective on dirt or other stains. So mix it with an ammonia-free detergent. Thoroughly rinse the deck after using this chemical because it can eat away at the wood, resulting in fuzzing and premature graying.
Sodium percarbonate:
When mixed with water, this chemical forms hydrogen peroxide (an oxygen-based bleach) and sodium carbonate, which acts as a detergent. It is good for removing dirt, mildew and weathered wood.
Oxalic acid:
This is effective in removing iron stains and the brown-black tannins that frequently occur with cedar and redwood decks. This acid is commonly found in deck brighteners. Oxalic acid isn't effective against mildew, so you may want to use it after cleaning the deck with a bleach-based cleaner.
Sodium hydroxide:
Also known as lye, this is the key ingredient in most finish lifters or removers. Don't leave it on too long, or it can eat away at the wood.
Be very careful when working with any of these chemicals, especially when they're in their most concentrated (premixed) form. Wear the proper safety equipment and follow the manufacturer's directions to the letter. Rinse the surface thoroughly and allow it to dry before refinishing.
D-I-Y CLEANER
Here's a deck cleaner you can make yourself. Recommended by the U.S. Department of Agriculture Forest Products Laboratory, it's good for mildew and dirt.
• 1 qt. sodium hypochlorite solution (household bleach)
•
⅓
cup powdered laundry detergent
• 3 qts. warm water
In a 5-gal. plastic bucket, add the bleach and detergent to the water, then brush the cleaner onto the deck. Rinse thoroughly before applying a finish.
Caution:
Do not use a detergent that contains ammonia. Ammonia and bleach react to form a poisonous gas.