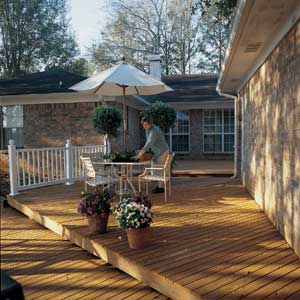 Barbara and Phil Johnson, of Mobile, Alabama, faced the same problems other deck owners do. Over the years, the elements as well as their kids and pets took a toll on their backyard deck. The damage and the appearance were bad enough for the Johnsons to consider ripping the whole thing up and starting over.

But before taking that drastic step, they spoke with Danny Lipford, owner and president of Lipford Construction in Mobile, for advice. According to Lipford, the Johnsons' deck was in better shape than many others. "This area of the country is tough on decks," he says. "I'm sometimes asked to replace pressure-treated decks that are less than eight years old." He adds, "Most of these decks are victims of neglect. With regular maintenance, a deck will easily last for twice as long." The good news is that most decks, like this one, can be rejuvenated for a lot less than the cost of replacement.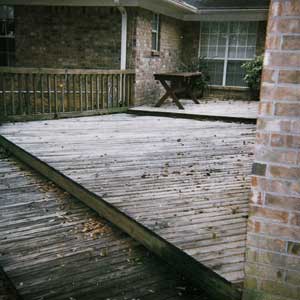 Following are some techniques you can use to give an old deck a new lease on life, or to help maintain the look of a new one. For this project, we enlisted George Graf, a lead carpenter with Mobile's Lipford Construction, and John Starling, owner of John the Painter. Hiring pros is easy on the schedule but hard on the budget—the cost of repairing a 700-sq.-ft. deck is $700, or about $1 per square foot. Doing the work yourself will cost a third as much.

A project like this can be done in two days, but it's best to spread the work over two weekends to ensure the wood is completely dry before you apply stain.