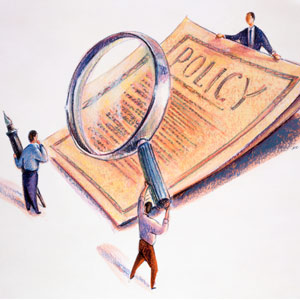 Reviewing your homeowners policy may not rank high on your annual home-maintenance checklist. Yet following the five steps below will save you big bucks now and a lot of grief down the road. After the recent slew of natural disasters, average annual premiums are expected to surpass $1,000, with some owners likely to see double-digit rate hikes. Haven't taken a close look at your policy lately? Then dust it off and make insurance your next project.

Measure How Much Coverage You Need

Your No. 1 priority must be the house itself. "Possessions, living expenses, and liability should all be secondary," says Amy Bach of United Policyholders, an insurance advocate group.

Don't base your coverage level, though, on the home's appraised value, which includes land costs. Instead, says Kevin McCarty, president of the National Association of Insurance Commissioners, use the recent per-square-foot replacement costs in your area, available from your local homebuilders association. The difference can be sizable. In New York state, land makes up 9% of the average home's value, according to the Lincoln Institute. In Hawaii, it represents more than half.

Is your area prone to natural disasters? Price out extended or guaranteed replacement policies, which protect you from inflated labor and material costs following such catastrophes.