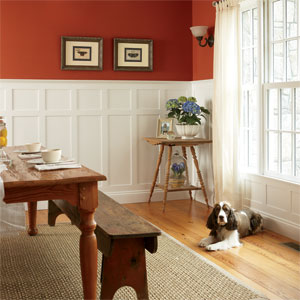 A house with good bones has pleasing lines on the outside, but that artful composition has to be echoed on the inside, too. And nothing's better for giving rooms a handsome, well-built look than wainscoting on the walls.

A combination of decorative boards or panels and moldings that extend partway up a wall's face, wainscoting is a centuries-old marriage of form and style. Dating to the 1300s, the Dutch used it to shield the bottom half of plaster walls from such hazards as jostled chairs, spurs on riding boots, perhaps even carelessly swung scabbards. Wainscoting still guards our walls, but today it's from dirt-caked gardening shoes in mudrooms, olive-oil fingerprints in kitchens, and the inevitable scuffs in the close quarters along hallways and stairways.

Covering your walls with wainscoting made from stock boards—or "sticks"—and panels is easy to do yourself, if you know your way around a chop saw. And if you don't, there's wainscoting that arrives on your doorstep fully assembled and ready to install. On the following pages, we show these and other products and some basic design options, plus a how-to plan for creating a pleasing layout. Just the kind of knowledge you'll need to boost the architectural integrity of any bare walls in your house.