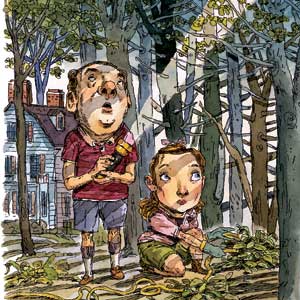 CREEEAAK, CREEEAAK, CREEEAAK... The sound of trees swaying in the wind can be pretty ominous, especially if they sometimes come crashing down within inches of your painstakingly ­renovated home. Just ask Sandy Herbert, a lawyer who lives in a Colonial Revival home built in the early 1900s on a heavily wooded acre in Englewood, New Jersey, and her husband, John.

After more than 20 years spent restoring her three-story ­fixer-upper, Herbert decided it was time to take on the menacing forest of dark trunks she stared at from her kitchen window. "Every time there was a storm, we'd have trees down," says Herbert. "None had fallen on the house, but we knew it was just a matter of time." The last straw came when an enormous one landed right behind the house and made a huge dent in the lawn.

The Pro Steps In
The Herberts called Denny Wiggers, a horticulturalist and landscape ­contractor they'd hired once before. His diagnosis was swift: Dead Backyard Syndrome. "The yard was full of tulip trees, a fast-growing variety related to the ­magnolia," Wiggers says. "They were lanky and poorly branched because they were fighting for light." Over the years, he guessed, tree seeds had simply sprouted where they fell, ­creating a crowded canopy that blocked the sun. "Even a mild storm could have spelled disaster for the house," he notes.

Rather than bulldozing the yard flat, though, Wiggers suggested getting rid of five particularly scrawny 80-foot tulip trees. Doing so would let the healthier trees thrive and allow the scraggly lawn to fill out. The Herberts doubted his strategy would work, but when Wiggers showed them the yards of some of his clients, which had healthy trees arched over beautiful lawns, they decided to give it a shot.