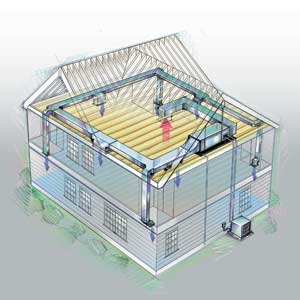 Whether summers are really getting hotter or we've lost our tolerance for heat as we grow older, lots of us are tempted to yank out noisy, dripping window air conditioners and replace them with quiet, efficient whole-house central-air-conditioning systems. But we don't take the idea any further. Those of you with forced-air furnace ducts in place worry that modifying the heating system will be costly and result in inefficiency. And if you don't have ducts, you can't imagine how they're going to be added without destroying the house and costing a bundle. But installing central air is easier and less costly than you might think.

When added to an existing forced-air heating system, central air for a 2,000-square-foot home costs $3,500 to $4,000 and can be done by two technicians in two to three days, often with little or no change to the ducting.

For a house that needs ducts, the costs and work time double. But a contractor experienced in retrofitting can cleverly hide ductwork behind walls, in the back of closets and up in the attic with minimal cuts into walls and the ceiling and very little mess.

Selecting a Unit
The first order of business — and maybe the most important decision in having central A/C installed in your home — is selecting the right equipment.

Heat-gain calculation. All cooling contractors should start their evaluation of your house by performing an Air Conditioning Contractors of America Manual J load calculation. This determines the heat gain your home is subject to. The calculation is relatively easy to perform and will reveal what size unit you need. Move on to another contractor if the one you're considering wants to determine the right unit for your house solely on experience. Though strongly influenced by where you live, several factors affect the size unit required, including the amount of wall and attic insulation you have; the types and placement of windows and doors; and the orientation of your home to the sun. The calculation can also alert you to the possible benefits of upgrading the insulation in your house. By making your home more energy efficient, you may be able to reduce the size of the air conditioner you need.