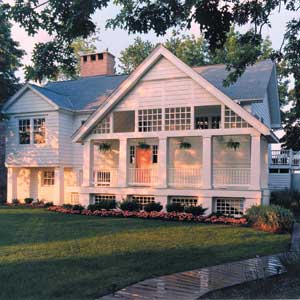 Real estate agents like to say that the three things that determine the value of a house are location, location and location. But they also talk about "curb appeal"—the impression a house gives when you first approach it. It also helps determine value and makes a house feel like home.

That's where an exterior face-lift comes in. At the very least, this type of remodel can correct previous design mistakes. Something as basic as using new paint colors can update an outmoded home. A plain exterior can be made more distinctive by adding a package of coordinated trim. Inappropriate siding treatments—that horrible diagonal planking of the 1970s comes to mind—can be replaced with something more appropriate for your home. Or you can go for the truly dramatic by adding porches or dormers to totally change the character of your house.

Changes like the ones shown here are also a plus if you put your home on the market. Charlette Seidel, a branch sales manager in the Coral Gables, Florida, office of Coldwell Banker Residential Real Estate, reports that more than half of the calls to her office are from potential buyers who have been attracted to a home just on the basis of driving by. "Curb appeal is vitally important," she stresses.

What's a project of this nature going to run you? Obviously, costs will vary a lot, depending on the scope of the project. Assuming that there's more than a coat of paint involved and barring any unforeseen structural problems, you can spend anywhere from a few thousand bucks up to $10,000 or more to make full-blown changes in the siding or entryway design. Here are some midrange examples of contractors' fees and materials:
•A residing job that uses 2,200 sq. ft. of cedar clapboard runs $20,000. In stucco, it's about $16,000.
•A 24-by-16-ft. wraparound porch costs $5,000 to $6,000.
•A 4-ft. vinyl-sided, gable dormer runs in the neighborhood of $2,000. A 12-ft. shed dormer is $5,500.


Doing some of the work yourself will help bring costs down.