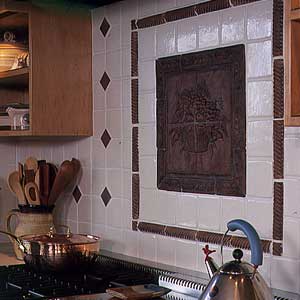 Backsplashes began life as functional conveniences — easy-to-clean surfaces that protect kitchen walls, especially those behind the cooktop, sink and prep area. But it didn't take long for kitchen designers and homeowners to realize that a distinctive backsplash can also help a kitchen look great. That means you can add real flair to your kitchen with relatively little fuss, because installing a backsplash is a project you can tackle without disturbing other elements in the room.

There are no real rules governing backsplashes. Besides selecting a material (or materials), you have to decide how "long" the run should be. Wrapping the backsplash around the entire room gives a sense of visual continuity, which could help a small space seem larger. The opposite approach—panels behind specific areas like the range or sink —highlights and draws attention to these areas.

The other choice is how tall the treatment should stand. A backsplash that runs all the way up to the bottom of the wall cabinets gives the room a finished quality. As for a low backsplash, Karen Thompson, a design consultant for a branch of The Home Depot in Atlanta, says, "I don't recommend the standard 4-in. backsplash because it adds another horizontal line to a room that's full of them. Also, the wall has to be finished off with paint or wallpaper, which isn't very durable."

Because a backsplash bridges the counter and cabinets, choose a material and color that work with those elements. Complementary colors or variations on a dominant color give a traditional look. To liven up the room, add some contrast, like a stainless backsplash with cherry cabinets, or a checkerboard of dark and light tiles. Consider texture, too. Rough finishes add a casual flavor, while slick, shiny surfaces emphasize elegance and a contemporary feeling.

This roundup will show you how several backsplash materials stack up when it comes to installation, cost and maintenance.