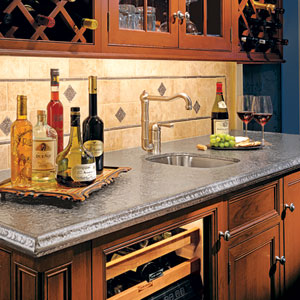 For many homeowners, it's an answer to the old, 'Every time I have a party, everyone ends up in the kitchen,'" says Jay Haverson, a Greenwich, Connecticut, architect who has designed half-a-dozen built-in bars in the last year. But that mental image of a paneled basement rec room, foosball tables, and Uncle Herman's beer mug collection? Forget it. Today's bars sit in high-visibility areas off the kitchen or great room and often feature custom cabinets and top-of-the-line fixtures and fittings. Some are plumbed butler's pantries that stand ready to serve up snacks and hors d'oeuvres, while others are nothing more than doorless closets with access to a waterline. And there's still a call for sit-down bars—whether connected to the kitchen or a home theater.

Wet or dry, large or small, built-in bars suit time-pressed homeowners who want an inviting and accessible entertaining zone for friends and family—and who appreciate dedicated storage for all the accoutrements. Because behind those cabinet doors aren't just shot glasses and single malts, but also wine coolers, keggeries, icemakers, dishwashers, plasma televisions, and other accessories that transform an ordinary space into the life of the party.

Butler's Pantry Bar
Constructed as built-ins or to resemble oversized furniture pieces, these wall-spanning wet bars (sometimes called buffets) transform a transitional space near the kitchen or dining room into an efficient entertaining area. While it's obvious that upper cabinets hold wine glasses and beer steins, guests might not know that icemakers and bottle-cooling drawers are often concealed behind the fine cabinetry. And that's the idea: great-room polish with kitchen function. A long countertop with the sink positioned at one end makes party-food prep more convenient. Handsome stone countertops provide a durable, stain-resistant work surface that's easy to wipe clean. Often, materials are slightly upgraded from what's in the kitchen, since here they're on public view.

How's the Wiring?
Electrical capacity is an important reality check when designing a wet bar that's going to include appliances. Just as your plumber will work out waterline and drain access, an electrician will determine whether your circuit will be overloaded if you put in another fridge, microwave, or other energy-eaters. You might need to add a new circuit, and if your bar's going to include an oven, don't forget the 220-volt line. Also, plan as many electrical outlets as you'll need for small appliances such as a blender.