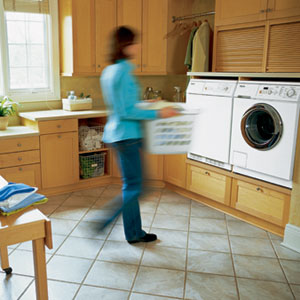 As you work your way up that list of fall home-improvement projects, remodeling the laundry room may not rank. But considering that the average American family does — gulp! —400 loads of laundry a year, maybe it should. Fact is, more homeowners are calling on architects and designers to help upgrade those often dim, dank, and unwelcoming spaces where they while away so much of their lives.

"The laundry room has turned into the hamper, the mudroom, the catch-all storage area," says Duo Dickinson, an architect in Madison, Connecticut, who adds home office, craft room, indoor potting area, and pet-washing station, to that, well, laundry list. And now, tricked out with first-class features such as custom cabinets, built-in ironing boards, and purr-quiet machines, the new harder-working laundry room is (when possible) migrating from the isolated basement. Find it on first and second floors, where the washer is just a dishrag's throw away from the kitchen, or a diaper's toss from the nursery.

So now that we've made our case for elevating that lowly laundry room, This Old House can help you brainstorm your how-to plan. In the following pages check out three design challenges, more than a dozen storage solutions, and some important safety and installation tips.