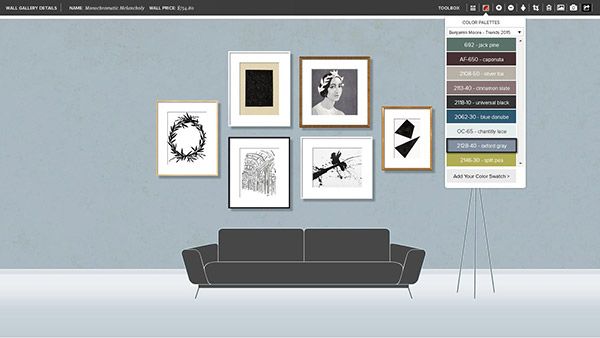 Published June 6, 2015
The hardest part of hanging a perfect gallery wall is determining what goes where before making unnecessary holes. There's the template method, if you already have your pieces of art. (Read more about that in How to Hang a Collection. However, a new app from Artfully Walls called Try on Wall hits on the process a bit earlier by helping you do a mock-up of your wall before you purchase the art and frames.
Users can work from the default template (shown here) or upload their own room images for trying art on for size. The app also takes the guesswork out of how the art will look against your room's paint job. You can toggle between paint color selections from Sherwin-Williams, Benjamin Moore, and Better Homes and Gardens. The collections can be searched by paper size, price, and style, among other categories. From there, you can select the print size to use on the workspace. On the workspace, you can click and drag the images, add mats and frames, and view the total price for your creation.
The free app is available on desktop and mobile in the Apple app store.
Art shown (clockwise from top left): Black Glitter Etching by Anna Ullman; About $24-$61. Young Lady by Tali Yalonetzki; About $20-$54. Out of Shape by Anna Ullman; About $27-$37. Splat by Elaina Sullivan; About $35-$77. Grandeur by Caitlin McGauley; About $53-$105. Black Wreath by Kate Roebuck; About $24-$61.
Find ways to make your wall-art choices flow from one room to another with tips for decorating large spaces with wall art.
Cover up any gallery-wall mistakes by watching This Old House TV general contractor Tom Silva patch drywall,