The Anti Man Cave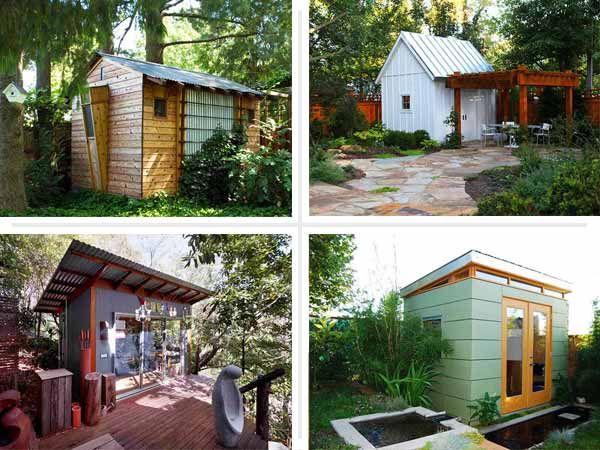 The masses have gone wild over "she sheds." These personal getaways are the alternative to the man cave, a place for women to read, relax, practice a hobby, or pot up plants, among other solo activities. Whether you're building from scratch or sprucing up an old outbuilding, these ideas from around the Web will bring personality and function to your new favorite space and ensure it will serve your changing needs over the long haul.
Put In a Charming Patio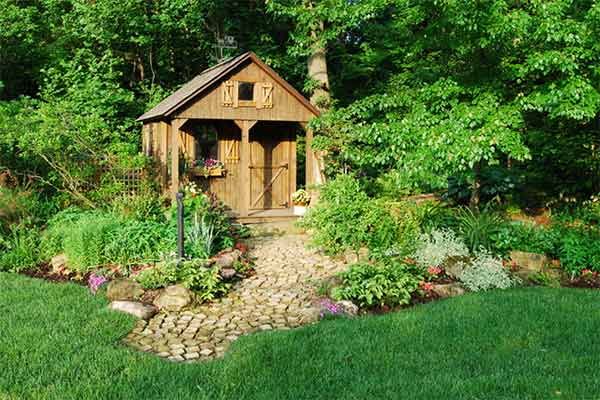 Set the tone for the cozy escape by laying an inviting patio. This carefully landscaped site is part of a series of outdoor rooms designed by Landscapes by Dallas Foster, Inc. in a client's backyard.
Watch This Old House landscape contractor Roger Cook install a brick patio to copy this look.
Install a Pond as a Privacy Moat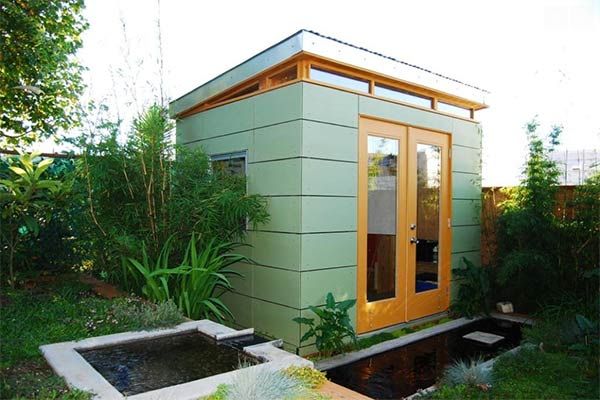 Feel free to work with the doors open, knowing that your pond-as-moat is deterring intruders from trespassing into your sanctuary. This Zen-inspired artist retreat, with a shed by Modern Shed Company and construction by BMF Construction, is the focus for a cottage's sunken backyard.
Read everything you need to know about backyard ponds for creating your own Zen retreat.
Tack On a Pergola for Entertaining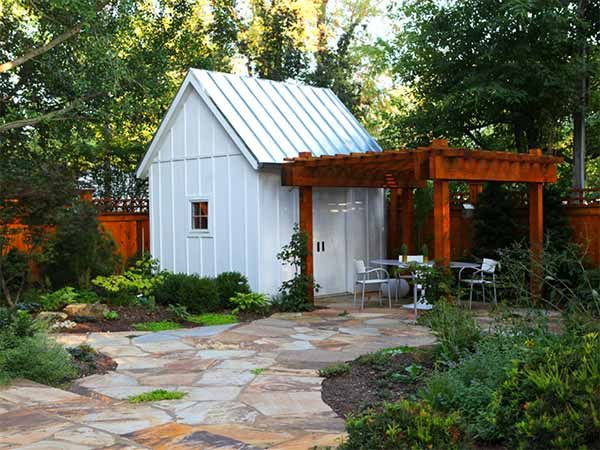 Behind closed doors the she shed is all your own, but an accompanying pergola extends its utility to a social space worthy of outdoor parties. This shed, designed by ONE 10 STUDIO Architects, echoes the modern design of the homeowner's nearby renovated farmhouse with modern sensibilities.
Draw inspiration from our favorite reader pergolas for your own shed-adjacent outdoor room.
Add a Green Roof for a Lively Look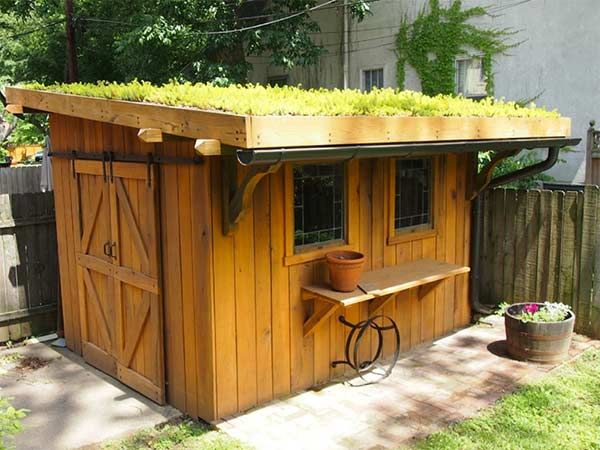 Maximize a tiny backyard with a shed equipped with a living roof full of edibles. The Graham Design & Construction–designed shed is decked out with sliding barn doors and shapely brackets that help support the lofty garden's weight.
Read how to build a sliding barn door and grow edibles to get this look.
Attach It to a Deck for Easy Access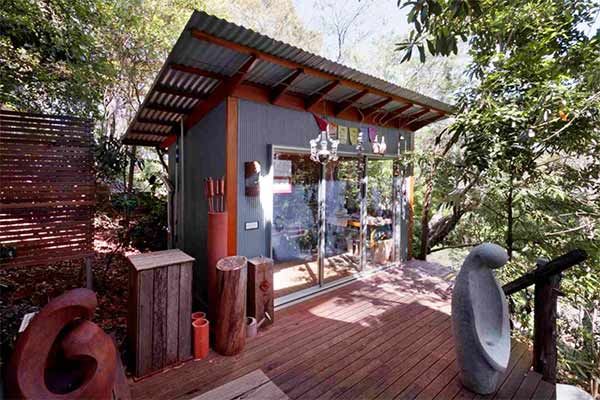 Create a cohesive outdoor space by positioning a she shed adjacent to your existing deck. When the folks at Your Abode built this artist's studio, they left less to the imagination by installing sliding glass doors for drawing creative inspiration from the scenery.
Get inspiration for your own work of art by watching TOH general contractor Tom Silva build a small deck and install a sliding glass door.
Build Out a Porch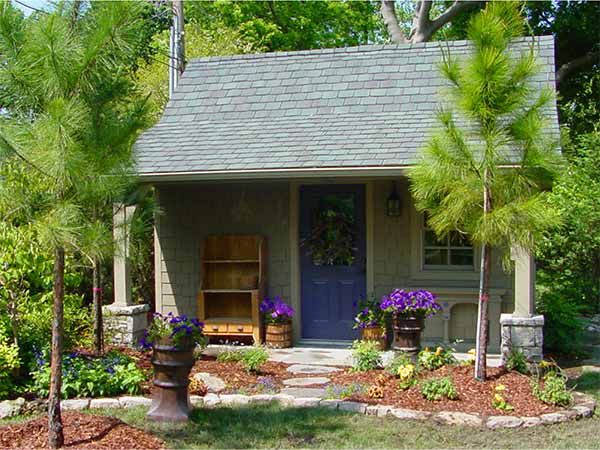 Curb-appeal tricks work on sheds, too. A porch and its decorative contents—container plants and a weathered hutch—step up the warmth on this redesigned shed. Kingdom Landscape added loblolly evergreens that look picturesque, even during Tulsa winters.
Watch Roger create a container garden and follow easy directions for giving an old hutch a sun-bleached tone to recreate the porch's decorative elements.
Choose Natural Materials for a Cohesive Look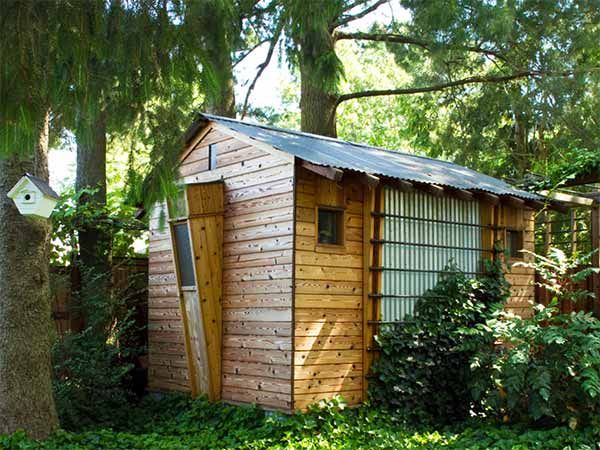 Count on a well-built garden structure—including a she shed—to stick around for a while. A colorful paint job may appeal to some, but in a small backyard, using natural materials just feels right. This Princeton Design Collaborative–designed storage pavilion coordinates with the property's fence and arbors.
Keep it in the natural-color family by watching Tom install cedar shingles and learning how to build a trellis.
Install a Lofty Shelf for Corralling Collections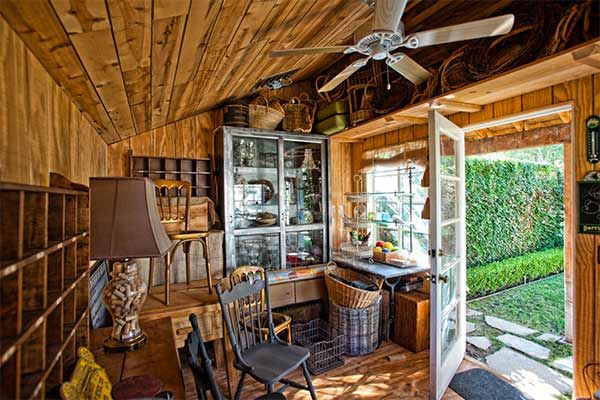 Go-to small-space storage solutions can truly shine in a shed. Here, a high shelf that runs the length of the structure provides plenty of room for a generous basket collection. The backyard shed, part of a larger project by De Bilt Home Builders, offers a cozy refuge full of antique finds.