Porch Flooring Materials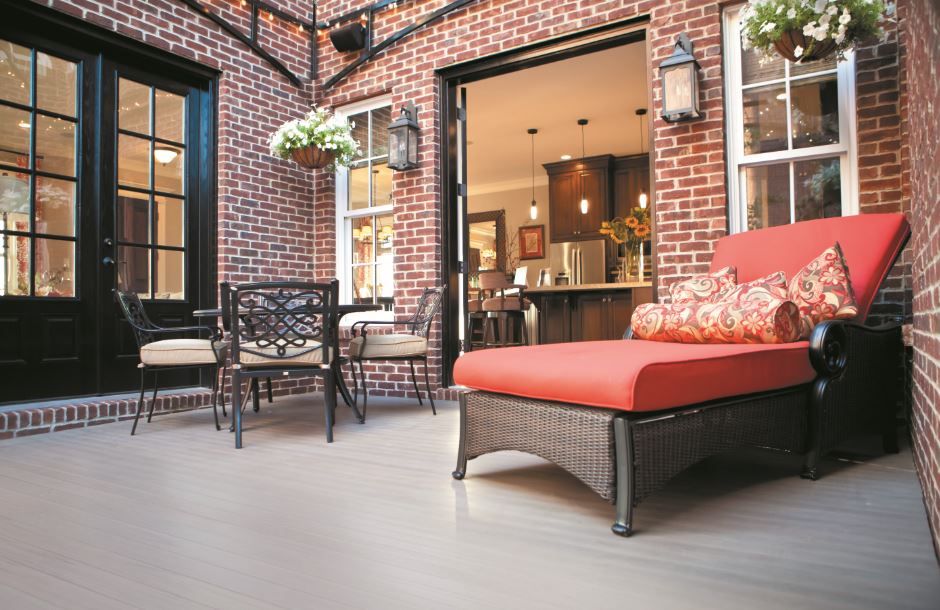 One of the biggest concerns that homeowners have with tongue-and-groove products is thermal expansion and contraction. And this concern is not limited to natural wood: Even some of the higher-priced cellular PVC products are subject to the adverse effects of movement caused by temperature fluctuations.
Aeratis has come up with a proprietary manufacturing process and formulation that guarantees its product will not expand or contract, so it will never buckle, cup, or warp, making it uniquely appropriate for both covered and uncovered applications. And since it does not have any of the warping or imperfections of real wood, it's easier to work with, for a quicker and more cost-efficient installation. It's also the only wood alternative that can be stained or painted in any color, for a truly authentic wood look that stands up to the elements—as well as the scrutiny of the most discerning homeowners, architects, and builders.
Double Duty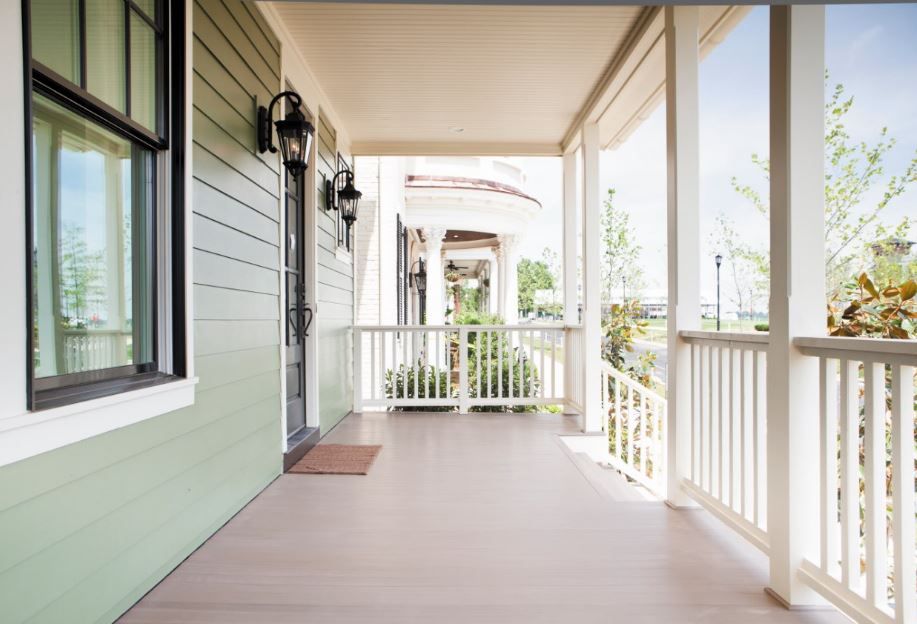 If you've got a second-story porch, you'll want it to look as pretty looking up from below as it does from underfoot. Shown here, Aeratis Heritage is a unique, double-sided board that offers a finished beadboard ceiling look from underneath.
Classic Color Palette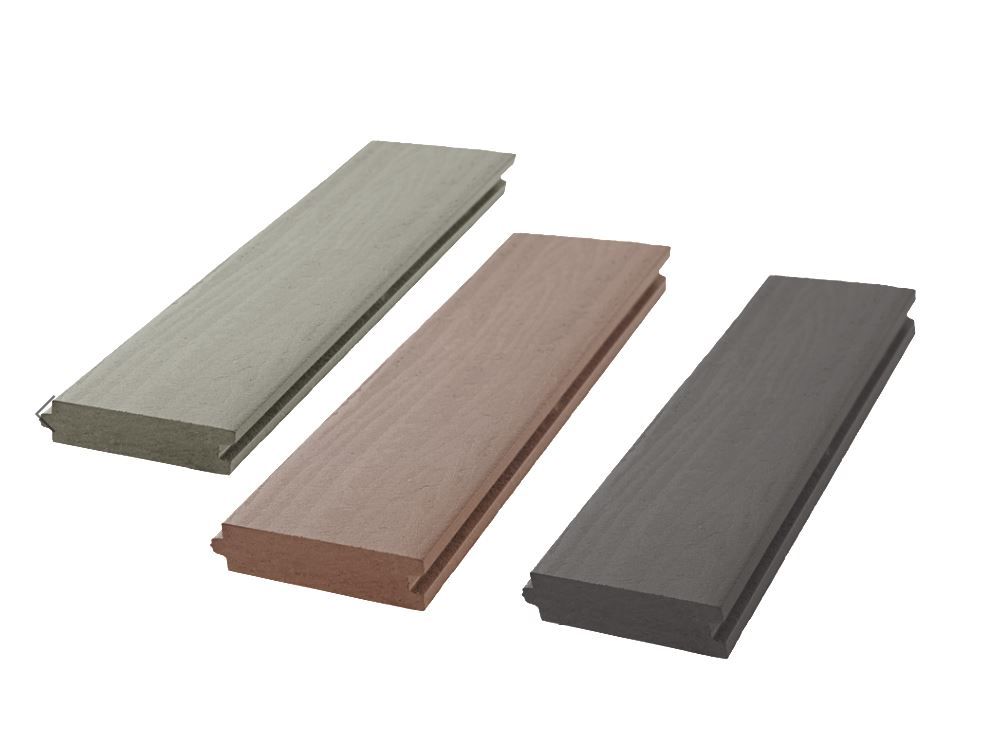 Available in three prefinished colors (Battleship Gray, Weathered Wood, and Vintage Slate), Heritage boards are made with slight color variations along with subtle, random streaking to match the richness and depth of natural wood. ADA slip-compliant, both wet and dry. Aeratis Heritage tongue-and-groove porch flooring boards measure 3-1/8″ wide, 7/8″ thick, and are available in 10′, 12′ and 16′ lengths.
Painted Porch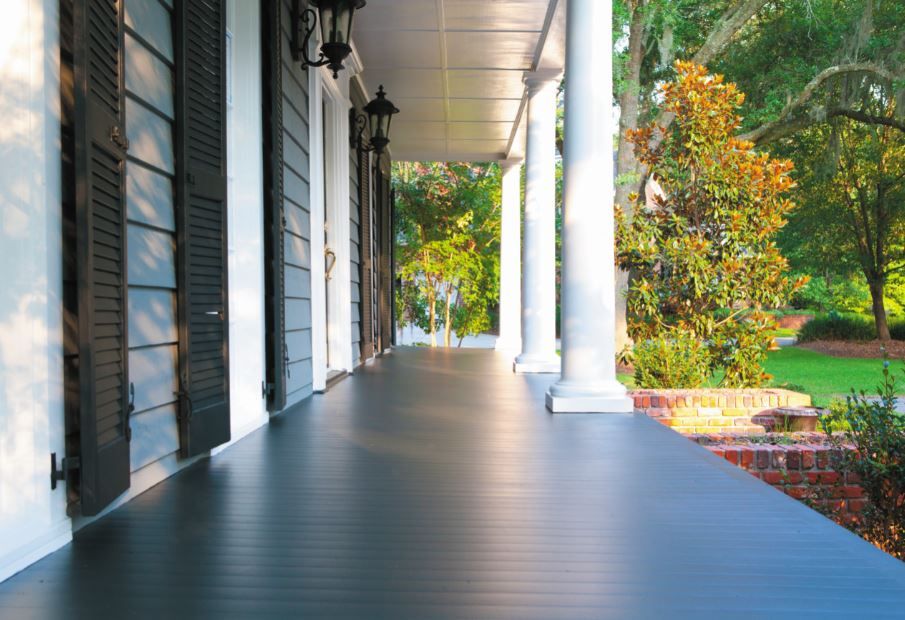 If you want the benefits of a lower-maintenance porch with a traditional, painted wood look—and you don't want to be limited to prebaked color choices—Aeratis offers the only wood-alternative flooring product that can be painted or stained in any color. And with a 5-A paint-adhesion rating, it has the strongest paint adhesion in the industry*.
TIP: Painting Traditions flooring is not like painting wood; click here for the complete Aeratis Stain & Paint Guide to achieve the color you want.
* Traditions flooring requires paint or stain to maintain the warranty.
Wide Plank
In the early 1800s, porch floor planks were much wider than you typically see today, and wide plank floors are making quite a comeback both indoors and out. An added benefit? Wider profiles cut installation time in half, so property owners can receive the cost savings from installation, as well as a more competitive cost per square foot.
Did you know? Aeratis is the only wood alternative approved in 48 states for historic restorations and restorations on National Register properties.
Shown: Aeratis Legacy 6-Inch Floor Planks
Finishing Touch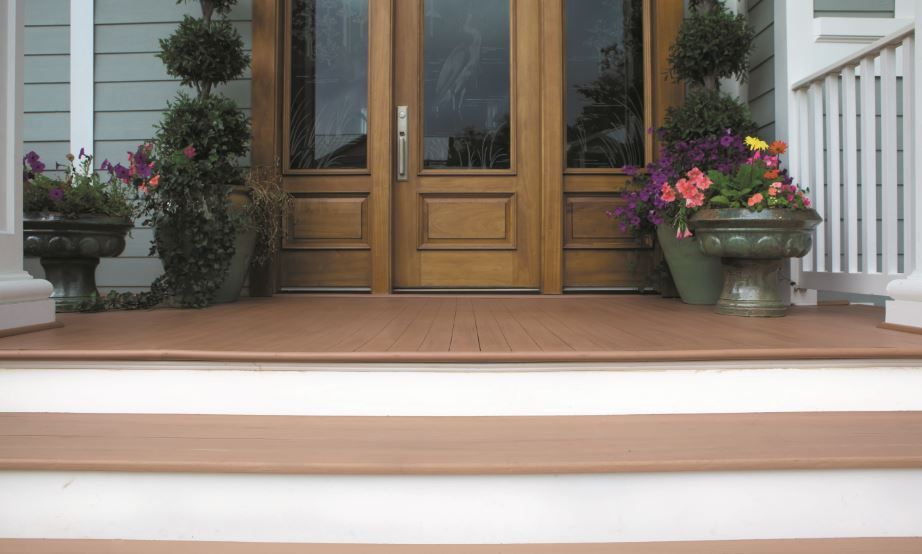 Bullnose edges enhance the look of your steps, but they also assist in the shedding of water from the surface, and reduce the risk of tripping, which means they're ideal for stair applications or seamless frame edges. Pre-shaped pieces make easy work of finished edges.
Shown: Aeratis Universal Porch Planks
Porch Ceiling Materials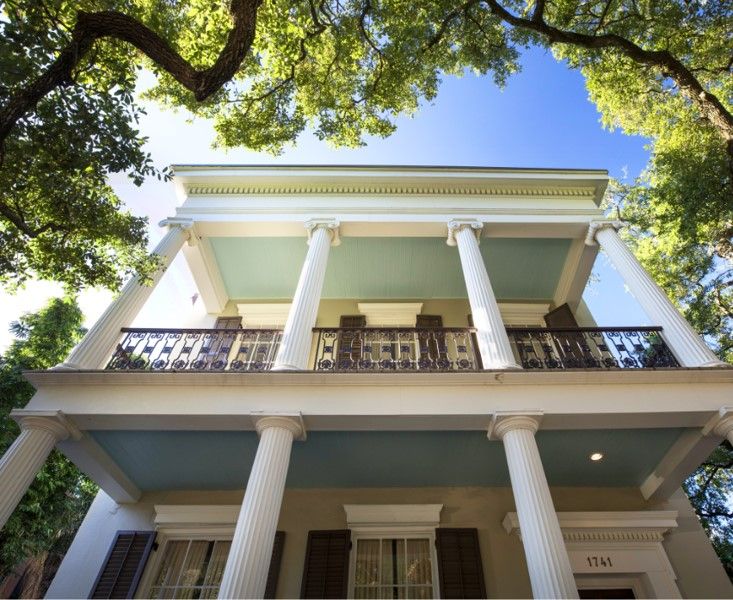 Authentic wood paneling certainly adds charm to your porch ceiling, but it can rot and warp from humidity and excess moisture. Aeratis Traditions Beaded Ceiling/Wainscoting is a historically accurate, double-sided, paint-ready PVC ceiling product that will capture that same traditional beauty, without the traditional upkeep. And Aeratis Ceiling Board is the only tongue-and-groove synthetic ceiling product that can be installed with a joist span of 24″ on center, saving time and money during the installation process and dramatically reducing the overall construction cost.
Shutters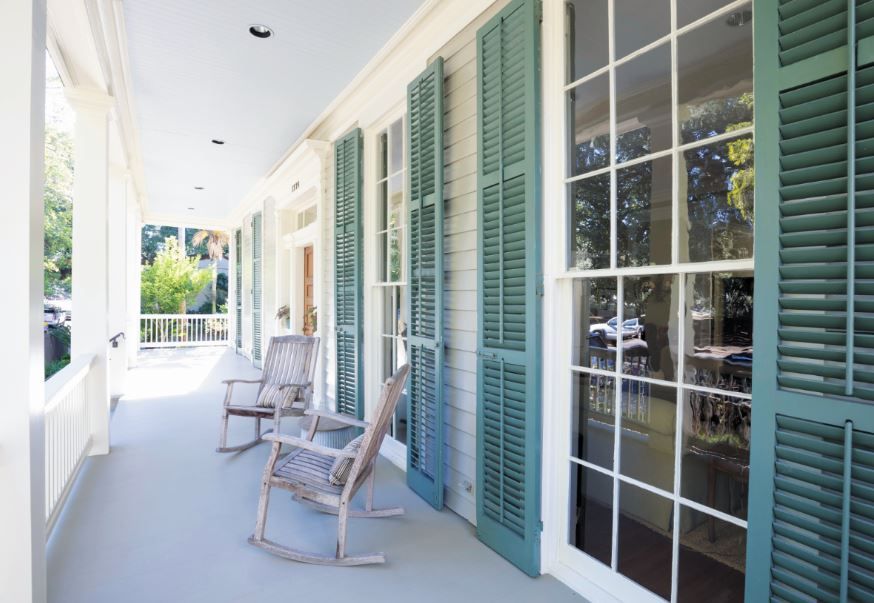 For many years, consumers have been limited to two choices when it comes to shutters: the cheap, plastic, bolt-to-the-wall kind, or very expensive, custom wood shutters. With the introduction of the Aeratis Shutters Program, a pair of custom-sized shutters can now be purchased, with a lifetime warranty, for close to the same cost as bolt-to-the-wall shutters. And not only are Aeratis shutters proportional, durable, and historically accurate, but they are fully operable, and come with stainless-steel hardware that allows the shutters to actually open and close.
With these flexible options, you can purchase Aeratis custom shutters at a price point that fits any budget:
Shutters-In-A-Box: Ready to cut, assemble, paint, and hang
Pre-Assembled: Custom-sized shutters arrive assembled, ready to paint and hang
Ready to Hang: Already assembled to custom size, painted, and ready to hang with included hardware
For a closer look at Aeratis shutters, click here.
Shutters That Actually Shut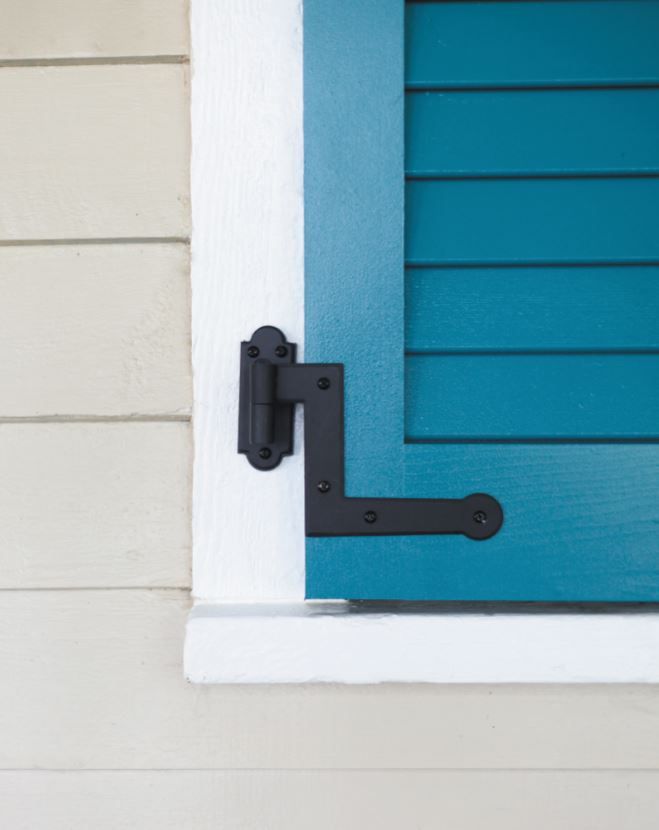 Aeratis shutters-in-a-box are fully operable, and include period-authentic, stainless-steel hardware, shutter supports, and assembly screws.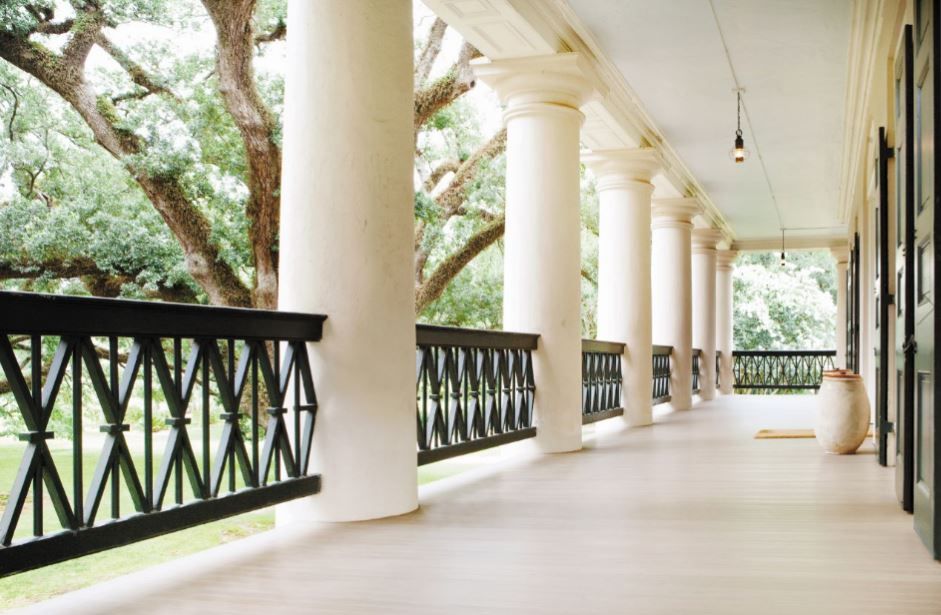 Aeratis products are the only PVC products on the market that are warranted against expansion and contraction, and backed by a limited lifetime warranty. Request a quote to get started on beautifying your home with Aeratis, today!