Back Porch Time Well Spent: After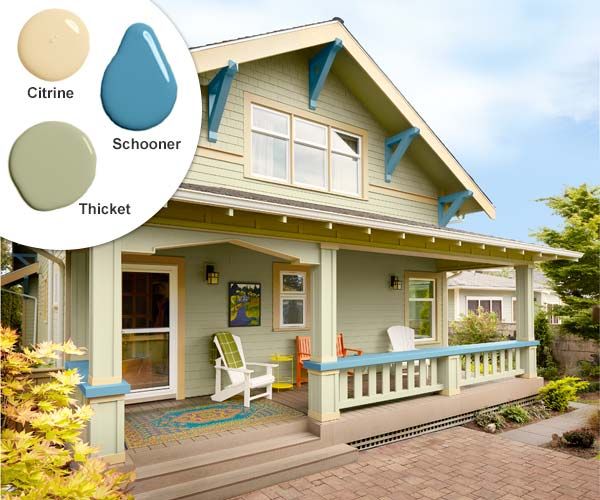 At Margot Clemmens and Al Sutherland's 1912 Craftsman, in Bellingham, Washington, a blunt 1940s back addition held a small office, a tiny mudroom, a makeshift laundry-bath space, and a back door sadly lacking shelter from the rain. So when it came time to replace the house's asbestos siding, the couple seized the chance to widen the scope of improvements, turning to local design-build team Cindi Landreth and Rick Dubrow. The idea of a back porch that mimicked the much-loved one in front—then the couple's primary hangout—soon emerged as a crowning touch to a reworking of the back rooms. Running the full width of the house, the new outdoor room is just 8 feet deep, to preserve 17 feet of usable backyard, and repeats many of the Craftsman details of the front porch, including knee brackets, square columns, and a triangular arch. "Before, the back was just a way to get into the house," says Margot. "Now we love spending time out there."
Paint: Benjamin Moore's Schooner (brackets), Citrine (trim), and Thicket (siding)
Bland Rear Addition: Before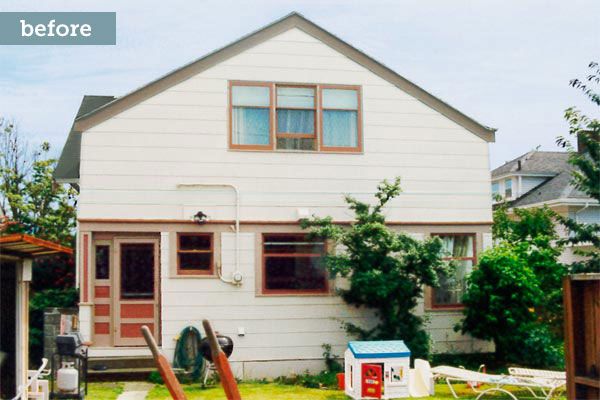 A rear addition gave no hint of the Craftsman style of the original house.
Front Entry-Echoing Arch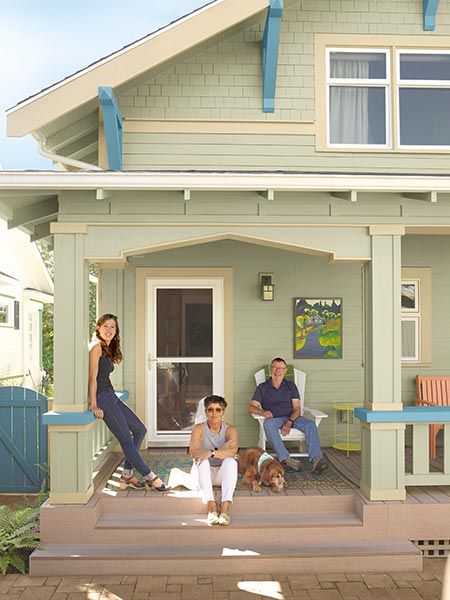 The arch, a smaller version of one on the front porch, frames the back entry. Homeowners Margot Clemmens and Al Sutherland relax with daughter Cassandra and dog Millie.
Door: Rogue Valley Door
Rug: Dash & Albert
Throw: L.L.Bean
Painting: Margot Clemmens (homeowner)
Front Style for Inspiration: Before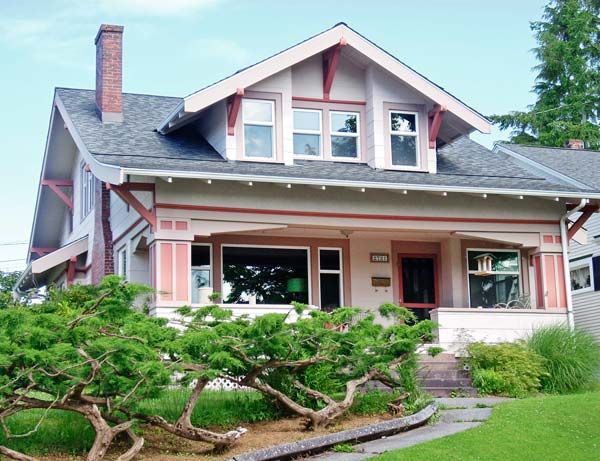 The front of the 1912 house guided many of the Craftsman details incorporated into the back, like the full-width porch, square columns, and gabled roof with knee brackets on the second story.
Shingle and Clapboard Siding
A mix of shingle and clapboard siding and the decorative trim details elevate the back facade. Railings with flat balusters deviate from the front porch's low walls but help deliver the more open look the homeowners wanted in the small backyard.
Roof: CertainTeed
Craftsman-Style Exposed Rafters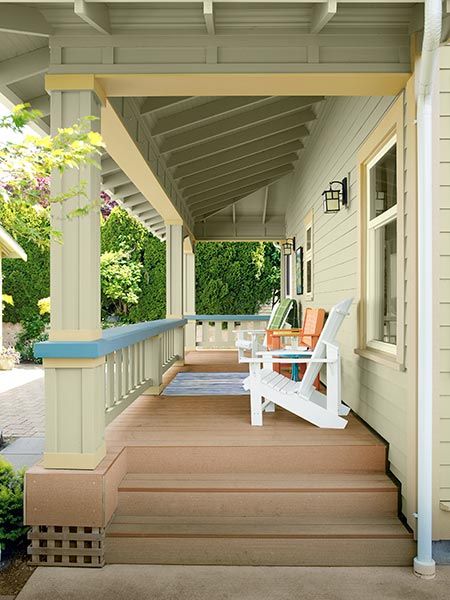 Exposed rafters suit the Craftsman style and provide a loftier feeling overhead. Rot-resistant composite decking and fiber-cement siding minimize upkeep.
Decking: TimberTech
Siding: HardiePlank and HardieShingle
Furniture: Swansons Nursery
Gracious Beams for Extra Seating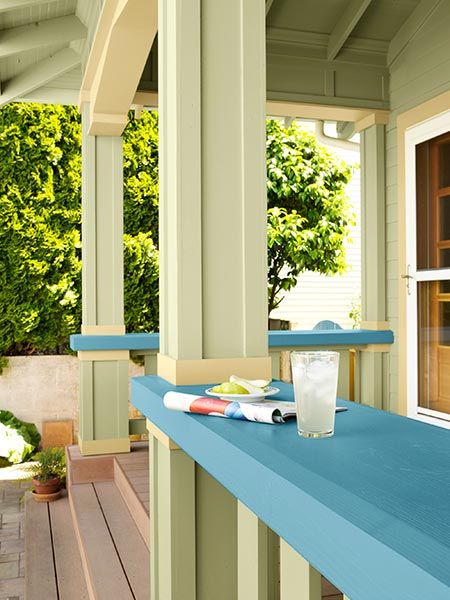 A 4-by-12-inch laminated beamwith chamfered edges sits 2 feet off the porch floor, preserving an open sight line of the yard and serving as both drinks counter and seating.
Beam: U.S. Glu-Lam
Homeowner tip: "With a narrow porch, it's great to have wide railings you can sit on—we can even lean back on a post and stretch out." —Margot Clemmens, Bellingham, Wash.
Historically-Accurate Window Trim Boards
Remodeling offered the opportunity to replace old windows with energy-efficient units with improved waterproofing. Trim boards, now wider, are historically accurate.
Windows: Marvin
Cheery Garden Path in the Shade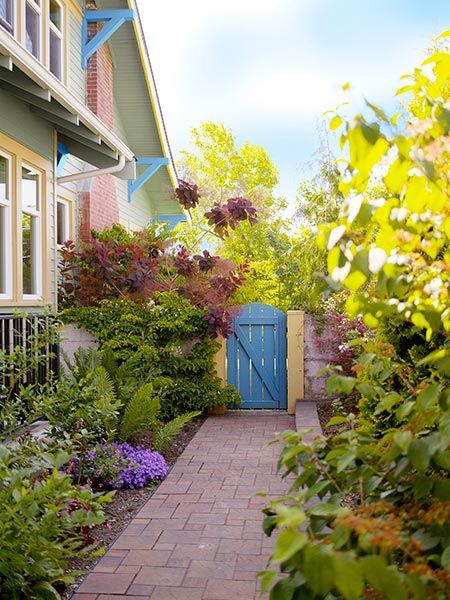 A new garden gate replaced one that was falling off its hinges. Pavers line the patio and path, complemented by shade-tolerant plants.
Garden consultant: Ginny Crump, Kent's Garden & Nursery, Bellingham, WA; 360-384-4433
Pavers: Abbotsford Concrete Products
Floor Plan After: Shady Outdoor Hangout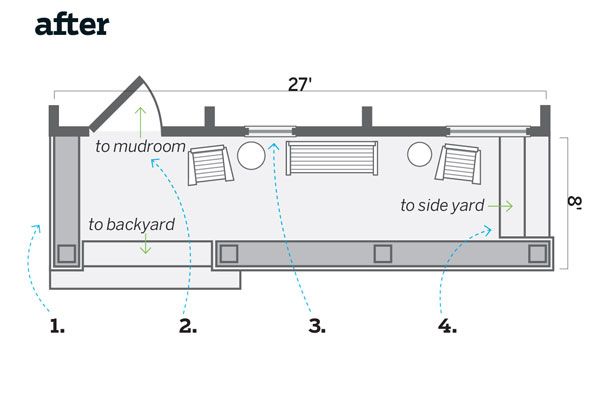 The back porch adds an outdoor hangout and 216 square feet of entertaining space—even when the forecast is for rain.
1. Reduced the backyard by a third to accommodate an 8-foot-deep porch with seating all around.
2. Kept the entry largely where it was, leading to the rebuilt mudroom and kitchen, so it's easy to stage a porch party.
3. Replaced two mismatched windows with a small one for the new bath when the stairs and laundry room were relocated.
4. Added a second set of porch steps to speed access to the exterior basement stairs around the corner.