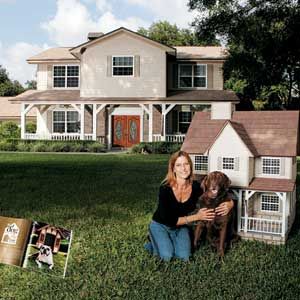 History is filled with misunderstood visionaries, from Noah and his ark to Wilbur and Orville and their airplane to, most recently, Cheryl Morgan and the doghouse she built out of birch plywood, all-purpose putty, and shutter hardware.
We all know what happened. Despite the naysayers, their efforts paid off. The flood came, the plane flew, and Morgan, of Lutz, Florida, is the winner of This Old House's first-ever "Doghouse Like Your House" contest, a building competition inspired by a feature in our July/August 2005 issue.
Sure, Morgan's family questioned her sanity as she obsessively sawed, glued, nailed, and painted the perfect canine-sized replica of her brick, stucco, and shingle-sided house. Especially since Morgan, who had hardly any carpentry experience, did it with little more than a hammer, a bent jigsaw blade, and a level. "Most of the time, I used my fingernail to mark on the wood where to cut," she says.
Morgan framed the walls and roof with birch, used lattice strips and mortar-patching mix for the brick, all-purpose putty for the stucco, and safety skid tape for the shingles. The porch railings are made from poplar, and the windows are fitted with clear acrylic squares for a dog's-eye view. Summoning up the best of her creative skills, she used wall hooks and beads to re-create porch lights and smacked on some automotive pinstriping for the window panes.
Morgan's handiwork was put to the test in October when Hurricane Wilma sent tropical storm?force winds tearing through Lutz. Aside from a few shifted shingles, the house fared remarkably well. "The roof and windows didn't even leak," Morgan boasts. Noah would be proud.
The Runners Up
The detail on this flat-roofed contemporary is so accurate that in some views, we couldn't tell it apart from the real house. What's even more impressive is the fact that its builder, Mark Kasche, put this little puppy together in just 32 hours.
The box is plywood, the windows are glazed with polycarbonate plastic, and the chimney is covered in textured paper that makes it look astonishingly similar to the main house's volcanic-stone version.
Kasche, a contractor, says the materials ran him around $300. But if he were charging his regular hourly wage of $125, he says, "we're looking at a four-thousand-dollar doghouse." At that rate, beagle Pogo should be the envy of every other hound in the neighborhood.
A doghouse isn't merely a luxury in the unpredictable climes of central Maine. It's practically a necessity. So when Jasper finishes patrolling his mountain terrain, he retires to the rugged A-frame built for him by graphic artist Scott Stowe.
Jasper's shelter has a pressure-treated foundation, stained red to match the one on the main house, and 3 inches of fiberglass insulation packed into the walls, floor, and ceiling. The roof shingles and clapboards are the same as on Stowe's house, and he even put stone-look linoleum on Jasper's floor to match his own stone entryway.
"I've never done construction of any kind before," says first-time homeowner Stowe. We applaud his debut.