Finding That Perfect Paint Color
Are you frozen by fear in the paint-chip aisle? Panicked at picking the "right" neutral? Whipsawed by confusion about accent walls? Let's face it: The trickiest part of readying a roller is settling on the right color. The choices seem endless, the rules elusive. But don't throw in the drop cloth quite yet. We queried pros far and wide to home in on useful advice—read on for tricks everyone can use.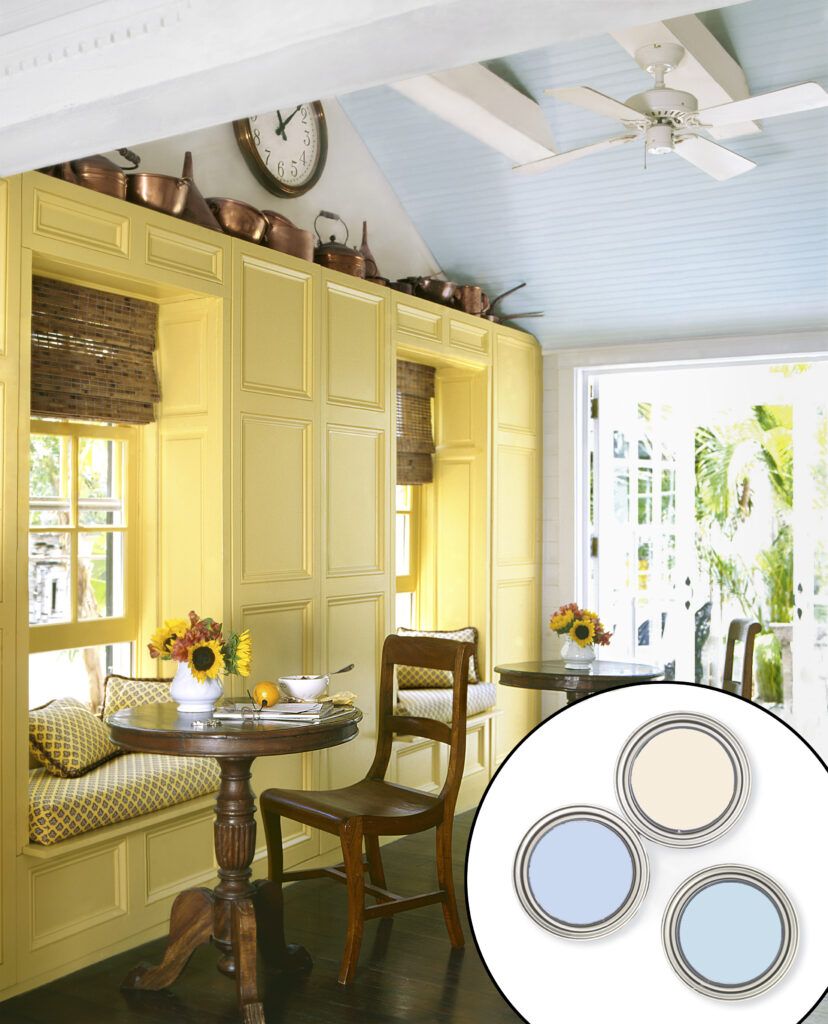 1. Colorful Ceilings
Q: I love the look of a colored ceiling but have no clue where to start. Any suggestions?
A: There's a reason white is traditional for ceilings: It doesn't show imperfections the way a dark color does. Picking another hue can be much more interesting, but it's important to remember this rule: If the ceiling is darker than the walls, it will look lower; if it's lighter, it will appear higher. A safe choice is a warm white or even a very pale blue. Or create a custom tint based on what is on the walls—a look that's particularly successful in rooms without crown molding. Architectural color consultant Bonnie Krims offers this formula: "Take the wall color and mix 25 or 50 percent white into it to lighten it up." One other approach: "Add some graphic interest," suggests interior designer Julie Richard, a color consultant for Ace who just enlivened a children's room's pale gray walls with yellow and white stripes overhead.
Soft ceiling colors to try: (clockwise from top) Valspar's Cream in My Coffee; Sherwin-Williams' Atmospheric; Clark + Kensington's Poetic Prose
2. Safe-Bet Neutrals
Q: I'm not interested in bold colors; can you offer any guidance for picking neutrals?
A: Here's why neutrals are considered a good bet: They're extremely versatile. But that doesn't mean they're foolproof. "Beige can fall into warm and cool categories," explains Erika Woelfel, color marketing director for Behr. Various undertones can make them look gold, gray, green, or red. Knowing these nuances and considering what other colors are nearby is the secret to choosing the right shade. To determine which looks best in your home, view samples against your furnishings and the other finishes in a room—and in different lighting conditions. Below are a few pro-approved options to consider.

Cool Beiges: These tend toward khaki, with undertones of green or brown. They work in spaces with other cool hues—think slate floors and stainless steel.
Shown (from left): Glidden's Autumn Haze; Behr's Gobi Desert
Warm Beiges: Often called camel, these shades have golden or orange undertones. They coordinate nicely with honey-colored stone and wood finishes.
Shown (from left): Glidden's Tea & Honey; Behr's Clair De Lune
3. Colors Made for Dark and Light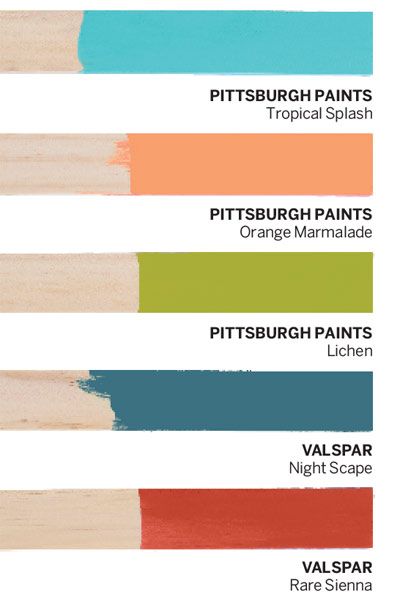 Q: I have a couple of dark, windowless rooms and one gloriously sunny one. How should I approach color in each of those spaces?
A: Keep it light and bright in a dark room, says Dee Schlotter, senior color marketing manager for PPG Pittsburgh Paints: "Lighter colors, especially warm whites or pale beiges with a touch of yellow in them, give a dark space warmth and energy." If the room is small, she suggests considering a "big" color to make it pop, such as aqua, orange, or bright green, like the top three at left.
In a sunny space, you can go light for a fresh, crisp look or dark for atmosphere, says Sue Kim, color strategist for Valspar. Darker, saturated shades like the teal or terra-cotta at left "can create a feeling of security and work well in large, bright spaces; the lighting creates varying moods in different corners."
Shown (from top): Pittsburgh Paints' Tropical Splash, Orange Marmalade, Lichen; Valspar's Night Scape, Rare Sienna
4. Lively Painted Wood Floors
Q: Our wood floors are really worn and we're thinking about painting them. What are some good color choices?
A: Painting a floor is a great way to anchor a space and also uphold a historical tradition: In colonial times, wood floors were painted a solid color or in checkerboard patterns to dress them up. Prefer to stick with one color? "A dark blue, green, red, or even black can be a great floor neutral," says interior designer Tricia McDonagh. Whites and grays also create a fresh look but will make dirt and dust more noticeable, so try them in rooms that are less frequently used, such as a guest room. Expect to recoat high-traffic floors every couple of years. For advice on how to coordinate floor and wall colors, see Question 8.
5. Historically Accurate Colors
Q: How do I choose colors that are most historically accurate for my house?
A: "The sure bet is to hire a scientific color consultant who comes in and scrapes the surfaces to determine what originally existed," says Bonnie Krims. If you're not willing to go that far, you can make an educated guess. Different architectural eras are associated with particular hues: deeper colors for colonial-era houses, whites and neutrals for Greek Revival and Neoclassical, bold jewel colors for Victorian, earth tones for Arts and Crafts. Many paint companies also create historical color groupings. Sherwin-Williams uses its own archives to create colors that are historically accurate; Valspar
has partnered with the National Trust for Historic Preservation to delevop a line; Benjamin Moore's Williamsburg Collection is based on 250-year-old pigments. Krims relies
on Massachusetts-based California Paints' Historic Colors of America, developed with preservationists at Historic New England.
6. Accent Walls 101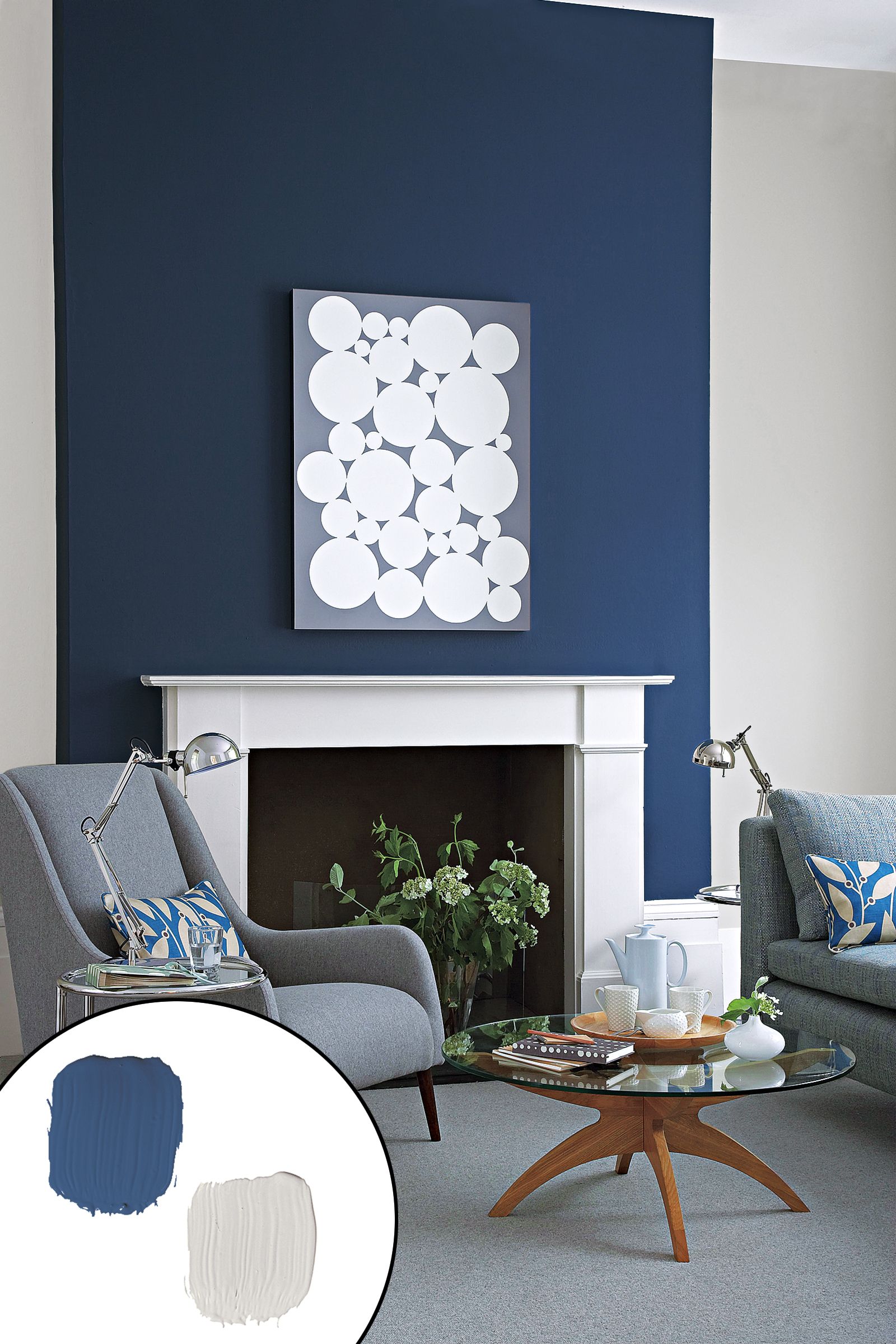 Q: What's the protocol for accent walls?
A: Color is one of the best ways to create a focal point in a space, and that's what an accent wall is. "In a plain room, an accent wall can make the atmosphere more dynamic," says Sue Kim. An accent wall can also play up a natural focal point like a stairway or a fireplace. To simplify color choice, she suggests using a darker shade of the same color as the surrounding walls, or at least a related color, such as the blue-gray combination in the room at left. Not sure if a bright you like will work? "Try it on the headboard wall in a bedroom or sofa wall in the living room," says Tricia McDonagh. "That way, the color is often behind you—you're experiencing it, but not staring at it all the time."
For a similar look, try: Valspar's Indigo Cloth (accent wall), Tempered Gray (other walls)
7. Non-Drab Gray Walls
Q: I'd like to try gray walls, but I'm worried they might look a little drab. Tips?
A: "The important thing to know is that gray can be warm, cool—or glacial," says Tricia McDonagh. Warm grays have a lot of green in them, cool grays have blue in them, glacial grays have a lot of black and white in them. "For the most part, you want to have some color saturation in your gray to keep it from feeling sterile," she adds. "So the safest strategy is to choose grays that have a little green in them or grays that contain some blue." Below, what to consider when picking the right one for your space:
Warm gray: Green undertones help these grays jibe with other golden shades in a room. Try Sherwin-Williams' Comfort Gray
Cool gray: If a room has silver, blue, or other cool-hued accents, try a blue-based gray like Sherwin-Williams' Uncertain Gray
8. Coordinated Colors
Q: How do you coordinate wall colors with floors and countertops?
A: Of course, when considering a shade for the walls, the floor or countertops in a room can and should influence your decision. If there is granite in a kitchen, for instance, look for the tiny flecks of different colors that are often present in the stone—brown, green, gold, black—and use one of those to guide your wall color choice. Erika Woelfel is a fan of using contrast effectively: "If floors are a lighter, warm wood tone, I generally like to see a darker value of color on the walls. When floors are a darker color, I like to add contrast with lighter wall colors."
9. Color Choices for Trim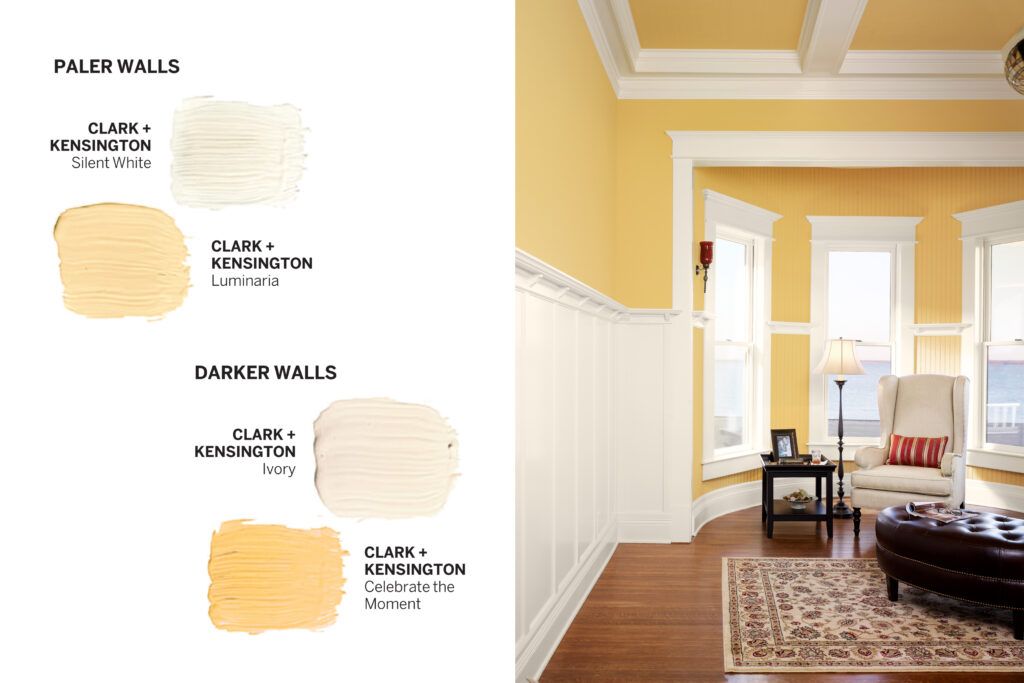 Q: Are there any guidelines for trim?
A: Classic white trim adds contrast to make moldings stand out. One rule of thumb: the deeper the wall color, the darker the trim. With clean wall colors, choose a clean white; with richer wall colors, go creamier. If trim is undistinguished, painting it the same color as the wall will make it disappear. Julie Richard likes doing something different in just one room, like a library: "Paint the trim and bookshelves a deep color, and the walls a lighter version for impact." Have wood trim? Gold or aqua walls can look great with dark wood trim, especially if it has an orange hue. Creamy whites or pale grays can flatter lighter woods, like oak.
Paler walls: If you have a light, clean wall color, opt for pure white for trim.
Shown (from top): Clark + Kensington's Silent White, Luminaria
Darker walls: If your walls are a dark, rich color, creamy white trim generally works best.
Shown (from top): Clark + Kensington's Ivory, Celebrate the Moment
10. Colors Around Chair Rails
Q: What's a good approach to picking colors for above and below a chair rail?
A: Whether in a dining room, a hallway, or a bedroom, a chair rail (or wainscoting) adds visual interest. "No colors are off-limits," says Erika Woelfel, but the simplest, no-fail approach is to select lighter and darker tones from the same paint-chip strip for above and below the rail. "In deciding which goes on top, the goal is to create contrast between walls and furniture so they don't blend together," she says. "A lighter wall color is better below the chair rail if the furniture is dark. If the furniture is lighter in value, the wall color below the chair rail can be darker."
11. Paint Colors Throughout The House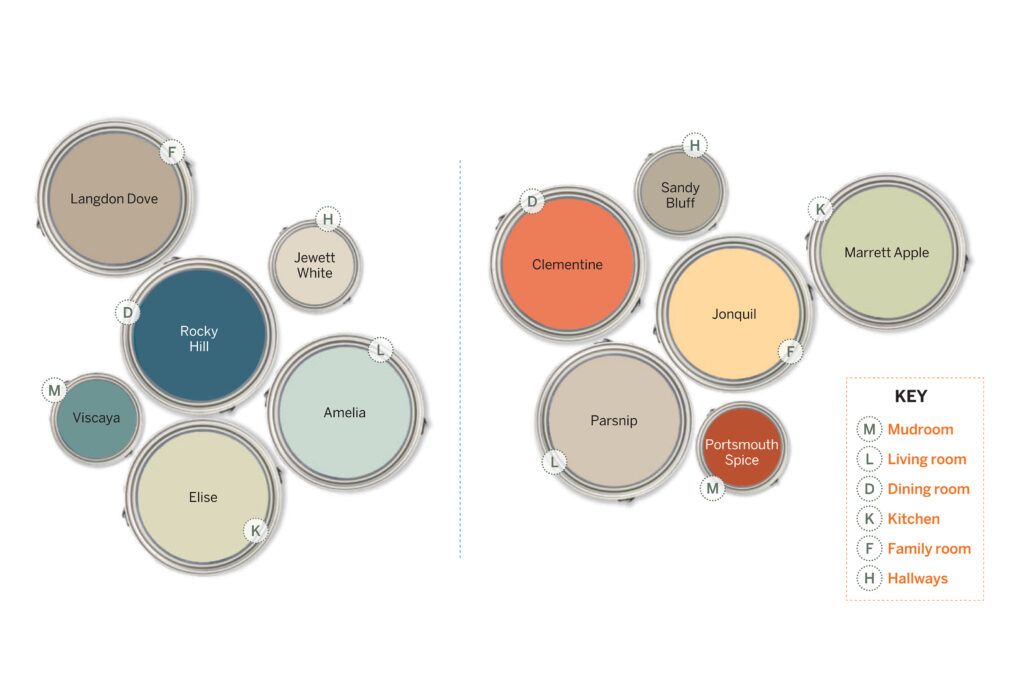 Q: Do all the paint colors in a house have to come from one family?
A: One reason choosing wall colors may cause homeowners so much angst is how random it seems when you're selecting them one paint project at a time. Solution: Create a whole-house palette that becomes the master plan. Bonnie Krims suggests selecting at least three hues that are common to all rooms, at least on the first floor, where adjoining spaces are often visible from one to the next. "Say you choose a yellow, a green, and a blue. Paint one room yellow, but make sure it has an accessory in blue and green. In the next room, paint the walls a lighter tint of one of the three colors, and again make sure all three colors are present somewhere in the room. That's how you create continuity between spaces. It connects the dots for the mind, so things don't feel disconnected."
Sample color scheme (left): Bonnie Krims came up with these first-floor palettes using California Paints' Historic Colors of America. "The palette at left could work in virtually any house," she offers.
Colors can be from the same family or contiguous families; the palette can include two neutrals and one bold color. The only crucial rule? All the hues should harmonize.
Sample color scheme (right): "The second one is best for an older home with small rooms—it's a lot of color," says Krims. For this and the previous California Paints' Historic Colors of America palette, lighter versions of the same hues could work upstairs.