Main Street Event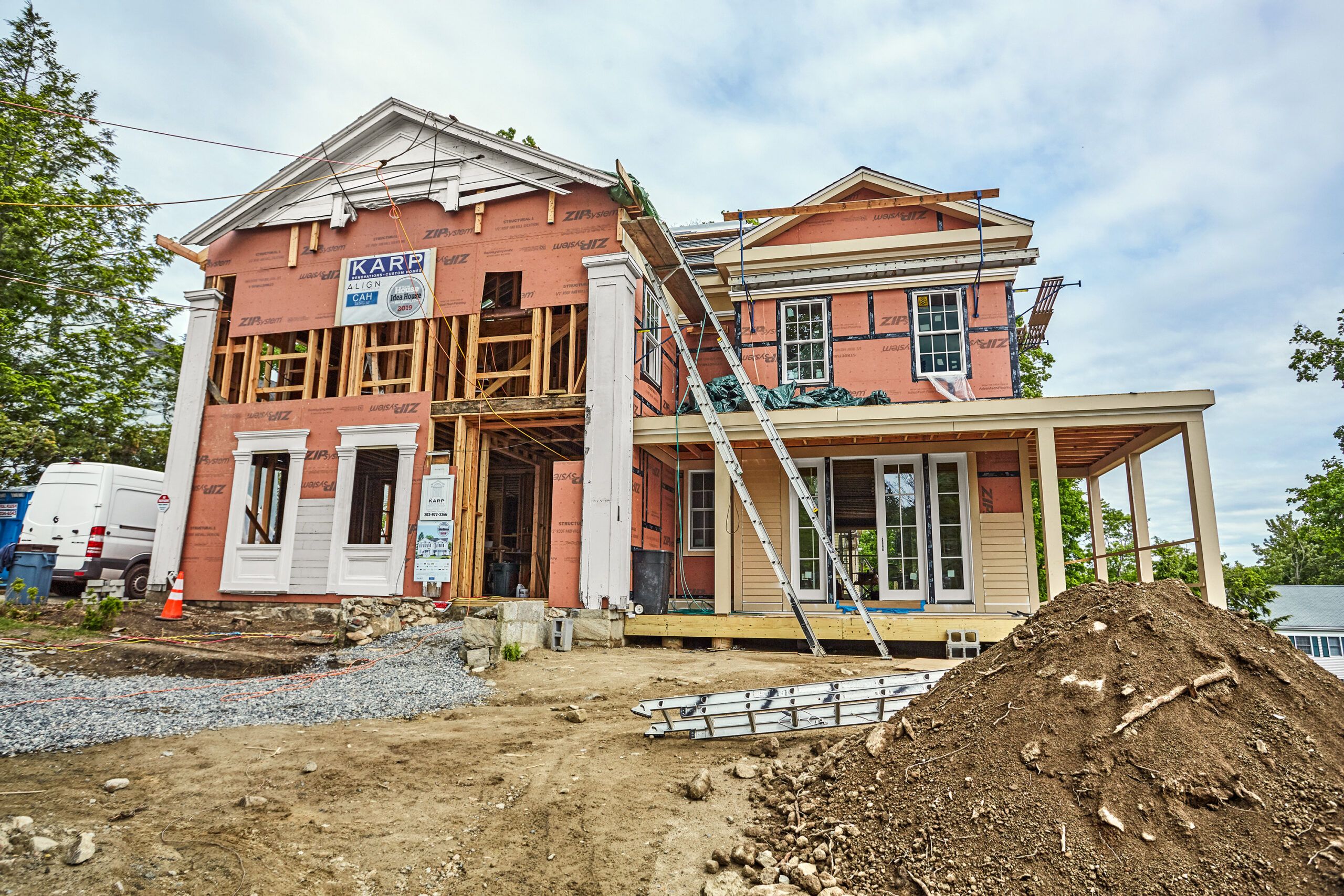 Connecting with the past takes on a whole new meaning when it involves marrying brittle 179-year-old beams with the code-compliant framing of a new structure. Just ask Gordon Jacobsen of Karp Associates, the project manager overseeing the construction of This Old House's 2019 Idea House.
Shown: The oldest surviving section of the c. 1840 house—on the left—holds the main entry. Missing six-over-six windows, transoms, and fanlights, as well as portions of the exterior trim, will be restored and reused on what is an all-new structure.
SHEATHING AND TAPE: ZIP System
SIDING AND TRIM: LP SmartSide
Greek Revival Signatures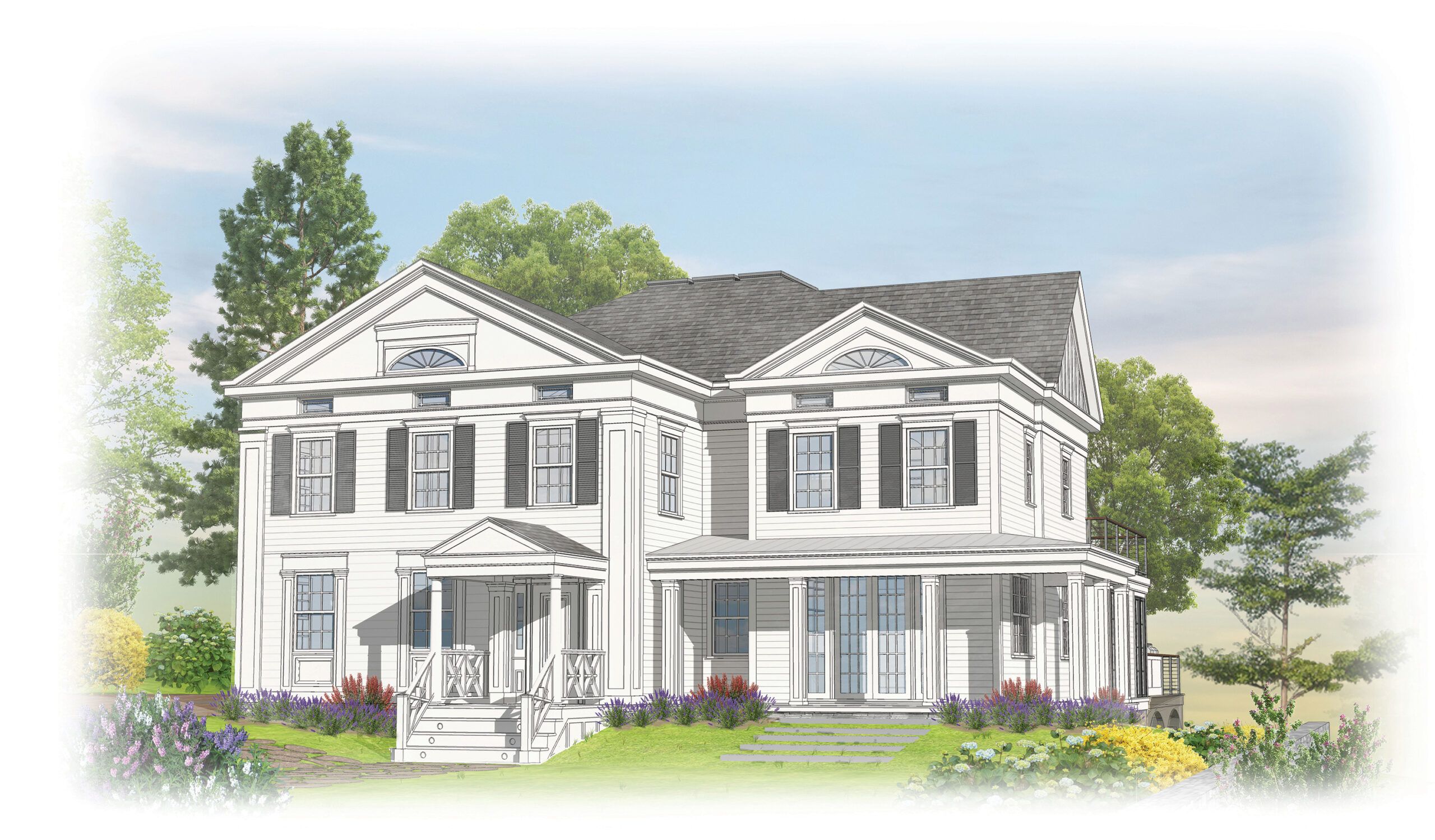 "This is the hardest part," he says, pointing out the hand-hewn beams now sandwiched between crisp new 2x6s. When the work is complete, those beams—along with a number of surviving windows and trim sections—will be all that remains of the Greek Revival that has been a fixture on Main Street in downtown New Canaan, CT, since at least 1840. The house taking its place will retain its familiar architectural style while incorporating updated materials, technology, and design elements that will carry it into the next century.
Shown: A rendering shows how the rebuilt house will retain its signature Greek Revival elements. The redesigned home will feature modern building materials and a family-friendly interior, while preserving the exterior's traditional look and feel.
ARCHITECT: CAH Architecture and Design LLC, Cos Cob, CT
Up on the Roof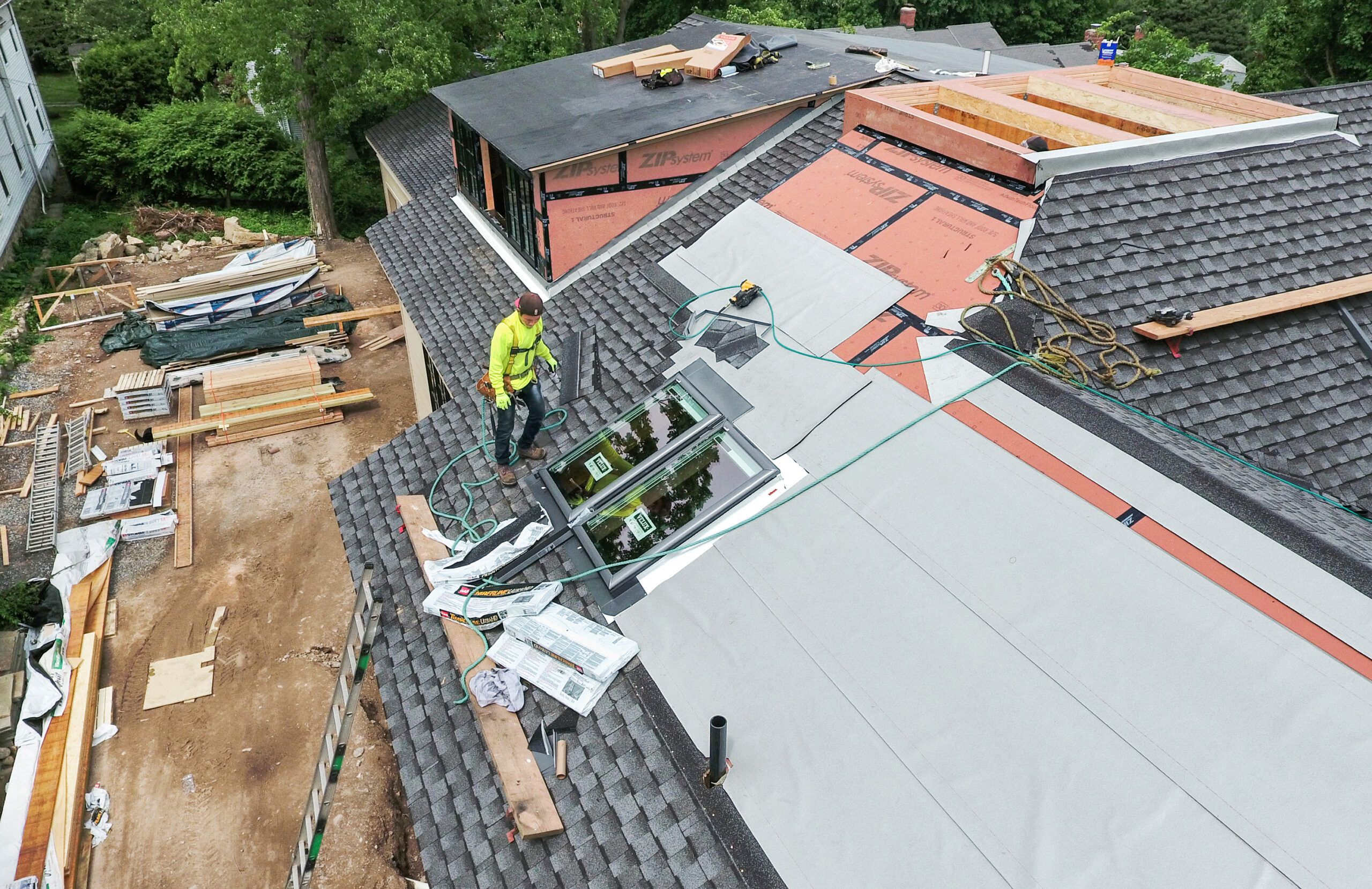 It took developer Arnold Karp nearly five years to purchase the derelict house, which stood vacant for eight years and was in foreclosure. The roof leaked, and raccoons had taken up residence inside. With the sale confirmed, Karp faced a second challenge: convincing historic district officials to green-light demolition of much of the rambling structure whose additions dated from the 1960s onward—while preserving whatever might be worth saving. They agreed, with the stipulation that he retain the front and left side of the original portion of the house (on the left), and replicate the height of the roof ridge.
Shown: For a durable, long-lasting roof, crews install a water and ice membrane and architectural asphalt shingles over sheathing panels with a moisture-resistant barrier built in. The roof's crown is framed out in three sections for a 12-by-12-foot skylight.
SHEATHING: ZIP System
SIDING AND TRIM: LP SmartSide
ROOFING UNDERLAYMENT AND SHINGLES: GAF
WINDOWS: Sierra Pacific
SKYLIGHTS: VELUX Skylights
Kevin and Developer Arnold Karp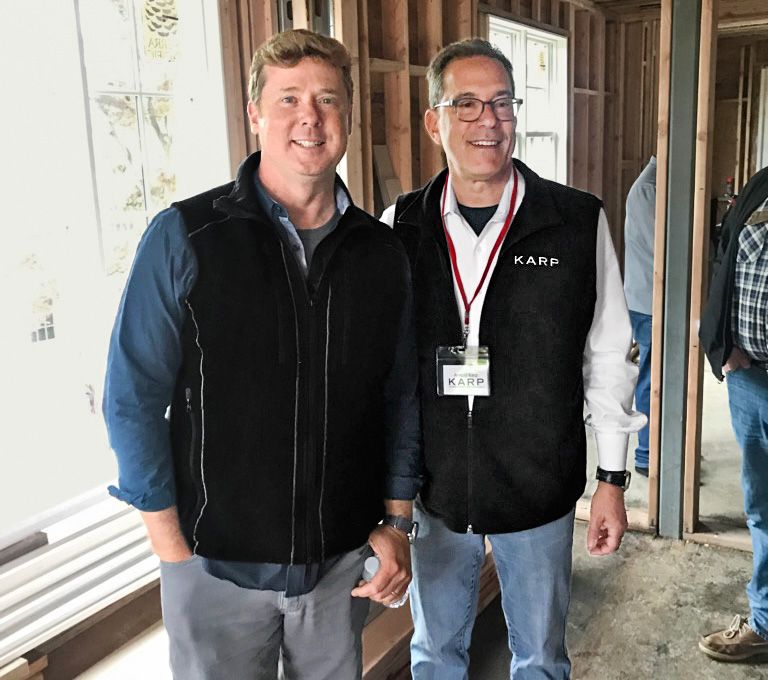 The New Canaan project is the first This Old House Idea House tied to a home with a historical past—a fitting undertaking to mark the show's 40th season. "This is right in our wheelhouse," says TOH host Kevin O'Connor, noting the challenges a community faces in preserving a beloved vintage home. "Everyone wants it to survive, but how do you do it?"
Owing to its dilapidated condition and years of add-ons, the Greek Revival house will survive mostly in spirit. "Unfortunately, it had been cut apart and pasted together so many times there were hardly any real pieces left," says project architect Christopher A. Hull. He and Robin Carroll, Karp's director of design and residential construction, worked together to reimagine the house as a 21st-century family home without losing its 19th-century personality.
Shown: TOH host Kevin O'Connor visits with developer Arnold Karp at the job site. "This is right in our wheelhouse," Kevin says of the work to rebuild one of the downtown area's iconic historical homes.
Skylight Framing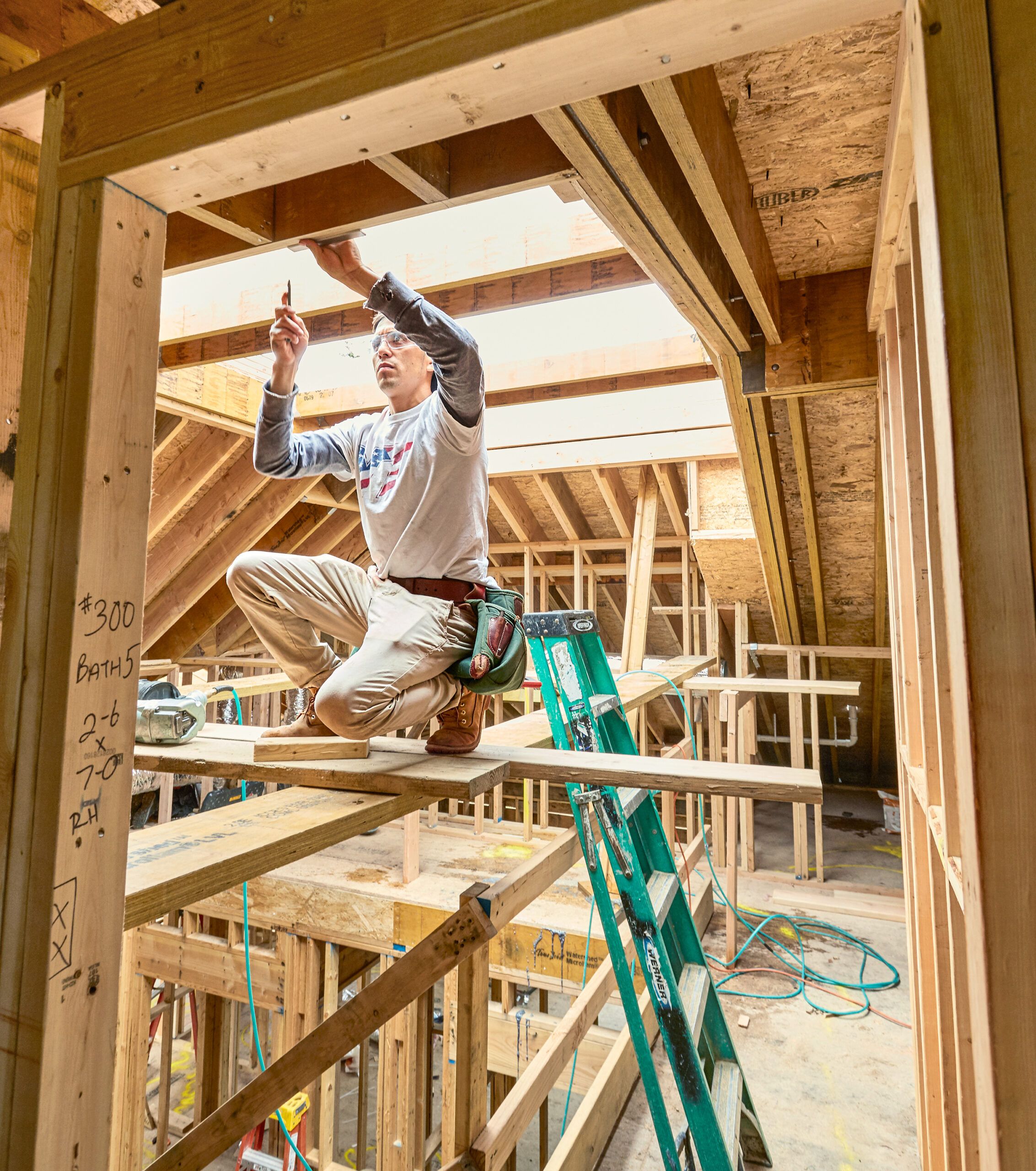 To do this, the team will restore 11 existing double-hung windows and some interior trim, along with the facade's frieze, transom windows, corner pilasters, and pair of fanlights—only one of which dates to the 19th century. Beams that are no longer sound will be given a decorative second life inside. "We'll reuse original beams," says Carroll. "But they will serve as architectural details rather than structure."
Shown: Perched over the central stairwell, carpenter Jefferson Cardenas works on framing for the skylight, which will channel natural light onto the stairway below and down to the basement level.
SHEATHING: AdvanTech
Cutting Copper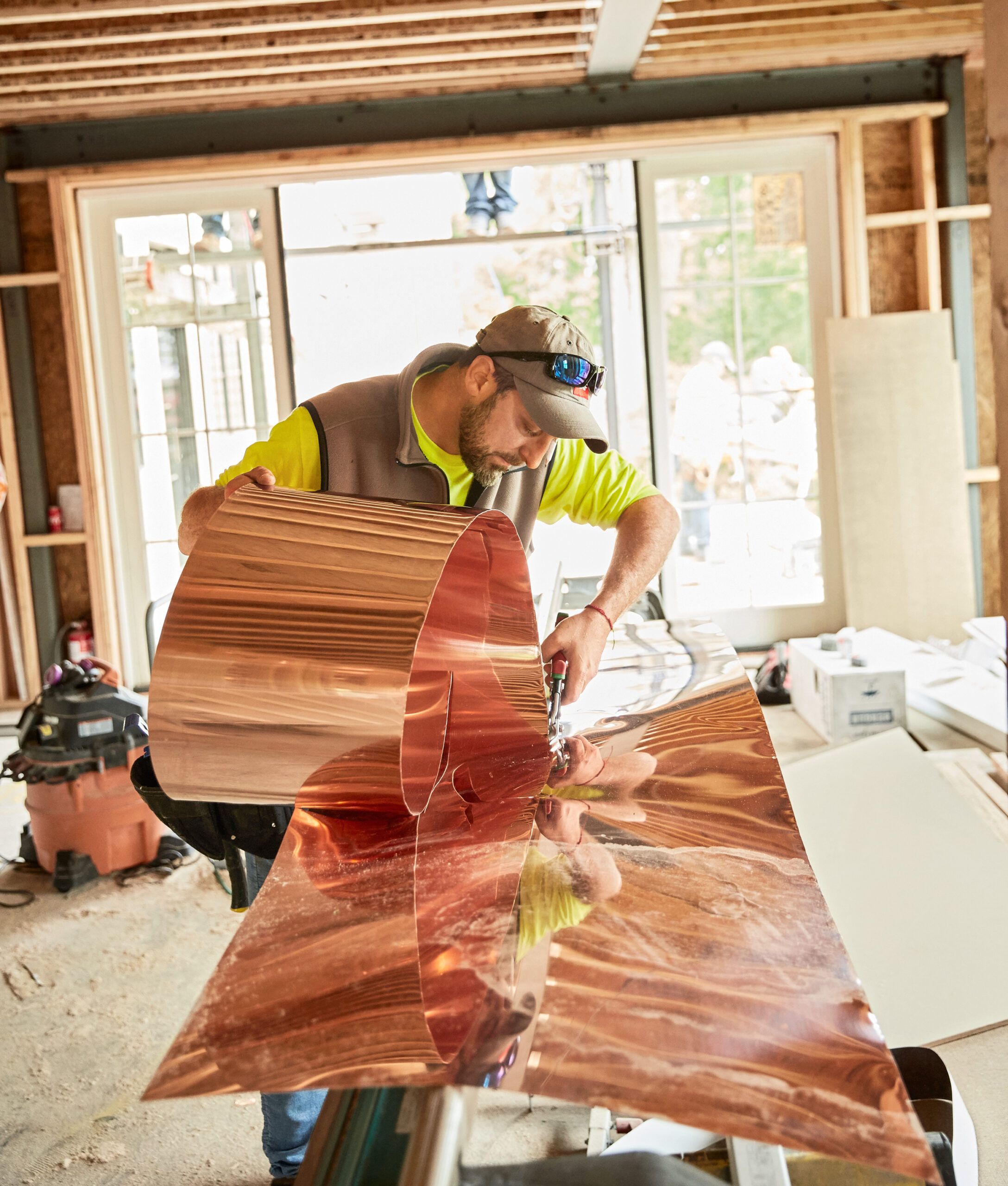 Past the rebuilt facade, the new home's personality will quickly shine through—with a 12-by-12-foot skylight above the main stairwell. "It's going to be a showstopper," says Carroll of the column of light that will reach the basement level, where a hulking beehive oven awaits restoration as a decorative focal point. Its structurally deficient chimney and the fireplaces that fed into it have been removed, and a stack of closets has been added that could serve as a shaft for an elevator should a future homeowner require one.
Shown: Boris Pribelsky, owner of BP Quality Roofing, cuts copper that will be used to flash the central skylight. The copper will age naturally and develop a deep patina that suits the home's traditional exterior.
Roofing Platform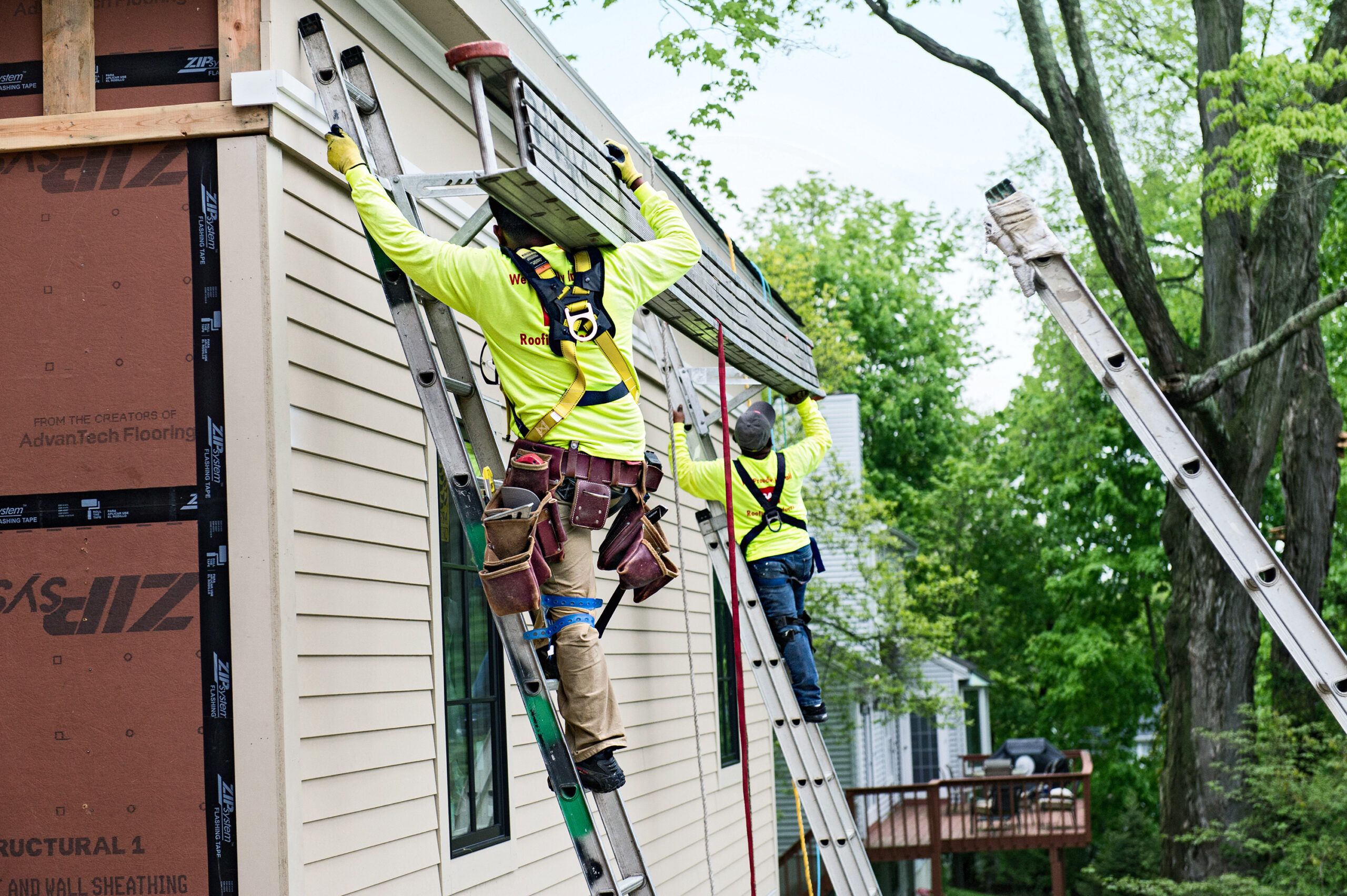 An open kitchen, sitting area, and family room make up the heart of the reimagined home, while a mudroom, game room, and home office increase the function of the first floor, says Carroll, who will collaborate with interior designer Michelle Hogue to coordinate finishes. Alongside the kitchen is a hardworking butler's pantry with a second sink and dishwasher, coffee station, under- counter refrigerator, and other party-staging essentials.
Shown: Crew members shoulder a platform on their way to work on the roof.
SIDING AND TRIM: LP SmartSide
WINDOWS: Sierra Pacific
FOUNDATION WALLS: Superior Walls
Siding Install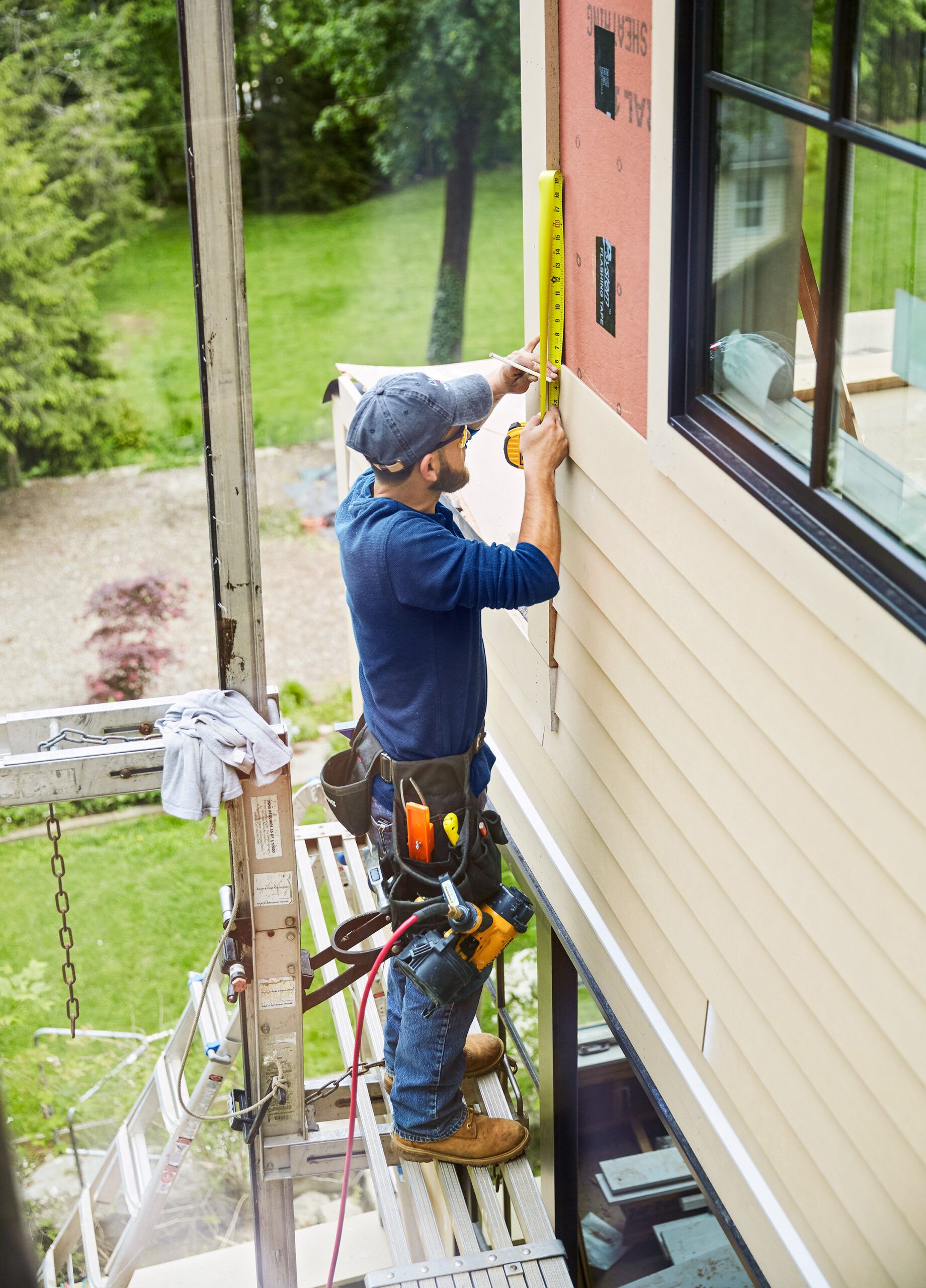 On the second floor, the master suite will include dual walk-in closets, a spacious bath, and a private deck. Three additional bedrooms feature vaulted ceilings, walk-in closets, and en suite baths. The wide hallway, brightened by six skylights, is fitted out with desks for doing homework. Additional living space—including a bedroom, sitting room, and full bath—will occupy the third floor. Not to be forgotten, the large walk-out basement offers plenty of untapped space for a workshop, in-law apartment, or gym.
Shown: Crew member Marcello DaSilva measures for a course of wood-composite clapboards that have been treated to resist moisture, insects, and rot.
SHEATHING: ZIP System
SIDING AND TRIM: LP SmartSide
Roof Install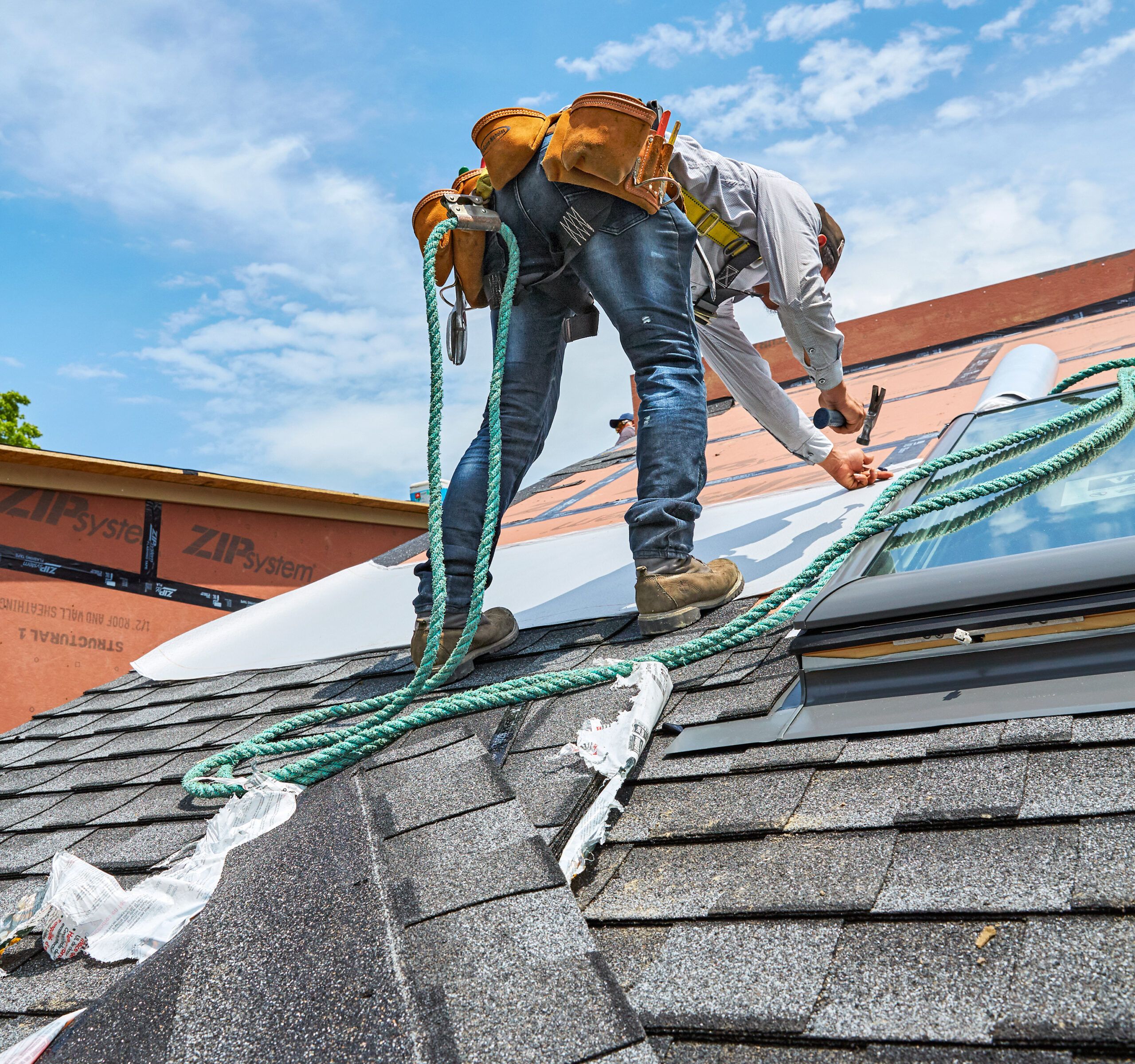 That lower-level space will be finished to the specifications of the eventual buyer of the house. Till then, Jacobsen and his crew are hard at work to meet the challenge of rebuilding it in six months, start to finish. Keeping on schedule, he says, requires thinking three to four weeks ahead, anticipating what's next. But in fact he's already thinking beyond those weeks and months, to the home that will be a new fixture on Main Street. "When this project is done it will fit right into the neighborhood," he says. "It will be great."
Shown: Roofing membrane goes down over the sheathing in preparation for laying more courses of architectural asphalt shingles.
ROOFING UNDERLAYMENT AND SHINGLES: GAF
WINDOWS: Sierra Pacific
SHEATHING AND TAPE: ZIP System
SKYLIGHTS: VELUX Skylights
Salvaged Window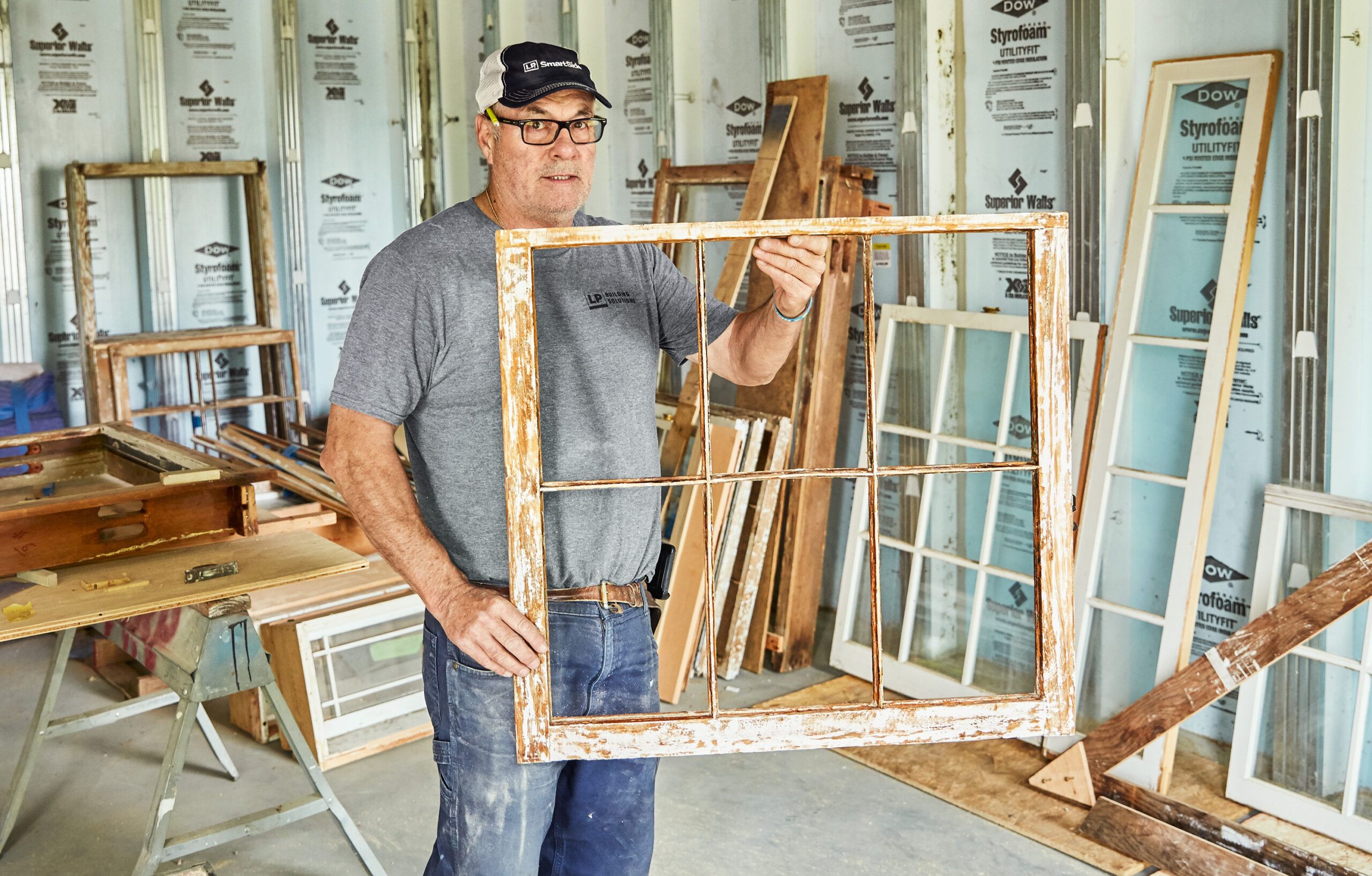 Crew member Gil Violette holds one of the salvaged original windows that awaits reglazing. Behind him is a stack of transom windows that will also be restored and reinstalled.
Retaining Wall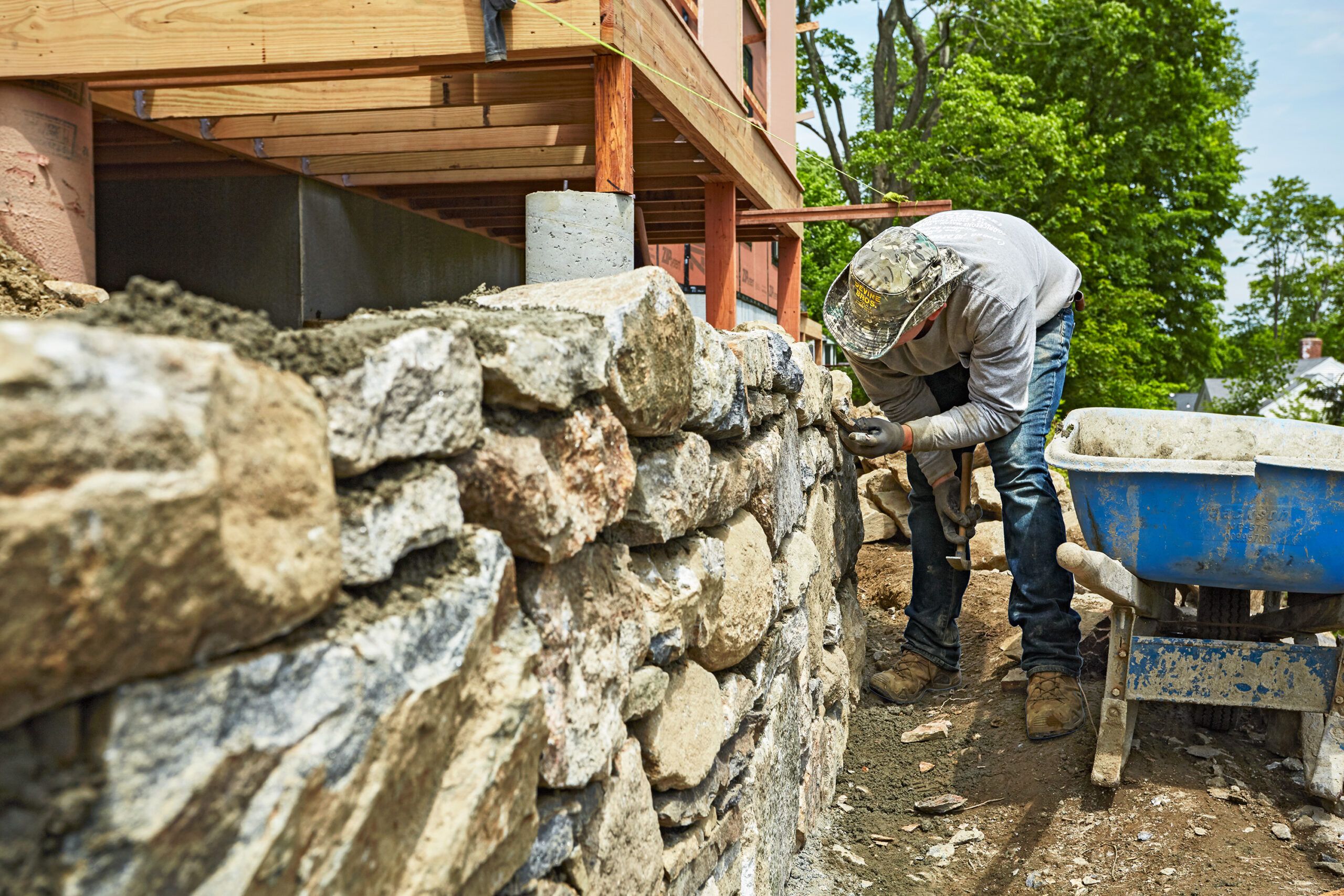 Mason Jesús Vega builds a retaining wall along the south side of the house. The sloping site made construction a challenge but also created opportunities to access the outdoors at several levels.
Three-Bay Garage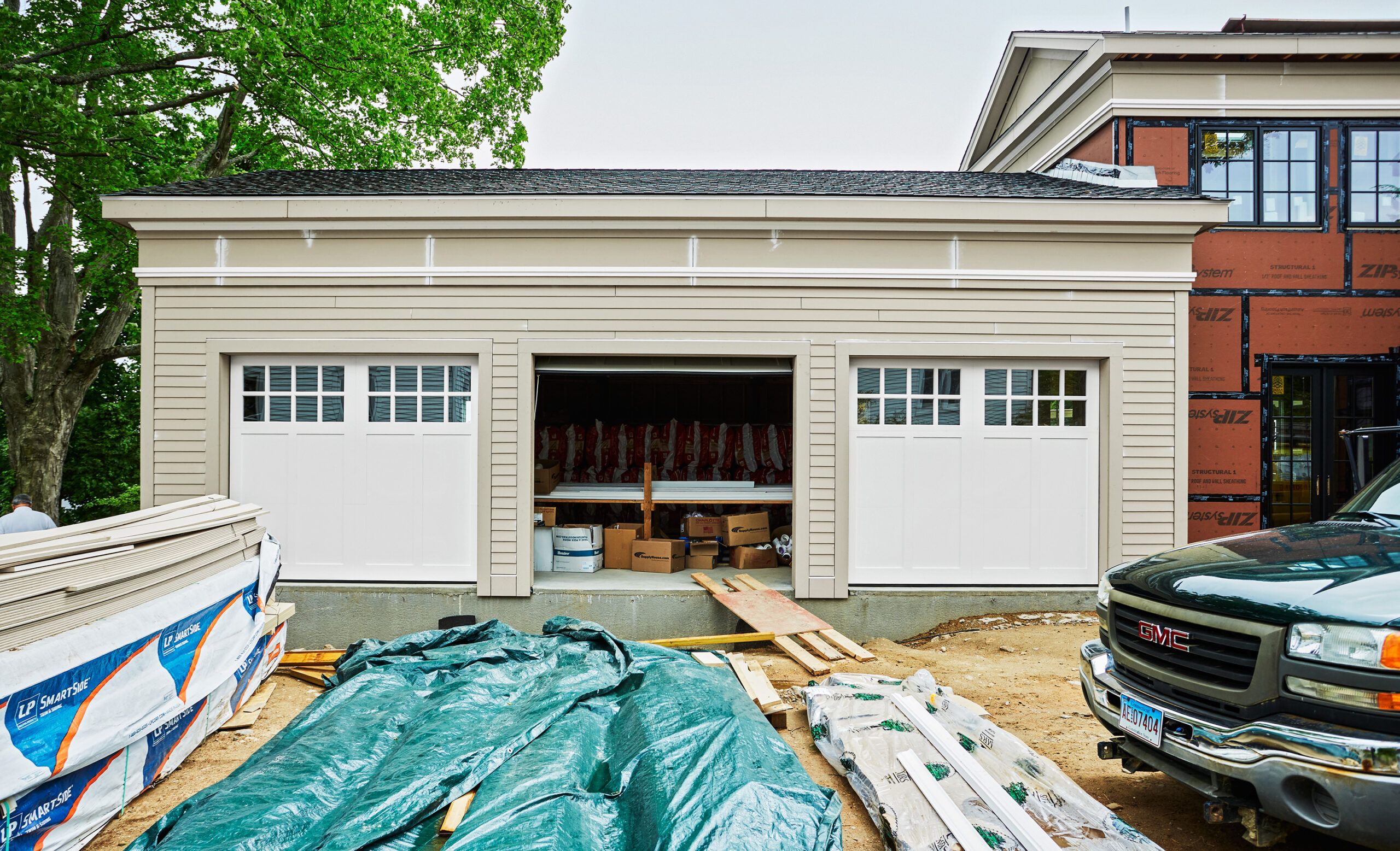 Added on to the back of the house, a three-bay garage provides 825 square feet of storage but doesn't interfere with the home's historic facade.
GARAGE DOORS: Fimbel Architectural Door Specialties
Basement Walk-Out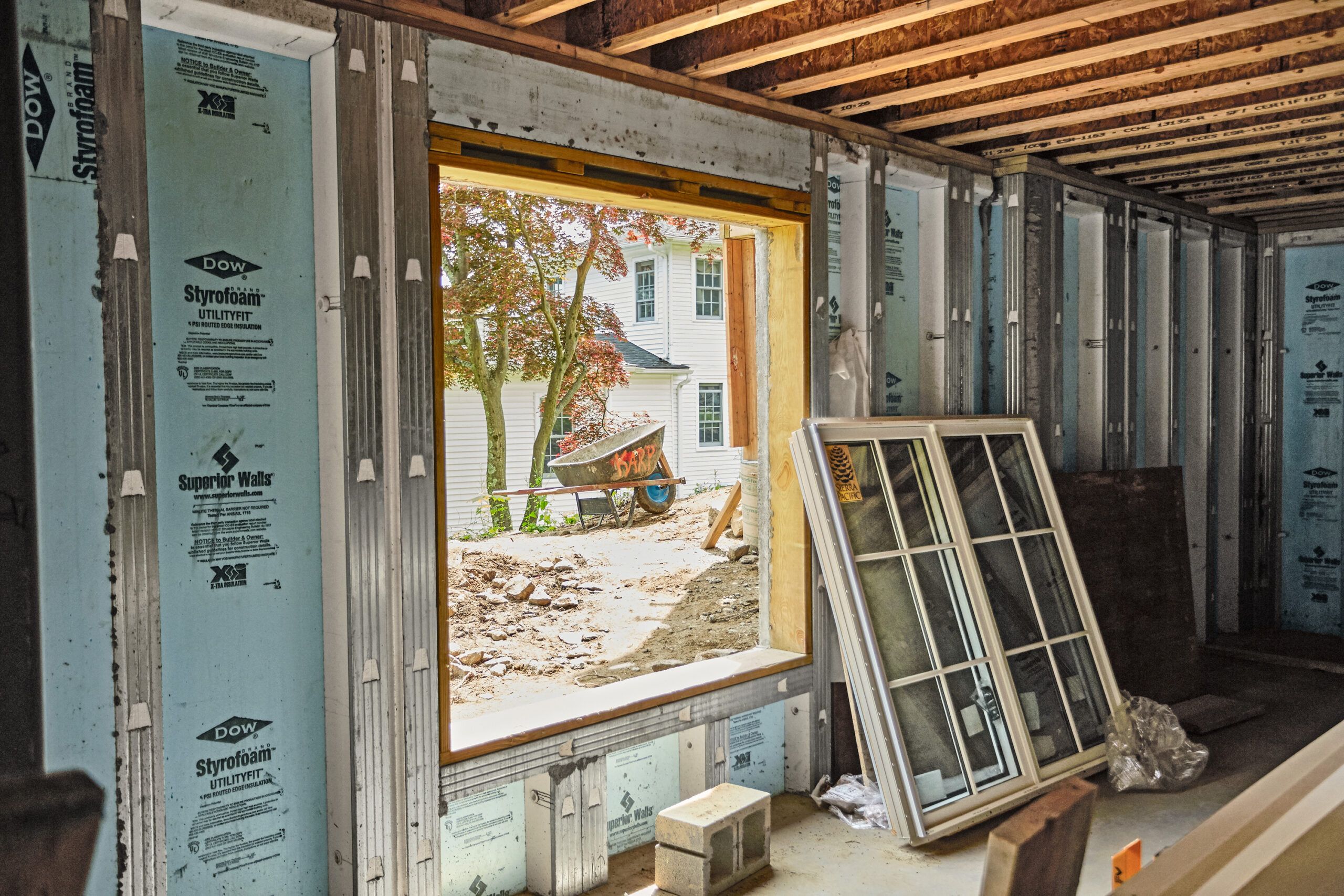 An opening in the walk-out basement level awaits installation of new casement windows. Time-saving premade foundation walls were craned into place.
WINDOWS: Sierra Pacific
BASEMENT WALLS: Superior Walls
1840 Trim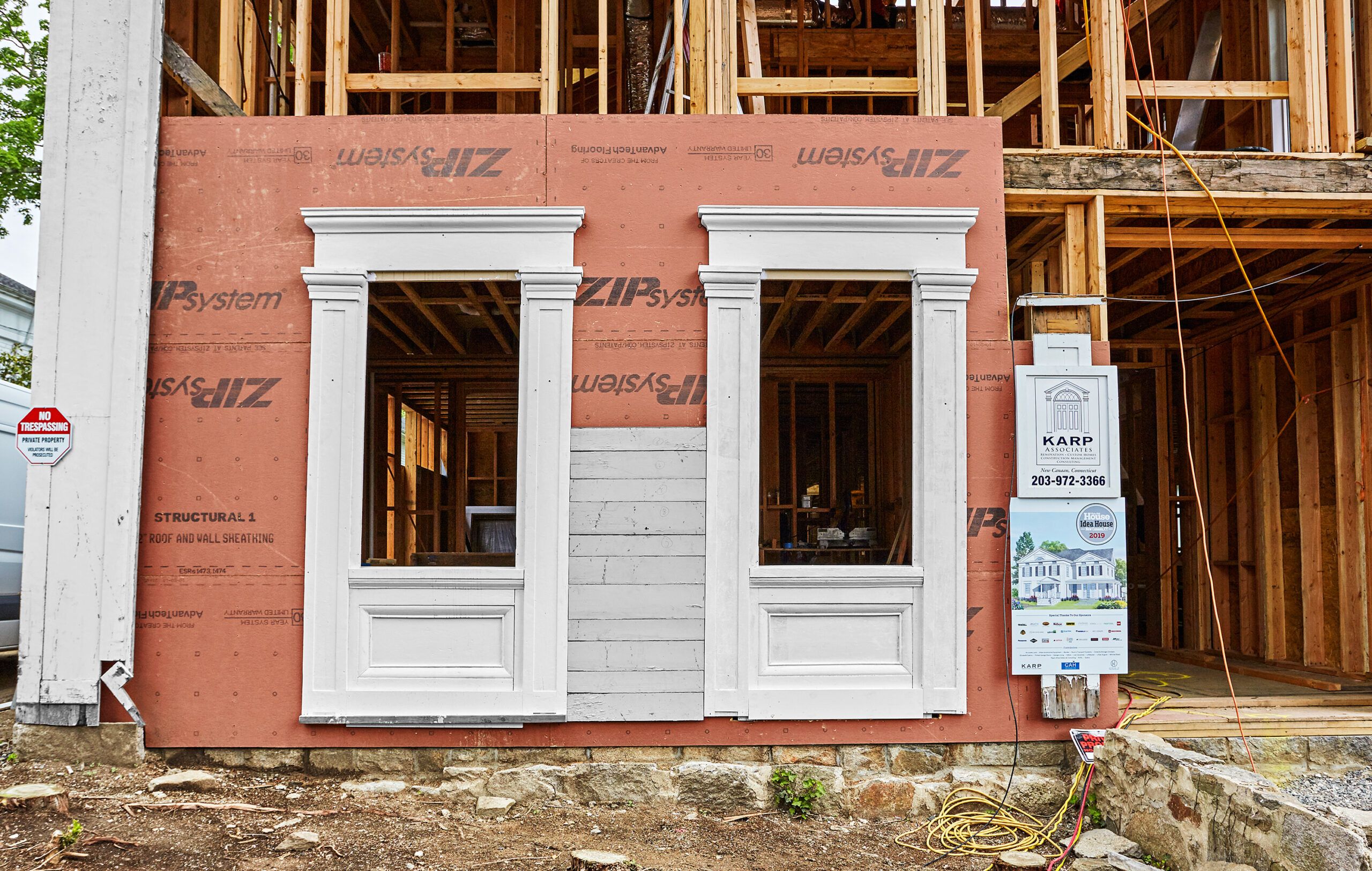 The crew was able to save both the interior and exterior trim surrounding the two first-floor windows on the home's circa-1840 facade, as well as the pilasters on either side. An original beam, reinforced with new lumber, can be seen over the front entrance. The old cladding—which also served as sheathing—is visible between the windows.
SHEATHING AND TAPE: ZIP System
Overhead View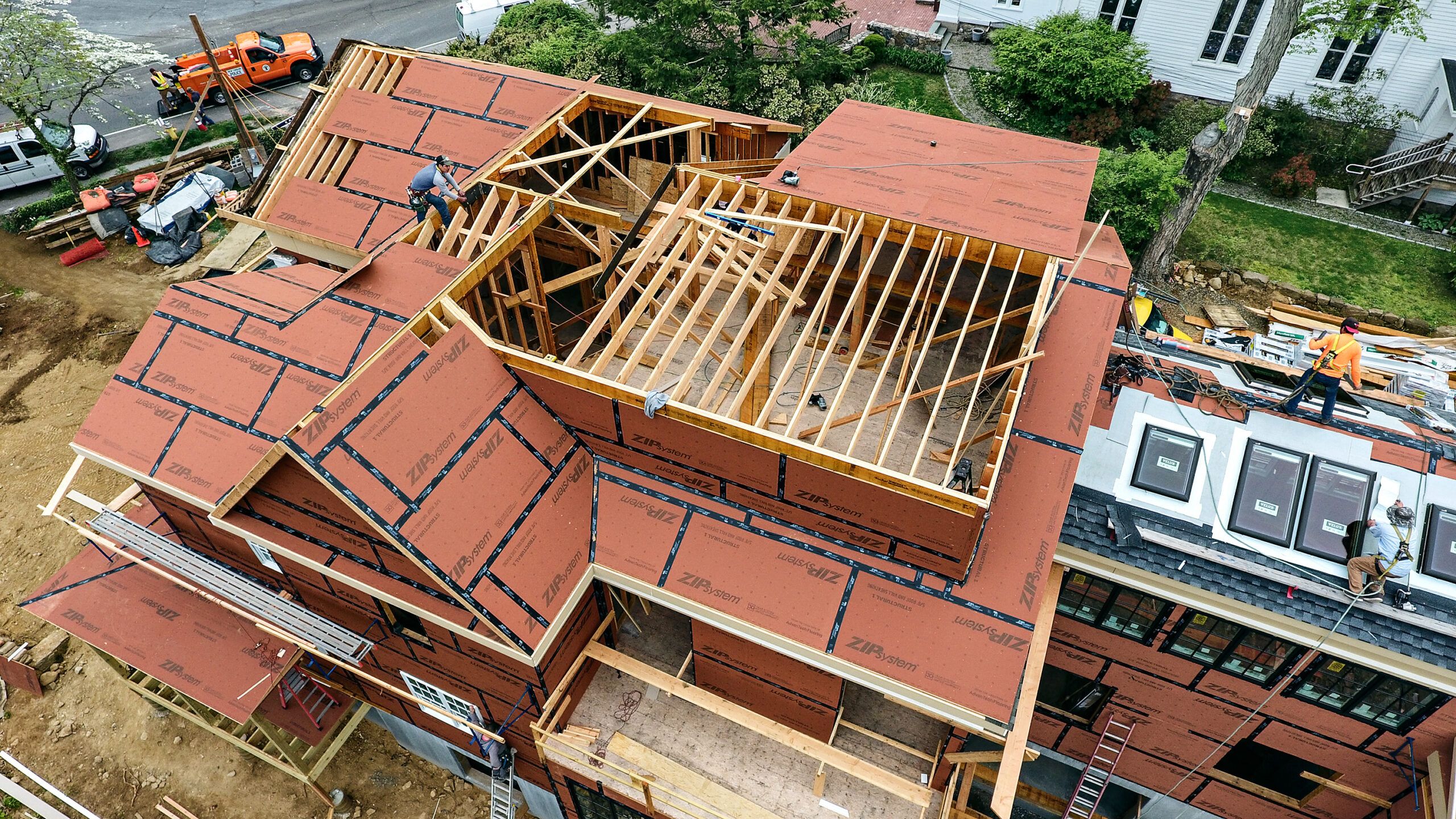 This overhead view shows the street-facing portion of the house almost structurally complete, and the skylight-lined hallway in back.
SHEATHING AND TAPE: ZIP System
Facade Facelift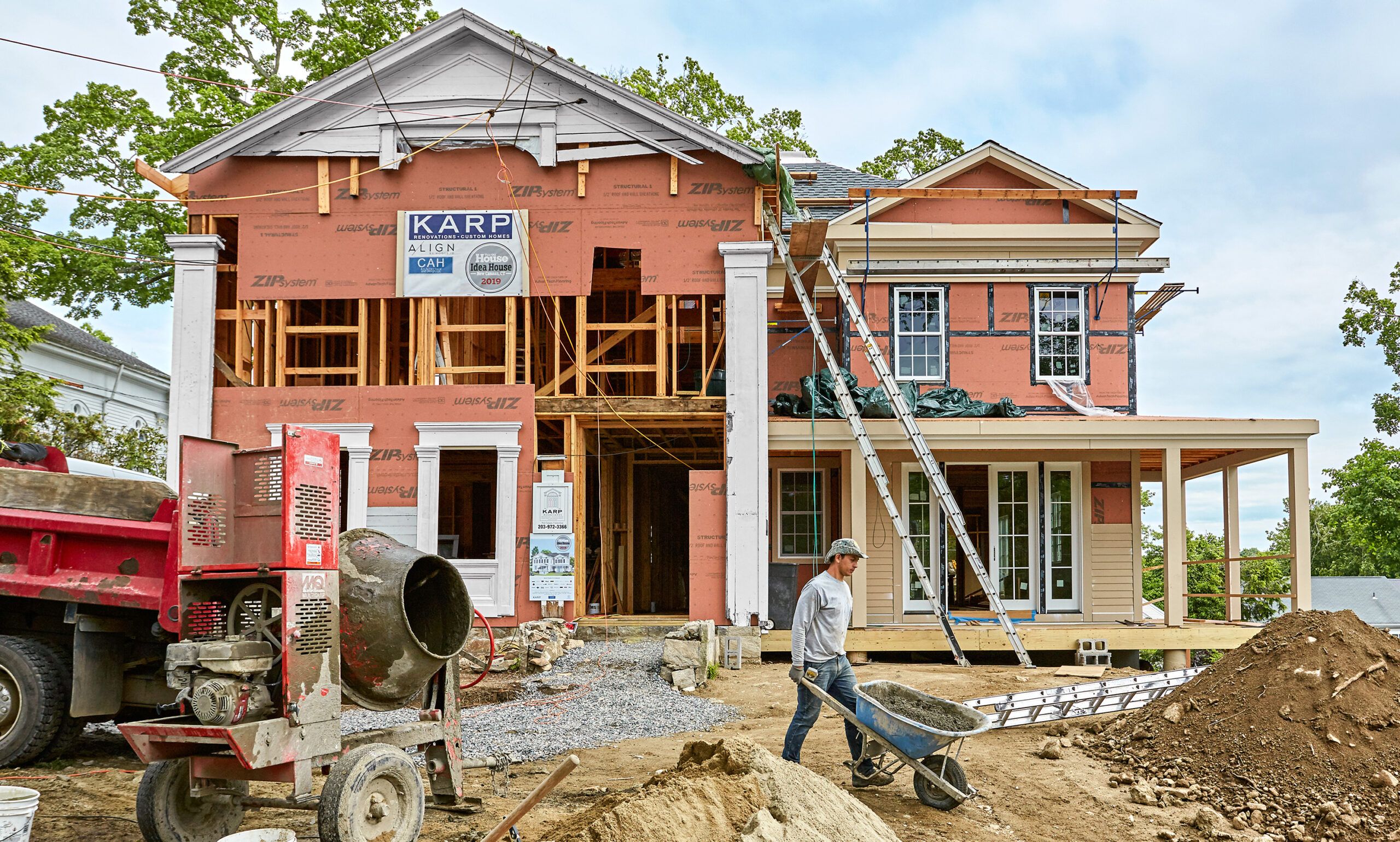 To gain historic district approval, the developer had to maintain portions of the house's original facade as well as the existing roof height. That required painstaking removal and replacement of structural components bit by bit until the front of the home was almost completely rebuilt.
Beehive Oven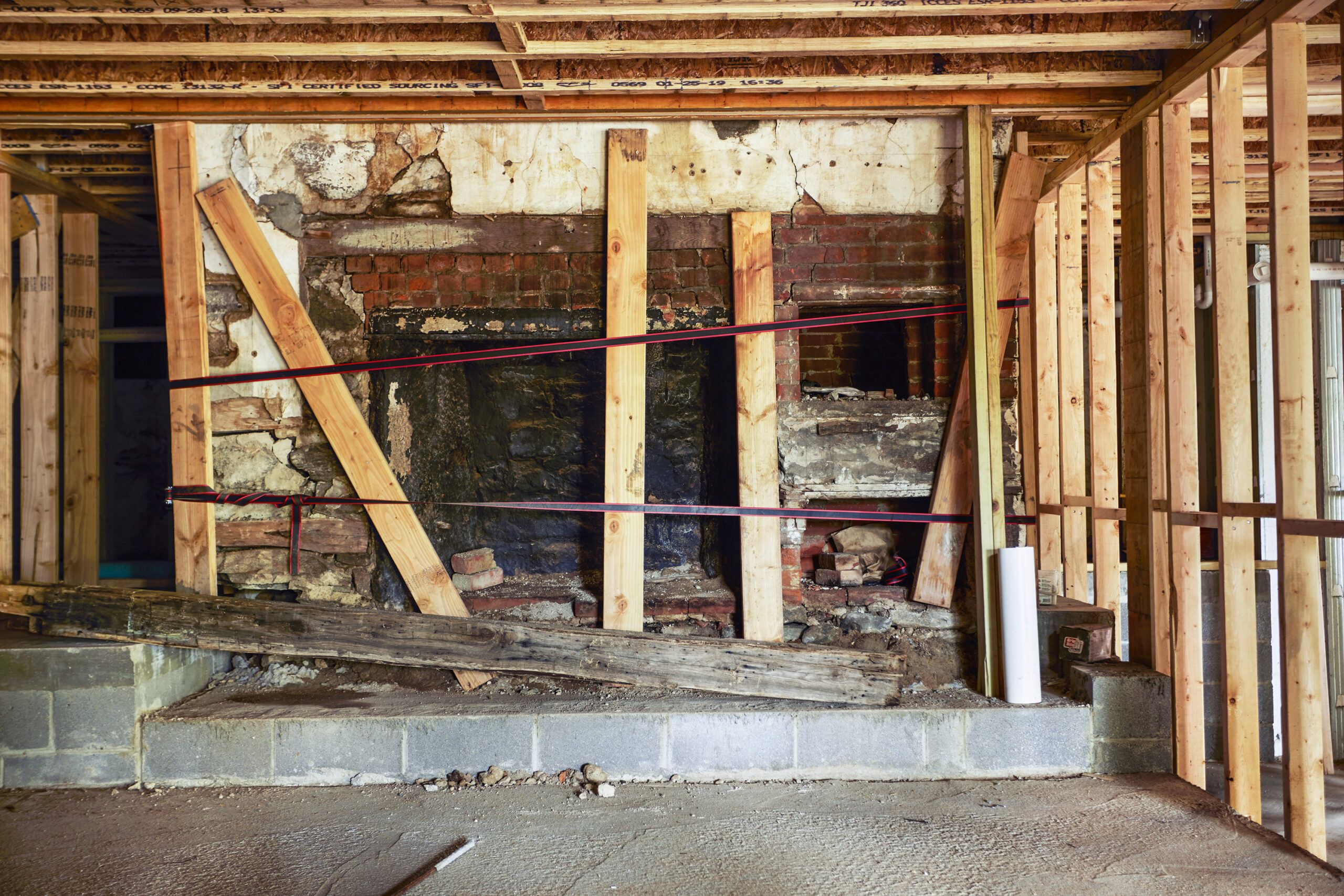 Restoration work has not yet begun on the massive beehive oven that still resides on the basement level. When cleaned up, it will be a unique—but nonfunctional—link to the past.
More Skylight Work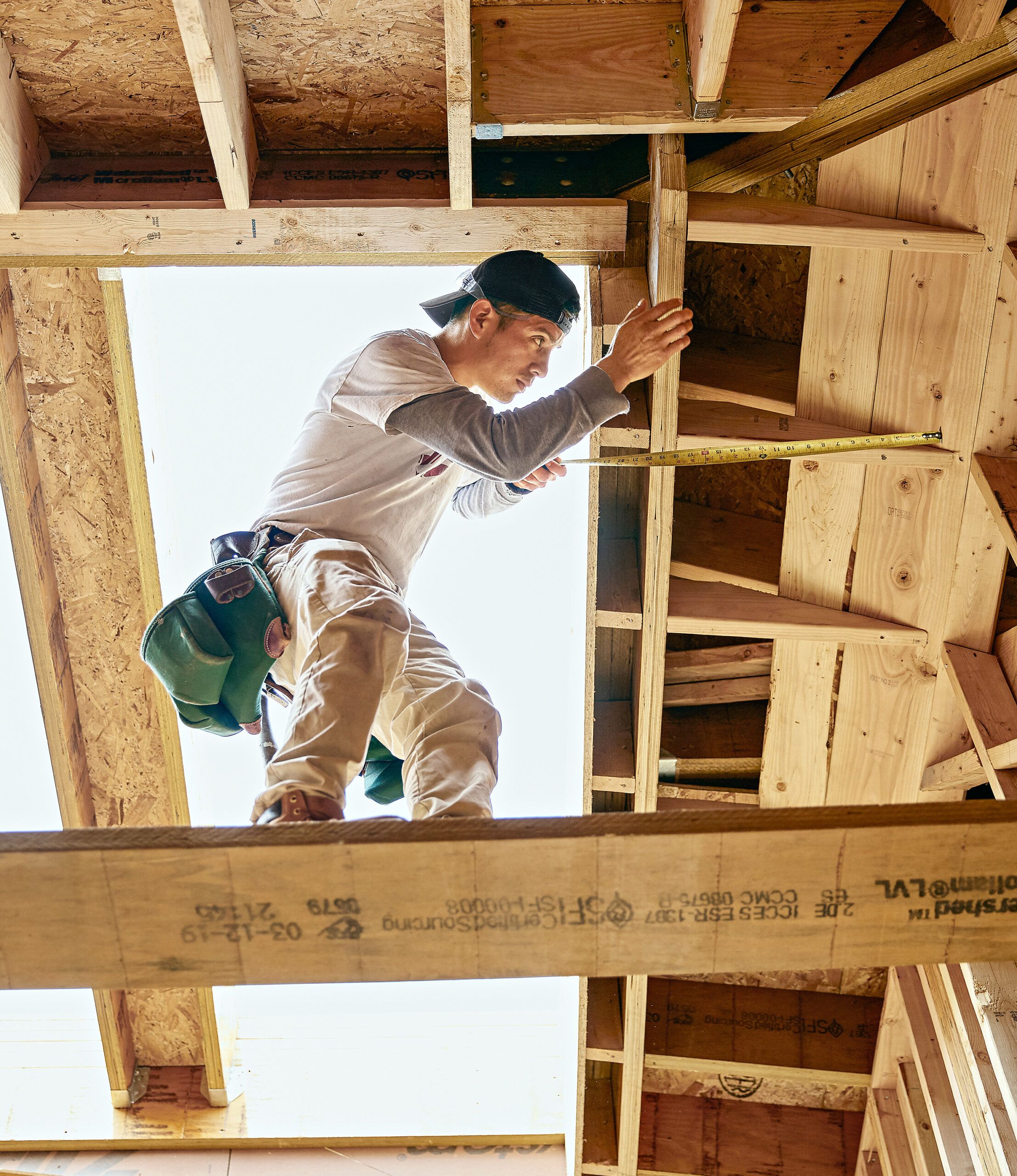 Jefferson Cardenas works on framing the opening for the central skylight.
SHEATHING: AdvanTech
Deck Framing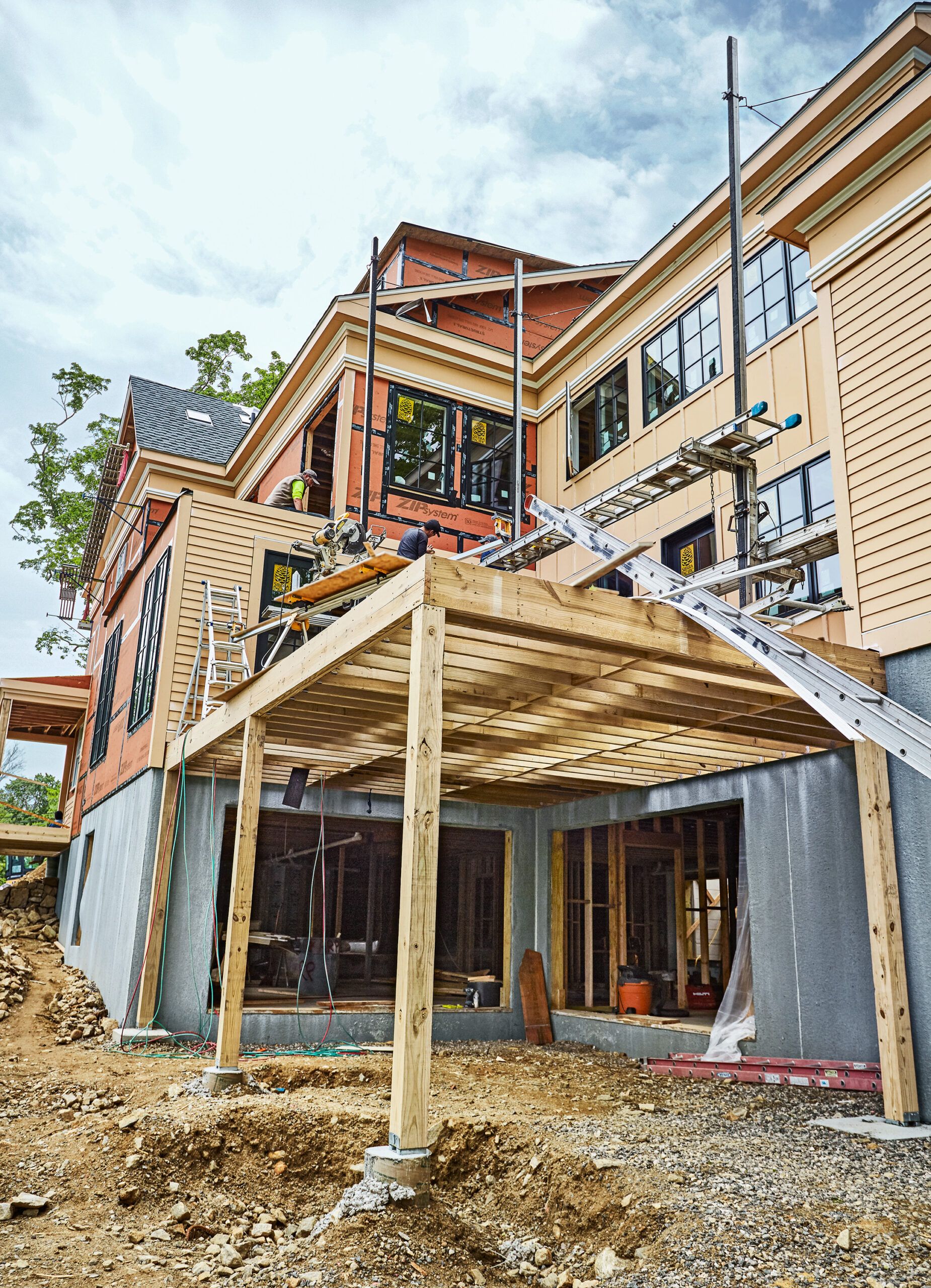 The sloping lot provided opportunities to open the house to the outdoors on several levels. On this side, the second floor is stepped back, allowing for a private deck off the master bedroom. On the floor below, a raised deck, now framed, will open off the family room. Below the deck, sliders will access the walk-out basement.
Cement Mixing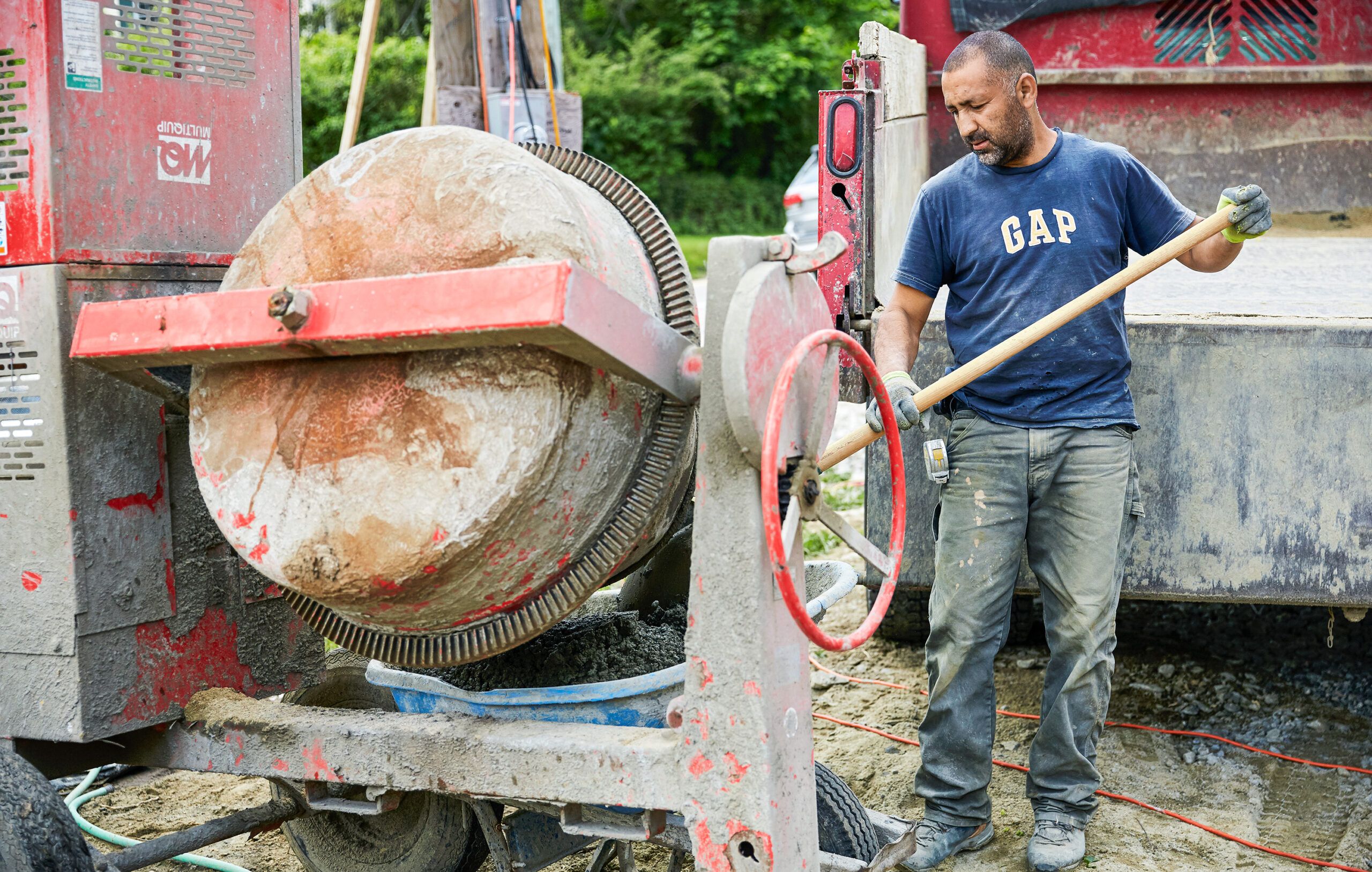 Carlos Lopez mixes cement for the retaining wall along the south side of the house.
Basement Window Wells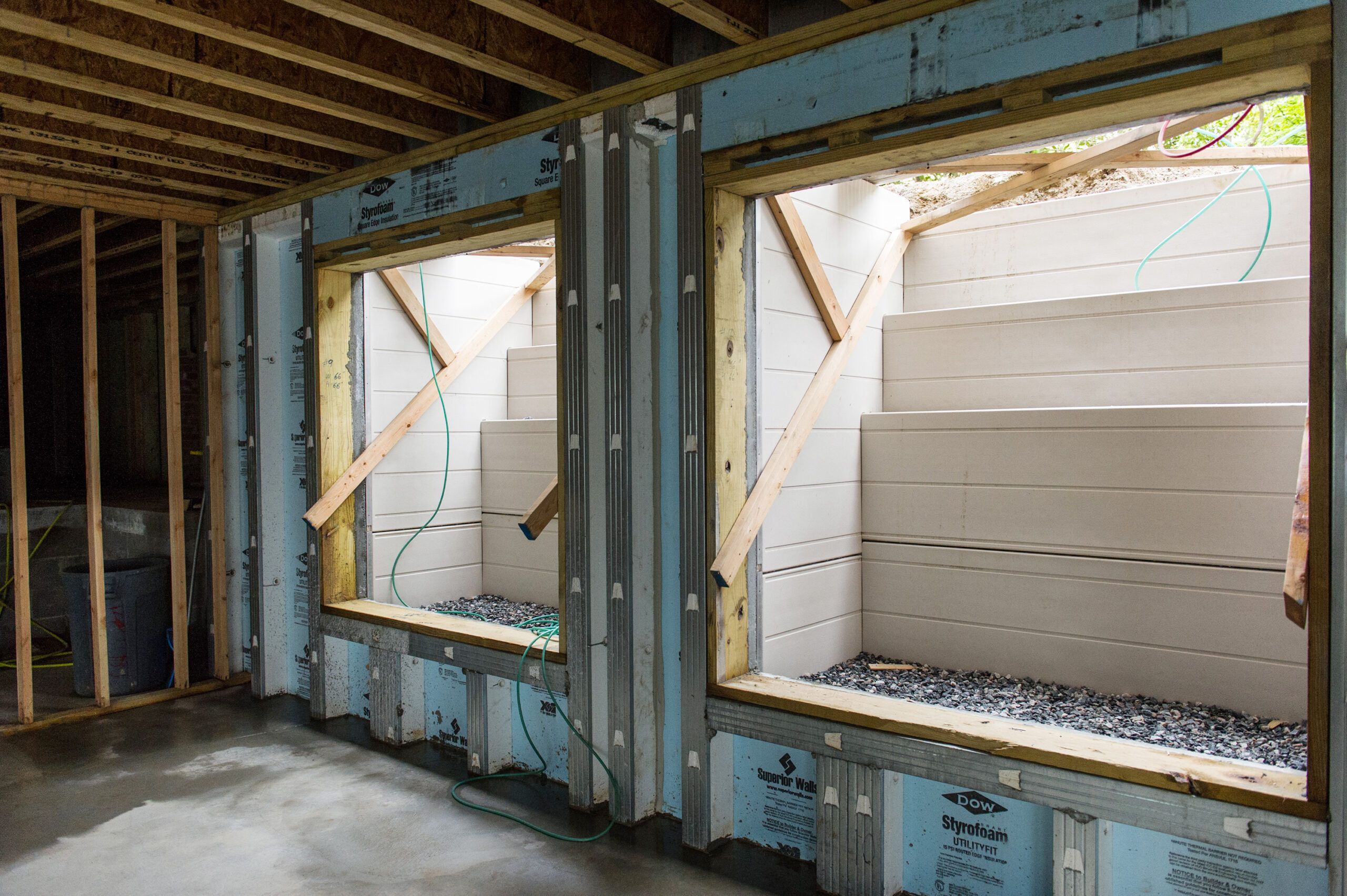 Large basement windows and terraced window wells let in extra light and allow for easy egress in an emergency. Made from maintenance-free high-density polyethylene, the window wells' stepped design doubles as a planter; when the house is complete, they will be landscaped to enhance the view to the outdoors.
WINDOW WELLS: BILCO