Staycation-Worthy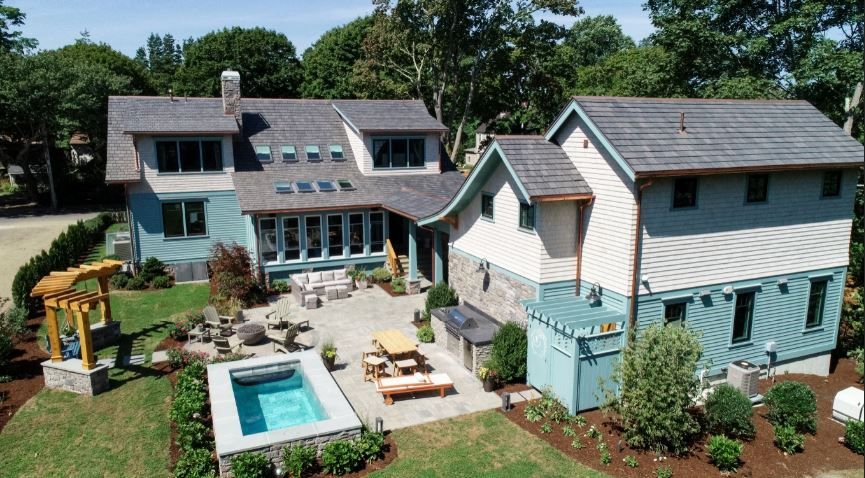 "The idea was to not just create one huge rectangle," says landscape designer Jon Zeyl of the area between the back of the house and a garage sidewall. "We wanted welcoming spaces, logically broken up by geometry, that people would want to to use." Uniting all the areas are concrete pavers set in a variety of sizes and patterns.
LANDSCAPE DESIGN: Landscape Creations of Rhode Island
PAVERS: Unilock
COMPOSITE ROOF TILES: DaVinci Roofscapes
CLAPBOARD STAIN: Olympic's Steely Sea
CLAPBOARD SIDING: LIFESPAN Solid Select
CEDAR SHINGLES: SBC Cedar
PLANTS AND TREES: Fast-Growing-Trees.com
MICROCLOVER SOD: Sodco
The Ultimate Amenity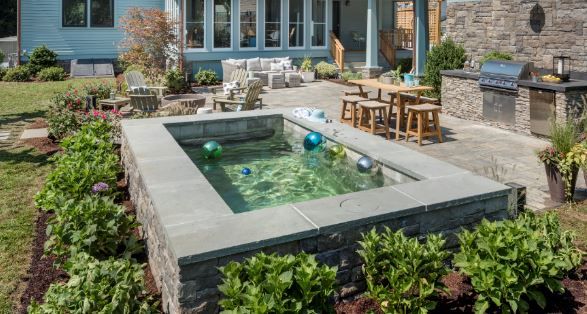 This 7×13-foot pre-cast plunge pool was delivered in one piece, dropped into a 4-foot hole, and then faced with stone veneer and a bluestone ledge. With a built-in bench and water temperature controls, this right-size pool is perfect for a quick, cooling dip when the mercury climbs.
PLUNGE POOL: Soake Pools
STONE VENEER: Eldorado Stone
FURNISHINGS: Hayneedle
Well-Dressed Pool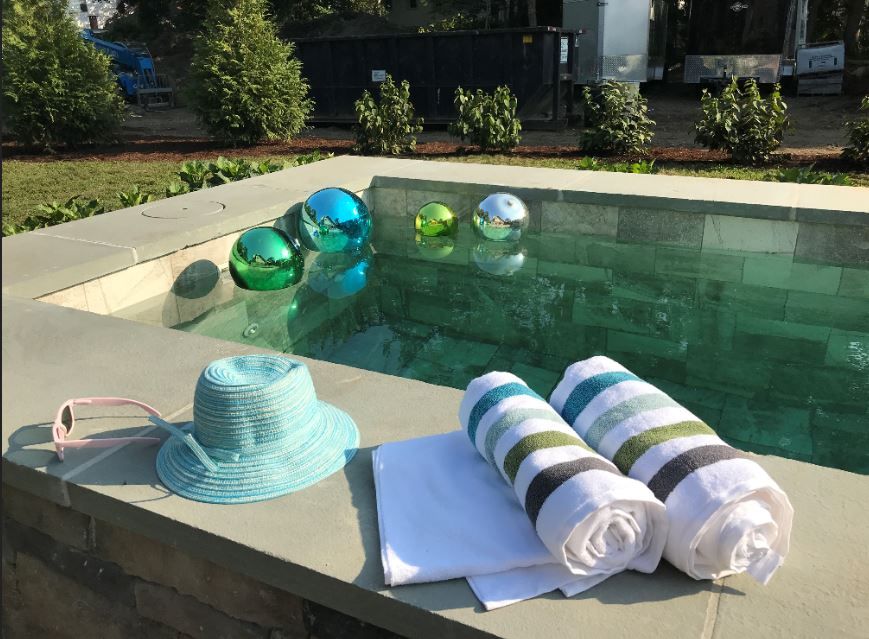 Colorful mirrored gazing globes float on the surface of our right-size plunge pool.
POOL: Soake Pools
GAZING GLOBES: Mayan Dreams Imports
TOWELS: Hayneedle
Green Landscape-Without the Wait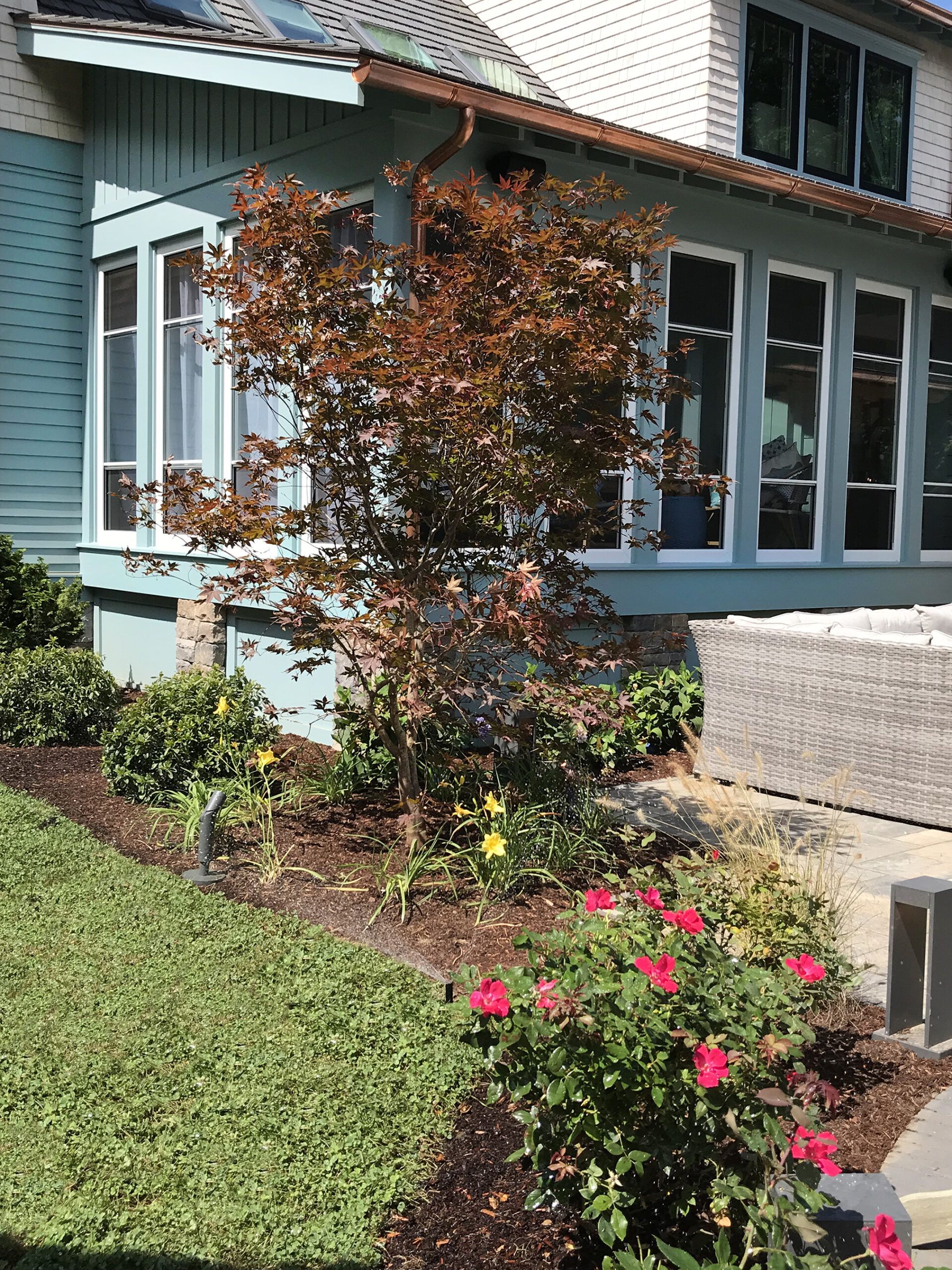 Mature-looking plants, trees, shrubs, and sod were all ordered online and installed over the course of a single weekend, saving both time and money.
PLANTINGS: Fast-Growing-Trees.com
MICROCLOVER SOD: Sodco
Low-Maintenance Lawncare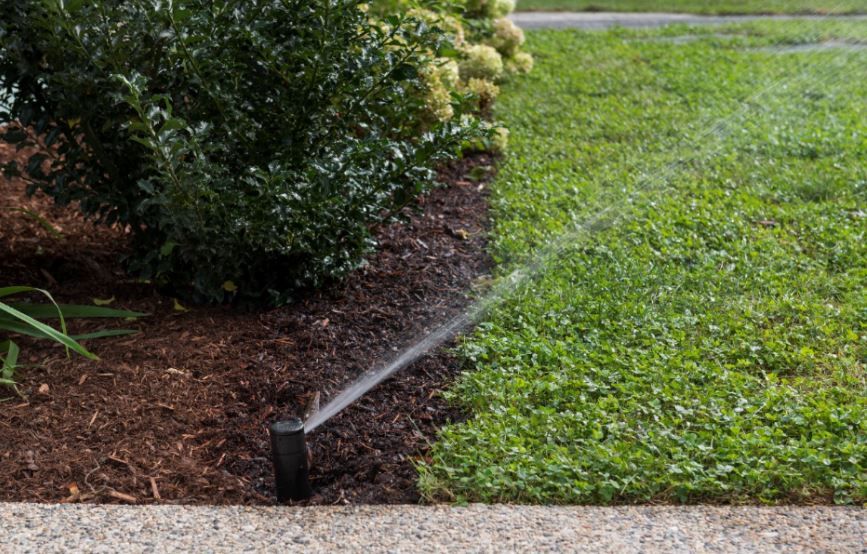 Microclover sod requires infrequent watering and zero fertilizer. To avoid over-watering, we chose an in-ground irrigation system that includes a timer that can be remote-controlled from a smart phone or computer and adjusts to local weather conditions.
SPRINKLER SYSTEM & TIMER: Orbit B-Hyve & Orbit Irrigation
MICROCLOVER SOD: Sodco
Instant Water Access
The no-leak, no-drip, never-freeze outdoor faucet system features a twist-lock design that automatically turns the water on as soon as the connector is inserted.
HOUSE HYDRANT & HOSE: Aquor Water Systems
Shower Spot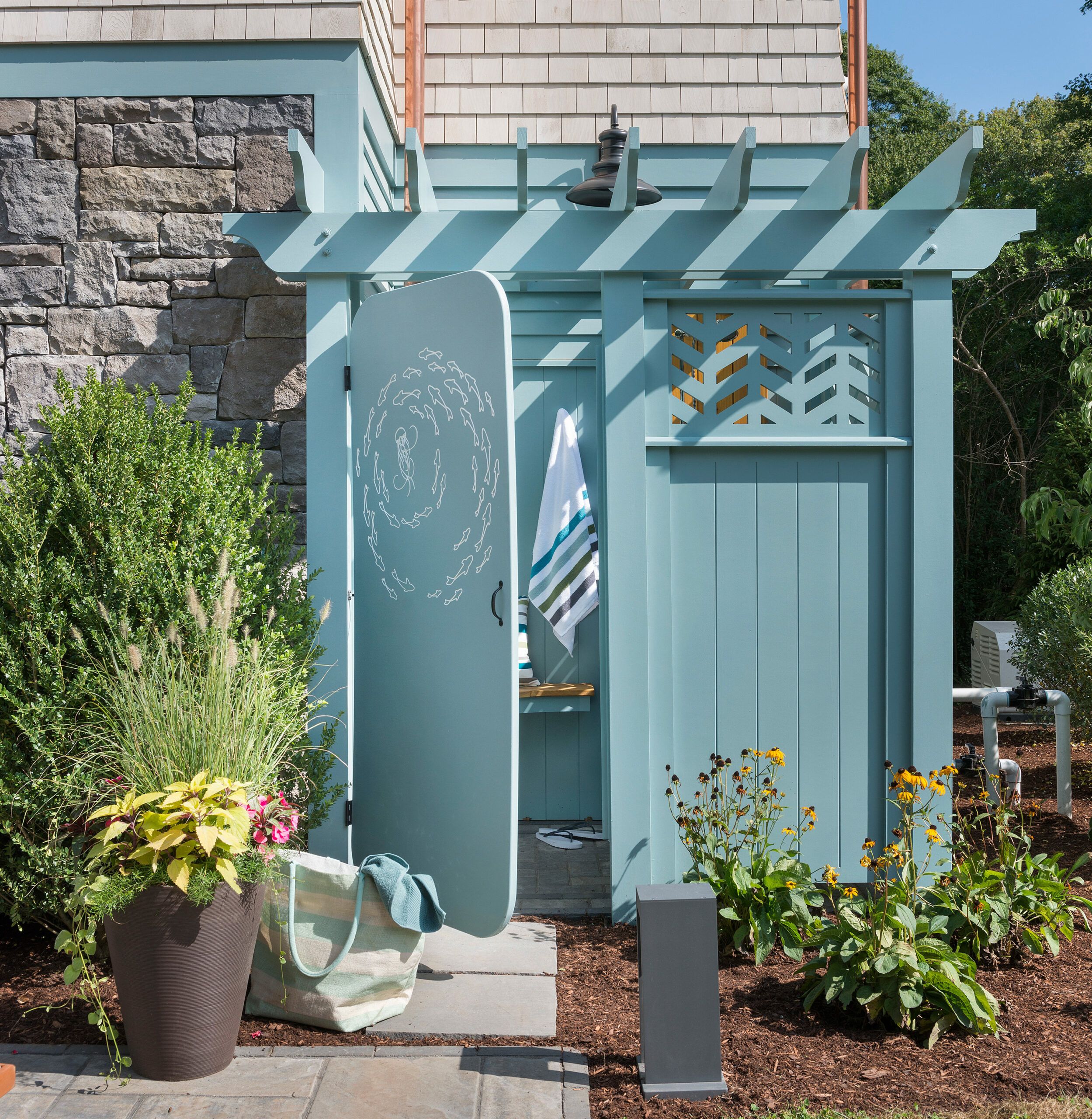 Tucked into the far corner of the concrete-paver patio, the custom-built outdoor shower features a pergola roof, custom-designed privacy panels, and a door laser-cut with a design of schooling fish.
OUTDOOR SHOWER: Sweenor Builders
PLANTS: Fast-Growing-Trees.com
PLANTER: Hayneedle
For a Quick Rinse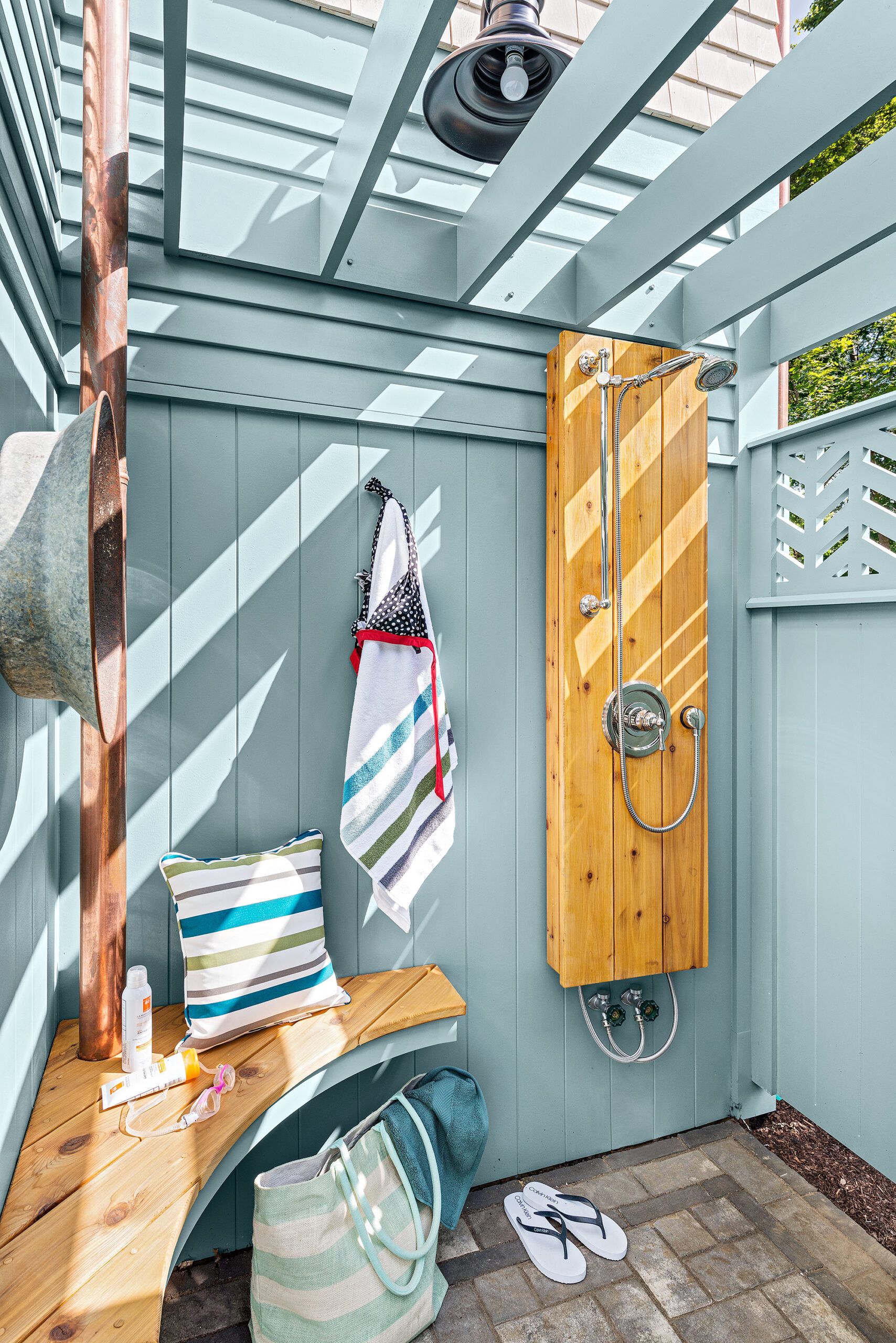 Both fun and functional, an outdoor shower is a sought-after amenity at any house near the beach. Inside, the curved seat and plumbing wall got a natural accent with moisture-resistant knotty western red cedar.
SHOWER: Sweenor Builders Mill Shop
KNOTTY WESTERN RED CEDAR: Real Cedar
SHOWER FITTINGS: DXV
LIGHTING: Clarkson Lighting
TOWELS: Hayneedle
Outdoor Kitchen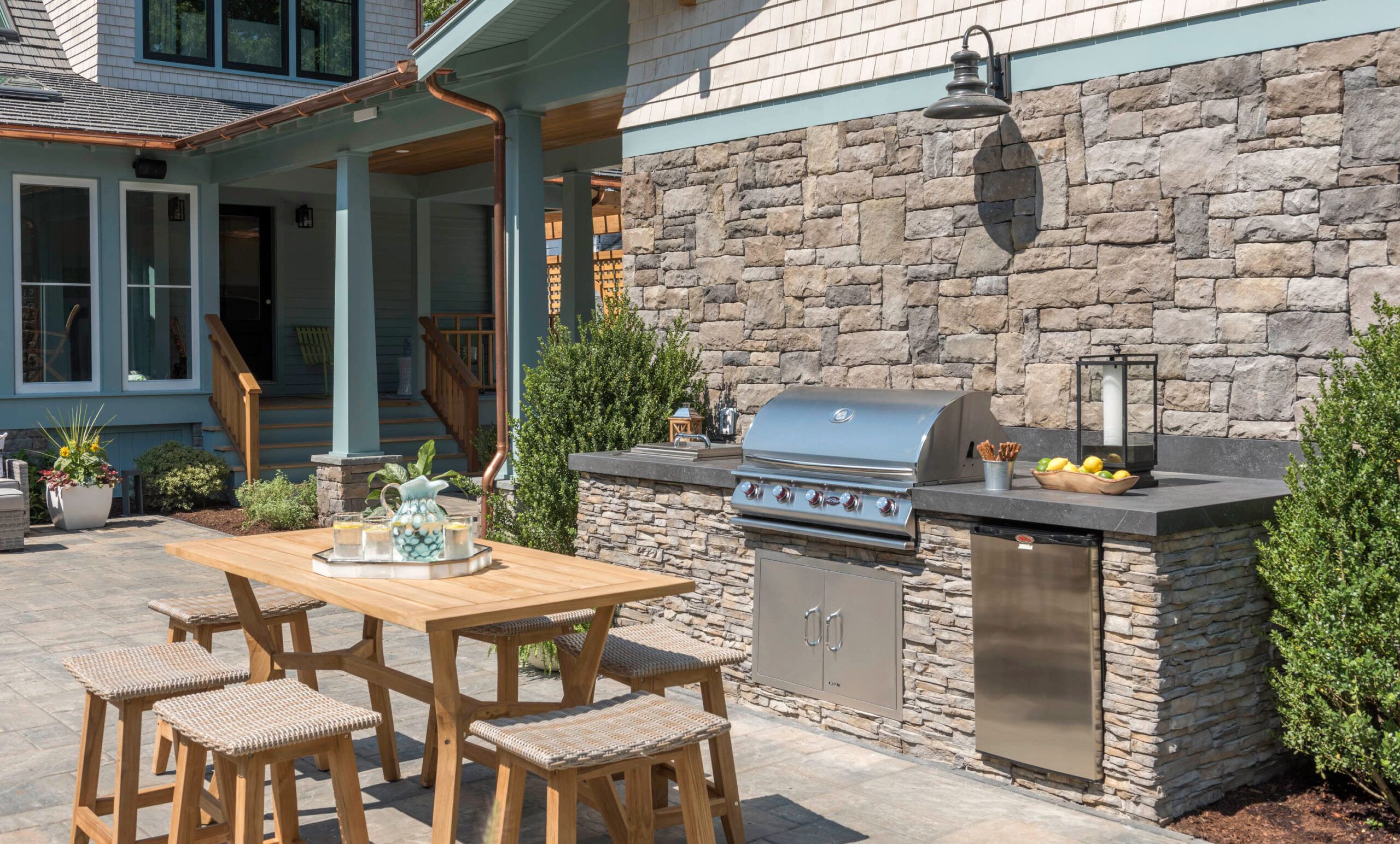 Perfect for casual entertaining, the outdoor kitchen and dining area sets the stage for al fresco meals. A lantern wired into the garage wall provides evening task lighting. A teak bar-height dining set with wicker-topped stools is just steps away, allowing the chef to enjoy the party too.
KITCHEN ISLAND and GARAGE WALL: Eldorado Stone
COUNTERTOP: Cosentino
LIGHT FIXTURE: Clarkson Lighting
FURNISHINGS, GRILL and APPLIANCES: Hayneedle
PATIO PAVERS: Unilock
Built-In Barbeque Station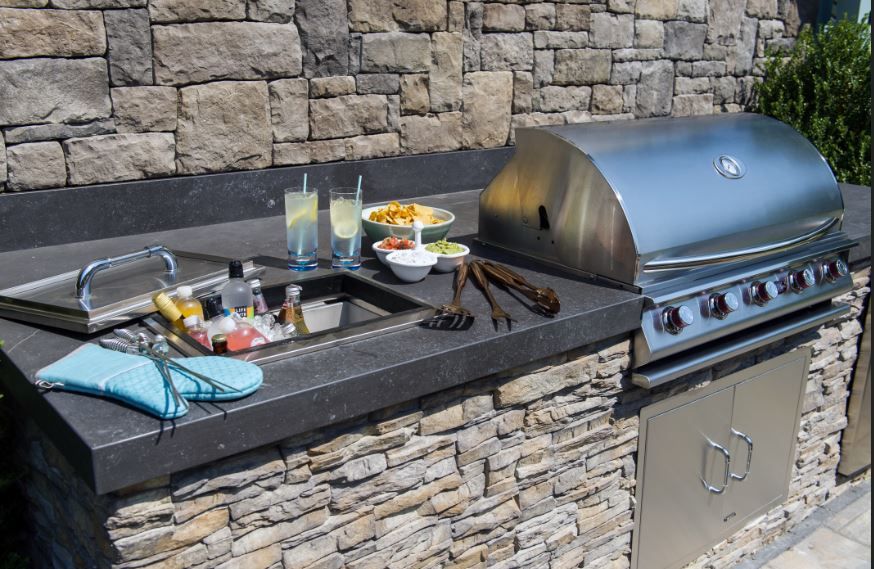 To create the outdoor kitchen, builder Jeff Sweenor started with pre-fab cabinets and cut out holes for a gas grill, stainless-steel refrigerator, and ice chest. He then covered it with manufactured stone veneer, and topped it with a non-porous, scratch- and stain-resistant countertop.
KITCHEN BASE AND STONE VENEER: Eldorado Stone
GRILL, ICE CHEST, REFRIGERATOR: Hayneedle
COUNTERTOP: Dekton by Cosentino
Evening Lounge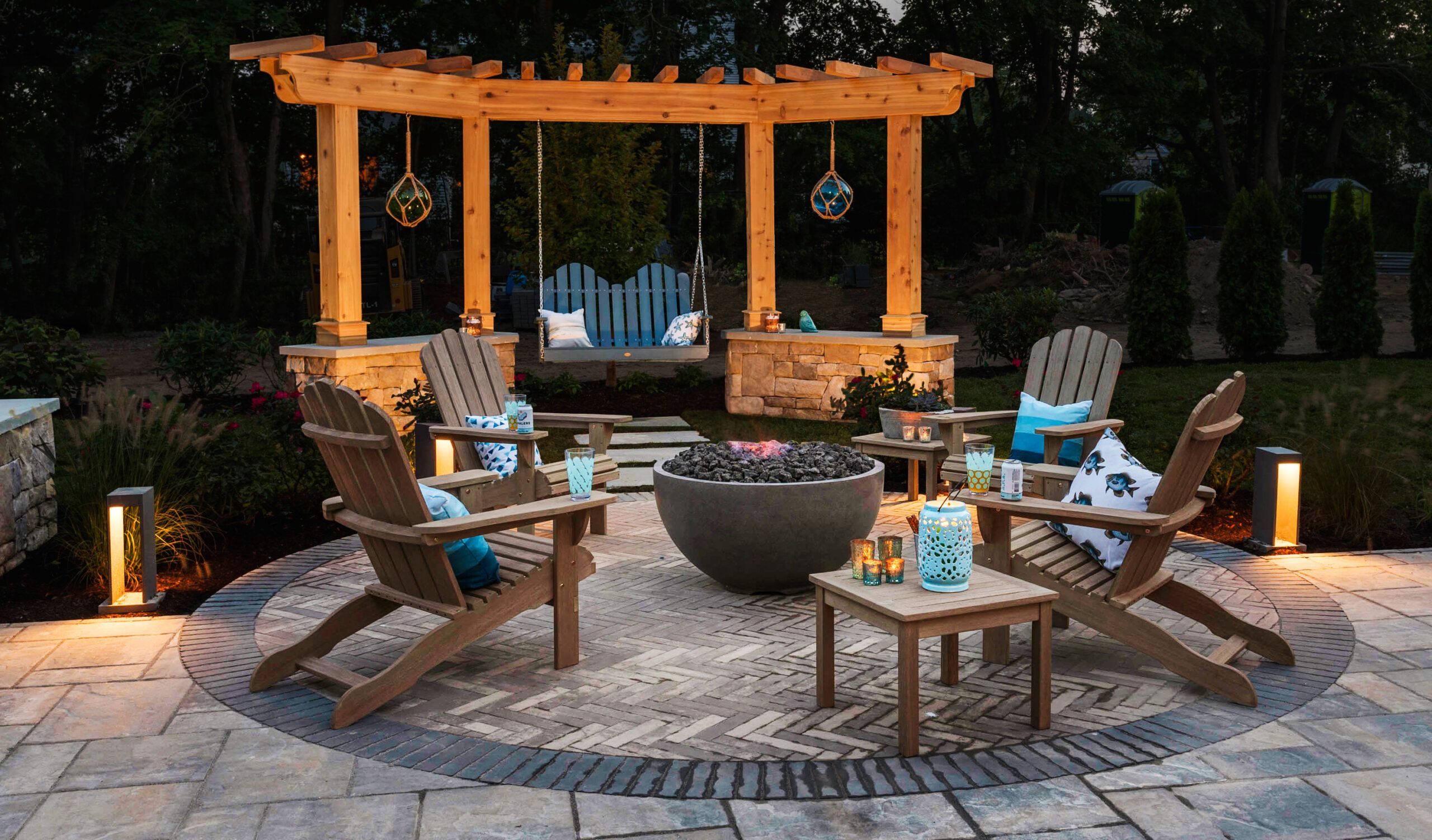 Casual Adirondack-style seating, including a bench swing hung from an angled pergola—echoed in the circular paving design—offers plenty of options for gathering around into the wee hours.
PERGOLA: Sweenor Builders Mill Shop
FURNISHINGS, ADIRONDACK CHAIRS, SWING: Hayneedle
FIRE BOWL: Eldorado Stone
PATH LIGHTING: Clarkson LIghting
PATIO PAVERS: Unilock
Fire Feature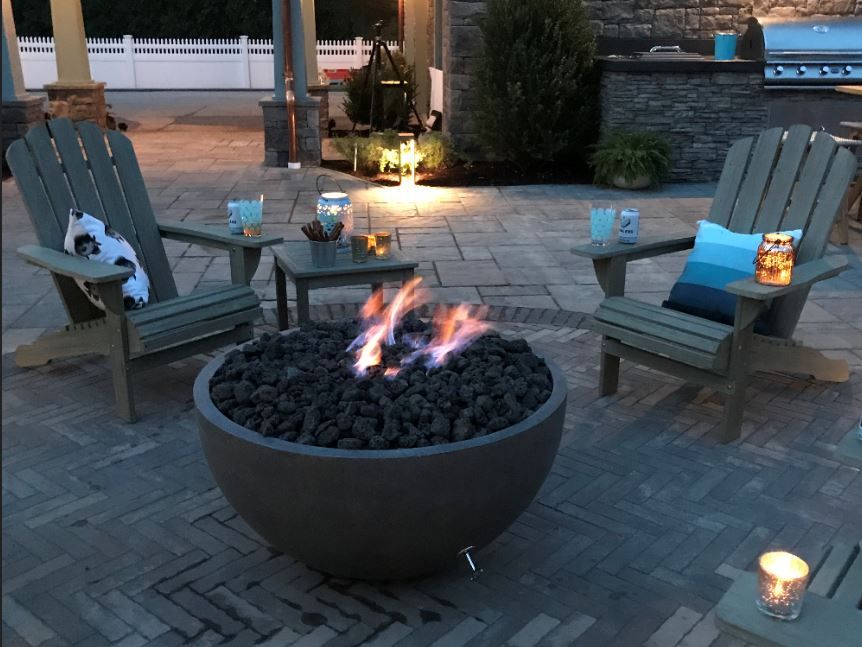 On evenings when there's a chill in the air, the courtyard's gas fire bowl has a magnetic attraction. Mood, task, and path lighting illuminate the surrounding areas.
FIRE BOWL: Eldorado Stone
ADIRONDACK CHAIR SET: Hayneedle
PAVERS: Unilock
LIGHTING: Clarkson Lighting
Mood and Safety Lighting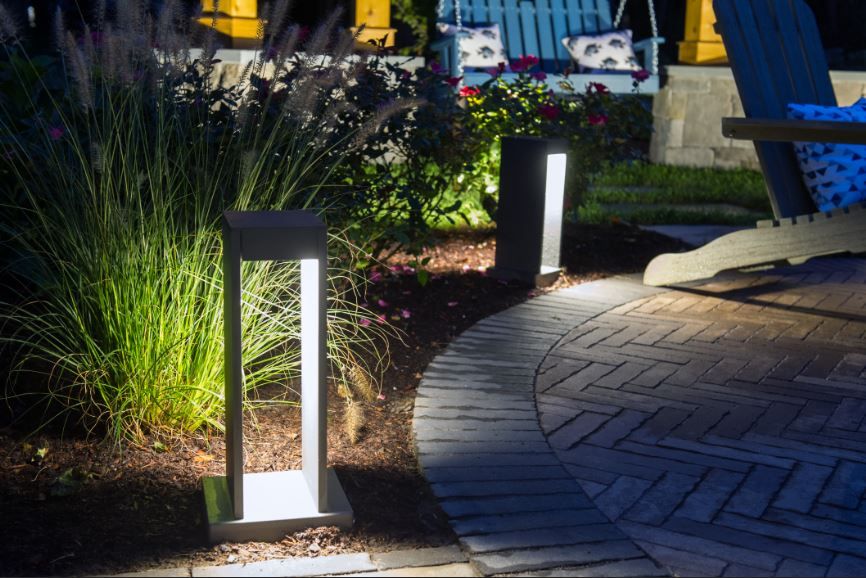 Task and ambient LED path lights keep the party going after dark, and accentuate the landscape.
LIGHTING: Clarkson Lighting
PAVERS: Unilock
PLANTS: Fast-Growing-Trees.com
Conversation Piece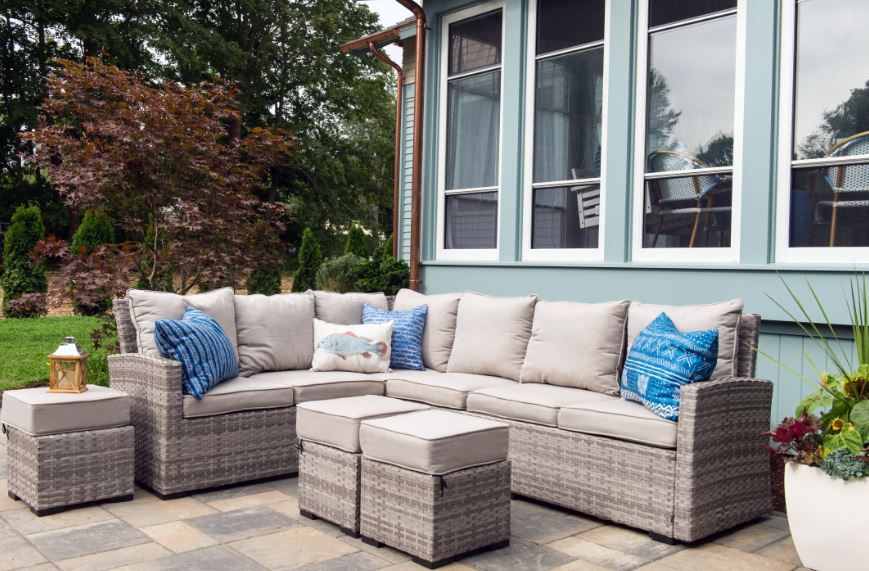 Off the sunroom, a seating area outfitted with an all-weather synthetic-resin wicker sectional sofa invites lounging and conversation.
SECTIONAL, PILLOWS, PLANTER: Hayneedle
PAVERS: Unilock
RETRACTABLE SCREEN WINDOWS: Scenix by Larson
Welcome Back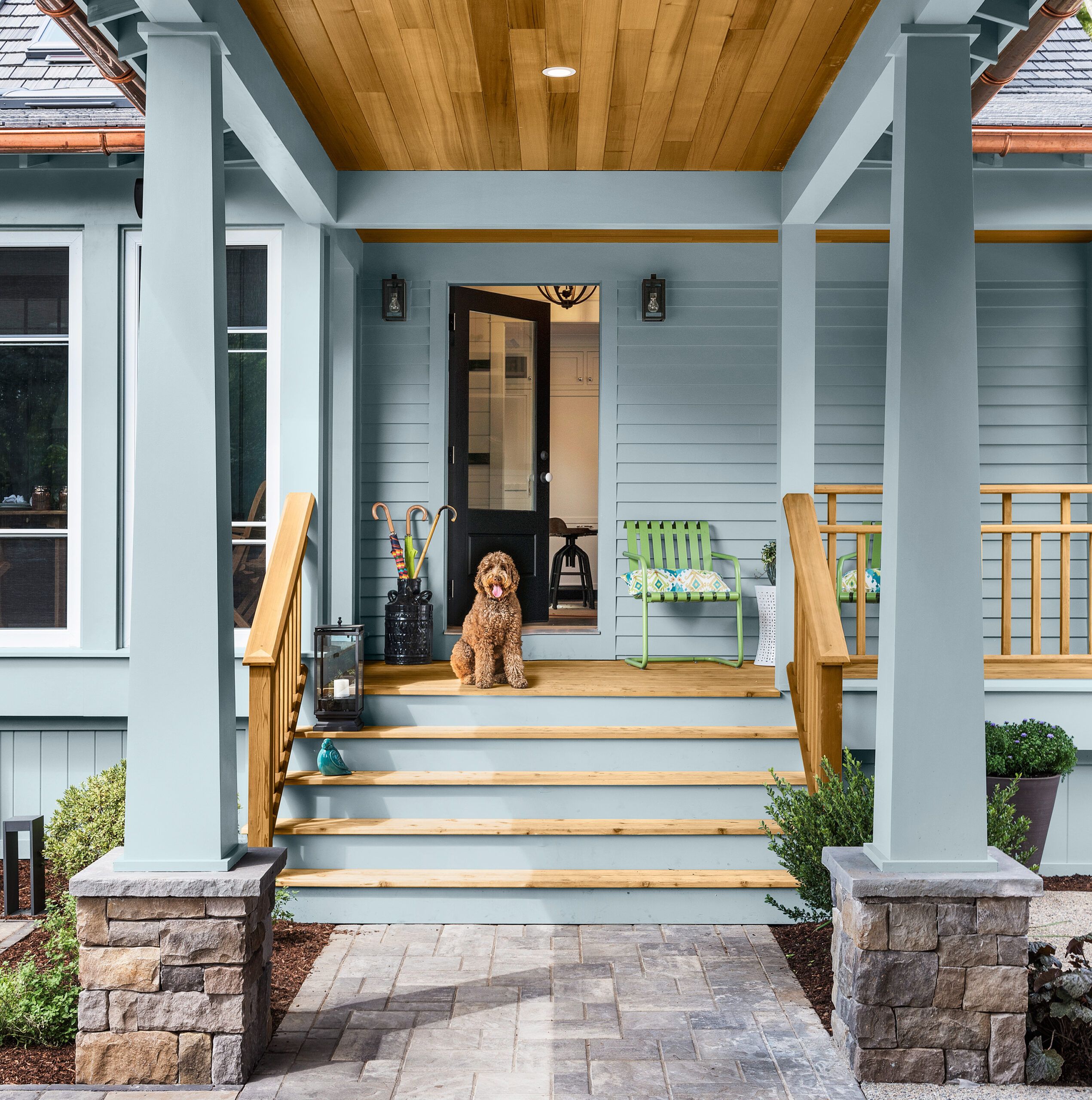 For convenient daily comings and goings, the back door connects to the freestanding garage via a covered walkway, offering protection from the elements. This secondary entry gets the first-class treatment with a small sitting porch that echoes the full-width porch out front, with a cedar floor and ceiling and tapered wood columns set on manufactured-stone-veneer bases.
CLAPBOARDS, WINDOW TRIM, AND SOFFITS: LIFESPAN Solid Select
WESTERN RED CEDAR: Real Cedar
EXTERIOR SEALER (ON CEDAR ELEMENTS): Olympic
WALKWAY PAVERS: Unilock
BACK DOOR AND INTERIOR SHIPLAP: Baird Brothers Fine Hardwoods
PORCH FURNISHINGS: Hayneedle
OUTDOOR SCONCES: Circa Lighting
STONE PIER: Eldorado Stone