Comprehensive Comfort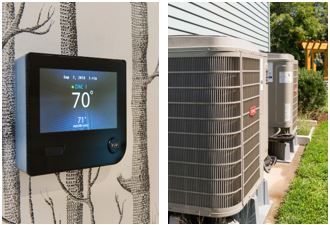 When installed as part of the complete Evolution® system, the Evolution Connex™ control can make it easy for you to create comfort settings by managing temperature, humidity, air quality, and fan speeds, whether you're at home, asleep, or away.
HVAC: Bryant Heating & Cooling Systems
WALLCOVERING: Cole & Son
A Savvier Skylight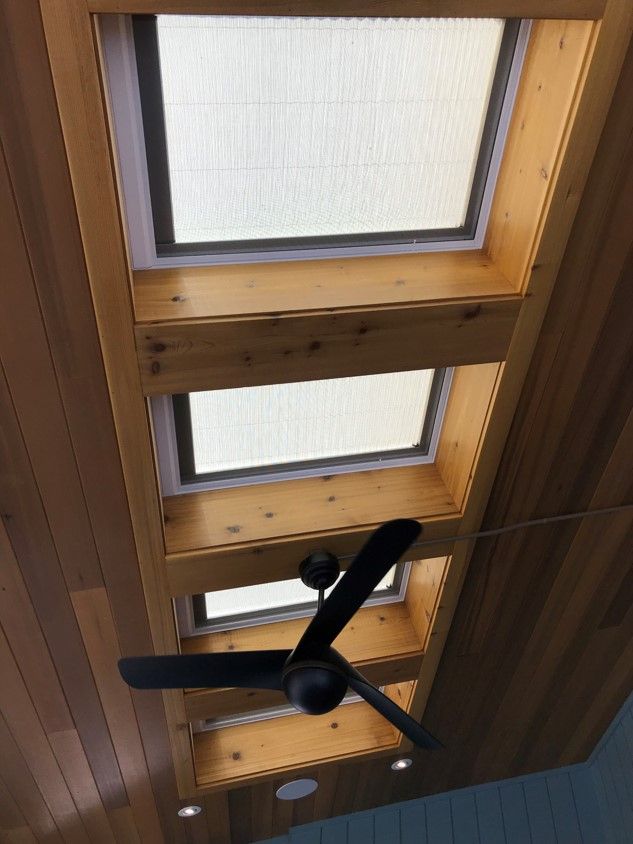 Skylights provide natural light and fresh air in the four-season sunroom. And an innovative built-in rain sensor automatically closes the skylight at the first sign of rain.
SKYLIGHTS: VELUX
CEILING FAN: Clarkson Lighting
Hot Water on Demand
WiFi compatibility allows the Rinnai tankless hot water heater to be controlled and monitored remotely from your smart device, or voice-activated through Alexa.
Click here to read more about it.
The Heart of the Home's Electrical System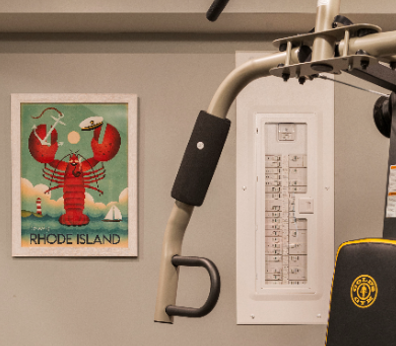 Leviton's new easy-to-install load center features a sleek white enclosure housing and clear observation door for modern appeal and easy viewing.
Functional and Flexible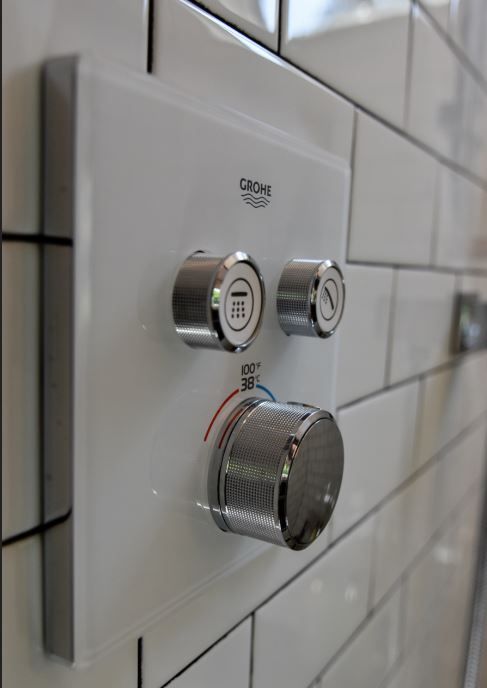 Packed with useful features, this sleek and stylish thermostat allows you to control or even combine spray patterns from multiple outlets, prevents unpleasant temperature fluctuations, and offers a water-saving reduced flow rate option.
THERMOSTAT: GROHE
Innovative Indoor Air Solution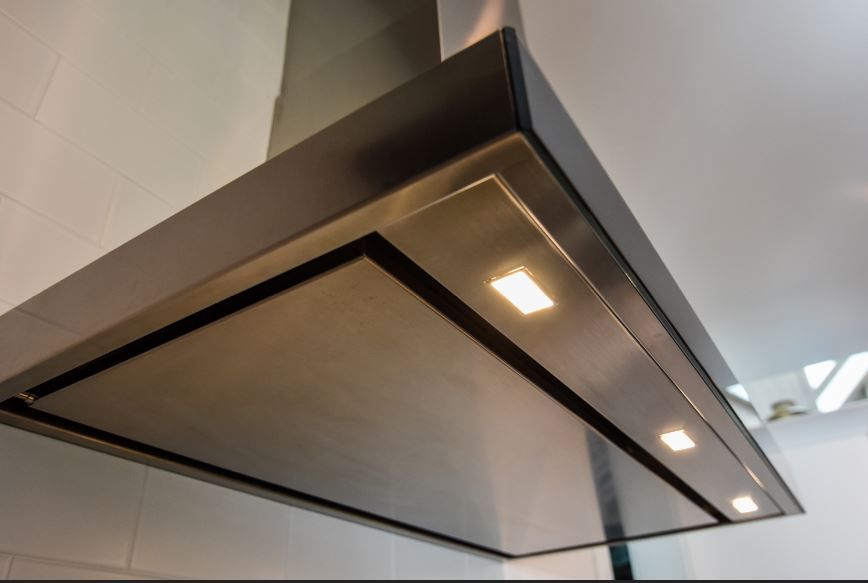 Panasonic's new WhisperHood IAQTM range hood features ultra-quiet technology that provides up to 86% less noise output than other hoods, so it quickly and efficiently exhausts harmful air from the kitchen without disturbing dinner conversation.
Click here to watch as Interior Designer Kristen Martone demonstrates the features of the WhisperHood IAQ range hood.
A Modern Mantel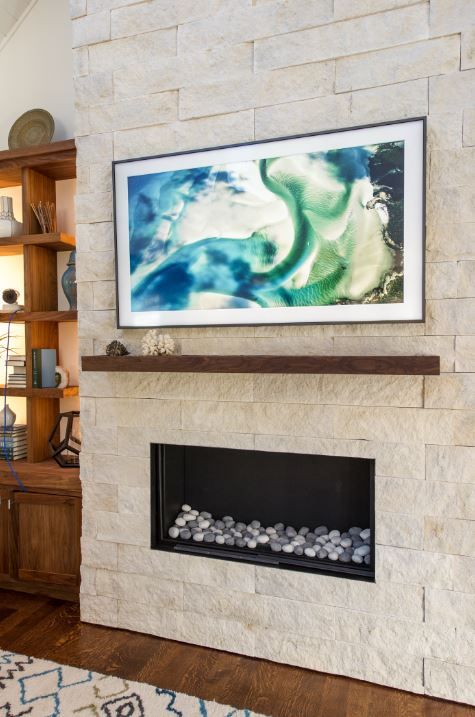 Here in the living room, a modern gas fireplace provides comfortable warmth while remaining safe to the touch. A dramatic, floor-to-second-story wall of stone veneer offers a contemporary look, with a cozy feel. And while it looks like a beautiful work of art above the mantel, that's actually Samsung's ingenious Frame TV. It transforms into a crystal-clear artistic display when the television is not in use.
FIREPLACE: Ortal, by Wakefield Fireplace
STONE VENEER: Eldorado Stone
FRAME TV: Samsung
BUILT-INS: Sweenor Builders Mill Shop
A Smarter Way to Water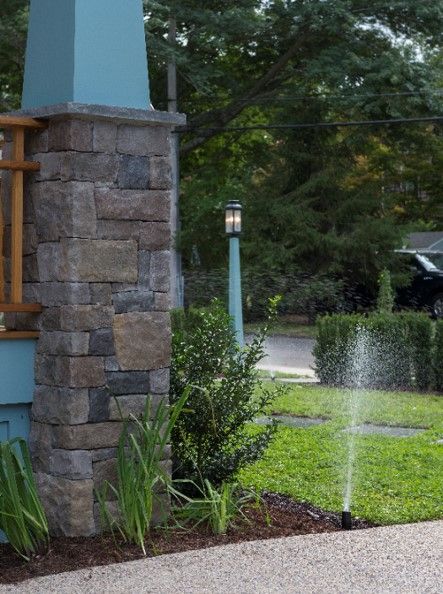 The Orbit Sprinkler System connects with the B-hyve app to allow you to completely program and control your timer straight from your smart device. Additionally, B-hyve connects to local weather data, giving your landscape the exact amount of water that it needs.
SPRINKLER SYSTEM WITH TIMER: Orbit B-hyve & Orbit Irrigation
SOD: Sodco
HEDGES: InstantHedge
LANTERN POST: Walpole Outdoors
Power Outage Protection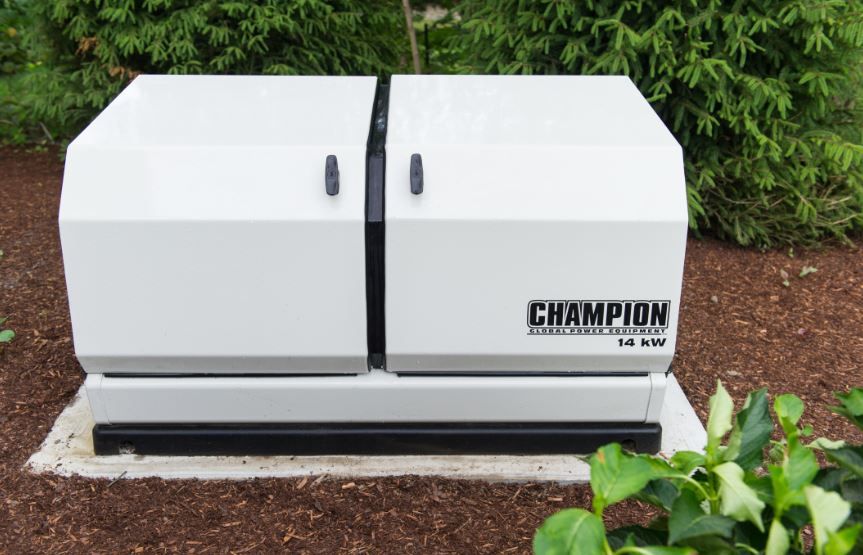 To protect the home from power outages, we opted for the 14KW Champion Home Standby Generator. Unlike portable generators that require the homeowner to activate it, standby generators continually monitor power, and start up automatically the moment the power goes out. Designed to operate from sub-zero temperatures (from -22° F) to extreme heat (up to 104° F), this unit is well-suited to a coastal four-season town like Narragansett.
Click here to read what electrican Ben Giles had to say about why he selected this particular model for the Idea House.
Low-Maintenance Materials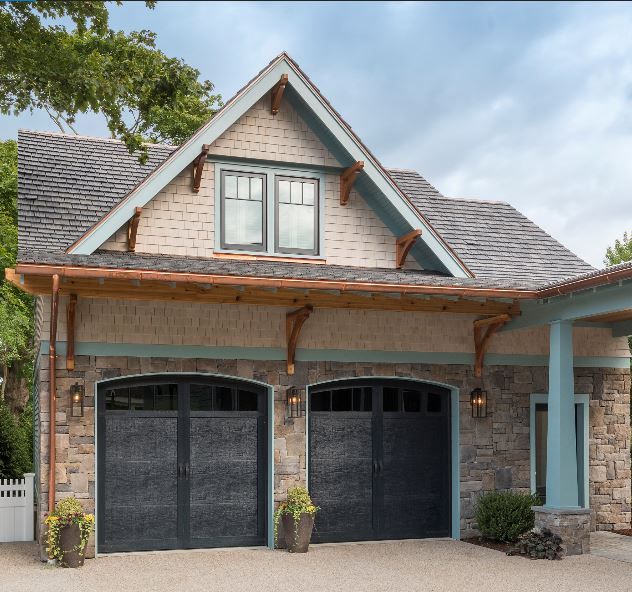 Out at the garage, we selected doors that evoke the elegance of classic wooden carriage doors, but they're crafted of galvanized steel with CFC-Free Polyurethane insulation, and backed by a lifetime limited warranty. Composite shake roof tiles are durable and weather-resistant, and now available in a full spectrum of authentic colors to enhance the realistic appearance. And the foundation is faced with stone veneer; less expensive, lighter, and easier to install than natural stone, you'll pay less for labor, too.
COMPOSITE ROOF TILES: DaVinci Roofscapes
GARAGE DOORS: Haas Door
STONE VENEER: Eldorado Stone