Before: Gloomy Cookspace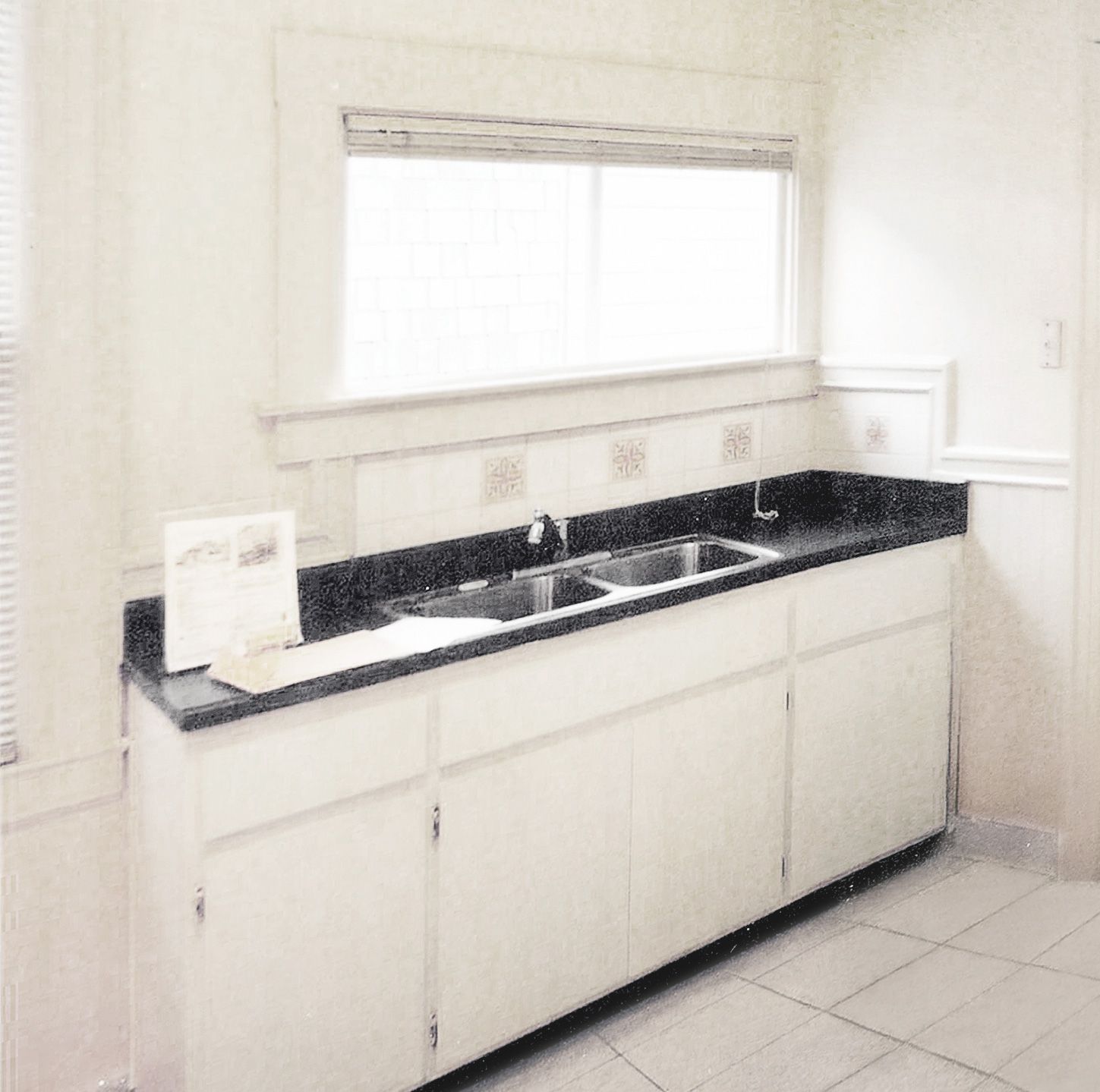 When it comes to blurring the lines between indoor and outdoor living, the backyard is at the front of most homeowners' minds. For Adriana Daringa and Ben Corotis, the impediment to rear access was a laundry shed tacked on to their 1904 bungalow in Emeryville, CA. But the couple—partners in the architectural firm ADBC—soon saw the upside: Scrap the shed, which sat on a deck platform, and they could build out their barely-there kitchen, adding proper footings and a beam to support a wide opening in the house's back wall. A new deck could step down to the stone patio below, while offering spots for casual seating.
Shown: With no upper cabinets, the old cook space was storage starved and gloomy, despite a window over the sink.
After: Airy Update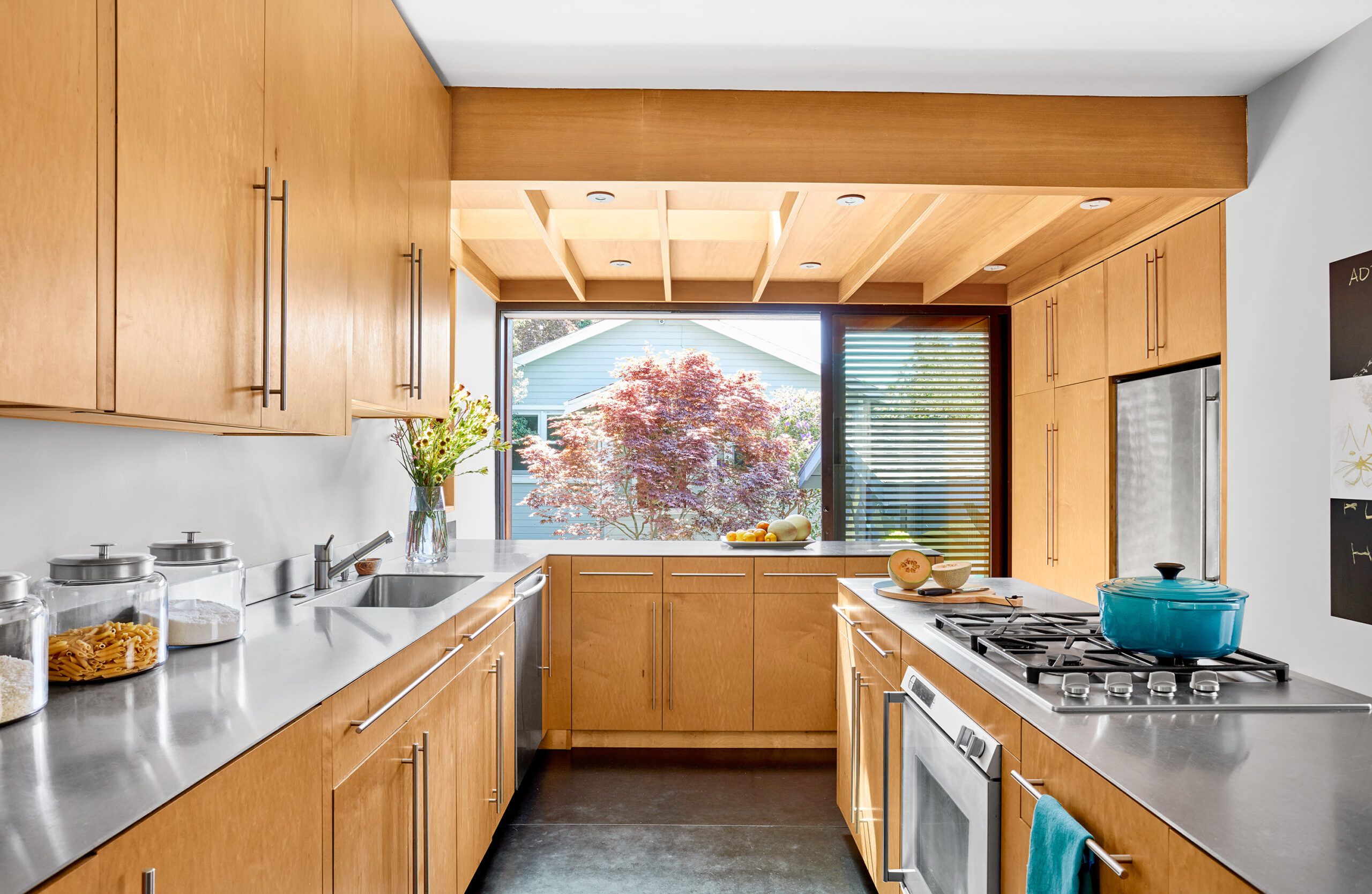 The unified 261 square feet of open kitchen allowed them to move the cooktop to an island for improved workflow and add a dining peninsula. Ceiling-high upper cabinets beefed up their "virtually nonexistent" storage, and the laundry machines were tucked into an alcove alongside the fridge.
Shown: Natural light pours in to the new kitchen through the 10-foot-wide opening's glass doors. An island not only adds storage: "The counter space on either side of the cooktop is great," says Adriana. "And it's surprisingly handy having access from both sides."
Range: Gaggenau
Dishwasher: Bosch
Cabinet hardware: Amerock
Lighting: B-K Lighting
Sleek Counters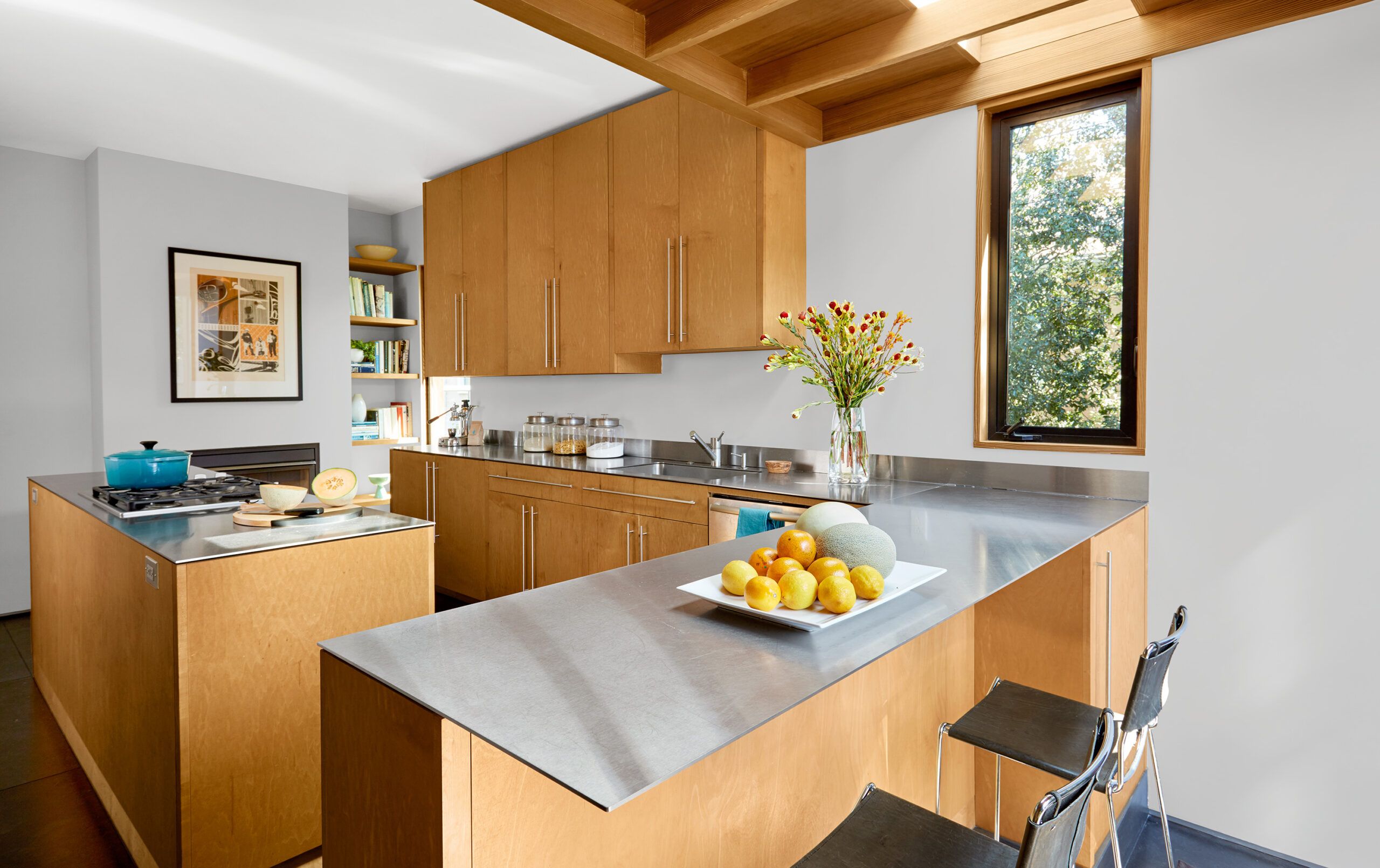 Thin stainless-steel counters and slab-front wood cabinets reflect the couple's modern aesthetic—and don't distract from the opened-up view. The family is now living the California dream. "Better yard access has enhanced our lifestyle immeasurably," says Ben. "And with more open, functional space we really enjoy cooking and entertaining."
Shown: As a countertop choice, stainless steel "is durable, heat resistant, and easy care," says Ben. The thin quarter-inch counters, matching 4-inch-high backsplash, and white walls have a simple, modern look.
Custom countertop fabrication: Jeffco Custom Metals
Wine Storage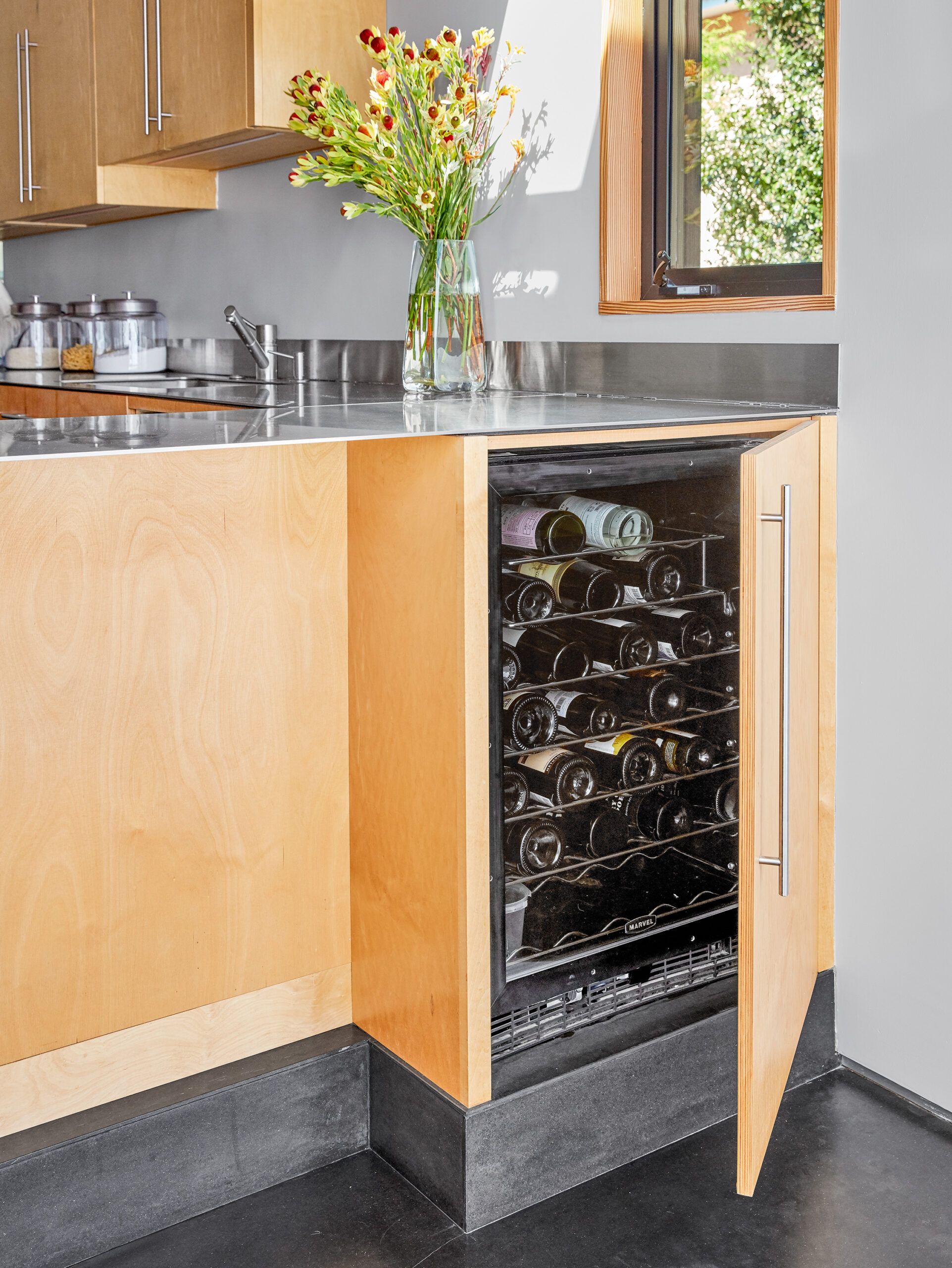 A wine-fridge cabinet in the peninsula and next to the wall solves the problem of the almost-impossible-to-use corner cabinet on the other side, says Adriana. It opens toward the backyard, out of the work zone.
Custom cabinets: Arturo Silva
Wine fridge: AGA Marvel
Dining Space Warmer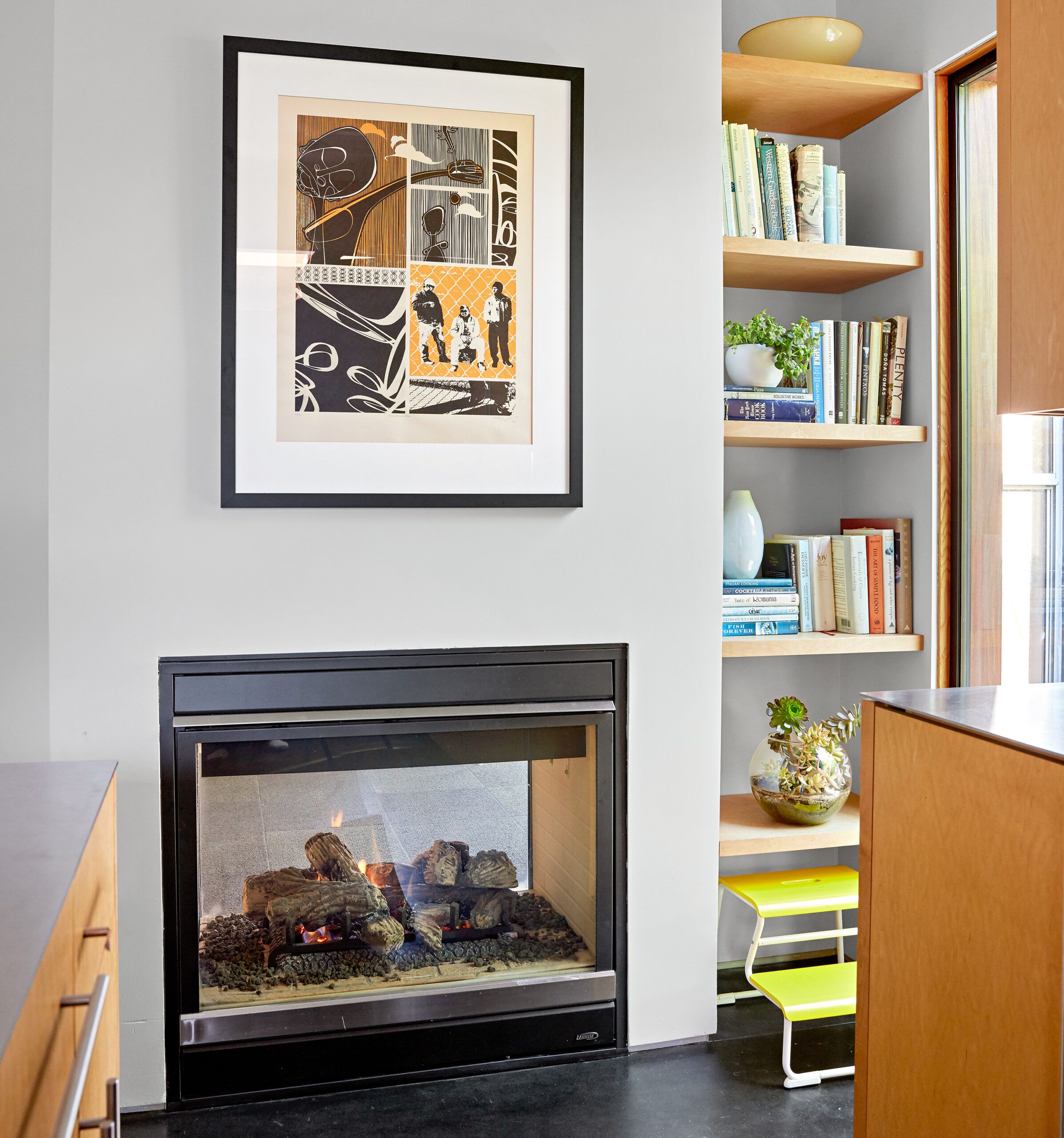 A double-sided gas fireplace insert warms the dining room as well as the kitchen. "When it's on, we don't need heat for the rest of the house," says Adriana. Open shelves allow the couple to vary accent pieces in the relatively minimalist room.
Floor: Slatescape
Sun Roof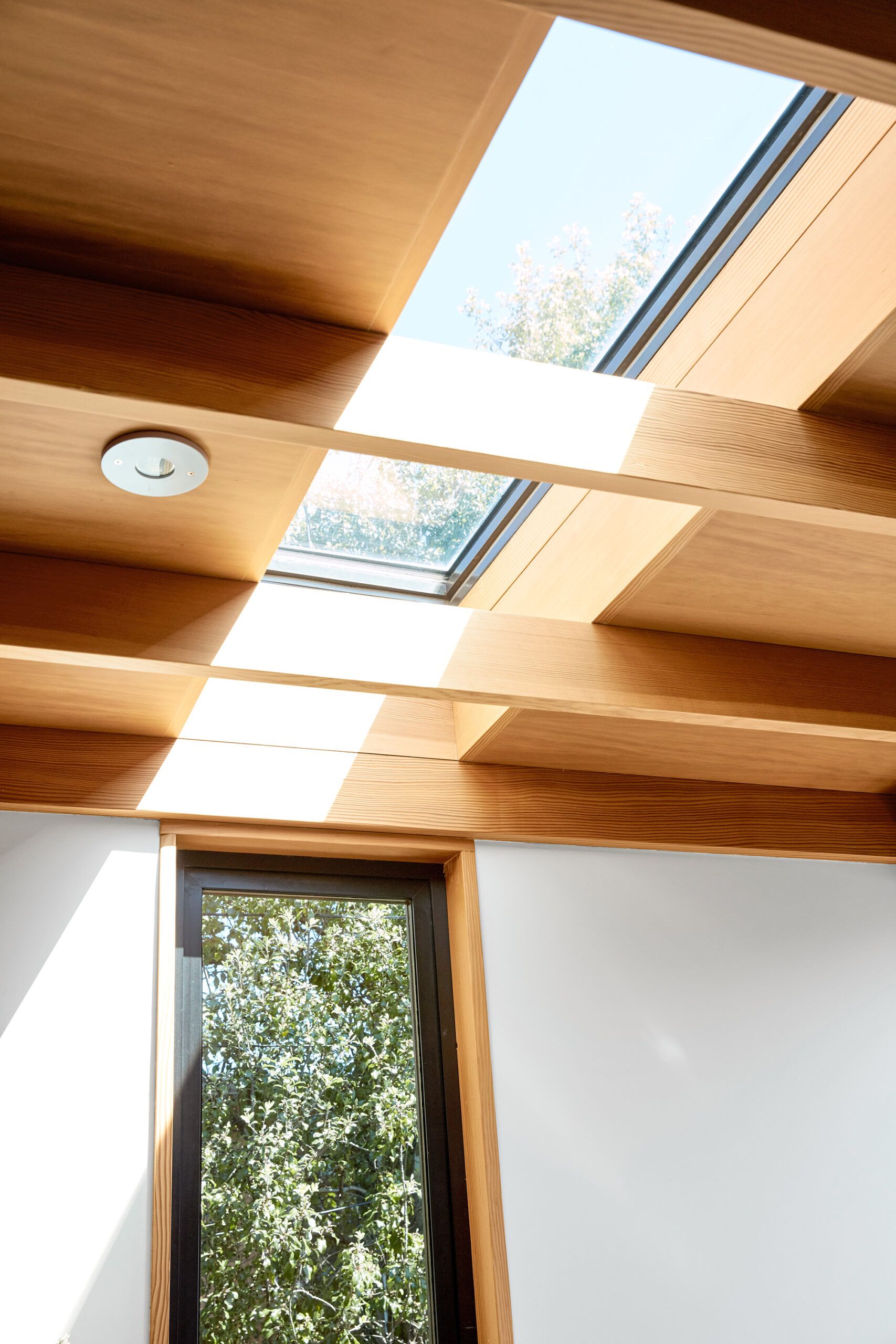 The bumped-out area's wood ceiling and Douglas fir beams were a splurge. "We hired specialty wood finishers to sand and varnish them," says Ben. Adding a skylight amplified the new kitchen's airy, open feel.
Homeowner tip: "Sliding wood-slat screens are great for controlling light and heat, and provide privacy as well."
—Ben Corotis, Emeryville, CA
Stepped-Down Deck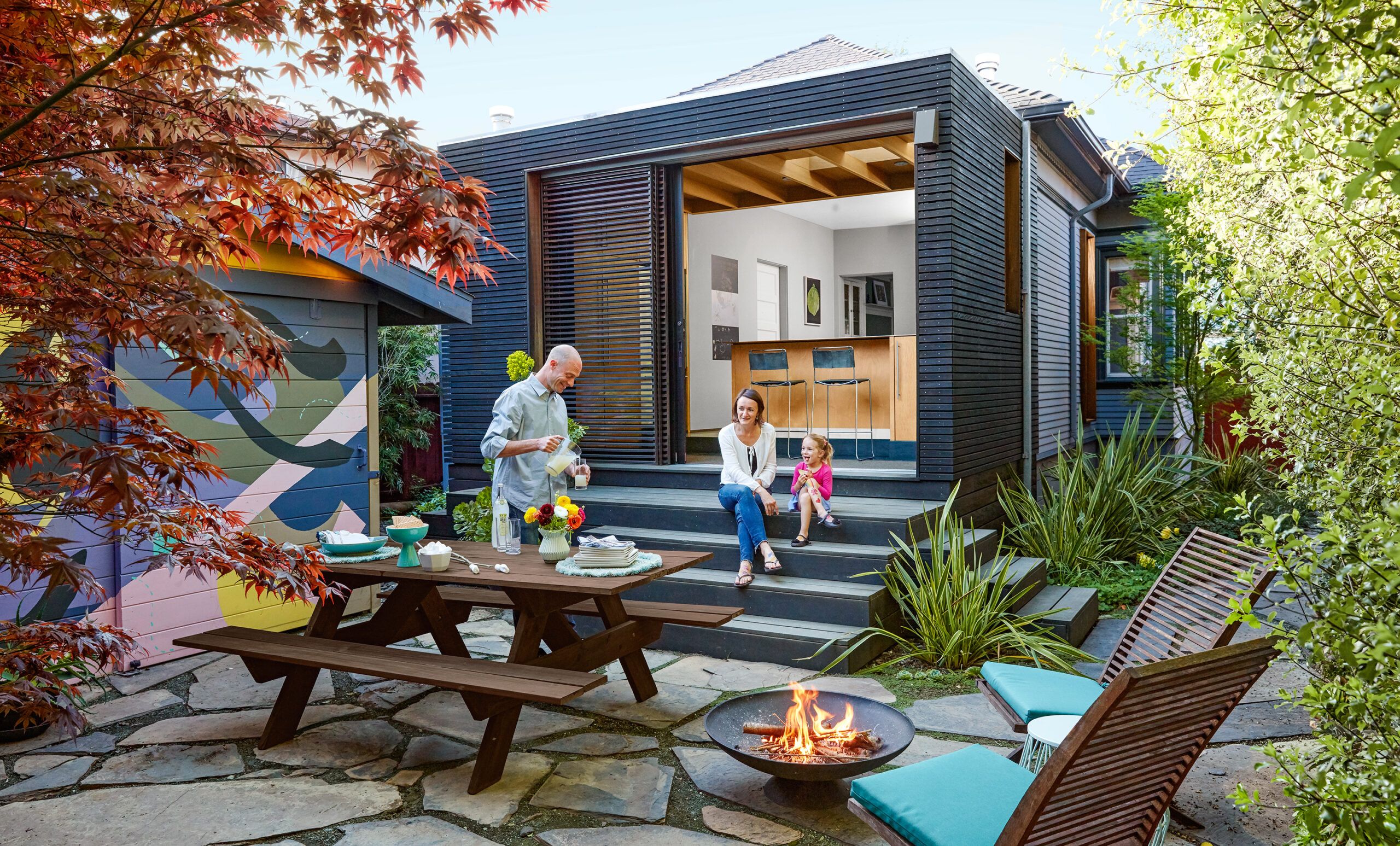 Ben, Adriana, and their daughter Alexa, now 5, love the seamless transition from the kitchen to the backyard. The stepped-down deck is made of ipe. The modern-looking addition's slat siding—like the sliding screens—is also ipe, and echoes the vintage bungalow's 3-inch lap siding.
Message Center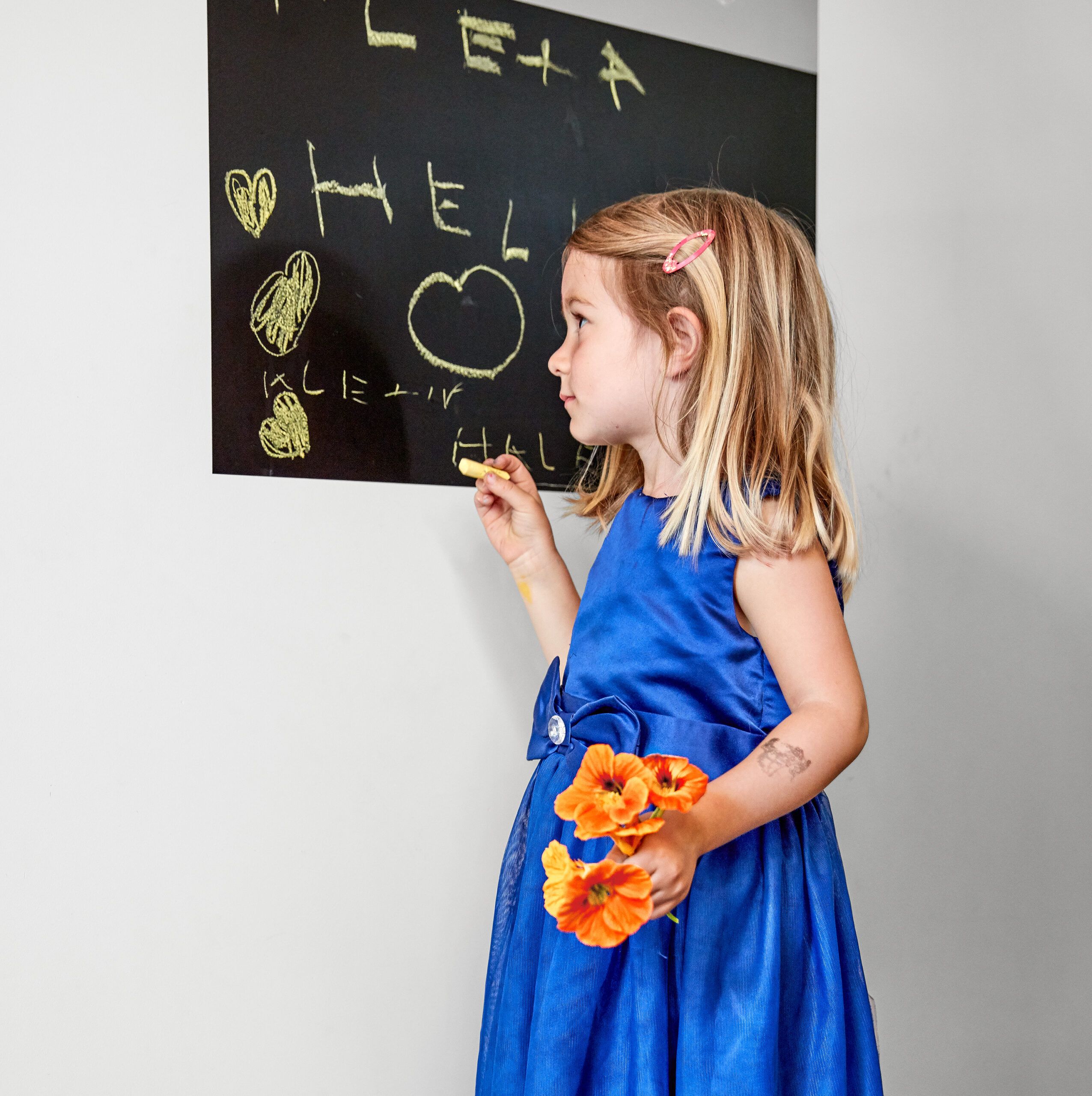 For messages, shopping lists, or doodles, a chalkboard decal offers old-fashioned fun without impinging on the kitchen's streamlined look.
Looks Like Built In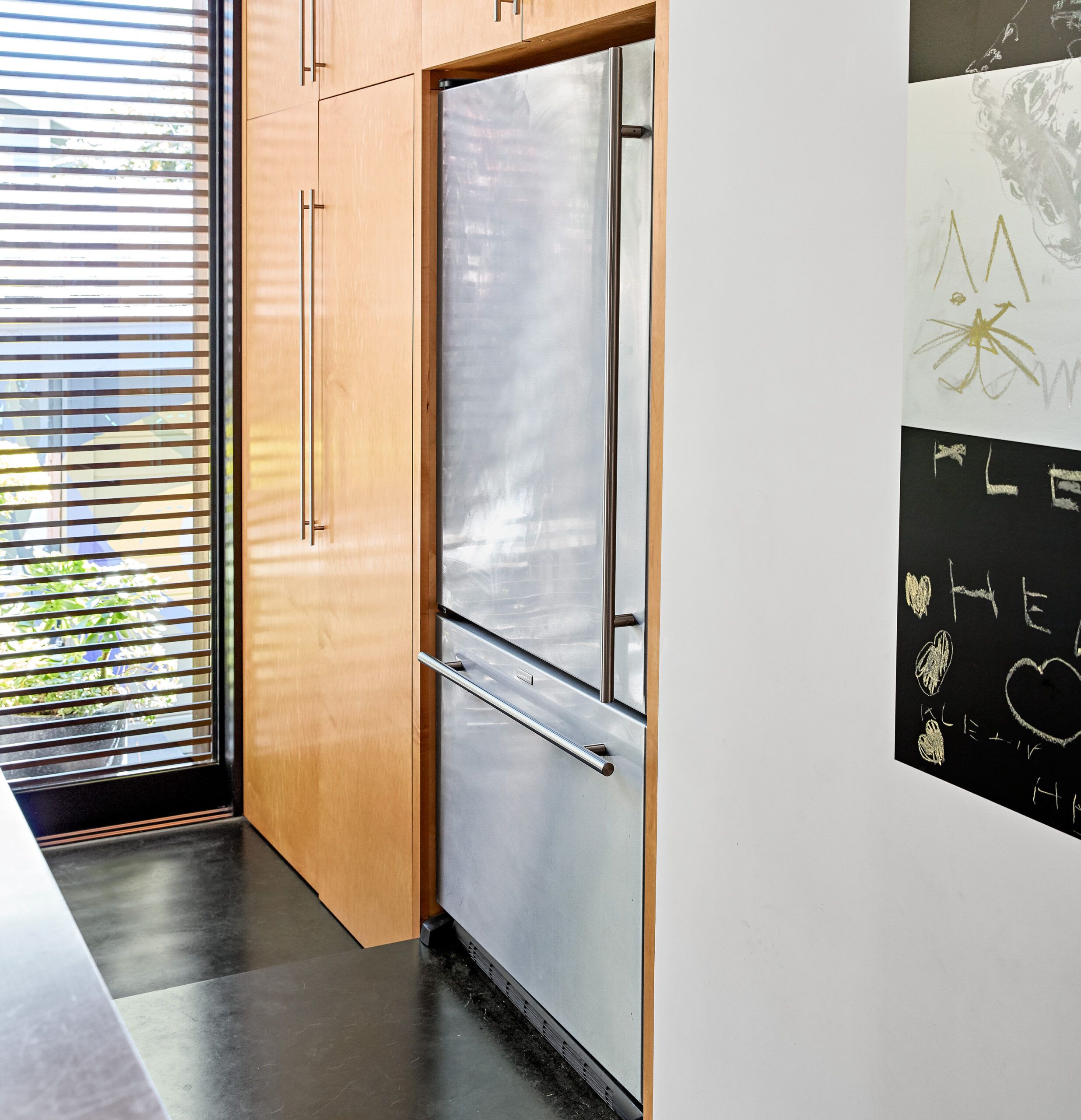 The homeowners bought a more affordable, freestanding fridge that they treated like a built-in. The cabinets above it are as deep as the laundry closet to its left, so there's plenty of room for big, bulky items.
Refrigerator: JennAir
Scrubber Hideaway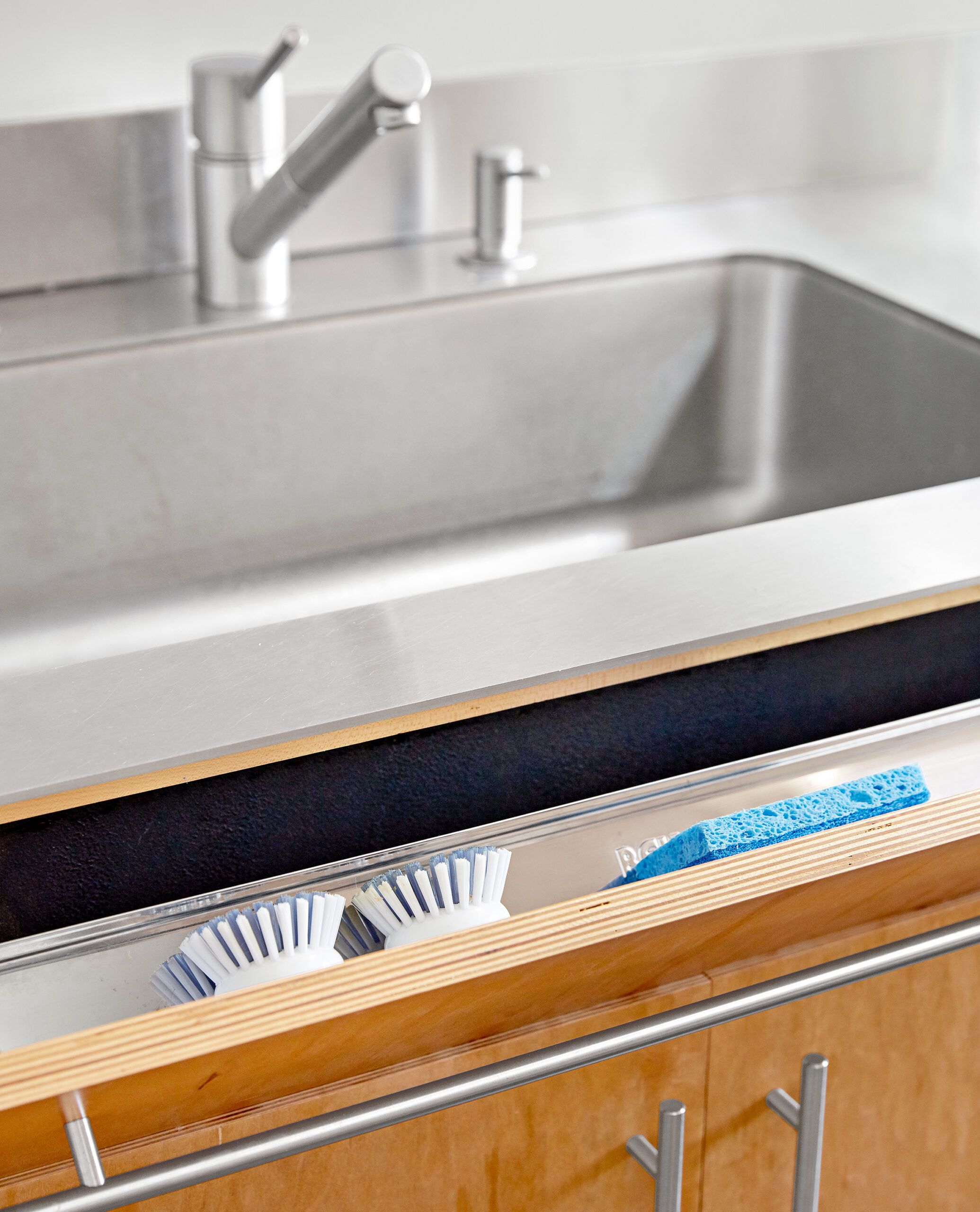 A tip-out hideaway in front of the sink offers a handy spot to store damp sponges and scrubbers.
Sink: Blanco
Faucet: KWC
Slice of Nature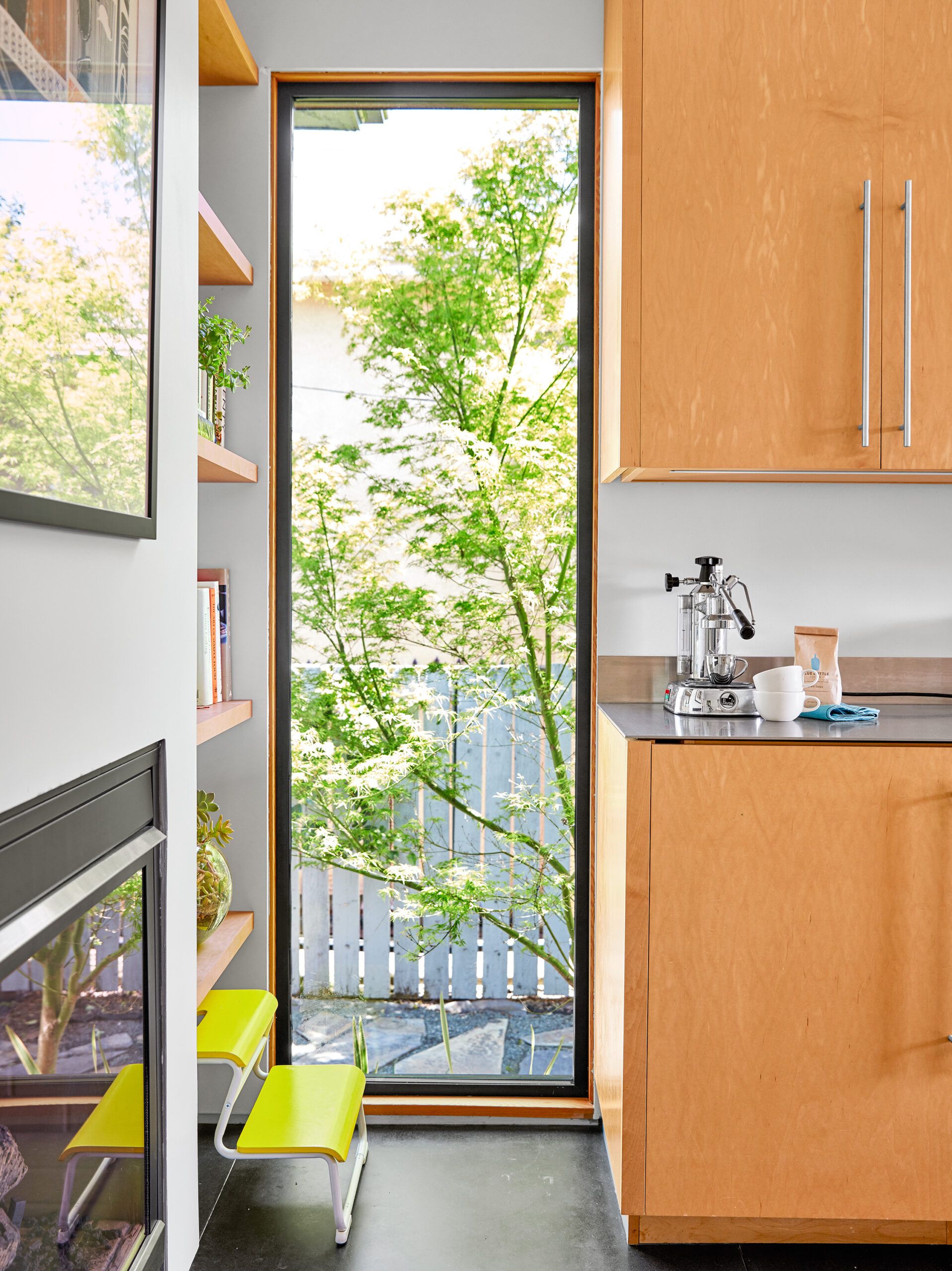 A tall fixed window offers an ever-changing slice of nature.
Flooring: American Fiber Cement Corporation
Southern Light Lunch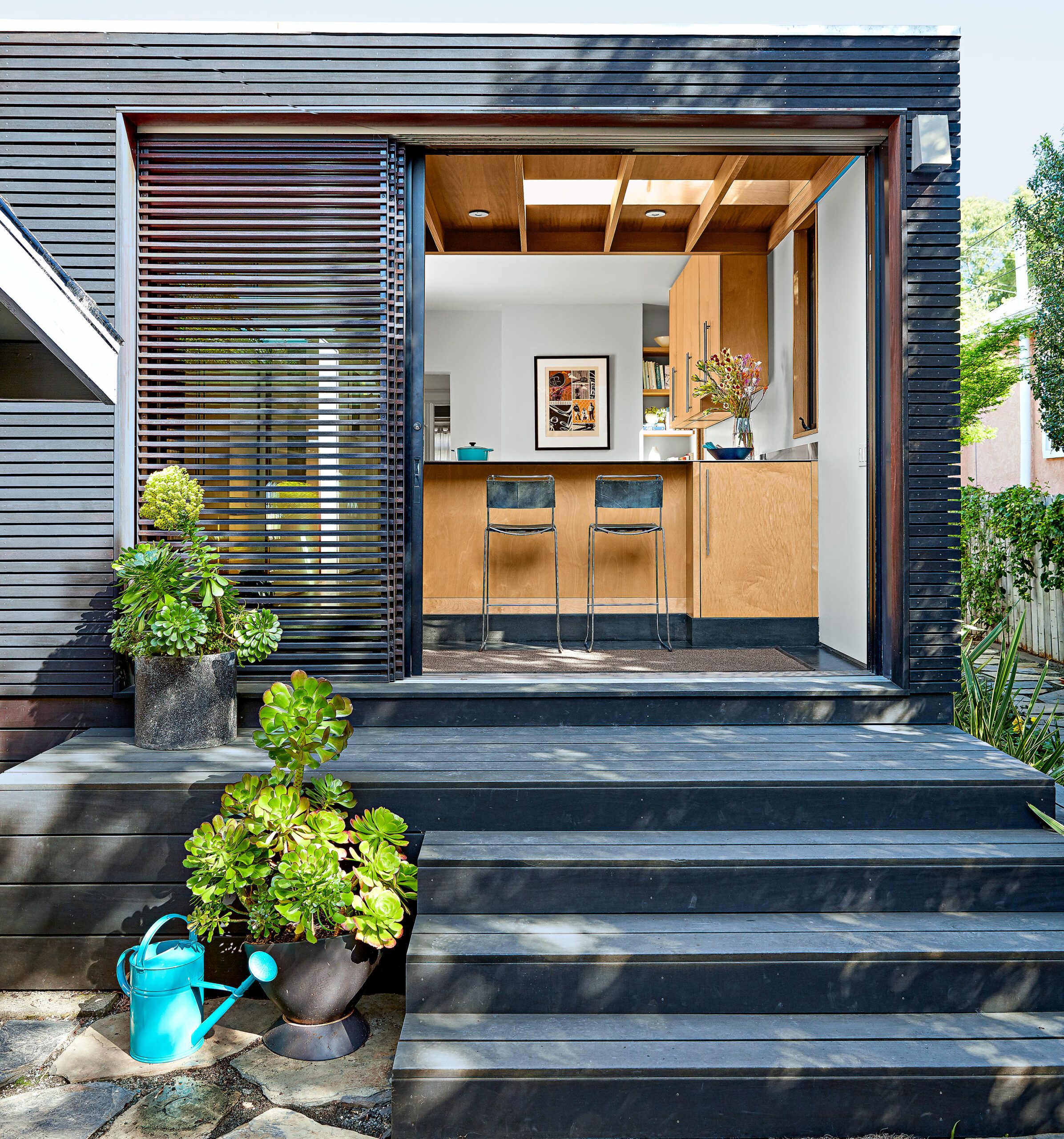 The peninsula seating in the kitchen gets warm southern light, making it a favorite lunching location.
Windows and doors: Fleetwood Windows and Doors
Before Floor Plans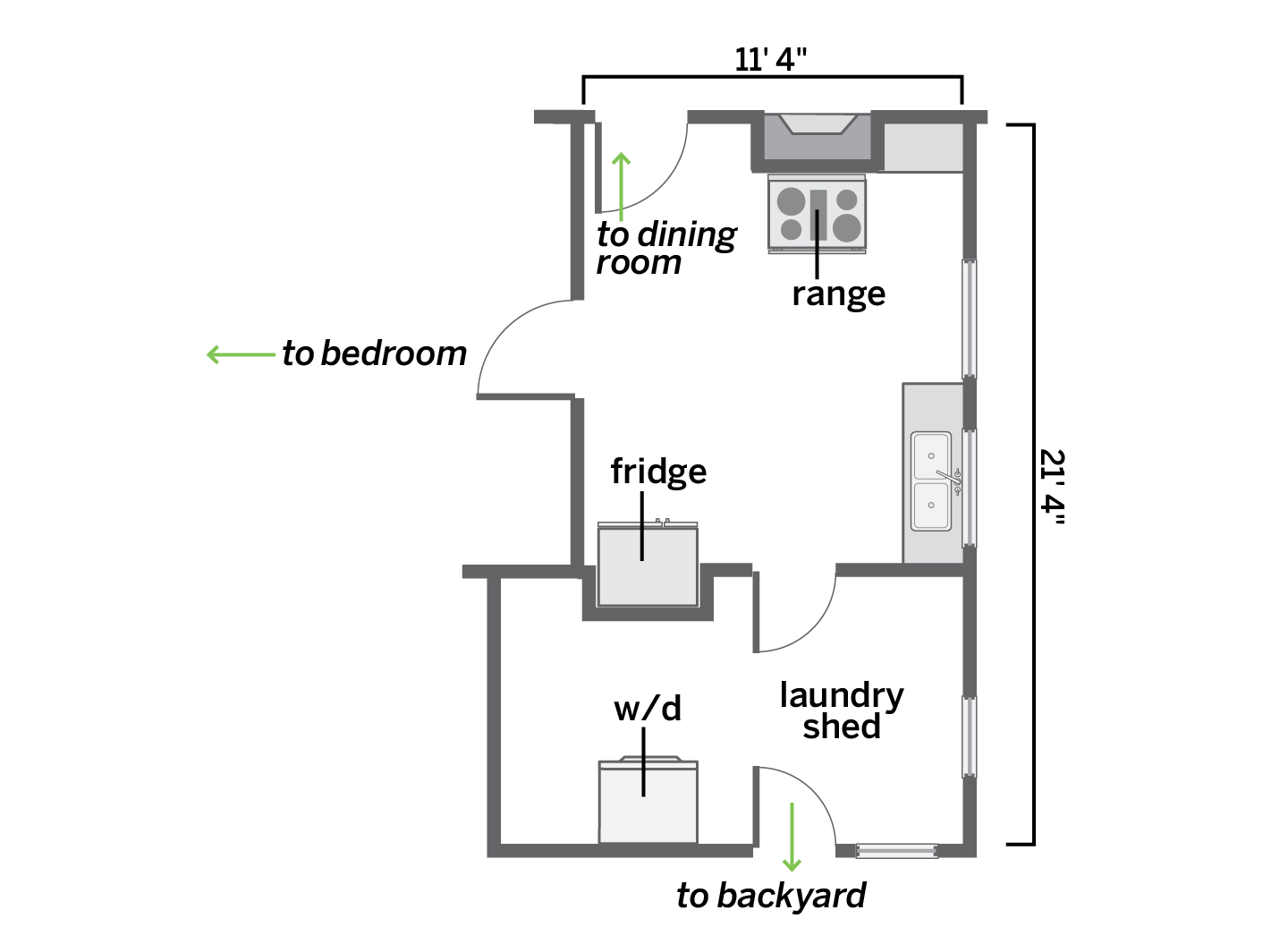 The 156-square-foot kitchen lacked storage, counter space, and seating. A tacked-on laundry shed wasted space, with a single, in-swinging back door.
After Floor Plans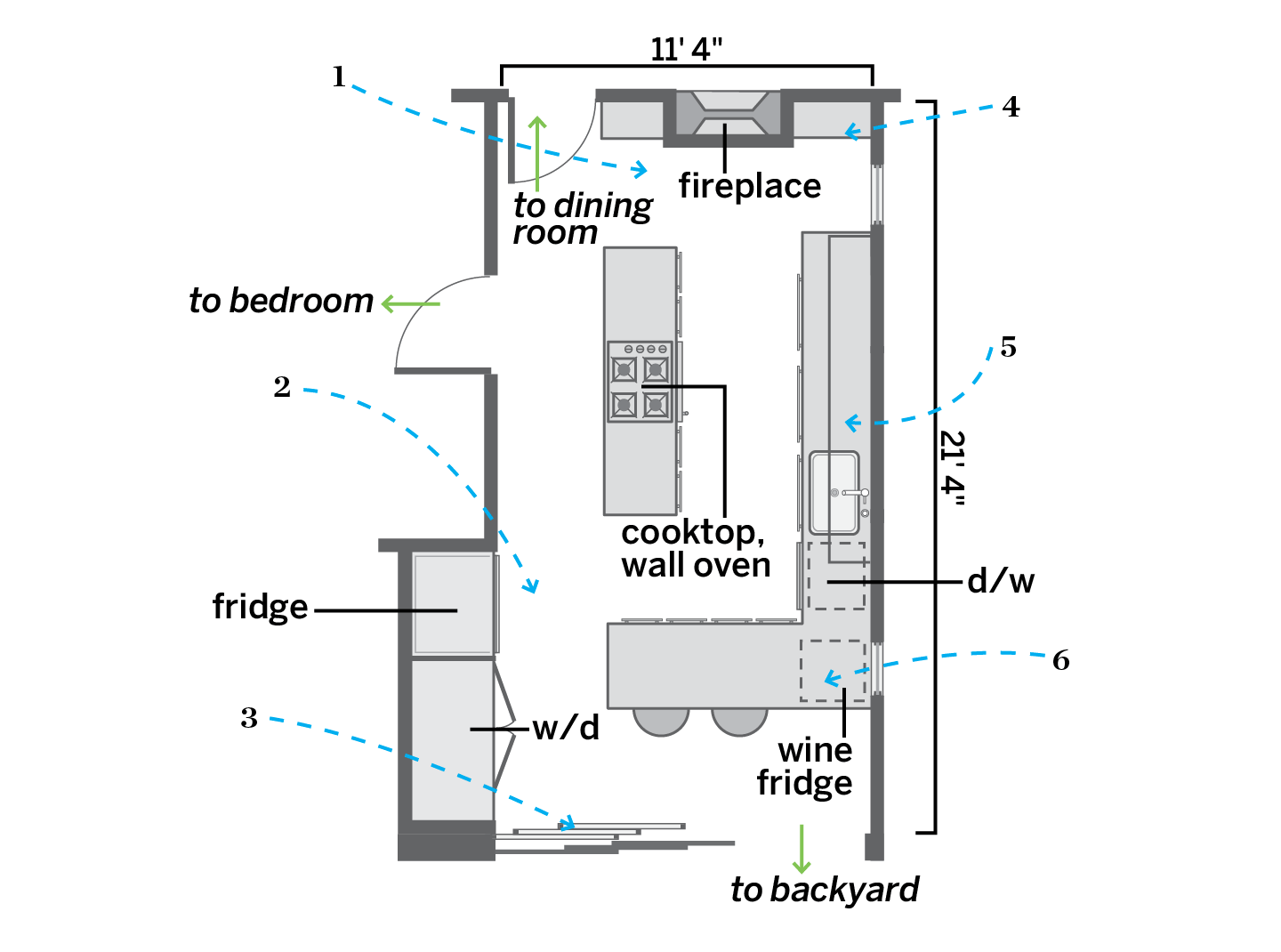 Annexing the shed's footprint made room for an island, a dining peninsula, a trim laundry closet—and wide-open access to the backyard in the now 261-square-foot kitchen.
Moved a cooktop and a wall oven to an island and added a double-sided fireplace where the range had been.
Tore off the shed to bump out the kitchen, picking up 2 extra feet of space in an alcove; relocated the laundry and fridge there.
Created a 10-foot-wide expanse of glass with one fixed panel and two sliders. Three sliding wood screens offer light control and privacy.
Installed open shelving on either side of the fireplace and a full-height fixed window perpendicular to it.
Put in a long run of upper and lower cabinets on the sink wall, closing up two existing windows and adding a dishwasher.
Added a peninsula with lower cabinets on one side and stool seating and a wine fridge beneath a new casement window on the other.