Eat Out More for Less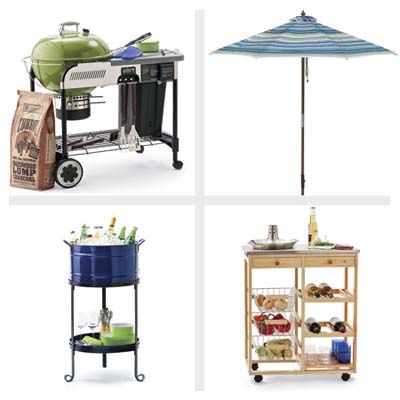 Skip the expense of building out an outdoor kitchen by creating a grill station with these wallet-friendly items, from just $8.
Cool Cooker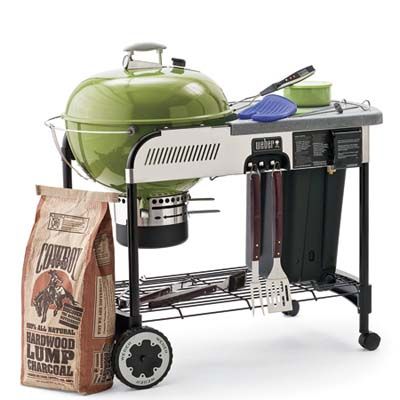 Charcoal grills are making a comeback. Now you can get the classic kettle with major upgrades: Weber's Performer with gas ignition is set in a heavy-duty steel cart with a weatherproof work surface and tilt-out bin for charcoal—and has a spring-green enamel finish. Shown: About $330; Crate & Barrel or just shop Amazon below:
Less Mess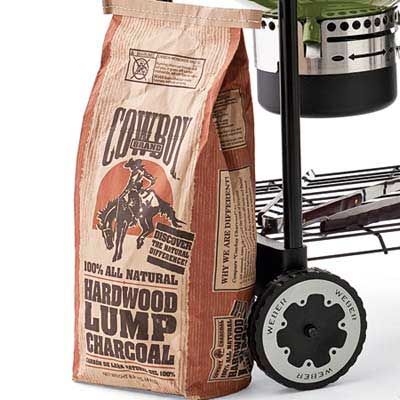 Made from hardwood scraps, all-natural, chemical-free Cowboy Charcoal lights quicker, burns hotter, and leaves behind less ash than traditional briquets. Shown: About $8 for an 8.8-pound bag; Ace Hardware or just shop Amazon below:
Bright Spot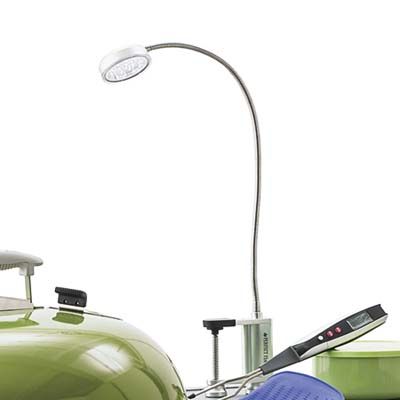 This weather-resistant gooseneck light clamps on just about anywhere to put a high-intensity LED spotlight on your cooking surface. Shown: About $25; Lowe's or just shop Amazon below:
Tool Kit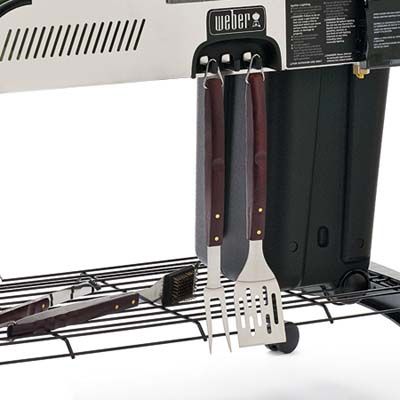 This well-priced tool set from Kenmore includes spatula, tongs, fork, and grill brush, as well as a digital fork thermometer and skewers—all in one storage case. Shown: About $25; Sears or just shop Amazon below:
Smart Cart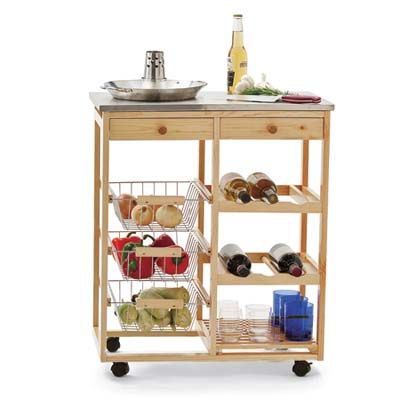 Add storage and prep space with a rolling stainless-steel-topped cart like the Polaris Kitchen Cart. Prolong the life of the rubberwood base with a preservative (such as TWP 100) to protect it from water and UV rays before taking it outside. Shown: About $150; KMart or just shop Amazon below:
Smoke it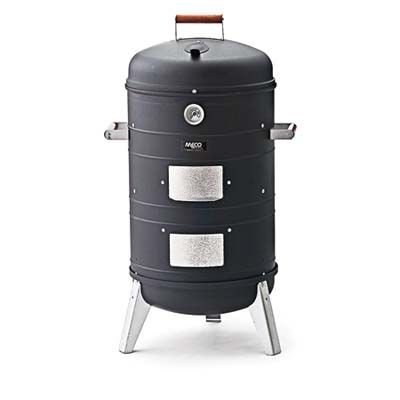 Smoke meat, fish, or even cheese at low temperatures in Meco's generously sized water smoker. Green or wet wood chunks set to burn atop the coals infuse the food with distinctive flavor. Shown: About $130; Cooking.com or just shop Amazon below:
Smoked Cheese
Mild or sharp cheddar or Monterey Jack cheese, cut into 4-oz. chunks
Fresh herbs, such as sage or tarragon, blanched and dried flat
Red pepper flakes
1. Wrap each cheese chunk in foil, shiny side out, leaving top open.
2. Press herbs into top of cheese, and sprinkle with a few red pepper flakes.
3. Get smoker going very low and slow. Add wood (try mesquite or hickory) to low-burning coals. Fill water pan.
4. Set foil-wrapped cheese on cooking grid; cover. Smoke for 30 to 60 minutes, checking often to ensure it doesn't melt.
5. Remove from smoker. Cool, unwrap, and serve.
Big Chill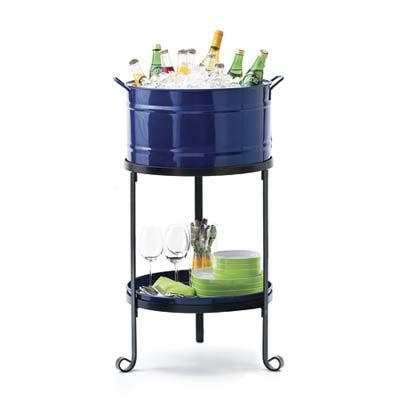 No need for an outdoor fridge when you can keep drinks cool for hours in this insulated steel beverage tub. Use the bottom tray to keep glassware and bottle openers handy, or use the stand separately and load up both trays with plates, napkins, utensils, and BBQ condiments. Shown: Tub, about $70, stand, about $100; Plow & Hearth or just shop Amazon below:
Get Shelter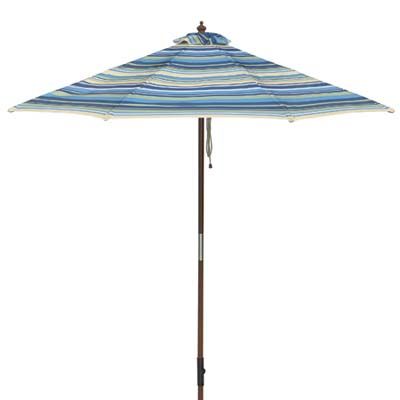 Escape the sun's rays beneath this roomy 9-foot round umbrella. Acrylic canvas with built-in UV protection will keep the stripes vibrant for seasons to come. Shown: Umbrella, about $80, base, about $40; Lowe's or just shop Amazon below:
Fire Power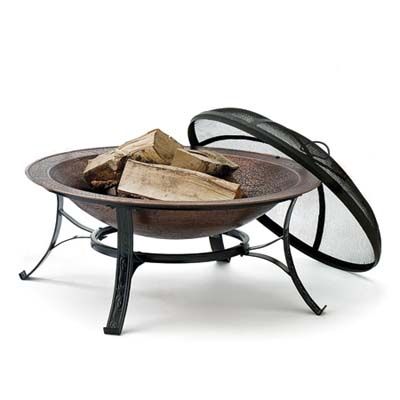 Sunset doesn't have to signal the end of the party. Light a fire in this portable 30-inch copper-coated cast-iron bowl to lessen the chill. Shown: About $140; Gaiam or just shop Amazon below:
Cookout Companion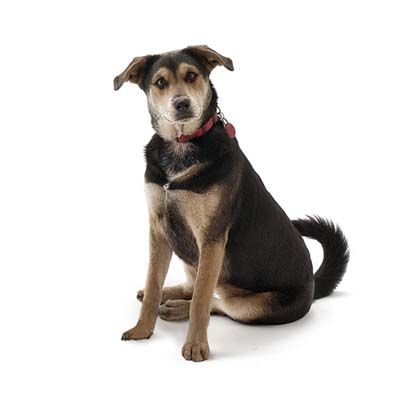 Provides just the right dose of warmth and family fun.
Free; Petfinder