New Kitchen Built for a Crowd: After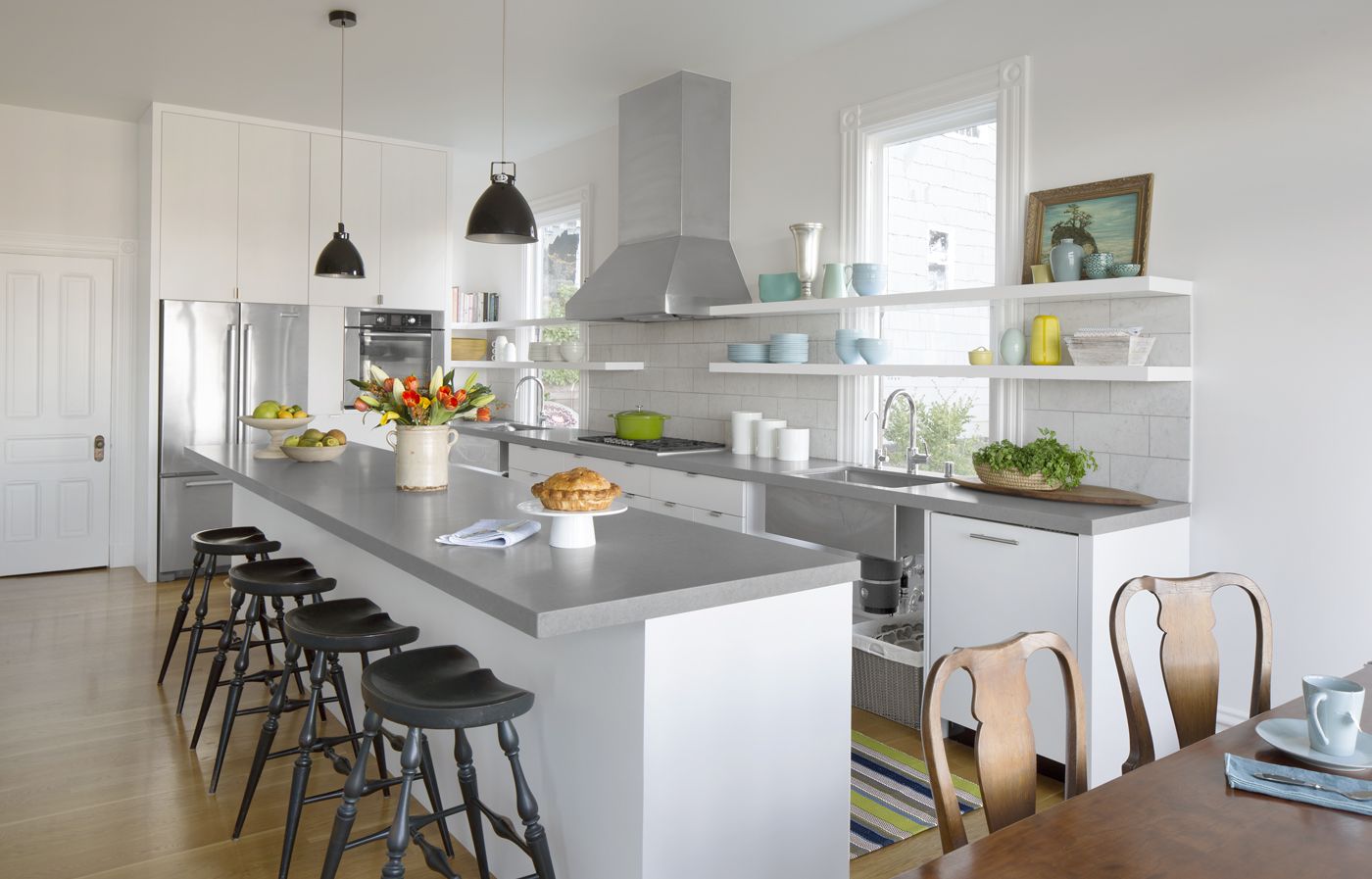 Bygone transit systems can help explain why some old houses seem oddly oriented today: A side entrance, for example, may recall the trolley that could once be spied from the door. In the case of this Victorian-era house, clinging to a hillside in coastal Belvedere, California, the front door and kitchen belonged downstairs for easy access back when groceries arrived by ferry. With the advent of cars, the main entrance moved to the third floor, near parking space up the hill. Now the kitchen has moved too, joining the living room on the top floor as part of a redo by architect Mark Reilly.
Shown: Walls came down to make way for a crowd-friendly new kitchen and dining area.
Refrigerator: KitchenAid
Pendant lights: Jieldé
Range hood: Vent-A-Hood
Space-Hogging Bedrooms: Before
Homeowners James Campbell and Adam Gavzer happily sacrificed two upstairs bedrooms to gain an airy kitchen and dining area that reward the cook (Adam), bottle washer (James), and guests with stunning water views. To preserve historical 7-foot windows, Reilly ran shelves and a countertop in front of them, allowing daylight to spill onto prep space and below it, via openings under the sinks. "It's great to entertain here—it's the real center of the house," says James. As for the new master suite, it took over the old cooking and eating areas, as James puts it, "on the quiet level."
Shown: Two small bedrooms hogged much of the top floor, relegating the kitchen to a spot far from the main entrance and best views.
Entertaining Views of the Bay
The lofty space has postcard views of San Francisco Bay. Wide white-oak floorboards unite the kitchen, dining area, and adjacent living room.
General contractor: Neill & Lee Contractors
Cooktop: Thermador
Rug: Dash & Albert
Well-Lit Prep Space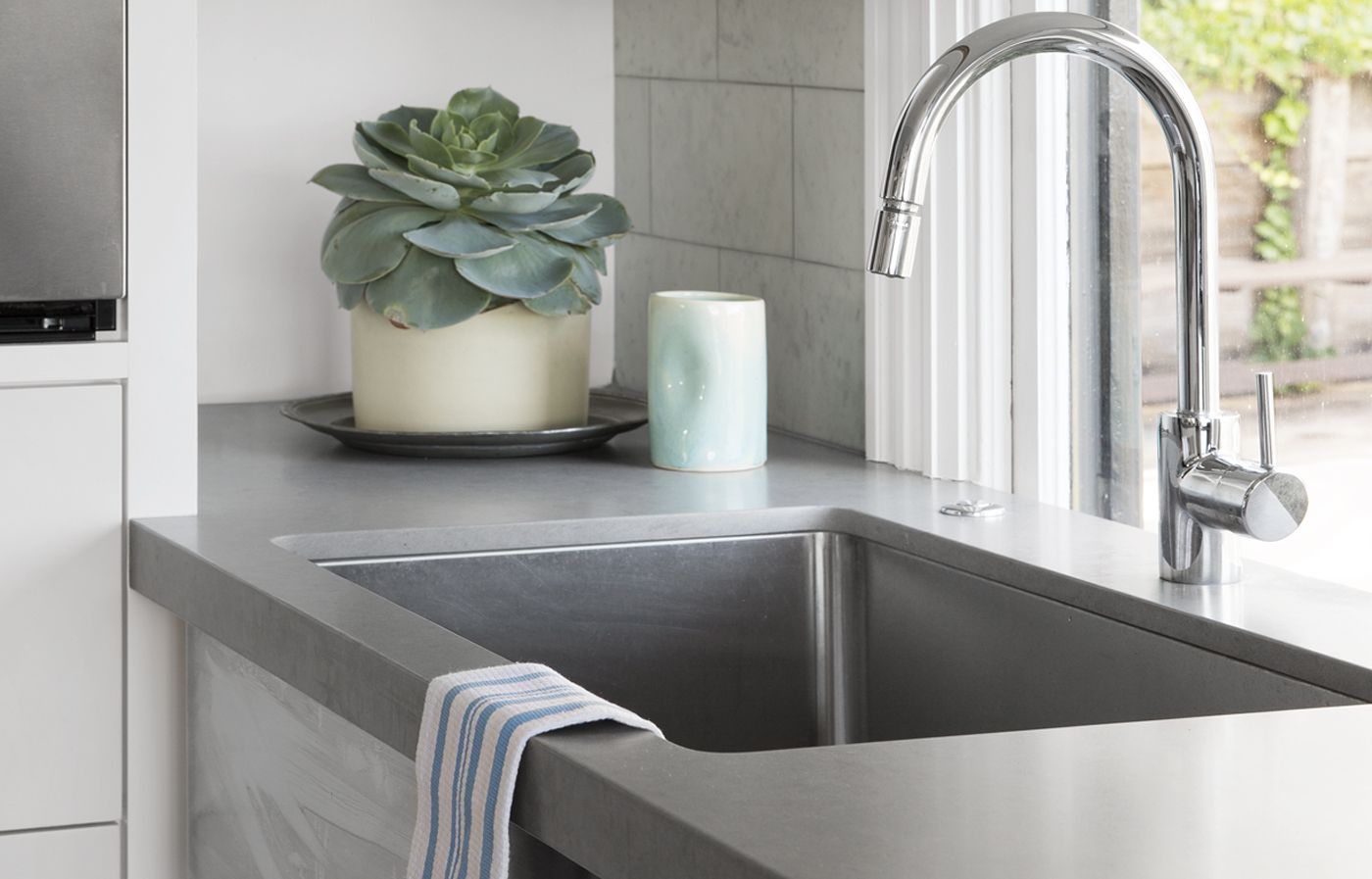 The painted plywood shelves reinforce the visual weight of the countertops.
Homeowner tip: "We chose solid-surface countertops because they're stain- and scratch-resistant, then went for a marble backsplash—12-by-12-inch tile cut down to 12 by 6."
—Adam Gavzer, Belvedere, Calif.
Countertops: Caesarstone
Wall oven and dishwasher: BOSCH
Sinks: Julien; Pro Chef
Faucets: Grohe
Original Windows Behind Floating Shelves
Floating shelves keep tableware close while preserving original windows and trim—and the flow of natural light.
Tableware and canisters: West Elm
Floating Shelves and Hidden Lights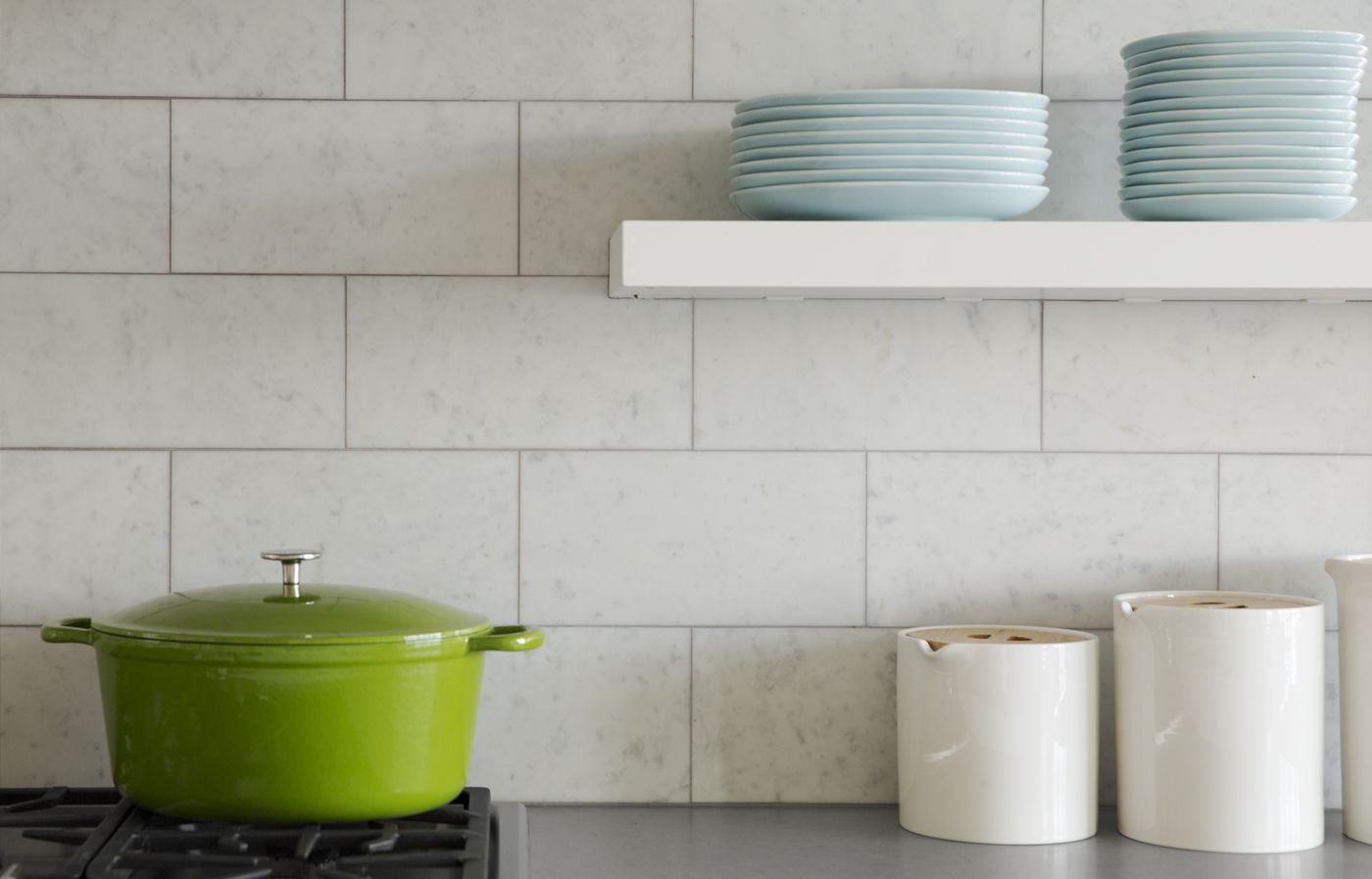 The open shelves hang on steel rods anchored into the studs. Strips of electrical outlets and LED lights run almost invisibly underneath.
Tile: Integrated Resources Group
Dutch oven: Le Creuset
Requested Pasta Roller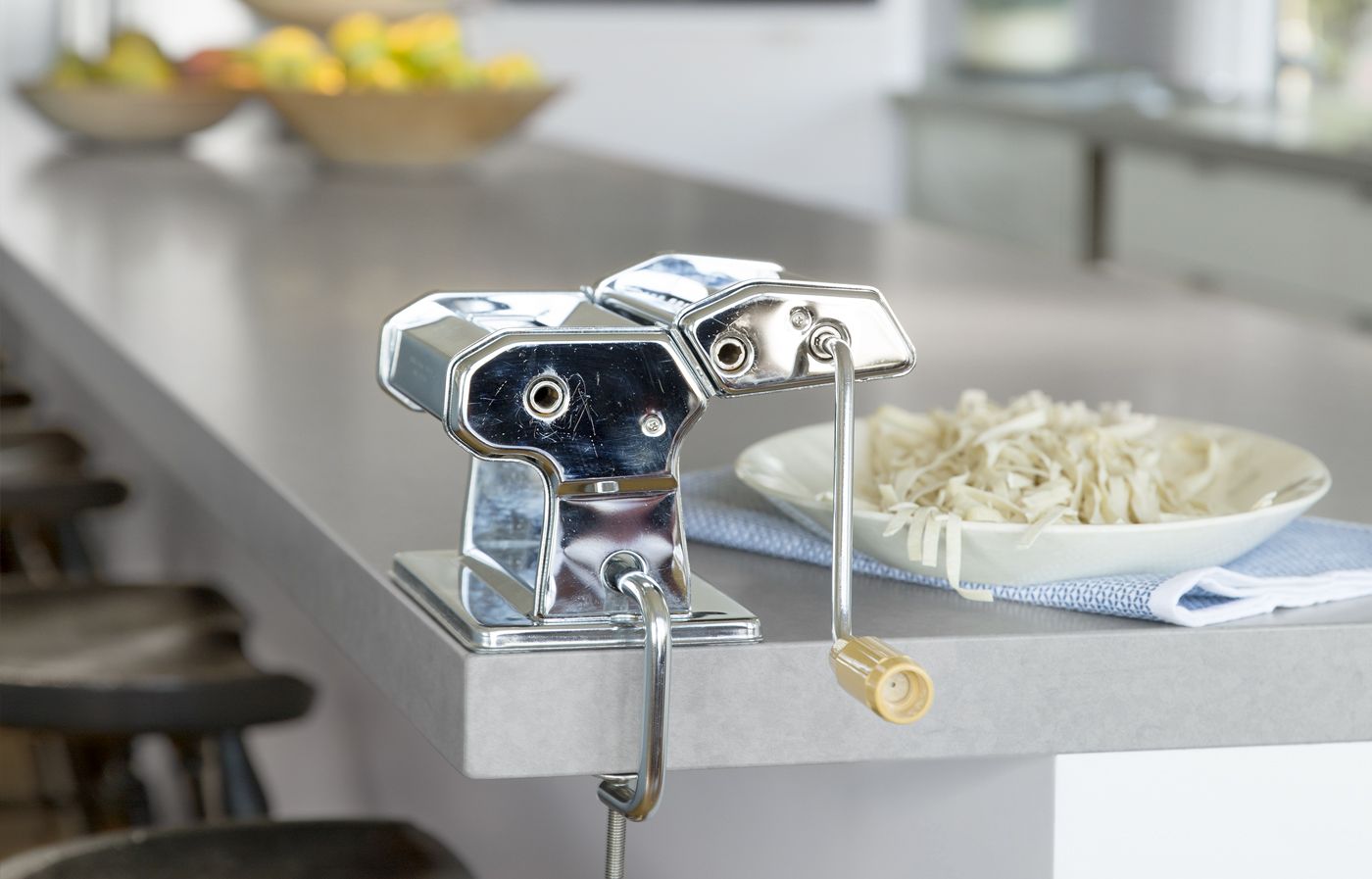 Homeowner Adam Gavzer put in a request for a spot where he could anchor a pasta roller. The 10-inch seating overhang fills the bill.
Generous Doors for Hefty Storage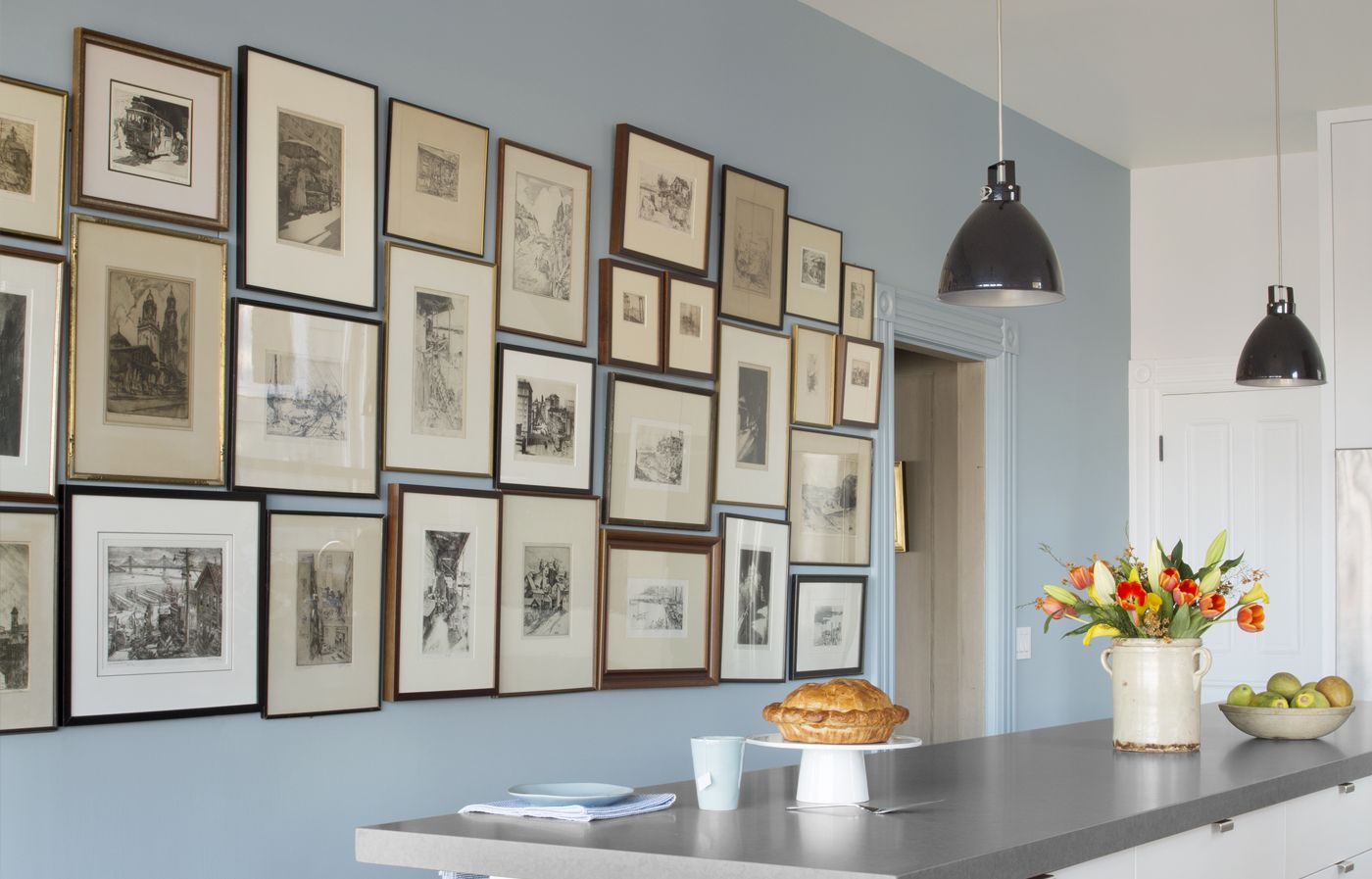 Deep drawers hide pots, pans, utensils, and provisions. An accent wall showcases black-and-white etchings collected by homeowner James Campbell.
Paint: Benjamin Moore's Nantucket Fog and Super White (walls)
Stools: Antiquity Period Designs
Drawer pulls: Sugatsune
Odd, Ineffective Layout: Floor Plan Before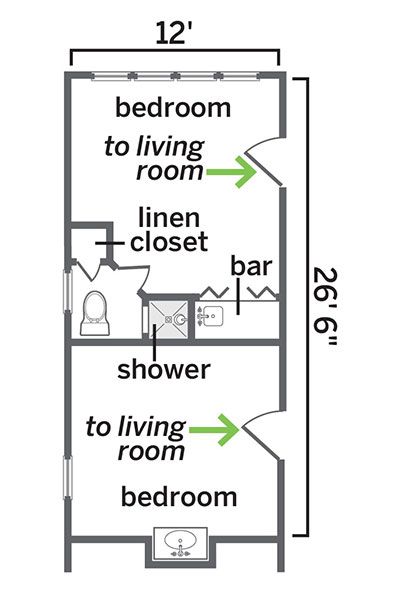 A mishmash consumed 319 square feet.
Bright, Long Space: Floor Plan After
Gutted and rebuilt with new plumbing and gas lines, the long, narrow space now holds an open kitchen and a dining area.
1. Demolished a wall, a closet, and old plumbing fixtures to open up the space.
2. "Floated" prep and cleanup space in front of existing windows to maximize light.
3. Created a compact work zone with a second sink out of the fray.
4. Allocated prime real estate near a wall of windows to the dining area.
5. Took off doors and widened one of the openings to the living room for better flow.
6. Built an 18-foot island that has seating on one side and storage on the other.
7. Added a door to access a new powder room.