Much-Needed Space, Style: Before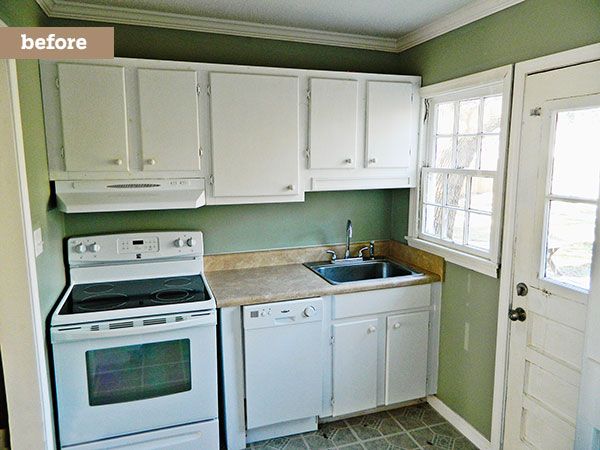 A cottage kitchen should be as comfortable as old khakis, and in this rebuilt space, salvaged materials do the job. "It surrounds me with comfort and warmth," says Janice Lee, whose husband, Jim, used castoffs to remake the cook space in their 852-square-foot house, on St. Simons Island, Georgia.
Shown: The bare-bones kitchen was short on space—and style.
Salvage Finds Fit Cottage Style: After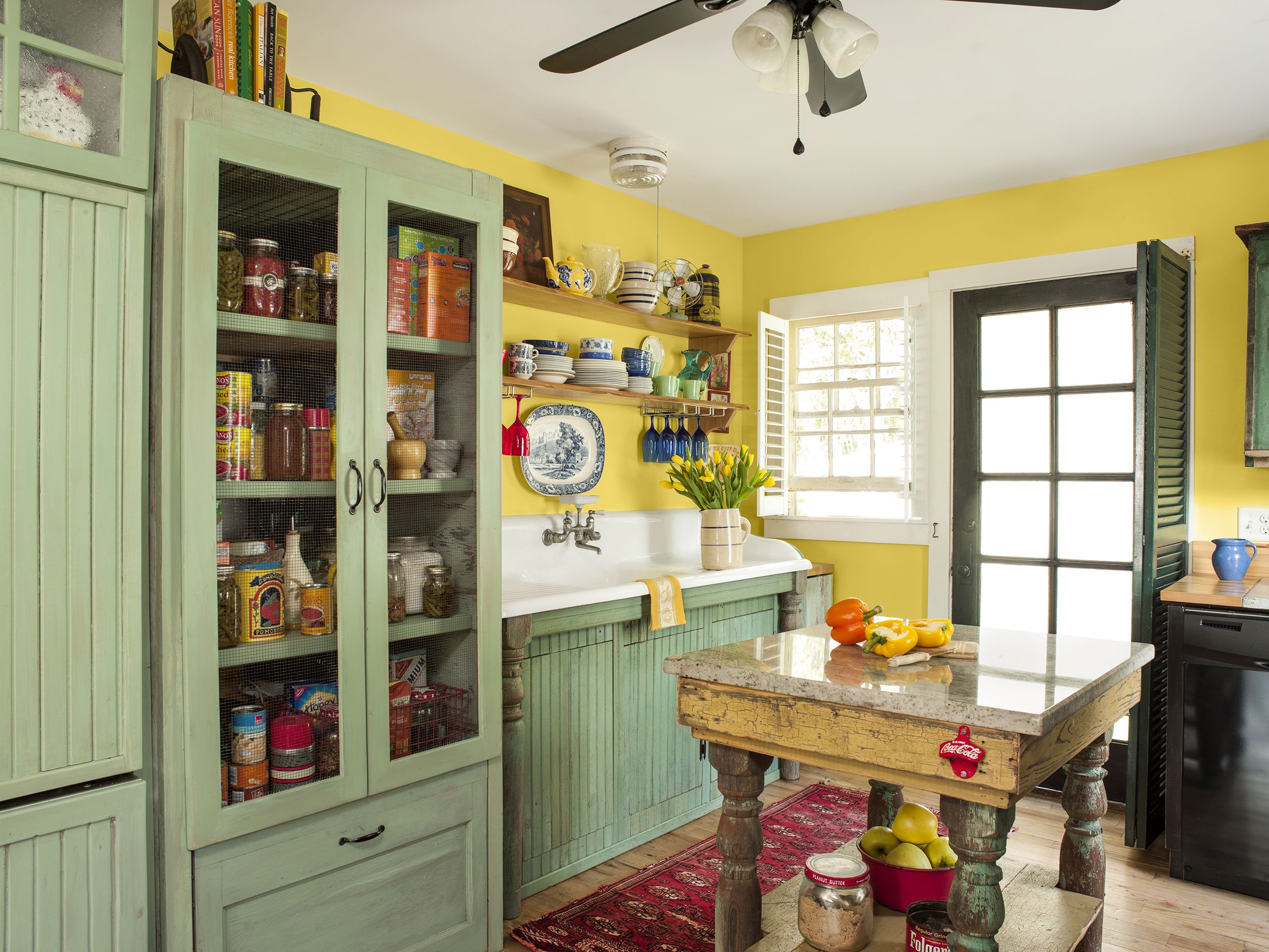 With the help of plumbing contractor Billy Baker (912-638-6399), the couple took the 1940s tract house down to the studs and demolished two walls to create a larger kitchen in an open plan. Salvaged materials like the sink, faucet, beadboard, and porch posts give it true vintage flavor.
Shown: Color wakes up a once drab space.
Salvage Granite and Wood Kitchen Island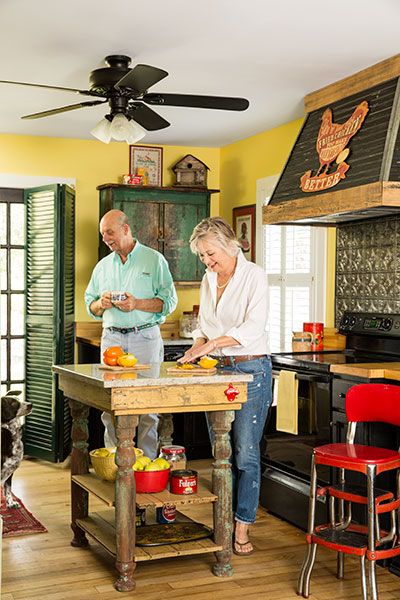 Homeowners Jim and Janice Lee gather at an island Jim made out of an old table, salvaged porch posts, and a granite remnant that had to be cut to fit—yielding scraps he put to creative use elsewhere. He built most of the cabinets, pantry, range hood, and countertops with wood rescued from an old hardware store, a former theater, a barn, and a century-old kit house he helped cannibalize for parts.
Ceiling fan and faux-tin backsplash: Lowe's
Light fixture: The Home Depot
Seamlessly Patched Red Oak Floor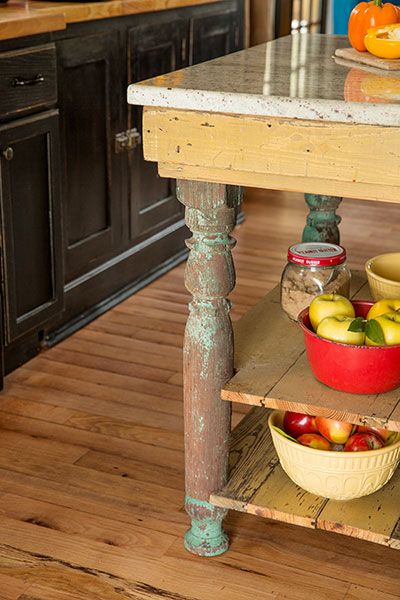 Reclaimed wood and worn paint establish the kitchen's been-there-forever style. The homeowners scoured lumberyards for rustic No. 2 red-oak boards so that they could patch the floor seamlessly.
Barn Wood Range Hood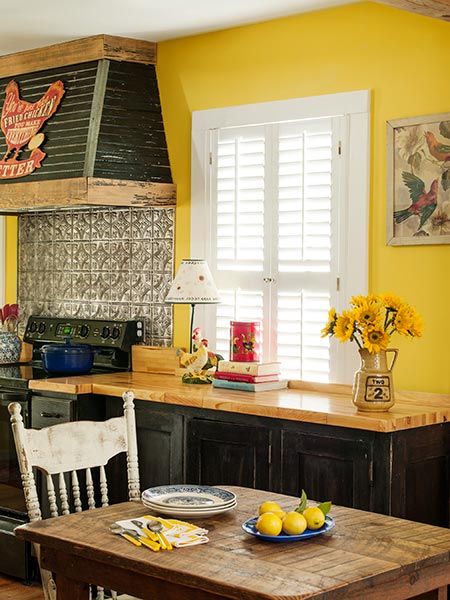 Jim made the range hood with reclaimed paneling and barn wood, and used paint and glaze to "age" the faux-tin backsplash tile. The table lamp, a family heirloom, adds charm while casting a glow during evening meals at a table nearby.
Range: GE
Screened Kitchen Storage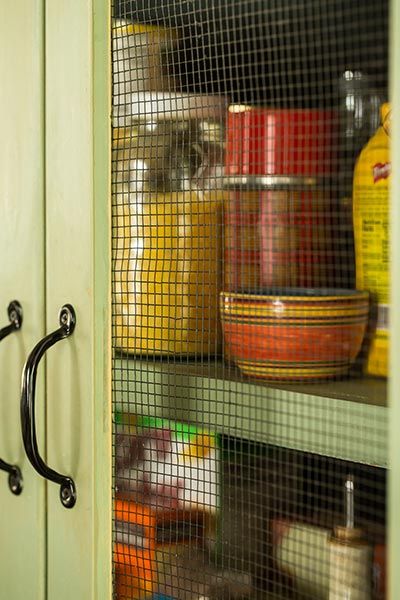 Jim cut down paneled doors from an old theater to make the pantry box and built the pantry doors from scratch. Screening, painted black, keeps essentials visible while creating a more open, layered look.
Pulls: The Home Depot
Open Shelves for Flaunting Bright Dishware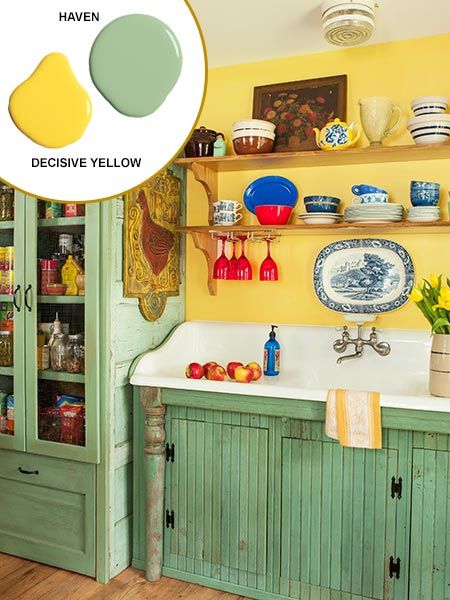 Open shelves replace upper cabinets on the sink wall, allowing light to flow from the adjacent window. Cupboards with push-latch doors were built in place under the sink.
Paint colors by Sherwin-Williams: Haven and
Cast-Iron Island Find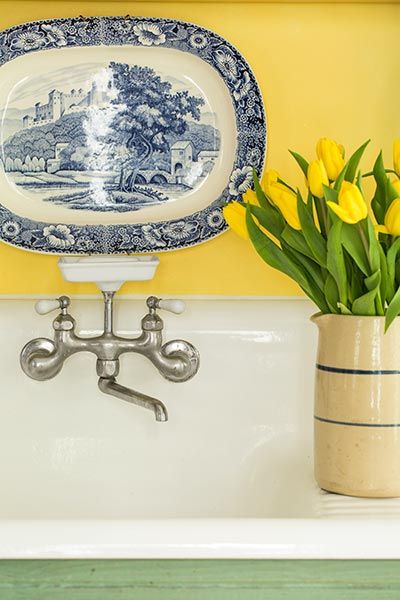 The couple's prized 1930s cast-iron sink came from an island resident who bartered for a stainless-steel undermount, and the 1910 Crane faucet from a collection Baker keeps under his bed. He says he didn't mind having to fiddle with a century-old fitting. "Why go and buy something new," he asks, "when you can make something old beautiful again?" The oval platter and stoneware pitcher are family heirlooms.
Reclaimed Porch Posts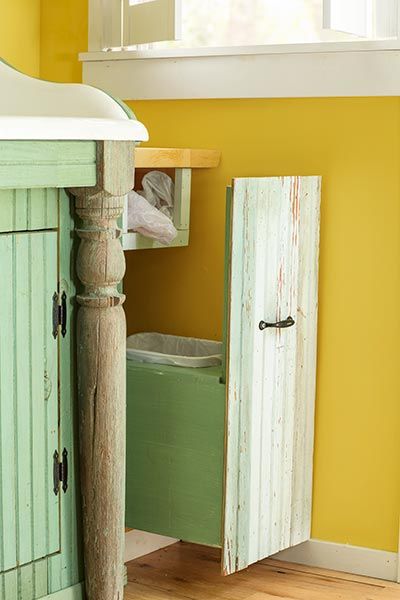 Decorative porch posts under the wall-hung sink suggest freestanding furniture. Jim made the trash-bin pullout, with a cubby for bags, using reclaimed tongue-and-groove boards and a home-center screen-door pull.
Beadboard-Fronted Fridge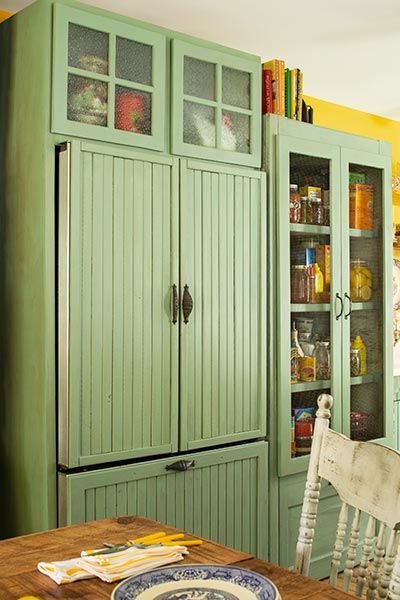 The fridge hides behind beadboard fronts. Ceiling-height cabinets with textured-glass panels give it a built-in look.
Refrigerator: Dacor
Granite and Butcher Block Unite
A granite remnant meets a chunk of salvaged butcher block over a vintage "jelly cabinet" found at a roadside sale. The pulls came from an old chest.
Back Door Privacy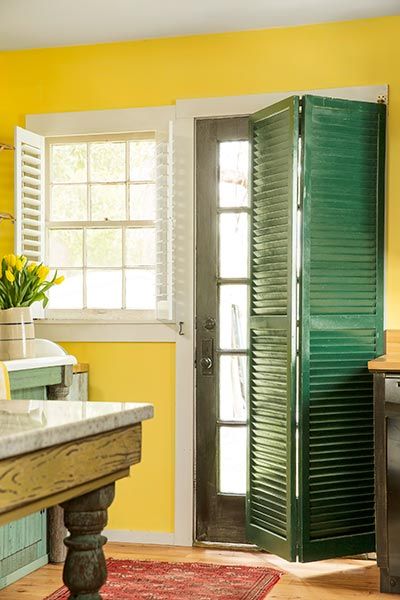 The back door, moved from another spot in the house and painted black, lets in lots of light. Salvaged folding shutters, in their original green, add privacy.
Floor Plan Before: Cramped, Character-less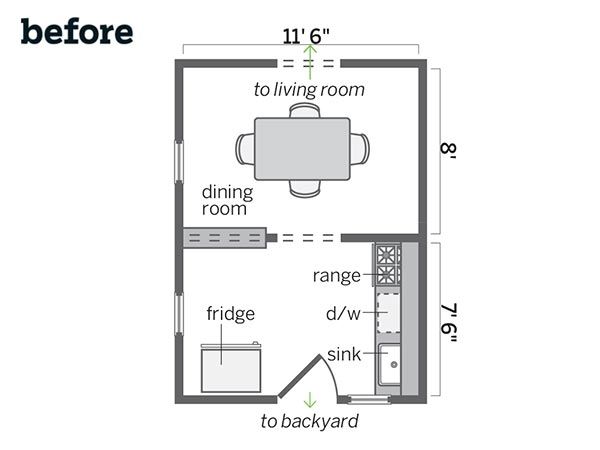 At just 86 square feet, the existing kitchen was cramped.
Homeowner tip: "We salvaged materials through our plumber, who knew of houses that were being renovated or torn down." —Janice Lee, St. Simons Island, Ga.
Floor Plan After: Built for Couple Cooking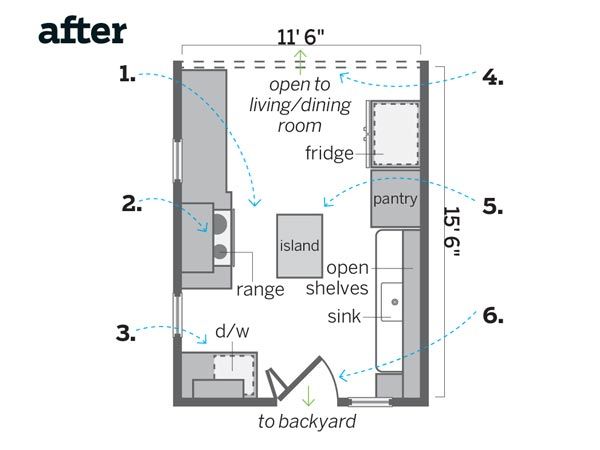 Two walls came out, adding 92 square feet to the kitchen and allowing a new layout with ample cooking space for two.
1. Removed a wall to annex the dining room and expand and open up the kitchen.
2. Moved the range to an exterior wall where the vent hood could be easily ducted.
3. Downplayed the dishwasher by tucking it in a corner away from the sink.
4. Opened the kitchen to the living room, replacing the wall with a ceiling beam.
5. Added a small island with plenty of walkaround space.
6. Relocated an existing French door and added full-height shutters for privacy.