After: Masculine Queen Anne Kitchen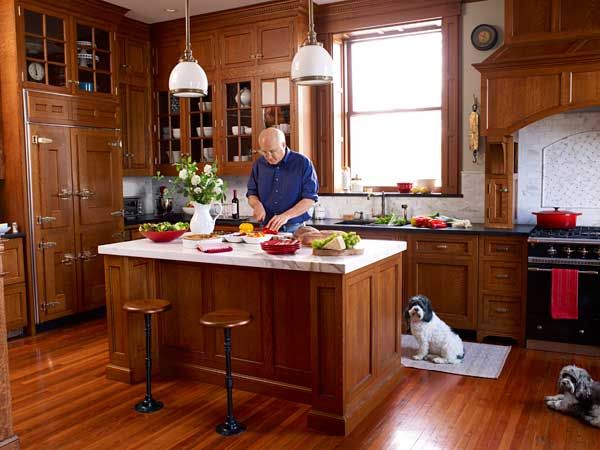 Asked to describe their 1887 sandstone-and-granite fixer-upper, in Stamford, Connecticut, Chuck and Claudia Jepsen say it's "a masculine Queen Anne," a style they paid homage to by filling the kitchen with wood, stone, and brass.
Nothing about the project happened quickly. After 10 years with a "temporary" kitchen in the dining room, the couple—enthusiastic hosts and the parents of two boys—finally had the wherewithal to open up and temporarily equip what was the butler's-pantry area.
Shown: Homeowner Chuck Jepsen works at his long-awaited marble-topped island.
Pendant fixtures: Visual Comfort
Marble island top: New England Stone; Milford, CT; 203-876-8606
Before: Drywall Prep Space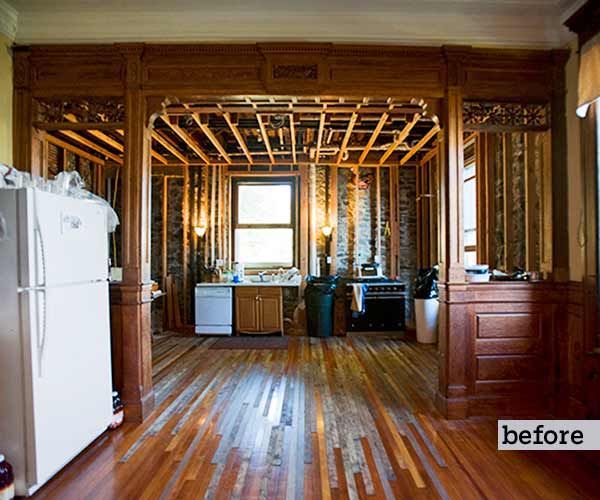 Another year went by before Claudia drew a kitchen plan on graph paper and Chuck collaborated with woodworker Cathal McGreal to make cabinets and a faux-icebox fridge front to match the dining room's quartersawn-oak woodwork. "It took forever to find another craftsman to make the icebox latches," says Claudia, not to mention the time spent tracking down salvaged stools and a cafe-au-lait–veined marble top for the island. Meals were prepared on a slab of drywall "for at least a year," she confesses. But that made returning the dining room to its original purpose all the sweeter. Says Chuck, "It was slow going, but now we have a kitchen that truly honors the house."
Shown: The already-plumbed pantry area was gutted and opened up. A new range moved in; the old fridge sat in the dining room.
Homeowner-Customized Backsplash
Designed and installed by the homeowners, the marble-tile backsplash has a mosaic inset they assembled by hand and rimmed with bullnose trim.
Range: Lacanche; frenchranges.com
Within-Reach Range Storage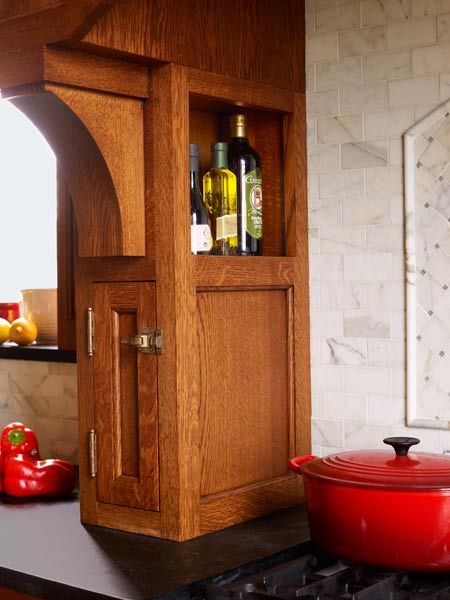 The range surround hides storage for oils and spices.
Cabinets, built-ins and refrigerator front: Hibernian Wood Design
Integrated Sink and Drainboard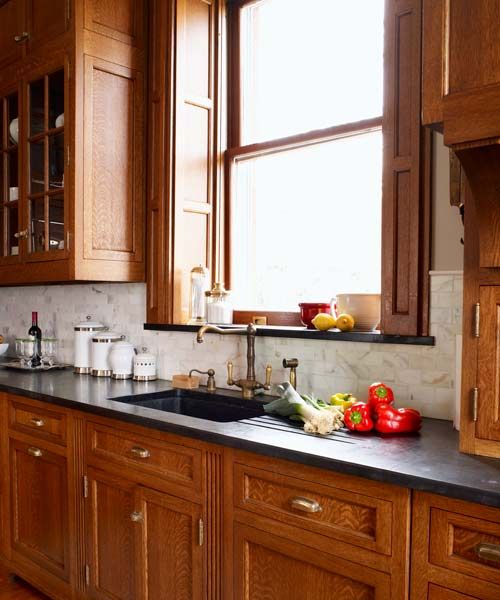 The soapstone countertop has an integrated sink and drainboard and a matching windowsill.
Countertops: M. Teixeira Soapstone; soapstones.com
Faucet: Rohl
Knobs and pulls: Merit Metal Products
Room for a Desk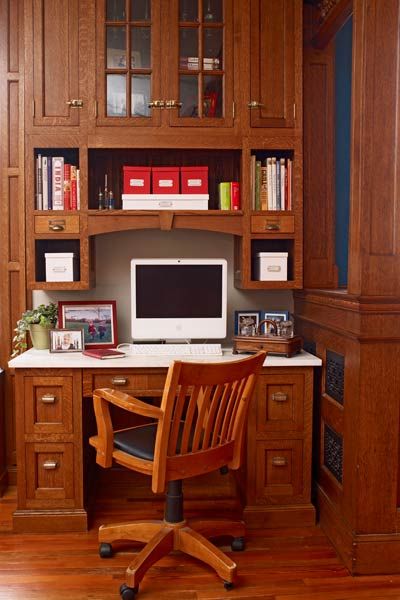 The desk area sidles up to an original columned room divider. The kitchen's oak floorboards were taken from a basement playroom and woven together with those in the dining room.
Icebox-Look Fridge Panels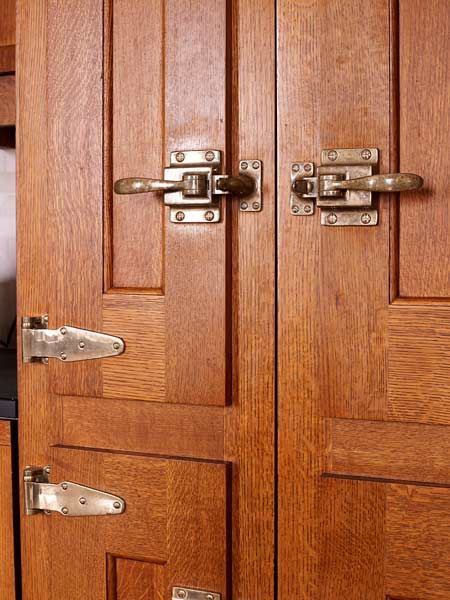 The counter-depth fridge has solid-wood panels with custom hinges and latches.
Refrigerator: Sub-Zero
Refrigerator drawers: GE
Hardware: Roseland Icebox Company; iceboxes.com
Matching Oak Cabinetry and Woodwork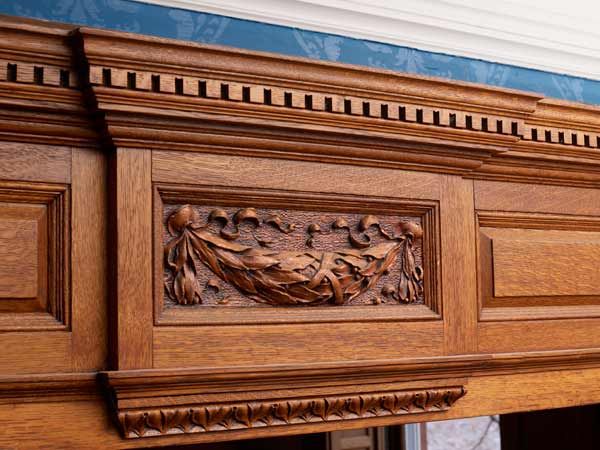 Existing woodwork in the dining room suggested the style for the kitchen's oak cabinetry. Chuck stripped all the millwork in both rooms and finished it with the same custom stain.
Floor Plan Before: Sacrificial Pantry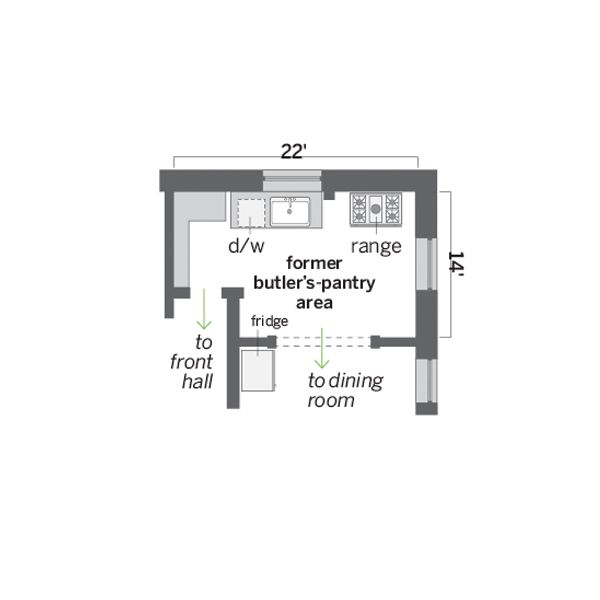 The old pantry area was gutted and opened up, and the old dishwasher and sink and a new range were moved in.
Homeowner Tip: "To 'age' the unfinished brass hardware, I let it sit over—not in—an inch of ammonia in a Pyrex dish, tightly covered with plastic wrap, until I got the right look." —Chuck Jepsen, Stamford, Conn.
Floor Plan After: Long-Awaited Rejiggering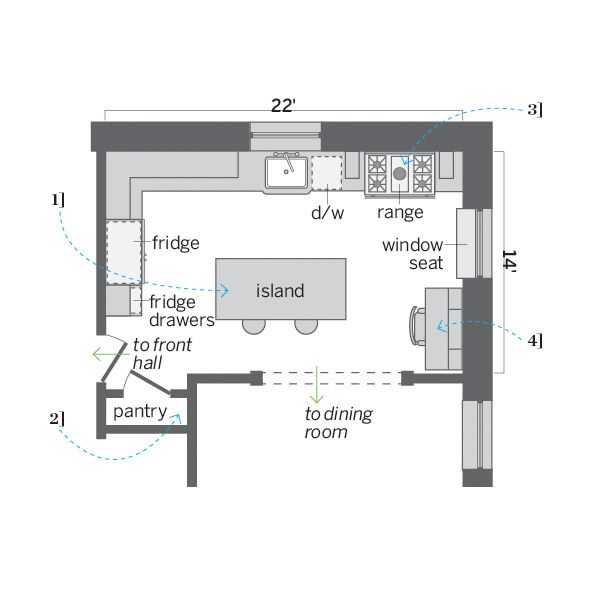 The 308-square-foot space gained a new entry, along with ceiling-height cabinets, an island with barstool seating, a built-in office area, and a long-delayed spot for the fridge.
1. Added an island with prep space, storage, and seating for two.
2. Took down a portion of a wall and rejiggered the entry, creating space for the island, fridge drawers, and a pantry closet.
3. Created a cooking alcove with a pro-style range and vent hood.
4. Built in a desk area set off by one of the original columned room dividers.