Sometimes it pays to work with what you've got. Instead of centering their child's desk against a featureless blank wall, the homeowners behind this project decided to capitalize on a shallow, wall-interrupting corner. Using color as an architectural tool, they turned the recess into a welcoming homework nook.
The ingredients include a desk that's deeper than the recess it occupies. To compensate, the design disguises the corner's inhospitable lines by wrapping them with blocks of striking color extended to different lengths. One block comes to a dramatic stop at the outside corner, intensifying the impact of the blocks above and below it, which keep traveling. Floating shelves, painted to meld with the upper blocks, further the illusion. Making the lowest color block magnet-ready, which you can do with a special base coat, creates space for pinup artwork.
The palette is cheerful but not childish: soft-blue walls; shots of marine blue, school-bus yellow, and firehouse red; and enough gray undertones to anchor and warm up the steely desk. To make this tableau really come alive, just add one student and a pop quiz.
Shown: Behr's Monaco (base coat), Ocean View, Artesian Water, and Vibrant.
Step 1
Map out a design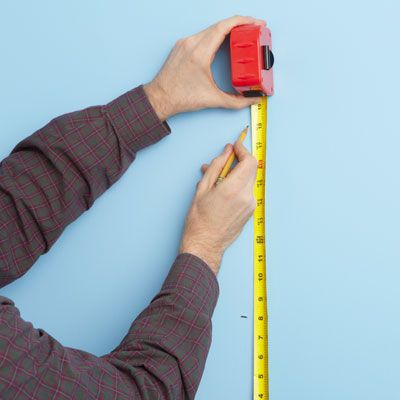 with two floating shelves and four colors—a base coat of flat pale blue plus two contrasting blues and a lively yellow in an eggshell finish, say. Mark the desk height with a pencil and tape measure and work up, spacing 10-inch-high blocks at even intervals while keeping in mind the height of books and display objects. Make the middle block the same length as the shelf, and allow the other two blocks to wrap the recess and stop at different spots.
Step 2
Put down painter's tape,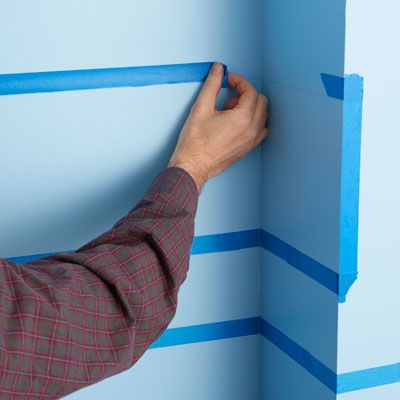 positioning it outside the pencil marks and sealing it with a plastic putty knife or a credit card. To get in and around corners, use short lengths of tape and overlap them. If you want the lowest block to double as a bulletin board, put down a coat of magnetic primer.
Step 3
Paint the three color blocks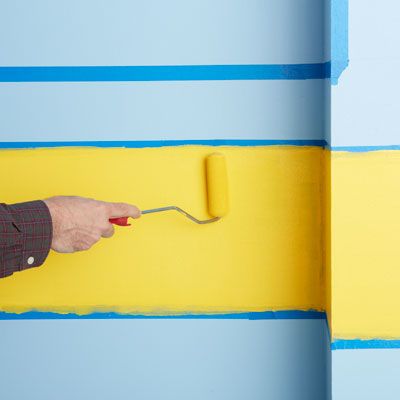 using a dense foam roller and a brush to cut into the recess. To create a touch-up kit, pour some of the leftover paint into baby-food jars or other small containers and label them.
Tip: Magnetic primer turns paint into a bulletin board.
Step 4
Remove the tape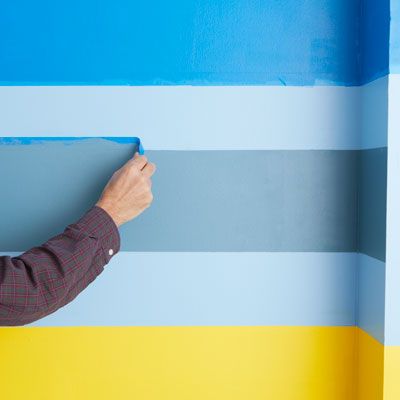 when the paint is still a bit tacky, pulling it up gently at an angle.
Step 5
Paint the two floating shelves,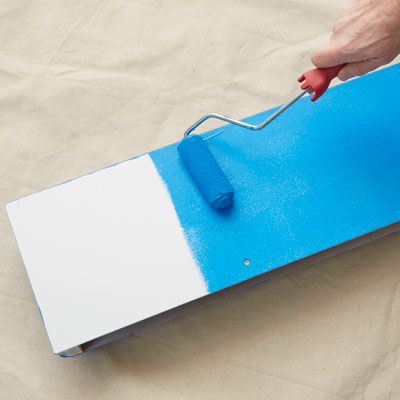 using a dense foam roller, and let them dry thoroughly.
Step 6
Install the shelves,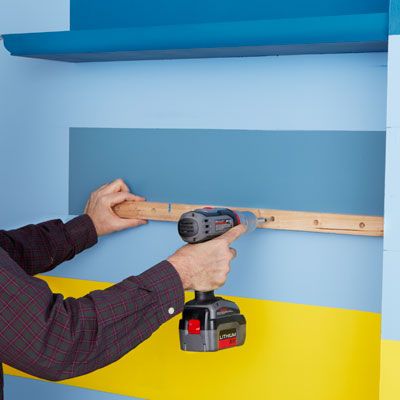 following the manufacturer's instructions; some may require screwing a mounting strip into the wall first, as shown. Use a small artist's brush for any touch-ups. Wait a few days before arranging the shelves, but don't worry about the desk—it can be loaded with books and homework right away.