What Leak?
A disposal turned shower head.
–Jim Foss of Best Inspection Inc. in Anchorage, Alaska
Points for Symmetry
Which way does the water run? We'd hate to open this clean-out.
-Brian Snowberg of Heartland Inspections in Mahtomedi, Minn.
Pipe Down
"Sink was draining very slowly. No wonder! Couldn't see where the two 3/4-inch copper lines terminated." (We'd say that tubing probably isn't a good substitute for a drain pipe.)
–Jeremy Provan of Pro Vantage in Columbia, Md.
Flush before Washing
A water-saving feature, if the tank doesn't overflow.
-Joseph A. Pasaturo, PE of AVT Engineering in Brooklyn, N.Y.
Why the Trap?
"Pole barn urinal draining into the backwoods."
-Corey Cahill of National Inspection Service of Indiana, Inc. in Evansville, Ind.
How Not to Repurpose a Wine Cork
"When making plumbing repairs, always keep a replacement cork nearby."
-Jim Young of HomePro in Cleveland, Ohio
Scary Innovations for Heating Water
Let's use an aluminum roasting pan to capture exhaust heat and warm up the pipes before water gets to the water heater. —Kyle D. Rodgers, A+ Home Inspections LLC, Siloam Springs, AR
Don't run the risk of being poisoned by carbon monoxide from your gas water heater. Watch our resident pro, TOH plumbing and heating expert Richard Trethewey, as he demonstrates the correct techniques in our video How to Replace a Water Heater.
Loose Connection (Downspout Department)
Traffic cones have their place, but not as funnels for rainwater. —Thomas Dabb, Immaculate Home Inspections, Plainfield, NJ
This impractical eyesore simply won't do. Deal with exterior water drainage by using the pro-approved method detailed in our video How to Drain Downspout Water Flow Away from a House.
Bottom Gear
A radiator hose adds a little color—and a dash of automotive pizzazz—to an ill-considered extension for an outside drain. —Thomas Dabb, Immaculate Home Inspections, Plainfield, NJ
Richard shows the right way to connect drainpipes in our video How to Work with PVC Pipes.
Zip-A-Dee-Doo-Dah
"Here is a funny drain pipe under a kitchen sink I saw today. I guess they could not figure out which way to go!" —Mark Rathz, WIN St. Charles, St. Charles, MO
Leave the twists and turns to waterparks. Follow some trusted pro advice in our video How to Replace a Kitchen Sink.
So, What's Hiding Under the Bag?
A sports drink quenched a homeowner's thirst, then plugged an open drain pipe, after a plastic grocery bag "sealed" the joint. —Thomas Dabb, Immaculate Home Inspections, Plainfield, NJ
Mixing and matching materials is seldom a good idea, especially around plumbing. Before starting your next project, check out the helpful tips in our video How to Hire a Plumber.
There's a Hole in the Bucket, Dear Liza
Randy Sipe of Family Home Inspection Services Inc., Spring Hill, Kans., says…
A bathroom sink appears to be draining properly…until we take a look around the other side of the wall to find the water emptying into a bucket.
Watch his video of the problem sink on YouTube.
Mixed-Up Pipe Connections
James Brock of Boston Home Inspectors Inc., South Boston, Mass., warns…
Beware, this is what happens when auto mechanics step in as plumbers. The homeowner's brother-in-law, an auto mechanic, tried to install this garbage disposal—and used a garage exhaust hose.
Plumbing Vent Stack Turned Trash Can
James Brock of Boston Home Inspectors Inc., South Boston, Mass., reports…
This right here is a multipurpose product: a plumbing vent stack, an ashtray, and a glass-recycling bin.
What's Missing Here?
Lawrence Transue of BP Inspections, Easton, Pa., generously notes…
The homeowner did a very nice job of retiling this shower floor. That said, he forgot one minor detail: the drain.
Courtesy of The ASHI Reporter
Camouflaged!
"I wonder if the seller thought, 'Maybe the no one will notice that the plumbing cleanout has been completely covered in stucco and painted over.'"
David Grudzinski
Advantage Home Inspections
Cranston, RI
Courtesy of The ASHI Reporter
Splish, Splash I Was Taking a…Zap!
"These electrical disconnect boxes sit directly under a working faucet—a recipe for electrocution."
James Brock
Boston Home Inspectors
Boston, MA
Courtesy of The ASHI Reporter
Rigged Up
"This homeowner got all fancy when hooking up this basement urinal: hung from the ceiling by ropes, plumbed with a hose, and drained into another hose hook up. Most guys just use the sink…"
Ken Meyer, ACI
Portico Home Inspection LLC
Portland, OR
Courtesy of The ASHI Reporter
What's Wrong Here?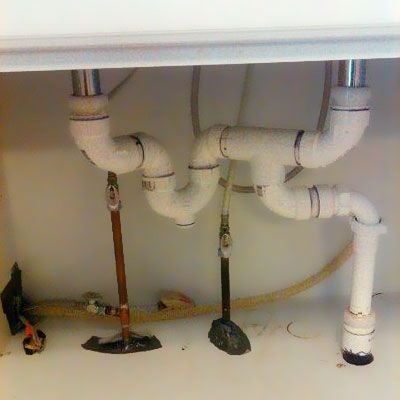 "Or more simply, what isn't wrong here? Let's start with the missing trap on the right drain, which is supposed to serve both the dishwasher and the right sink. Or the dishwasher drain line that's going to get a flood of backwash every time the sink empties. Or maybe the power connection for the dishwasher on the bottom left, which is tied off with electrical tape and no junction box. Just for a start, that is."
David Grudzinski
Advantage Home Inspections
Cranston, R.I.
Courtesy of The ASHI Reporter
Leak, What Leak?
"No leak on this pipe! The homeowner just needed a place to store two miles of tape, a few clamps and a Zip tie."
David Grudzinski
Advantage Home Inspections
Cranston, R.I.
Courtesy of The ASHI Reporter
Clean and Zappy
"This photo shows a live fuse box located next to a working kitchen sink. I can't believe this was ever legal."
Matthew Steger
WIN Home Inspection – Elizabethtown
Elizabethtown, Pa.
Courtesy of The ASHI Reporter
About the American Society of Home Inspectors
This gallery is brought to you by The American Society of Home Inspectors (ASHI)®. ASHI is the premier home inspection association in North America. Founded in 1976, it was the first organization to create a Standard of Practice and Code of Ethics for home inspectors. It is also the only home inspector organization that is certified by the National Commission for Certifying Agencies (NCCA). That means ASHI is truly certified by a third party. The requirements to become an ASHI Certified Inspector (ACI)® are stringent and have to be renewed every few years. Additionally, ASHI Inspectors and ASHI Certified Inspectors (ACI)® must take and pass the National Home Inspectors Examination (NHIE), a psychometrically designed test. When using an ASHI inspector, clients and realtors can have confidence that ASHI is THE standard in the profession!
Would you like an up to the minute list of all ASHI inspectors just by typing a zip code? Would you like to see about consumer safety recalls? Would you like maintenance tips? Look no further, ASHI has an app for that! Just go to the Apple App Store or the Android Play Store and type in "home inspector search" and you'll have it at your finger tips!
MORE: