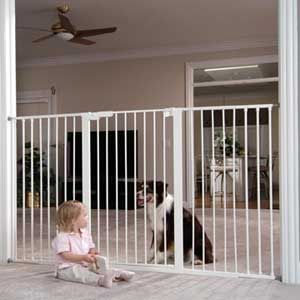 Childproofing a home to protect little ones—particularly those under four years old—includes identifying common dangers and choosing the best products to decrease the risk of accidents. Parents should evaluate each room in the house, pinpointing things that could harm a child well into the walking stage. Here's a primer on 10 potential hazards, and how to remedy them.
1. Falling Furniture
Unbalanced furniture can fall and pin children. Heavy dressers, entertainment centers, bookcases—or anything kids might be tempted to climb or pull on—should be anchored to the wall with earthquake-proof, anti-tip furniture straps. Flat screen televisions that sit on furniture or TV tables are also a common tipping hazard and should be secured.
2. Choking Hazards
A general rule of thumb: Anything that fits through a cardboard toilet paper roll is a choking hazard. Doorstops with removable caps are a big concern; if a curious child puts one in his or her mouth, the cap can become loosened by the child's saliva and swallowed. Use one-piece doorstops that mount into a wall or door.
3. Cabinet Locks
Cleaning products, sharp implements—cabinets hold all sorts of hazards to children. Keep kids out with childproof cabinet locks. But rather than using inexpensive all-plastic locks, which generally fail within the first 100 days of use, purchase locks with metal spring mechanisms, or better yet, magnetic locks.
A magnetic lock attaches to the inside of the cabinet door. It is not visible from the outside and cannot be opened without its magnetic key. They can run up to $15 for one set, but as Chad Hass, vice president of International Association for Child Safety suggests, proper childproofing requires a bit of investment. As he puts it, "If you're only paying $1.99 for seven cabinet locks, I can guarantee they will not be the safety measure you want to take."
4. Pots, Pans, and Burns
Banging on pots and pans is an old routine for antsy children. But, "Once you give a pot to them, they consider it a toy," says Hass. "When the parent takes the pot or pan away to cook with it, the child might reach for it, and there is the burn hazard." Childproof stove-knob covers and oven-door locks are good preventive measures.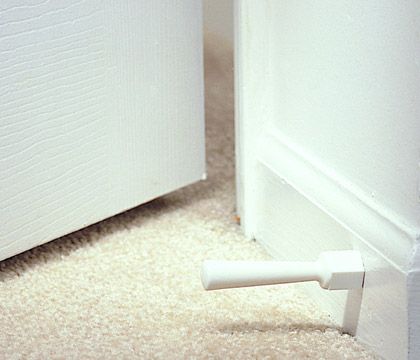 5. Electric Outlets
The common plastic insert that plugs an unused socket is actually a choking hazard; it's easily pulled out and put into a little mouth. A child can also pull a lamp or appliance cord out of its outlet and touch the exposed socket. Opt instead for self-sliding outlet covers. These covers slide closed when nothing is plugged in and prevent a child from working their fingers into the socket.
Tuck exposed cords behind molding. Manage multiple cords in a tubing system (available at office supply stores or home centers), which wraps wires together in flexible plastic to prevent kids from chewing on them.
6. Gates
Pressure gates that do not attach to the wall should only be used in low-risk situations. "Pressure gates should not be used at the top of stairs, period," Haas says. At the top and bottom of a staircase, use gates that have a swinging door in the middle that requires two motions to open.
Gates should be secured into wall studs on both sides. Look for a gate that is high enough that kids can't climb over it, with only a few inches clearance from the floor, so kids can't squeeze underneath. Install it so that the swinging door opens up away from the steps. Hass recommends a screw-mounted gate across any opening wider than 32 inches; to accommodate the open spaces of newer homes, gates are now manufactured for spans up to 22 feet.
7. Window Safety
Prevent falling accidents at open windows by installing window guards, as well as window wedges, which prohibit children from opening windows too wide.
To decrease the risk of window cords looping around little necks or limbs, the Window Covering Safety Council recommends cord stops on blinds and shades manufactured before 2001, which will eliminate the need for a loop. On window coverings made before 1997, install permanent tie-downs. Looped pull cords can also be cut into two strands, the ends of which can be finished with tassels.
8. Bathroom Safety
Toilet locks, which require two motions—moving the arm and then raising the seat—are a good idea for safety and hygiene.
Door locks, which prevent children from accessing the room, should be employed, as well as locks on each cabinet. Tub safety should include hand rails and non-skid bathmats. To prevent scalding, install soft, mildew-resistant faucet covers, which provide a digital readout of water temperature with lights and sound to signal when the water is too hot.
9. Pool Gates
To keep children from accessing unattended pool areas, surround your pool with durable, removable fencing. Pliable, proper mesh fencing—burst-tested for 300 pounds per square inch—is preferable to rust-prone iron fencing. Look for Textalene fencing, which has a PVC coating that resists sun damage and mildew.
10. Child's Nursery
"In the nursery you must really pay attention because kids spend more time there without mom and dad then anywhere else," Hass says. "Unless you sleep with your eyes open, you can't watch your child 100 percent of the time." Instead of locking the nursery door at night, which could scare a child and prevent your quick access in the event of an emergency, use a pressure gate across the door opening to prevent your child from wandering around the house unattended after bedtime.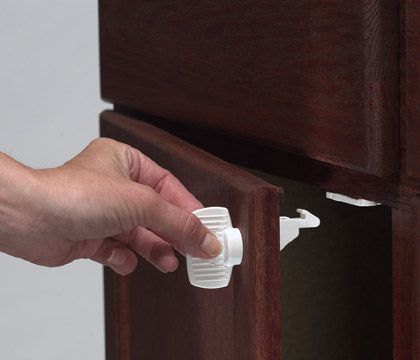 Where to Find It:
Safety Straps:
QuakeHold!
Escondido, CA
800-959-4053
Furniture Straps, Soft Doorjamb, Magnetic Cabinet Lock, Sliding Outlet Covers, Safety Gate, Window Wedge, and Toilet Lock:
KidCo, Inc
Libertyville, IL
800-553-5529
Digital Faucet Cover:
4Moms
Pittsburgh, PA
412-43-4moms
International Association for Child Safety:
Lake Hiawatha, NJ
888-677-IACS
Article updated on May 22, 2007