Strong Bones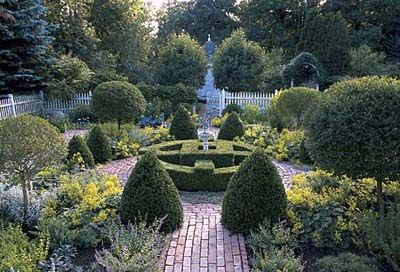 A formal garden such as the Litchfield, Connecticut, one in this gallery has a symmetrical architectural design that is easy to see. A traditional knot of sheared boxwood is surrounded by beds of ornamental herbs punctuated with more boxwood topiary and lilac standards.
But the key to a successful landscape design isn't the greenery that catches your eye. It's the unchanging structural framework that organizes and supports those flowers and shrubs—what are known as the "bones" of a garden. Some of these may be natural—large trees, stone outcroppings, or a pond, for instance. But it's the constructed, architectural elements—such as walls, fences, patios, pools, pathways, and arbors—that really add definition to an outdoor space and make it useful for everyday activities.
Gateway to Design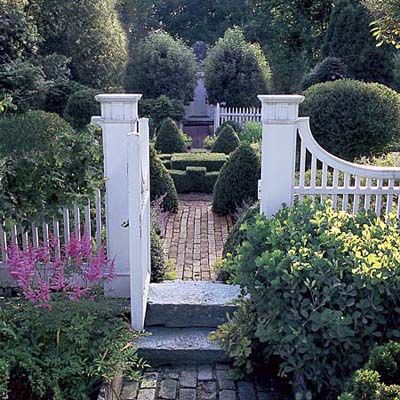 In creating a landscape plan, first consider what you want and need. Do you want an outdoor eating area, a place for grilling, spaces for kids to play, a pool and a patio, or a secluded spot for reading? Privacy or an open view? A straight driveway or one that's rerouted? A small kitchen garden next to the back door or a cutting garden out near the potting shed?
Once you've got your wish list, make a plan. This is the first step in marrying what you want with what you have. If you've got a survey map, start with that. (If you don't have one, you may need to commission one for large building projects, such as a property-line fence.) Or use graph paper to draw an outline of your house and lot to scale. Overlay it with tracing paper and add items on your wish list. Sketching out your ideal plan will help refine your vision, whether you're designing on your own or working with a professional.
Making Room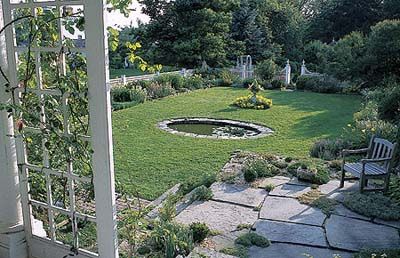 Paved areas move you from place to place, determine circulation patterns, and define frequently used living areas. Fences and hedges function as walls, defining boundaries and sectioning off "rooms" for various functions. Pergolas and the canopies of large trees can create ceilings that make these rooms feel distinct and intimate. Sheds and other outbuildings provide storage the way closets do. All these architectural elements organize a space, telling us where to go, what to look at, and how to use it.
Here, beyond the plant room's trellise, a small flagstone terrace nestled against the house is the garden's first "room"; small alpine plants ease the transition from the paving to the lawn below.
Walk This Way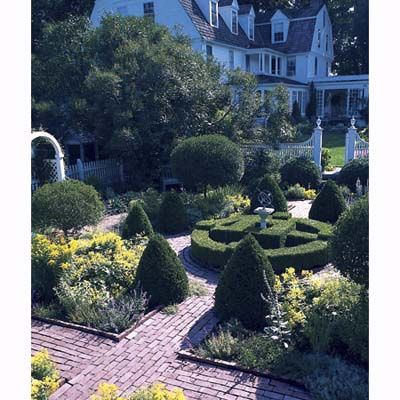 Most designers agree that you should start by laying out paved surfaces, like terraces and paths. "Look carefully at the areas that lead out of the house and into the garden, and at the transitions between outdoor rooms," says David Pfeiffer, a landscape architect in Vashon, Washington. Be practical. Take into account the existing traffic patterns around your house; walkways must be convenient if they are going to work.
When it comes to choosing materials, taking your cue from those used on the house is a good starting point. Here, brick paths echo the flooring of the home's sun-filled plant room, which opens onto the garden.
Boundary Maintenance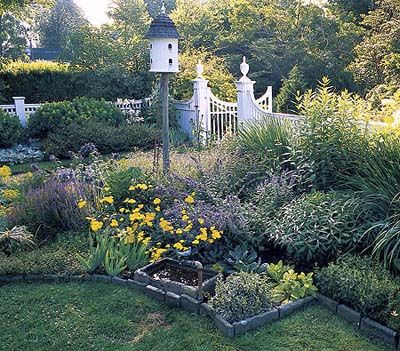 Establish boundaries: Fences and walls create a feeling of security and enclosure, whether they're marking off property lines or staking out the perimeter of a small garden.
At left, a white fence with square pickets sits on a low stone wall and outlines the section of garden adjacent to the house. Small flagstones set on end mark the dividing line between the perennial beds and the lawn.
Perfect Fit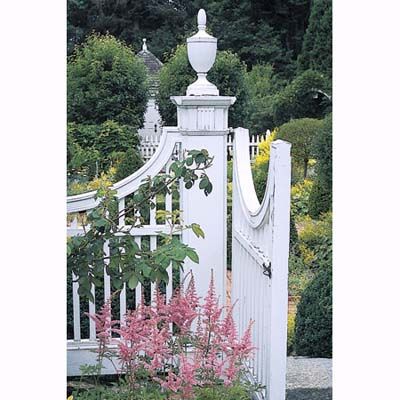 The scale and proportion of any constructed element—whether pool, patio, or pergola—should be in keeping with the house, and its setting.
These elegant urn finials and curved gates suit the home's Georgian-meets-Colonial Revival heritage.
Multipurpose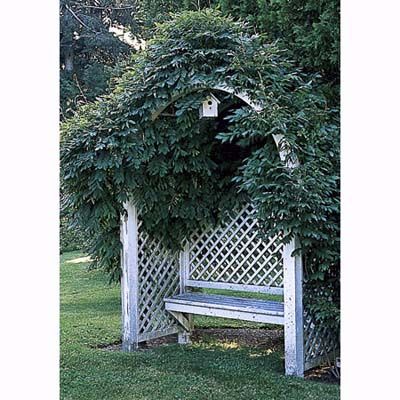 Keep in mind that a good landscape design should be balanced. Balance low horizontal lines with vertical structures like arbors, which can help tie the garden to the house and support climbing vines.
This arbor has a plank seat and lattice backing to create a wisteria-covered garden bench.
Arch Support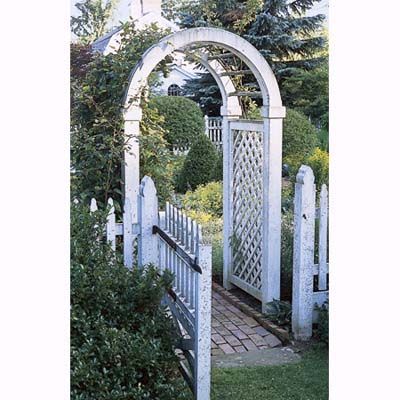 Arched arbors not only offset the garden's horizontal lines; they also mark entrances. This one supports climbing roses.
For the Birds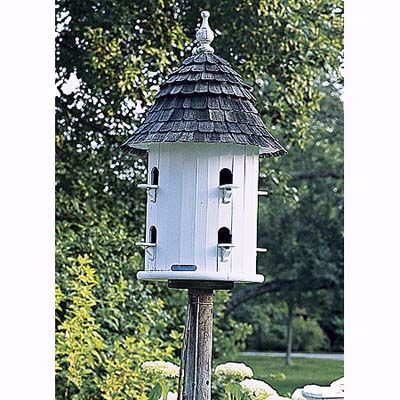 Be sure to view the landscape—picturing any improvements—from inside the house as well. Creating interesting vistas from various rooms indoors allows you to enjoy the garden all year long.
Birdhouses direct attention to various areas of the garden—and shelter visitors on the wing.
Frog to Prince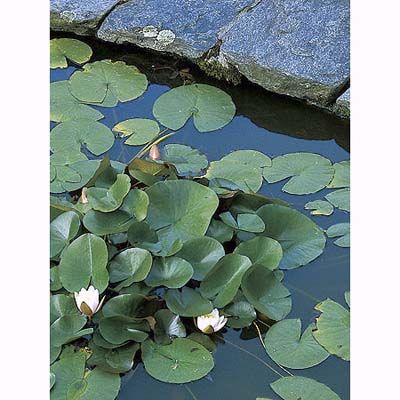 Note problem areas, too, such as a wet spot that could be turned into an asset as a pond. This lily pond has been edged in flagstones.
Balancing Act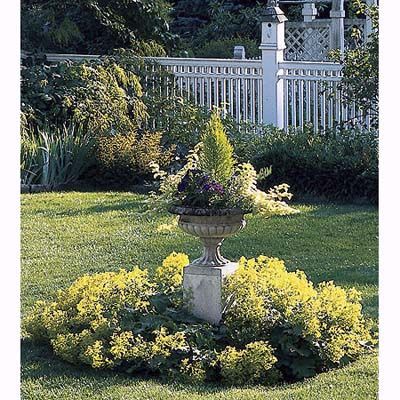 Keep in mind that a good landscape design should be balanced. That balance doesn't have to be symmetrical, as it is in formal gardens, but both sides should have equal areas of interest. Both this plant-filled urn and the lilly pond are set amid rolling lawn and positioned so they are in the line of sight when the garden is viewed from one end to the other.
One Man's Paradise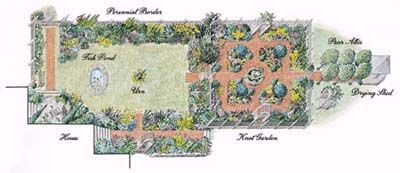 Doubtful a nonprofessional can tackle a grand garden scheme? The proof is in artist Glenn Hillman's garden. When Glenn moved into the Georgian-meets-Colonial Revival house, he kept the "bones" he inherited: a flagstone terrace (which he cut back), a lawn surrounded by mature perennial beds, and a fish pond. But where a swimming pool stood he imagined a traditional 18th-century herb garden, which would lead through a double row of pear trees to a drying shed. He drew up a rough working plan to scale. Contractors filled in the pool, put up fencing, and did paving work. But the planting and maintenance are all Glenn's.
The plant palette is dominated by greens and yellows, interspersed with soft pinks and lavenders. These colors are repeated to lead the eye forward in the same way the central axis through the garden does. The herb garden mixes gold, gray-green, chartreuse, and silvery-blue-leaved varieties that retain their interest, whether blooming or not.
-Tovah Martin