Handcrafted Linoleum Floors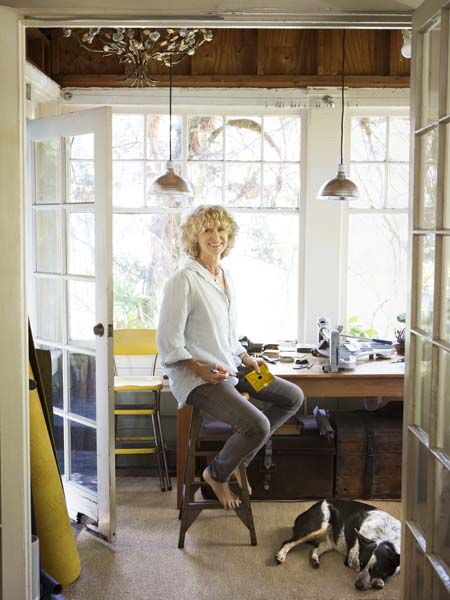 After people find out that the colorfully patterned floor they're standing on wasn't mass-produced by machine, often their first reaction is to squat down and run a palm across it. "When they realize these are pieces someone put together by hand, the whole experience is so palpable to them," inlay artist Laurie Crogan says with relish. "I love that."
The Southern California native started out as a goldsmith, and her attention to detail and miniaturist's eye are evident in her floors. Each one is as original and intricate as a piece of custom jewelry, whether it's a riff on a historic motif or something more contemporary.
Shown: Crogan, here with Pearl, her border collie mix, designs and cuts the inlays for her custom linoleum floors in her Los Angeles bungalow's sun-filled studio.
Architect Rudolph Schindler as Muse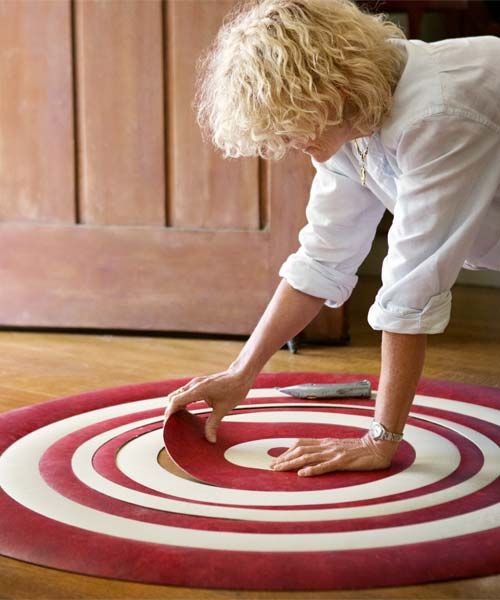 Crogan discovered her muse in 1984 while working on the restoration of a house by modernist architect Rudolph Schindler, including the kitchen's linoleum floor, a simple black field inlaid with red squares. In the process, she fell in love with the material, a blend of natural linseed oil, cork dust, wood flour, pine resin, ground limestone, and pigments. "It's such a beautiful old material. So few things have kept that integrity and quality."
Shown: Crogan fits together the pieces of a linoleum rug.
Different Installation, Same Prep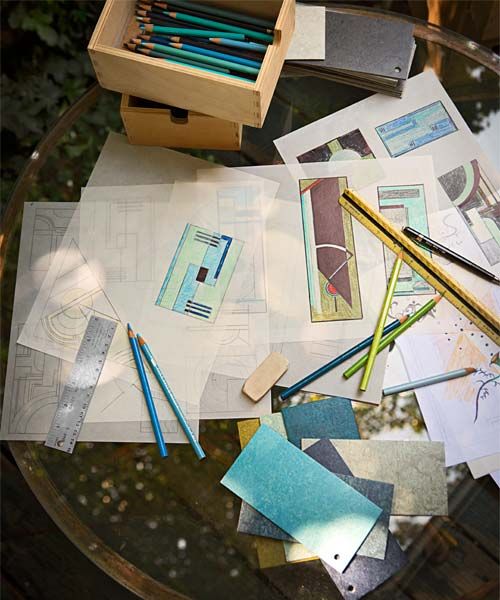 By her own account, each installation is different, but they all start the same way. First, Crogan meets with clients to discuss ideas, whether for a historic look or an original design. She draws a detailed color rendering of the installation to scale on paper. In many cases, a crew lays down linoleum sheet flooring or tiles, not gluing the areas where she'll inset her designs. Then she sets about hand-cutting the inlays.
Placing two pieces of linoleum tile in different colors on top of each other and taping them together, she traces a shape, cuts it out in both pieces at once, and switches the cutouts to create a pattern. More involved inlays require multiple cutouts and as many as six colors.
Shown: Each installation is mocked up to scale with colored pencils.
Meticulous Inlay Process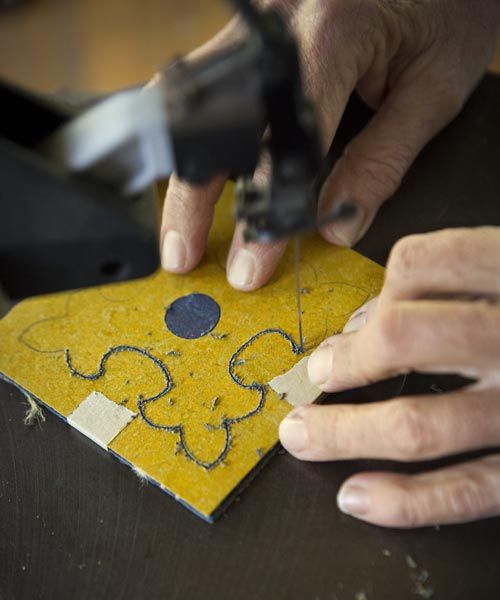 Each piece of inlay is cut using a Delta scroll saw fitted with jeweler's blades; a mat knife; and various fine hand tools. All the pieces are taped together. Then the shape of the inlay is scored into the floor, the outlined piece is cut out and removed, and the inlay is inserted and glued in place. Once the entire design is complete, five or six coats of acrylic sealer adhere the seam edges tightly together. Increasing the floor's durability and water resistance is important, since linoleum is especially popular in kitchens and baths.
Shown: A scroll saw with a jeweler's blade cuts a design into two pieces of linoleum, one to be removed and the other, inlaid.
Painstaking Installation
It's painstaking work, taking a month or more to complete an installation. "Nobody else is doing this," Crogan says. "It's too hard! But the people who love it, love it." Such meticulous craftsmanship doesn't come cheap, either. An installation can start at $6,000 for a small space with a few inlays and run to many thousands more, depending on the complexity of the design.
Shown: In a San Francisco kitchen, Crogan inlaid a white linoleum floor with a Craftsman-inspired runner made from linoleum tiles with an intricate border and a stylized botanical center detail.
Accessibly Priced Linoleum Rugs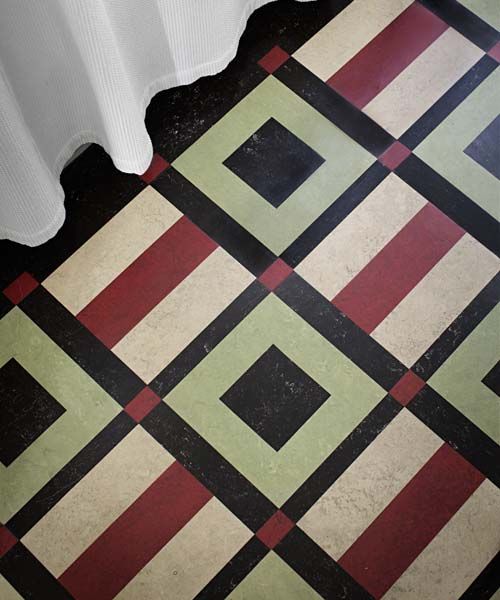 But linoleum fans who don't have deep pockets can still have an original Crogan underfoot. She's now selling linoleum rugs online in her Etsy shop, starting at $475 each. So in just a month, homeowners can receive their own piece of this updated, handcrafted art.
Shown: The colorful geometric pattern in her bath was cut out of sheet goods, pieced together, and sealed to prevent water damage.
Blacksmith With a Light Touch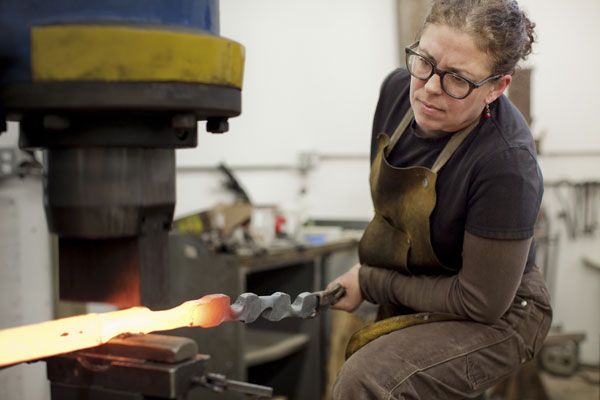 Traditional blacksmithing technique hasn't changed a lot since the craft's beginnings. Blacksmiths still heat metal, set it on an anvil, and use tools to hammer, bend, and cut it into objects. But Maria Cristalli, who lives and works in Cle Elum, Washington, is one of a new generation of smiths pushing the boundaries of the medium.
Shown: Cristalli keeps an eagle eye on the color of the heated metal to see when it's the correct temperature for working.
Large Collection of Blacksmith Tools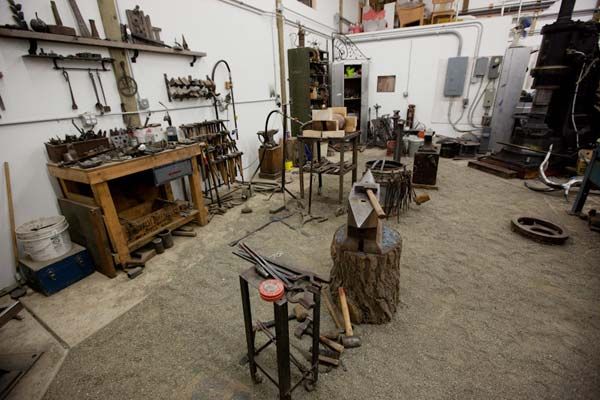 Cristalli became intrigued by blacksmithing in 1992, when she visited a friend's shop in Seattle. "I loved the physical nature of the work," she says, "working with your hands and making these beautiful metal things."
Shown: Cristalli has collected hundreds of tools during her 20 years as a smith. Her spacious studio, 85 miles southeast of Seattle, provides plenty of room to work.
Graceful Iron Curves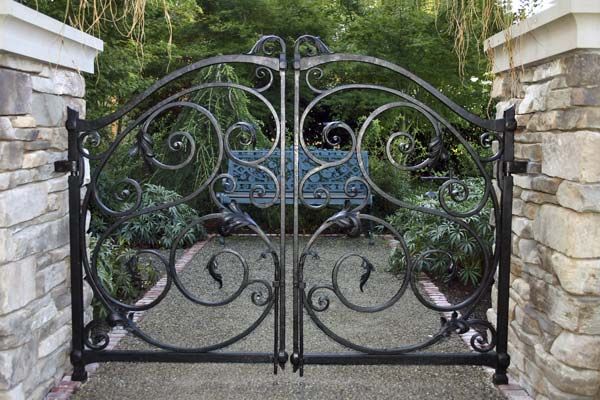 Over five years, apprenticing with master smiths and taking classes at Maine's Haystack Mountain School of Crafts, she honed her skills and then went out on her own. Today her pieces are much in demand. She creates custom gates and railings as well as interior work, like balustrades, and fireplace screens, which start at $3,500. For the city of Bellevue, Washington, she designed a series of whimsical information kiosks inspired by topiaries.
Shown: It's hard to believe the sinuous curves and fluttery leaves on this rose-garden gate were achieved by the manipulation of heat-softened iron.
Delicate Hand-Hewn Details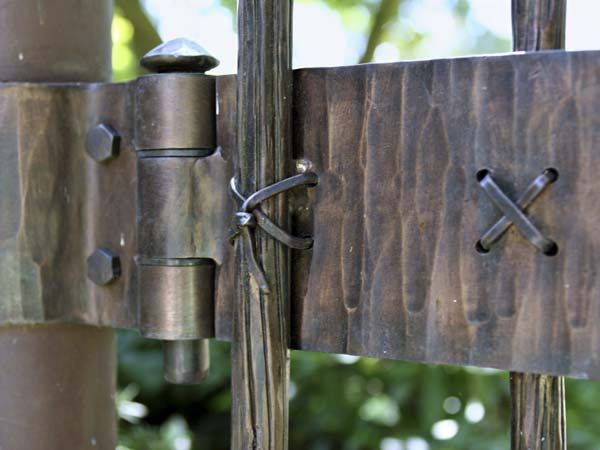 Cristalli sums up her process this way: "With every project, I take the years of experience I have and explore what else I can do with hot iron, always keeping craftsmanship, integrity, and a graceful aesthetic as a primary intention."
Shown: Each of the metal branches on the so-called Twig Gate is attached with a delicately tied hand-hewn knot.
Showpiece Fireplace Tools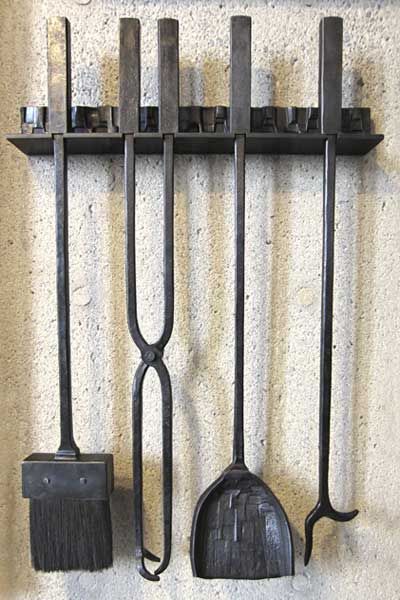 This quartet of fireplace tools is simple yet beautifully made and rendered.
He's Tops With Copper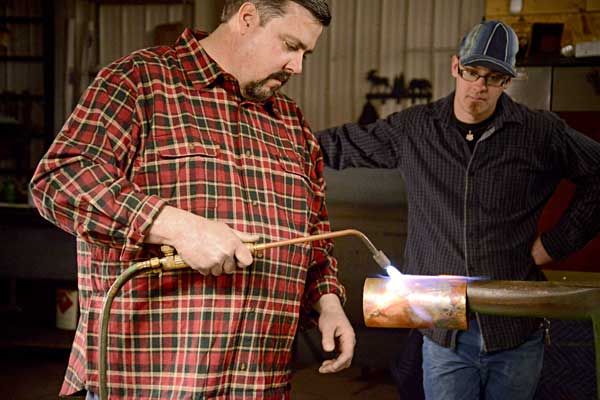 When Jason Fannin got out of the U.S. Army, in 1991, he knew he wanted to work with his hands. Fortunately, he met an experienced brass worker, Jim Chamberlin, who took him on as an apprentice, teaching him the finer details of working with metal, especially copper.
Since copper is a malleable metal, it can be cut and hammered into all kinds of shapes, but it's a complicated process. "It took years of hands-on learning to get me to where I am today," says Fannin.
Shown: Fannin uses a rosebud torch to heat a copper vase, softening it for further work.
High Professional Standard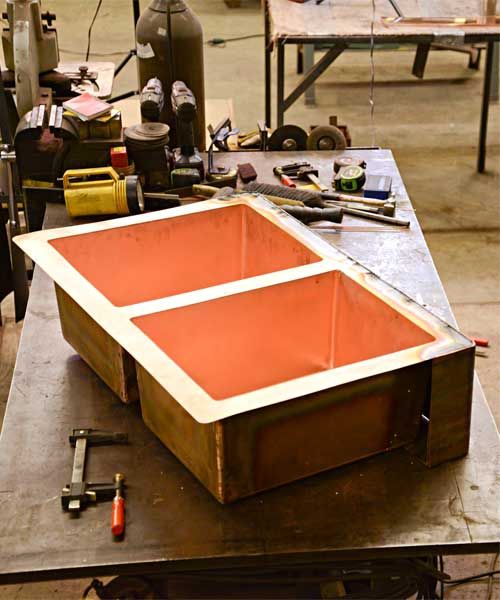 The coppersmith now runs his own business, The Metal Peddler, out of a 4,000-square-foot studio in West Sunbury, Pennsylvania. He designs and produces everything from kitchen sinks to hanging pot racks, but he has made a name for himself with his gorgeous handcrafted range hoods. Even at a cost of $3,000 to well past $20,000, he's got a backlog of orders, from homeowners and designers worldwide, that speaks to his insistence on quality. "I won't let anything go out the door unless it meets my standards," he says.
Shown: This hand-hammered double-bowl sink is a work in progress; the raw copper color on the interior will be transformed with a finishing patina.
Arts and Crafts Influence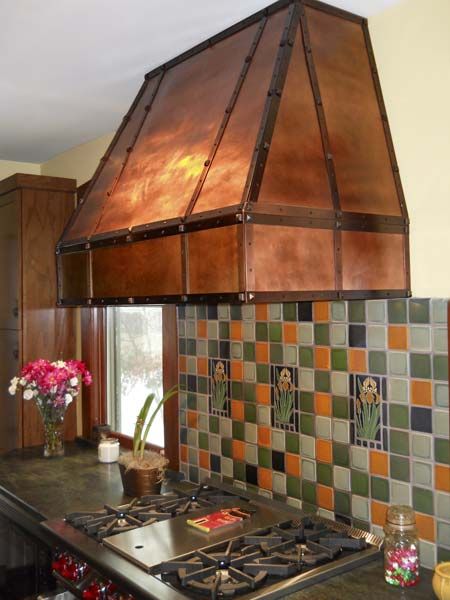 Fannin, who takes inspiration from the Arts and Crafts movement, finds that aesthetic still relevant: Make it by hand, make it with integrity, and make it beautiful. Which is just the way he runs his business.
Shown: This Arts and Crafts-style hood was fashioned from a 48-ounce sheet of copper and trimmed with clavos straps and rosehead nails.
Stained-Glass Masters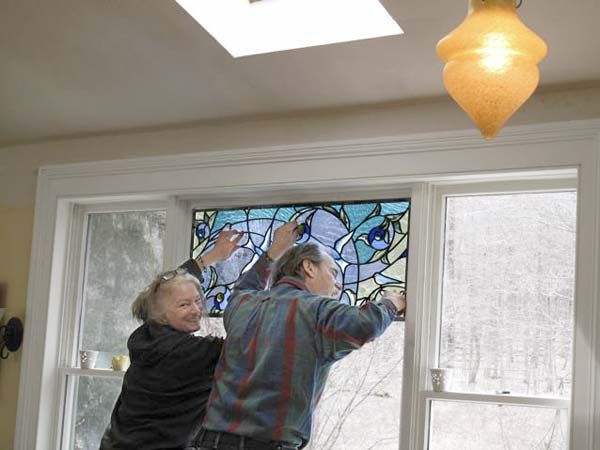 When Ray LaRanger is called in to restore or repair the stained-glass windows in a church, he taps into the techniques master craftsmen were employing in the 12th century. Back then, as now, stained-glass artisans carefully cut pieces of colored glass and fit them together to form patterns or pictures, which are held in place by strips of lead and sometimes also supported by a rigid frame.
Ray apprenticed at New York's Greenland Studio, assisting in such projects as the fabrication of windows for Washington National Cathedral. "I was overworked and underpaid, and I loved it," he says. His wife and business partner, Katharyn, had been a fabric designer, and she took classes on how to paint on glass and how to design for it.
Shown: Teamwork is key for artisans Katharyn and Ray LaRanger, even during window installations.
Glass for Privacy and Beauty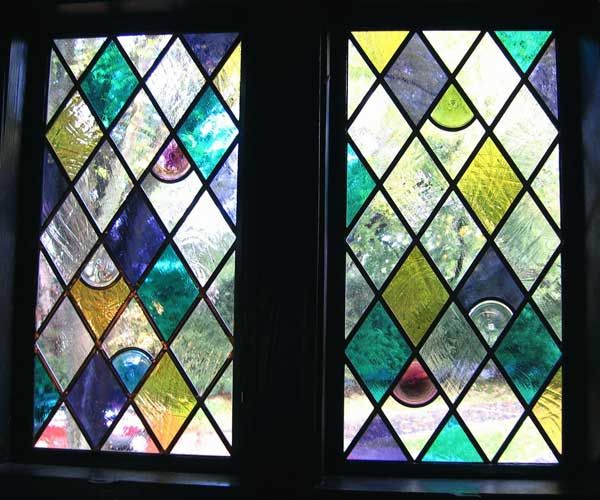 At the LaRangers' studio, in Carmel, New York, the couple specializes in museum-quality restorations as well as architectural glass for homes, offices, and religious buildings. "We work with very light tints and textures of glass that give you privacy as well as beauty," says Ray. Prices vary, of course, but a 2-by-4-foot window starts at about $1,600.
Shown: In this Tudor-style window design, rondels—mouth-blown pieces of glass spun into circles—are set in diamonds.
Abstract Panel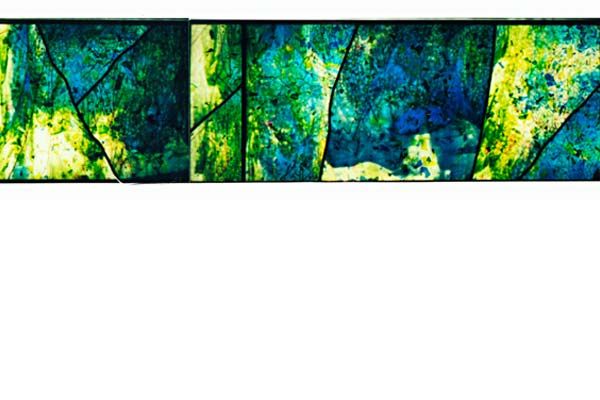 The LaRangers, who've been working together for 36 years, are very much a smoothly running team, each one's skills complementing the other's. "And we have our business meetings at 7 p.m. with a bottle of wine," says Ray, with a laugh. "That helps too."
Detail from an abstract 18-inch-by-12-foot panel created for financial firm Morgan Stanley's New York high-rise.