Before
With no landlord to answer to for the first time, the homeowner was eager to make over the dated living room fireplace.
Sometimes you have to trust your instincts and just go for it. Ask Sneha Bhoir, who was itching to freshen up the dated brick fireplace in her 1985 ranch house in Lincoln, NE. She decided to experiment with paint in order to introduce a more modern color palette, despite the fact that she'd never tackled a large project before.
After
Working 2 to 3 hours a day for a week, she refreshed the brown walls and orange-red bricks with white and gray paint, giving the fireplace a cleaner, more contemporary look.
She began by removing the accumulated dirt and dust from the bricks' surface with a wet cloth, sweeping cobwebs from the joints with a brush. Then she gave the whole fireplace a coat of all-purpose white primer to seal the masonry, followed by a coat of white latex paint to create a clean canvas. Sneha bought two different gray paints to dab on the bricks using a sponge, taking care to leave the mortar lines white. She found she could achieve four shades of gray by applying the two paints with a lighter or heavier hand. With the walls painted a complementary gray, the finished fireplace looks much more up-to-date, and the technique was so successful, Sneha put it to work outside on the brick portions of her home's facade. "Every time I see it," she says, "I'm like, 'Wow, Sneha, you did a great job!' "
$11 each for two quarts of gray paint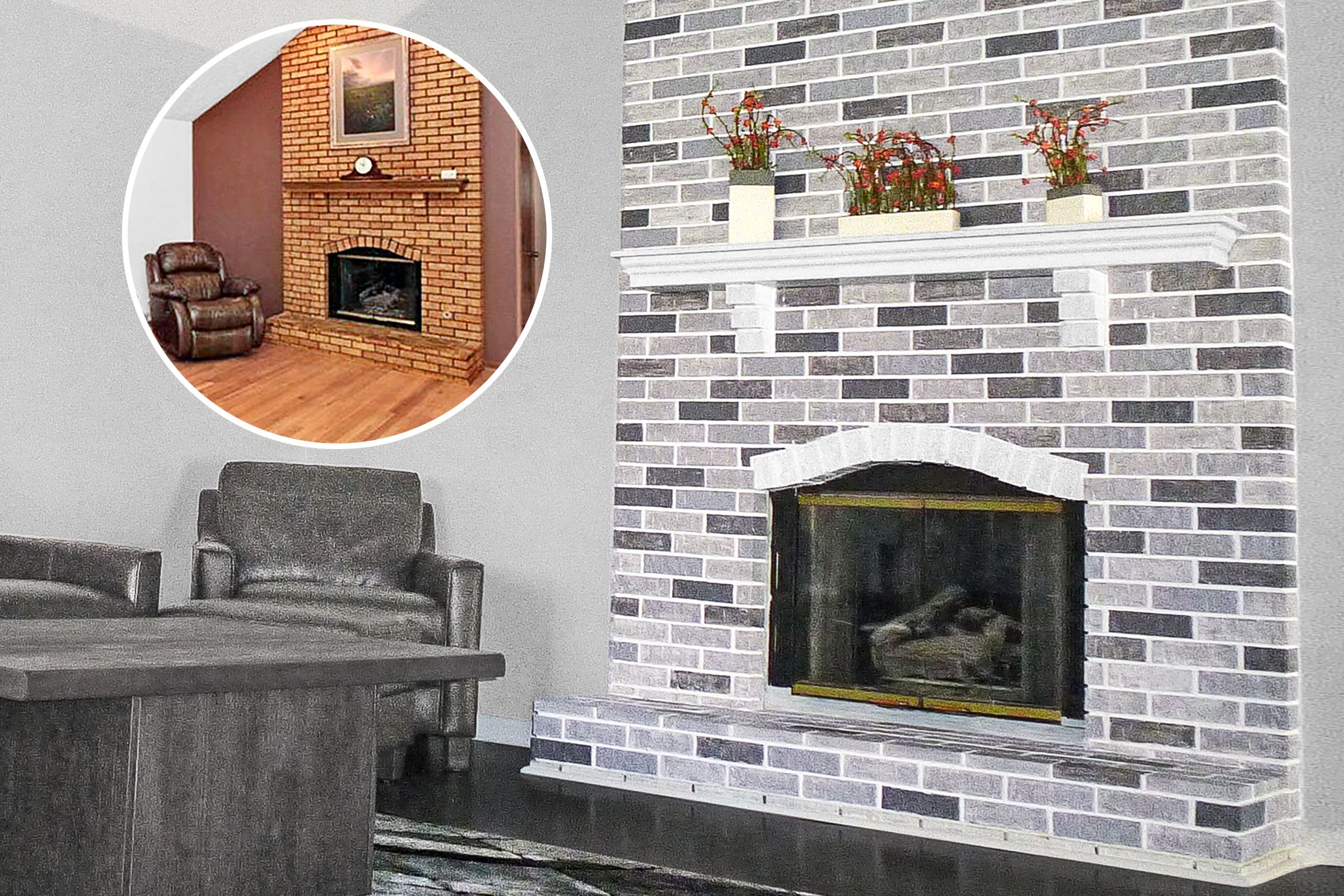 The Project Tally
Applied an all-purpose indoor/outdoor primer over the entire brick fireplace, sealing the masonry $23
Freshened up the fireplace bricks, mortar, and mantel with a coat of white latex, using paint left over from another room $0
Bought quarts of two gray paints to sponge on each brick, creating four different shades $22
Repurposed plants and accessories from other areas of the home for the finishing touches $0
Total $45