Vintage-Style Vestibule: Furniture Full of Characterike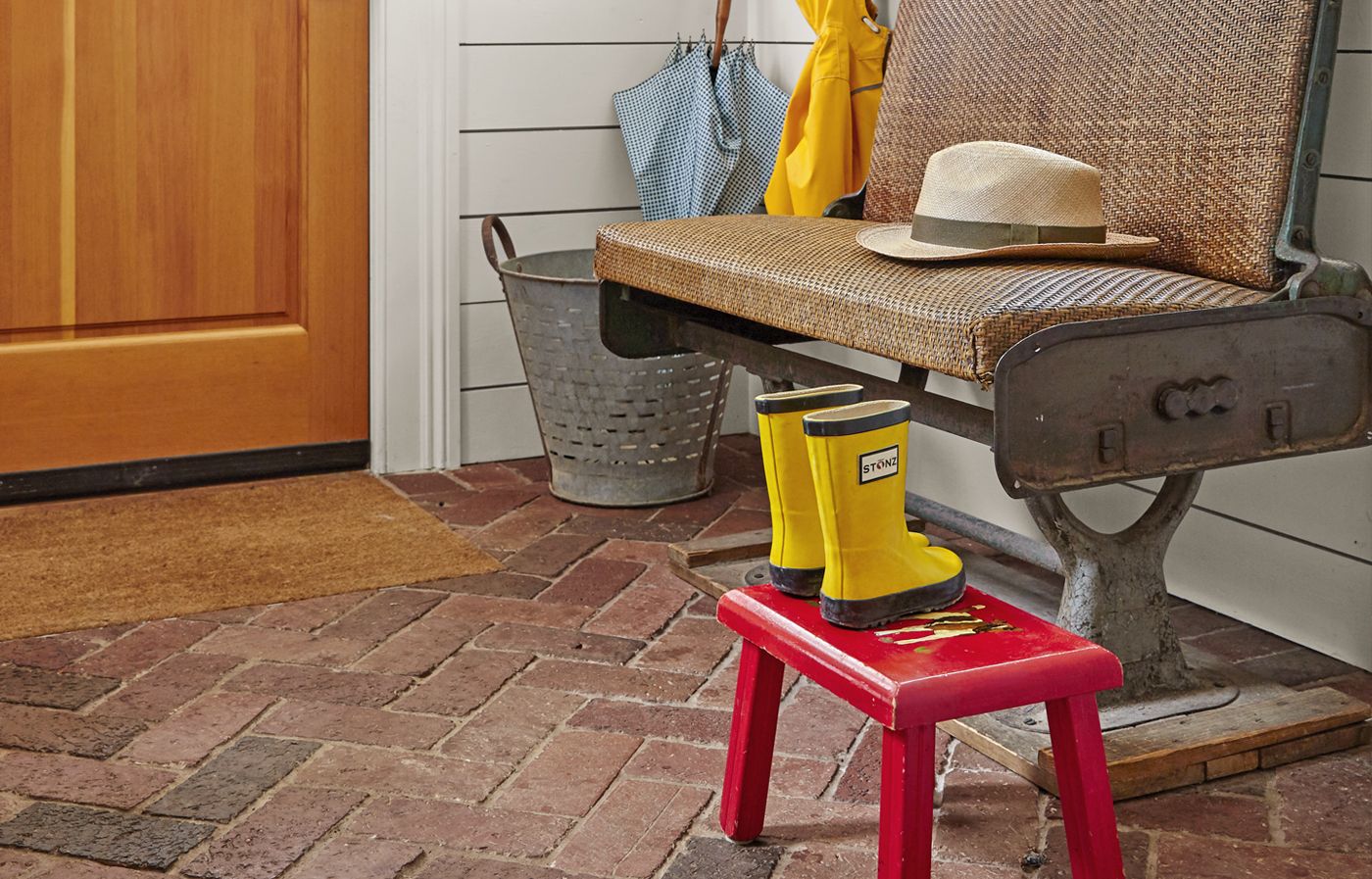 This personality-packed mudroom—part of an addition to designer Alys Protzman's 1880s farmhouse—provides side-yard access for a family of four.
Quirky furniture and accessories such as an old New York City transit-car bench and a galvanized-steel olive bucket, used to hold umbrellas, lend oodles of character. A rattan table (next slide), a colorful boat-wood mirror, and painted wood stools round out the flea-market aesthetic.
Architect: Erik Van Mehlman
Rabbit hook: about $22; Anthropologie
Vintage-Style Vestibule: Exterior-Echoing Paneling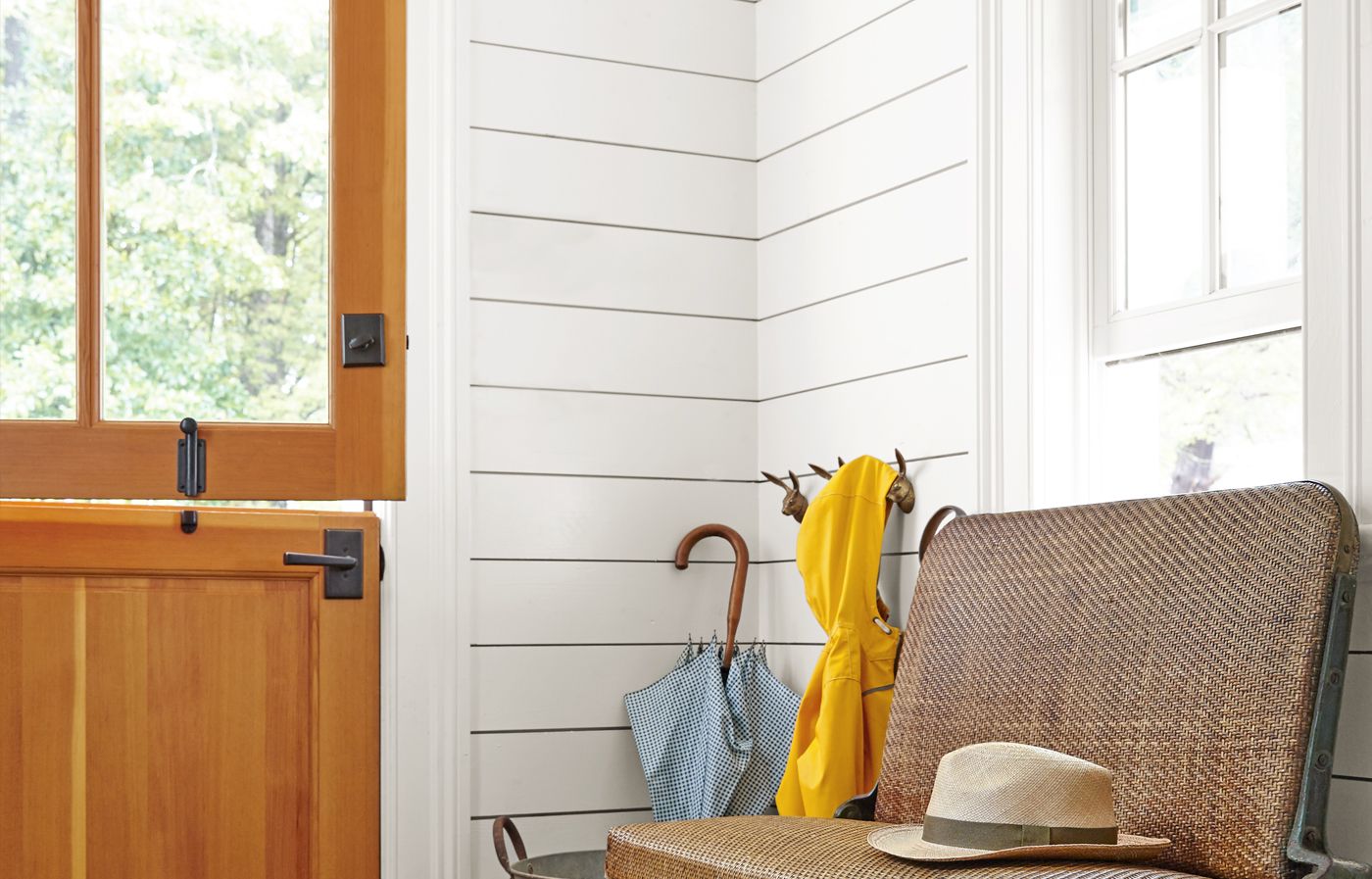 Shiplap paneling, which echoes the home's exterior, eases the transition from outside; it's also a durable surface for mounting hooks and stands up to scuff marks.
Vintage-Style Vestibule: Salvaged-Brick Floor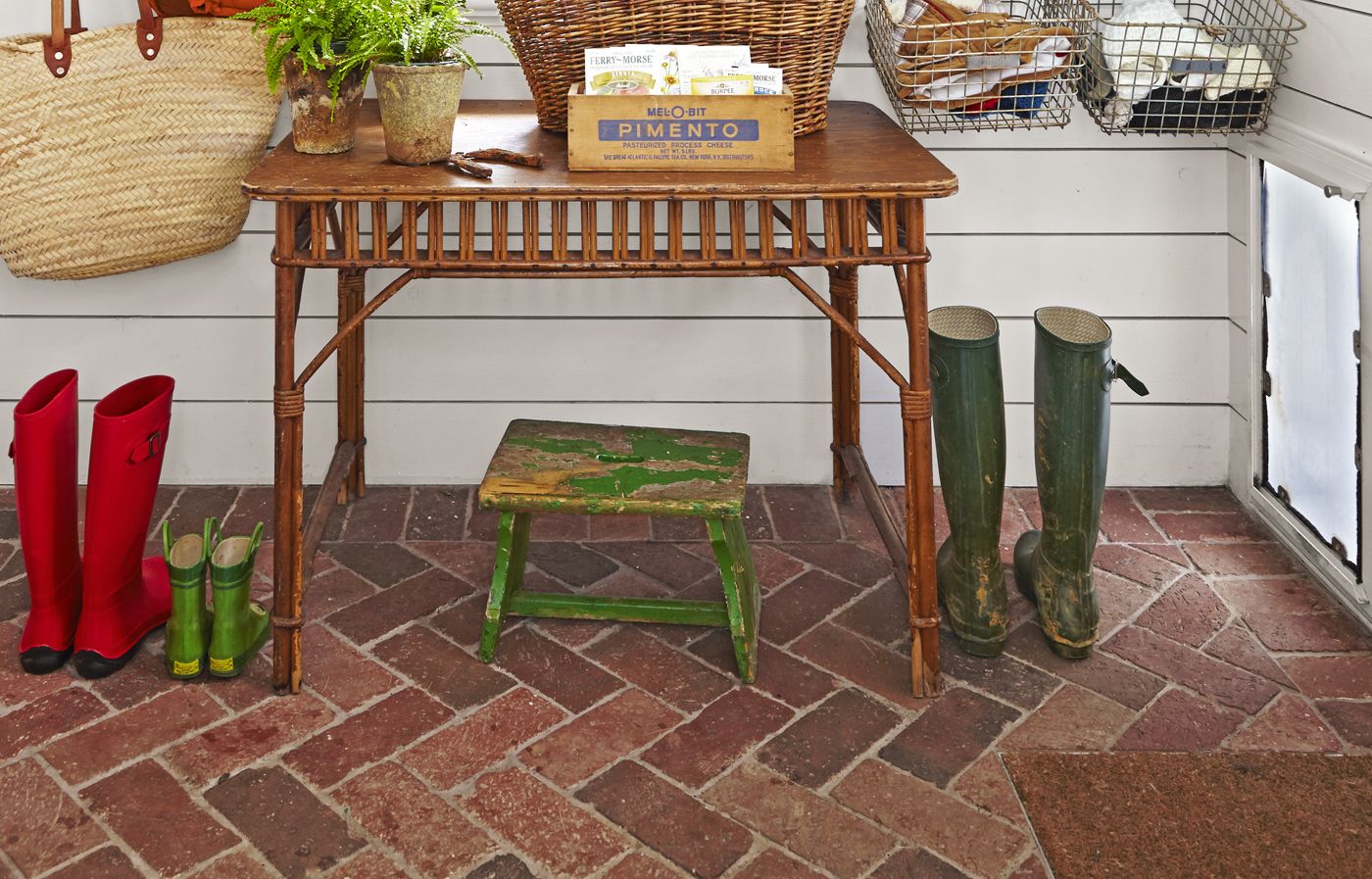 The herringbone brick floor was made from salvaged red-clay sidewalk blocks. Sliced to tile thickness and set with mortar, they provide a scratchproof surface underfoot.
Vintage-Style Vestibule: Wall-Mounted Baskets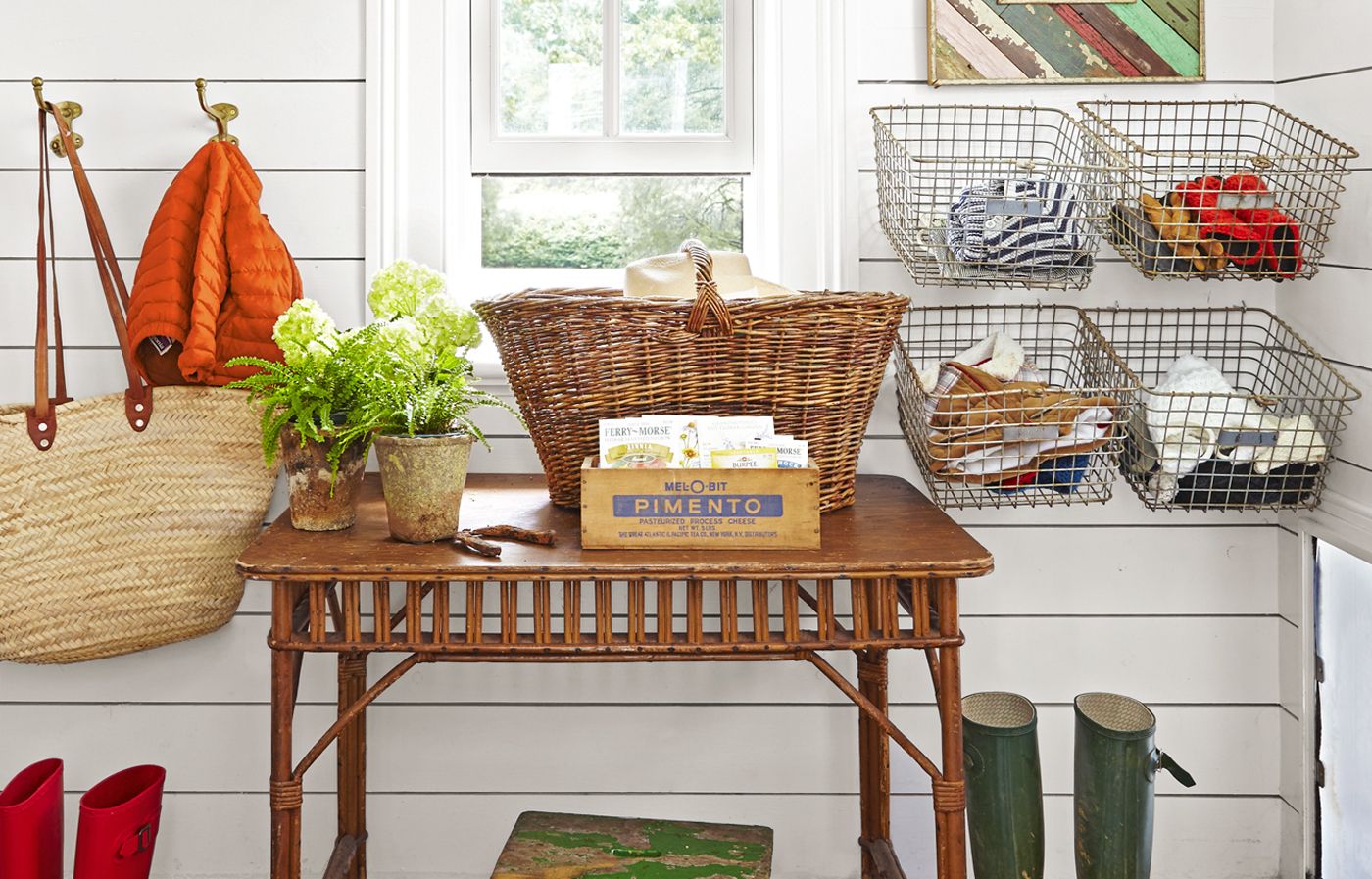 Wire locker baskets, screwed into the wall with cup hooks, corral scarves and gloves and allow wet ones to air-dry.
Vintage-Style Vestibule: Dog Door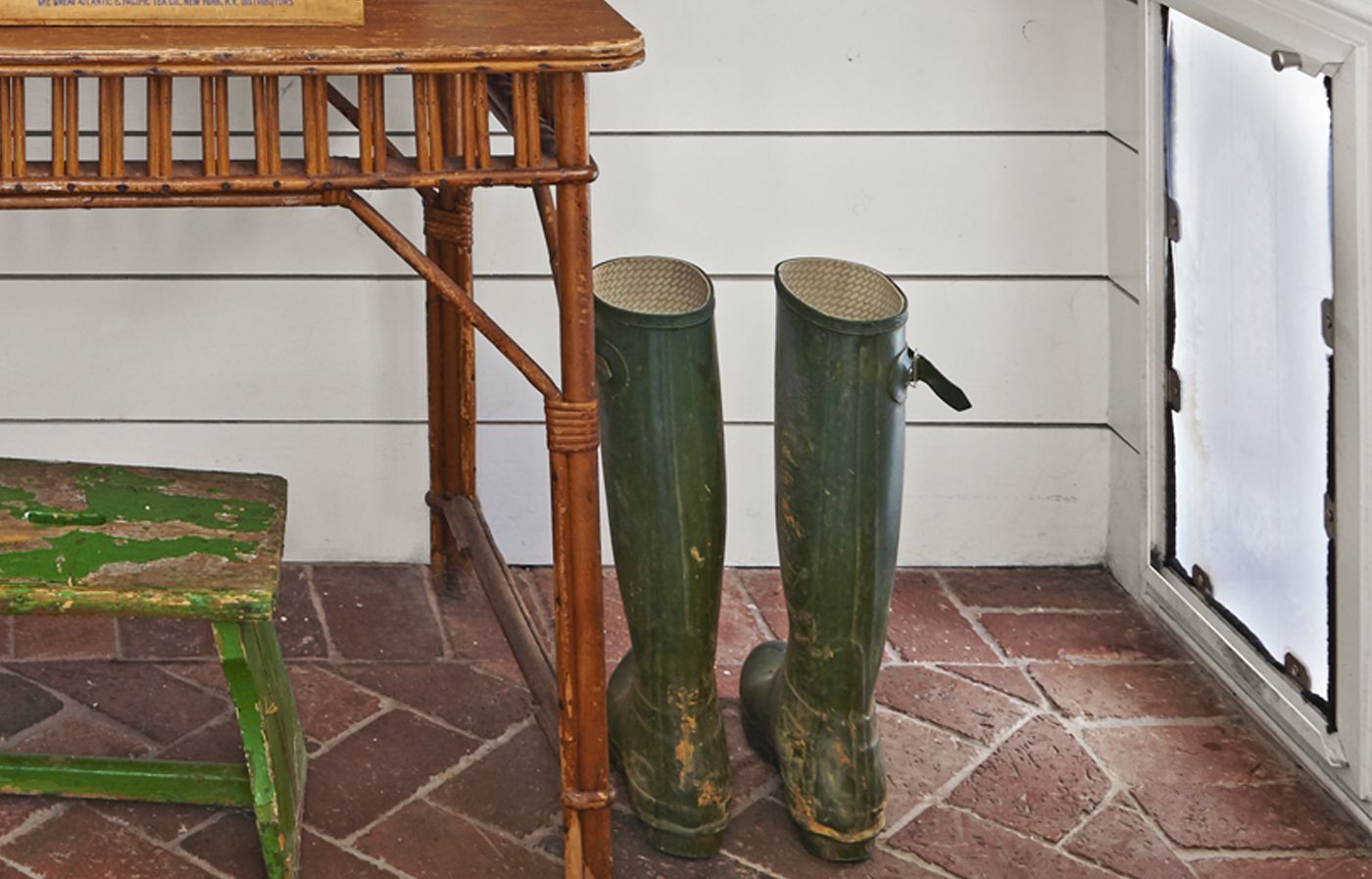 A dog door lets the space do double duty as a safe haven for the family's Australian shepherd on rainy days.
Vintage-Style Vestibule: Kids'-Height Wall Hooks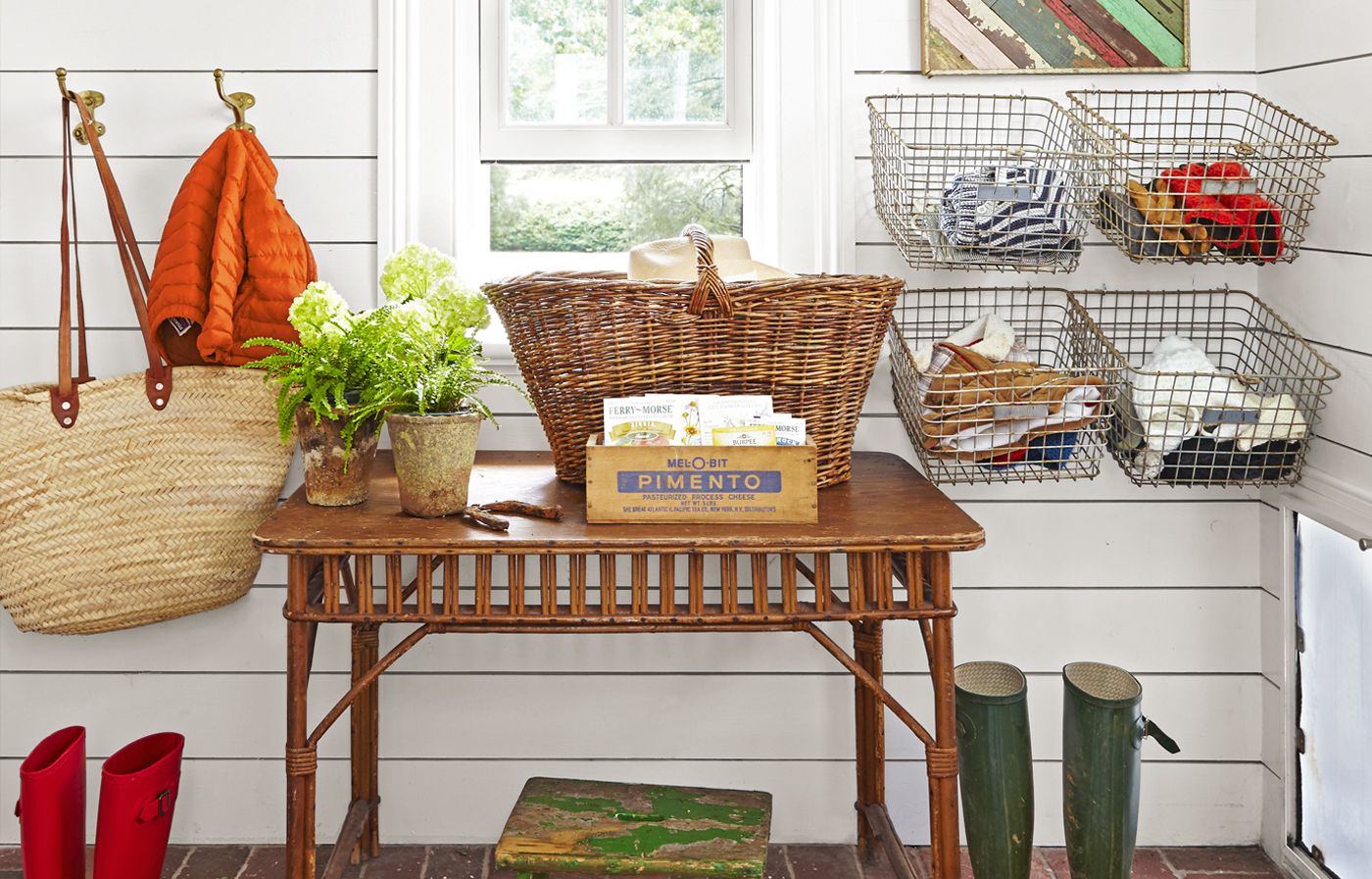 A second row of hooks makes it easy for kids to help keep things tidy.
Tidier Transition: Old Doors as Wood Paneling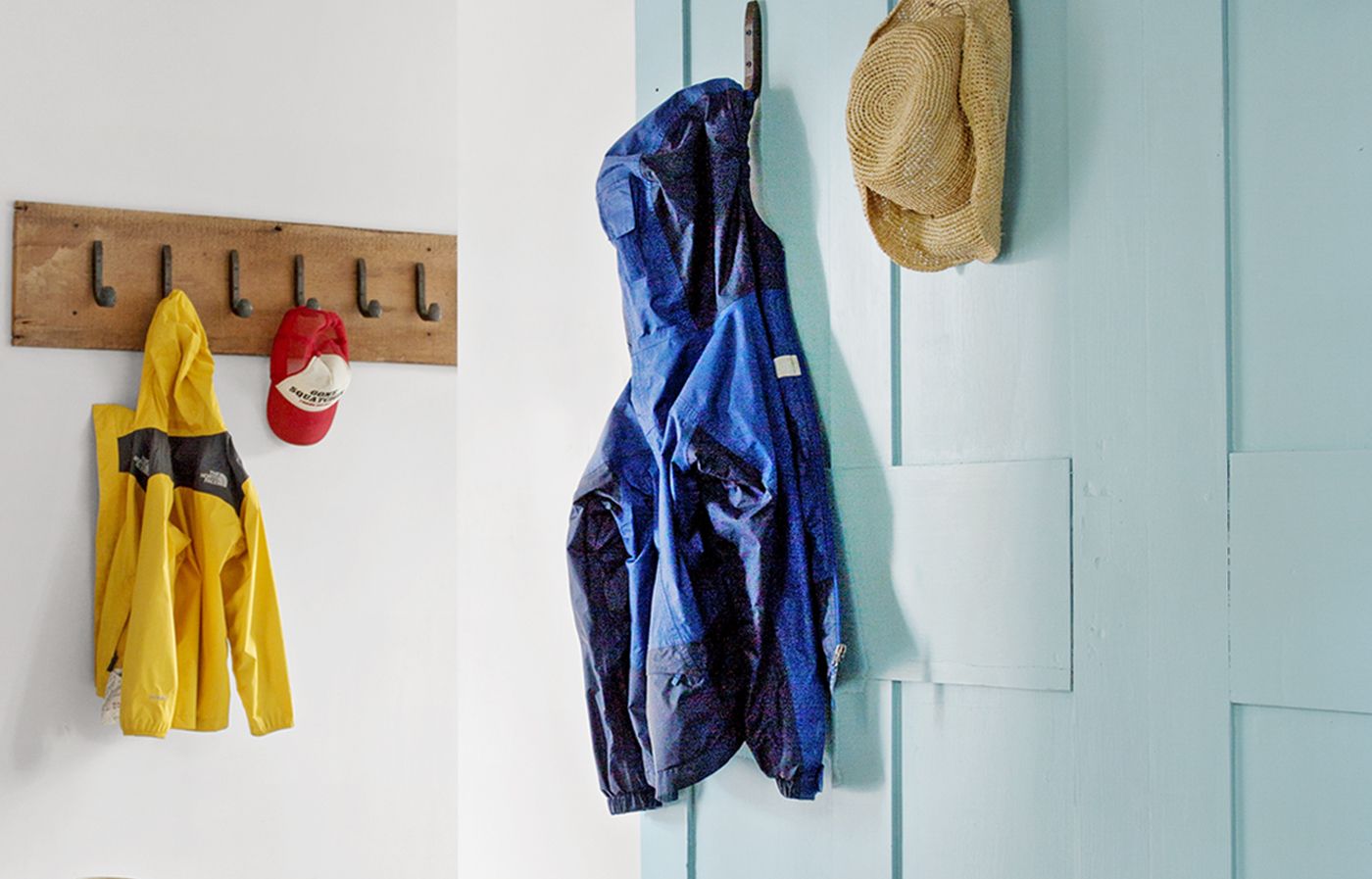 A side-entrance mudroom like this one, designed by architect Gary Vinciguerra, offers a convenient place to drop grocery bags and gear when you step in from the driveway.
Unique wood paneling made from old doors forms the back of this built-in and protects the drywall, since mudroom walls are often battered by flying book bags. Run paneling or a bench back up to the level of hooks (here, brawny iron ones) or shelves, usually about 5 to 5½ feet off the floor.
Architect: Gary Vinciguerra, GEV Design Inc., Canton, MA; 781-828-5500
Tidier Transition: Butcher-Block Bench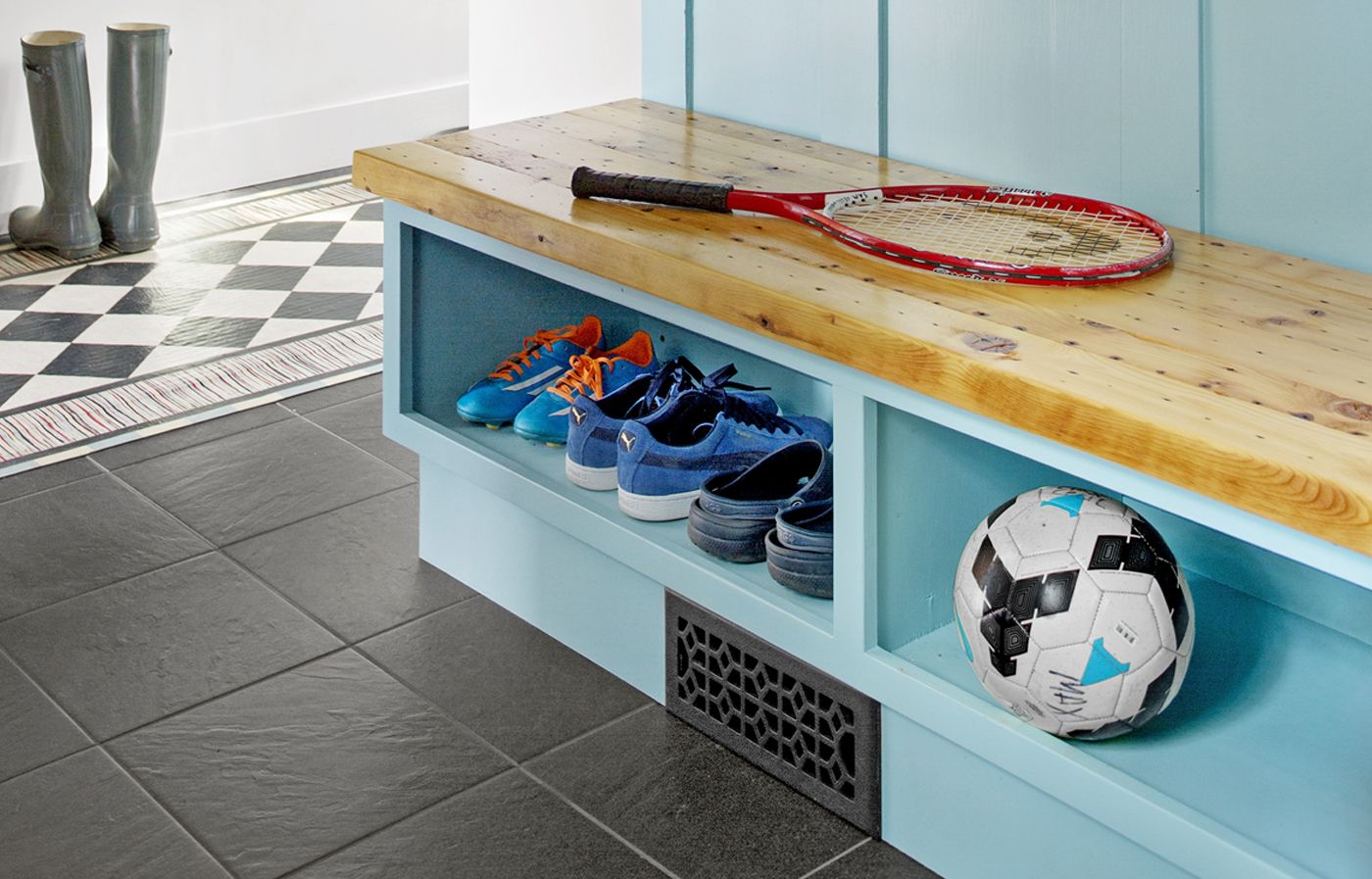 Old framing studs form the bench top; you can get a similar look using a slab of butcher block. For adults to sit comfortably, build a bench seat 18 to 24 inches deep and 18 to 20 inches high. The open-cubby base can be made of hardwood, plywood, MDF, or even stock kitchen cabinetry sans doors, set atop a platform.
Tidier Transition: Mudroom-Ready Slate Tiles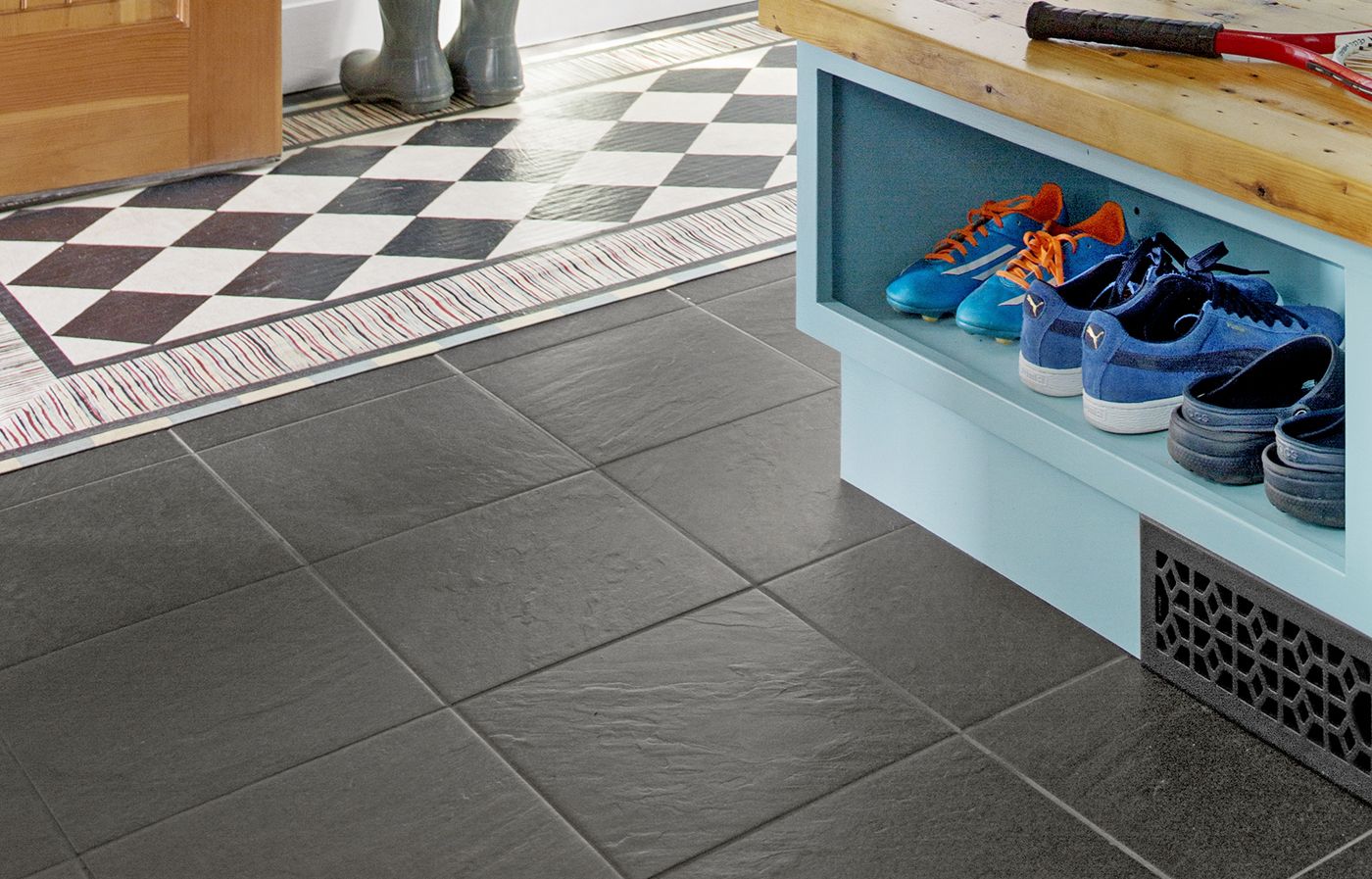 Slate floor tiles are easy to clean, and their cleft surface is slip-resistant—important in a high-traffic zone. Porcelain tiles and concrete are other great choices.
Color-Coded Alcove: Repurposed Niche or Closet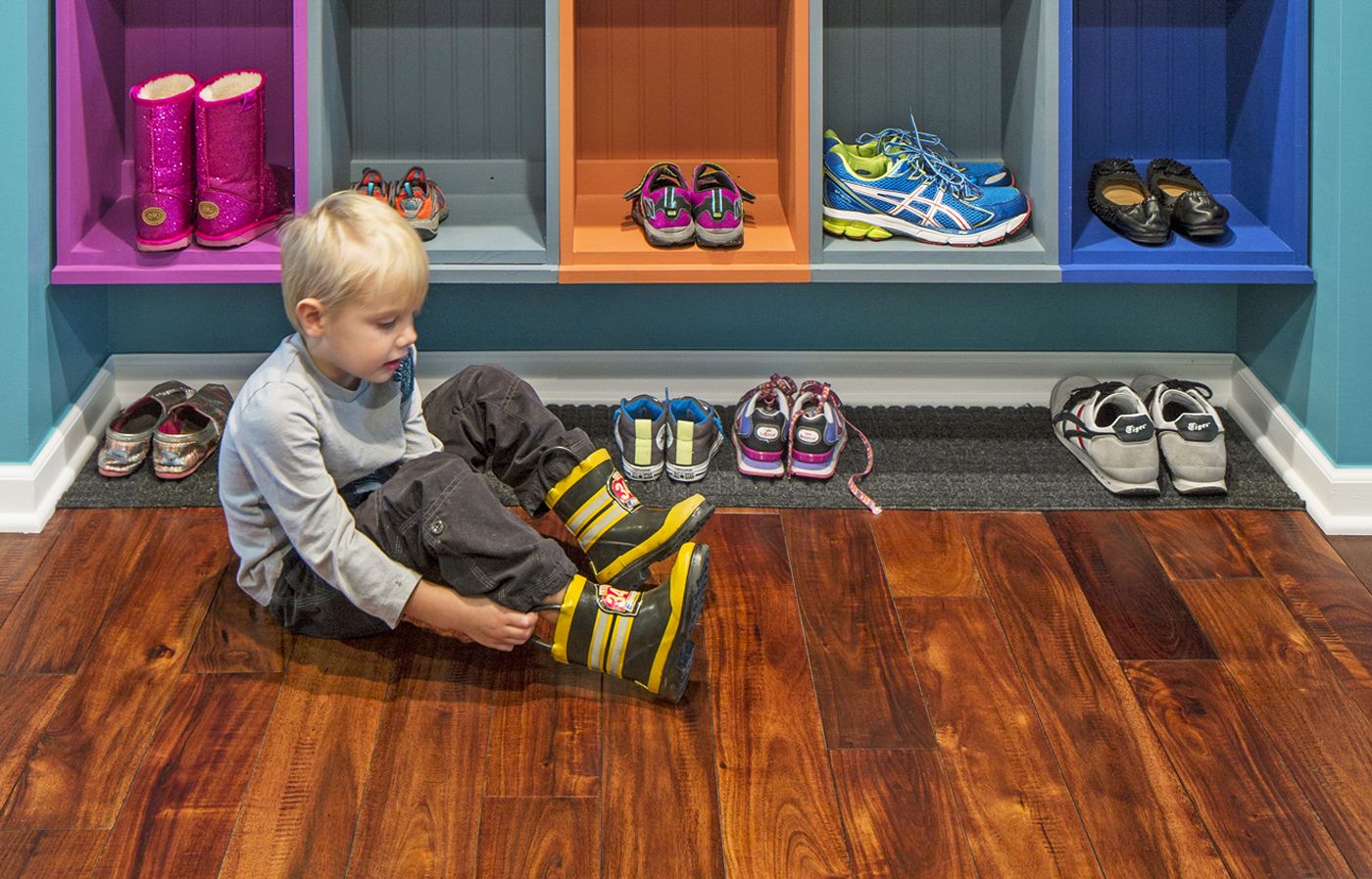 Providing each child with a space for his stuff, as designer Molly Kann-Carey did here, is one way of encouraging neatness and order.
An existing niche or a shallow coat closet with outdated bifold doors removed offers a natural recess. Floating the lockers off the floor builds in bonus storage above and below without the need for building a platform and reworking the base (or crown) molding.
Color-Coded Alcove: Colorful Lockers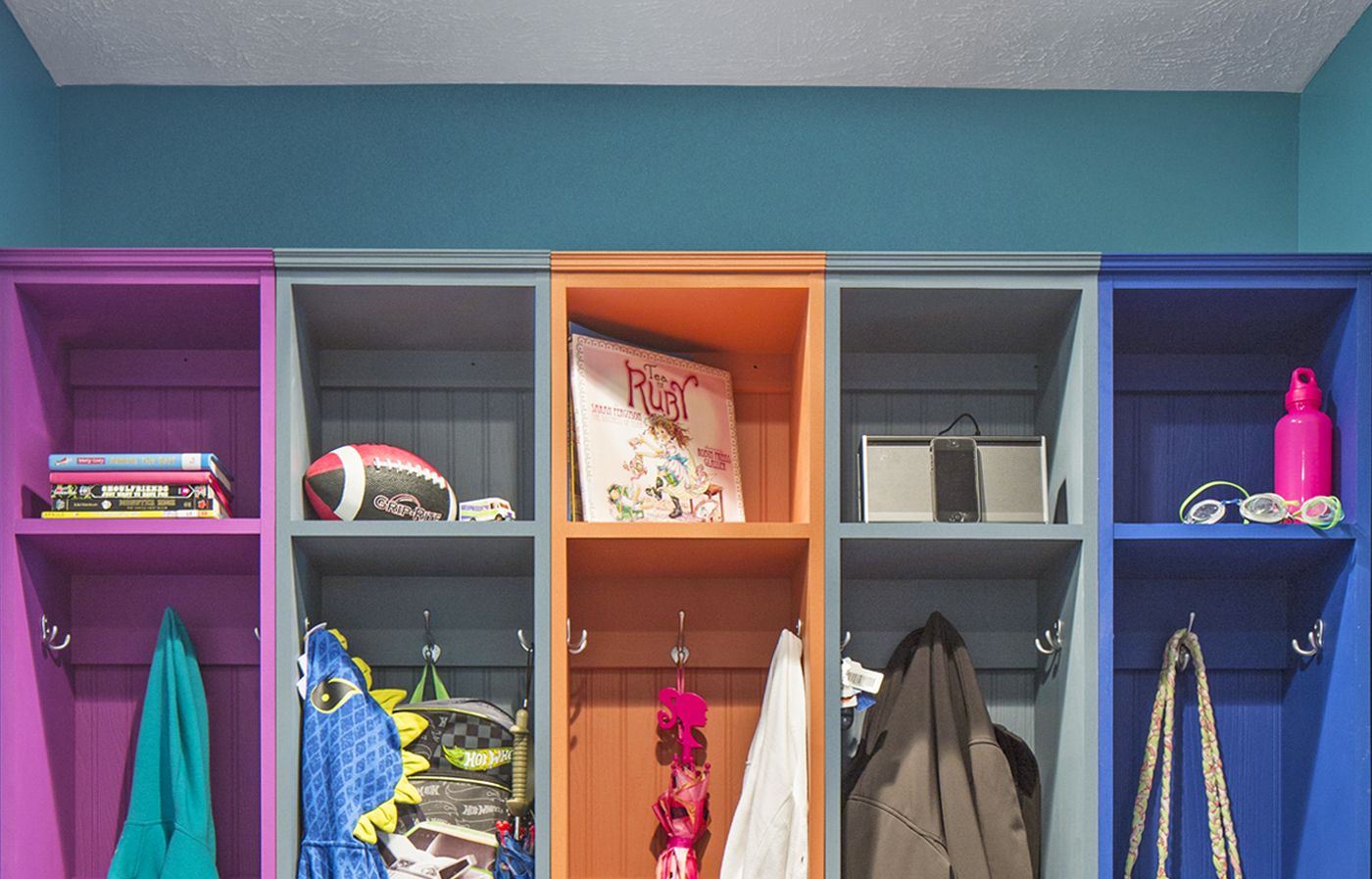 Bright hues differentiate the individual lockers. Opt for a 100 percent acrylic semigloss paint for maximum scrubbability.
Color-Coded Alcove: Plentiful Coat Hooks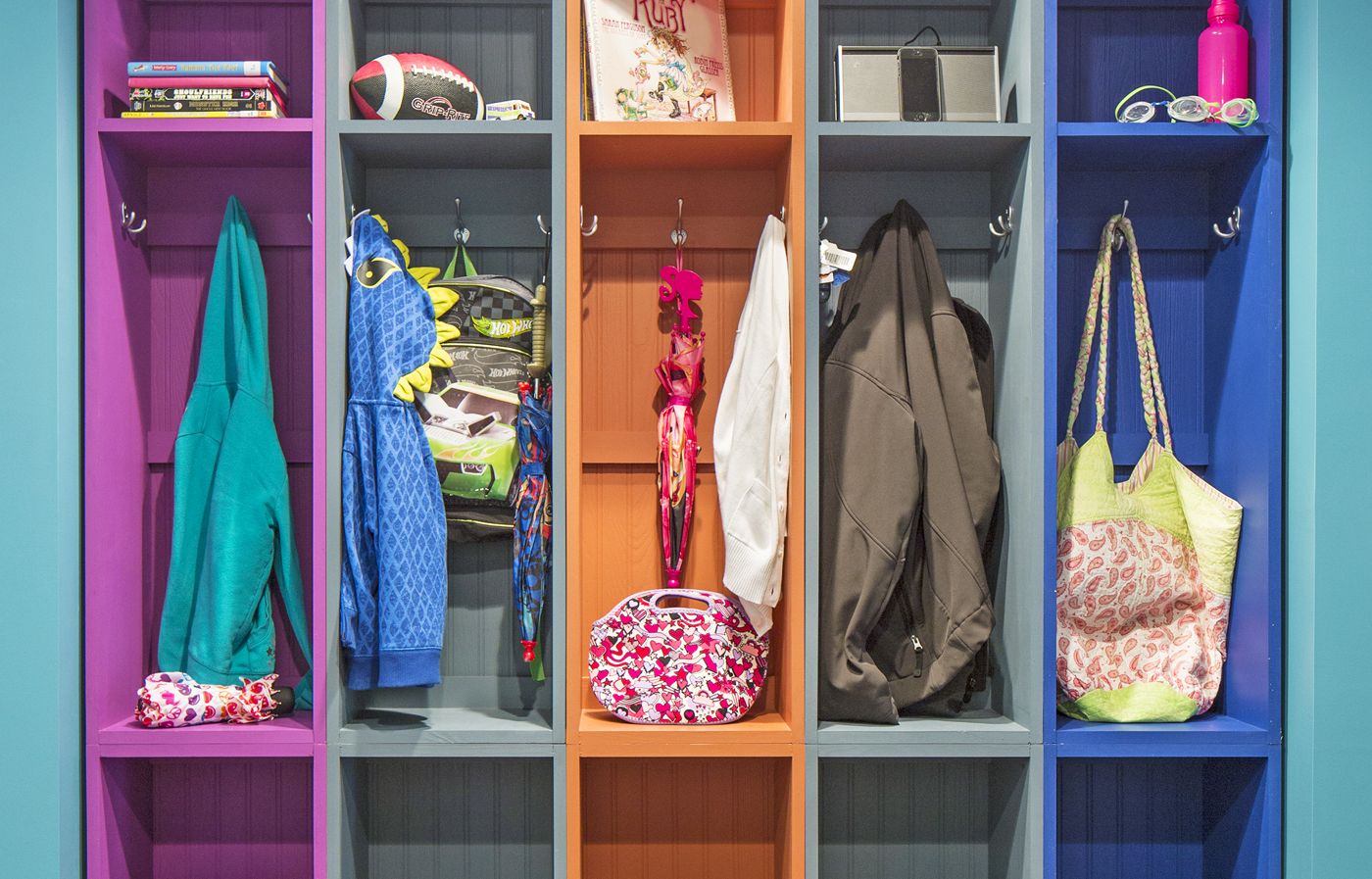 Coat hooks on not just one but all three walls of individual lockers offer plenty of spaces to stash jackets, hats, and book bags.
Color-Coded Alcove: Tall Shoe Cubbies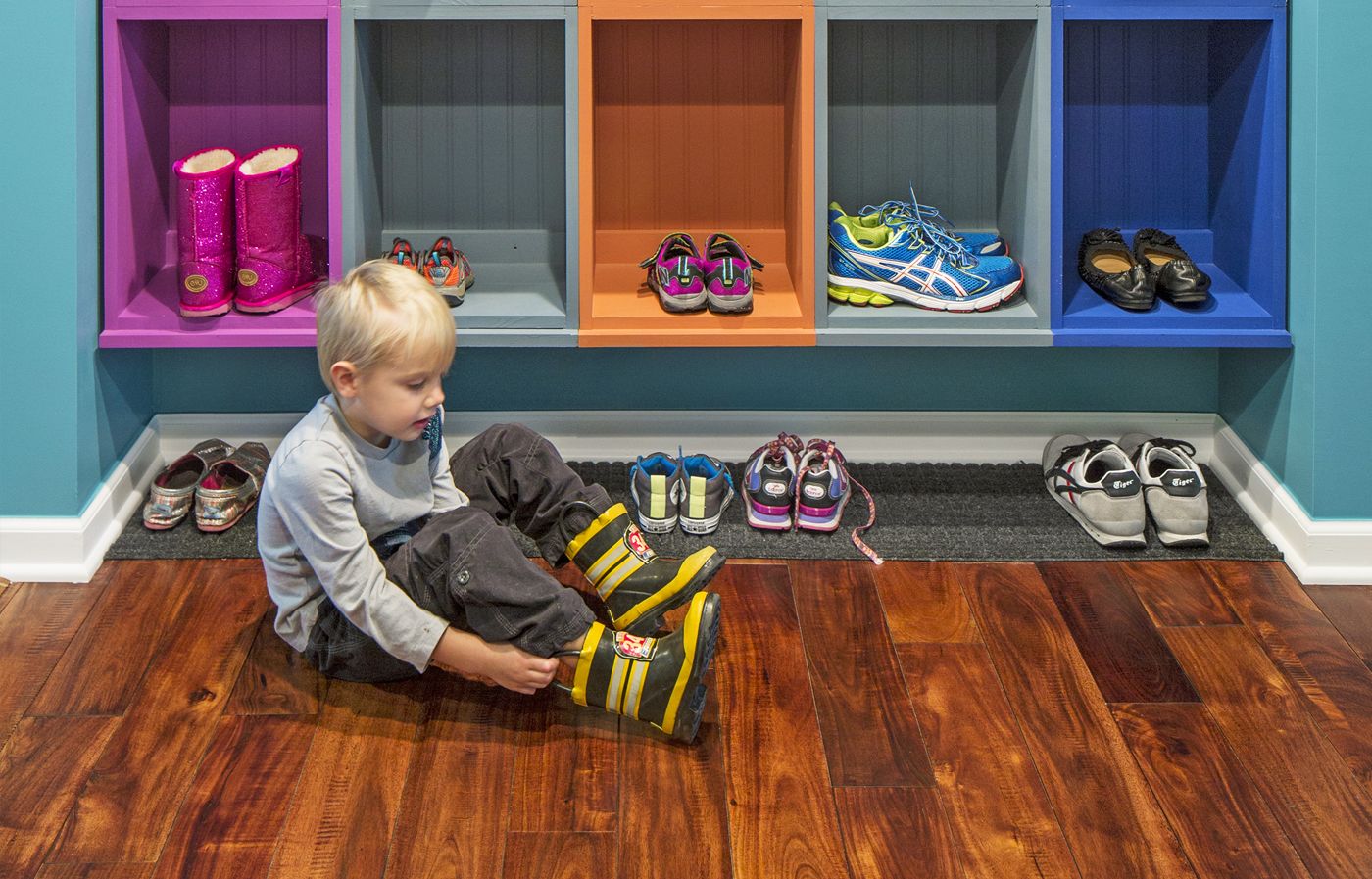 Taller shoe cubbies accommodate boots in inclement weather. Allow as much as 18 inches for traditional adult Wellies; kids' boots need less.
Bright, Bold Back Entry: Skinny, Tall Cabinets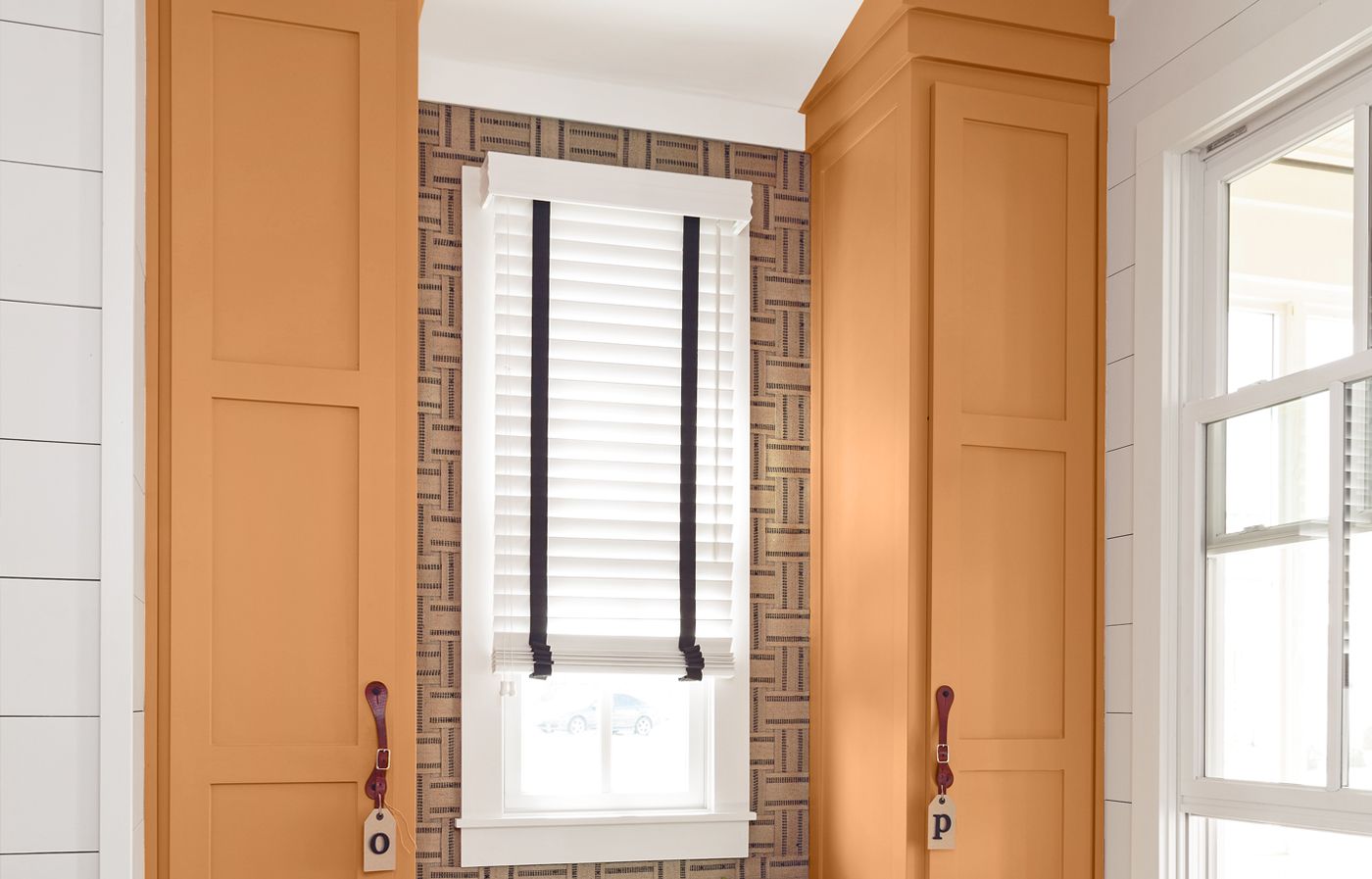 Thanks to a sun-kissed color scheme, plenty of natural light, and a bench that's also a window seat, this mudroom by builder Bret Franks is a place to hang out as well as hang up.
Slender cabinets extend all the way to the pitched ceiling, maximizing vertical storage.
Bright, Bold Back Entry: Seat as Cabinet Base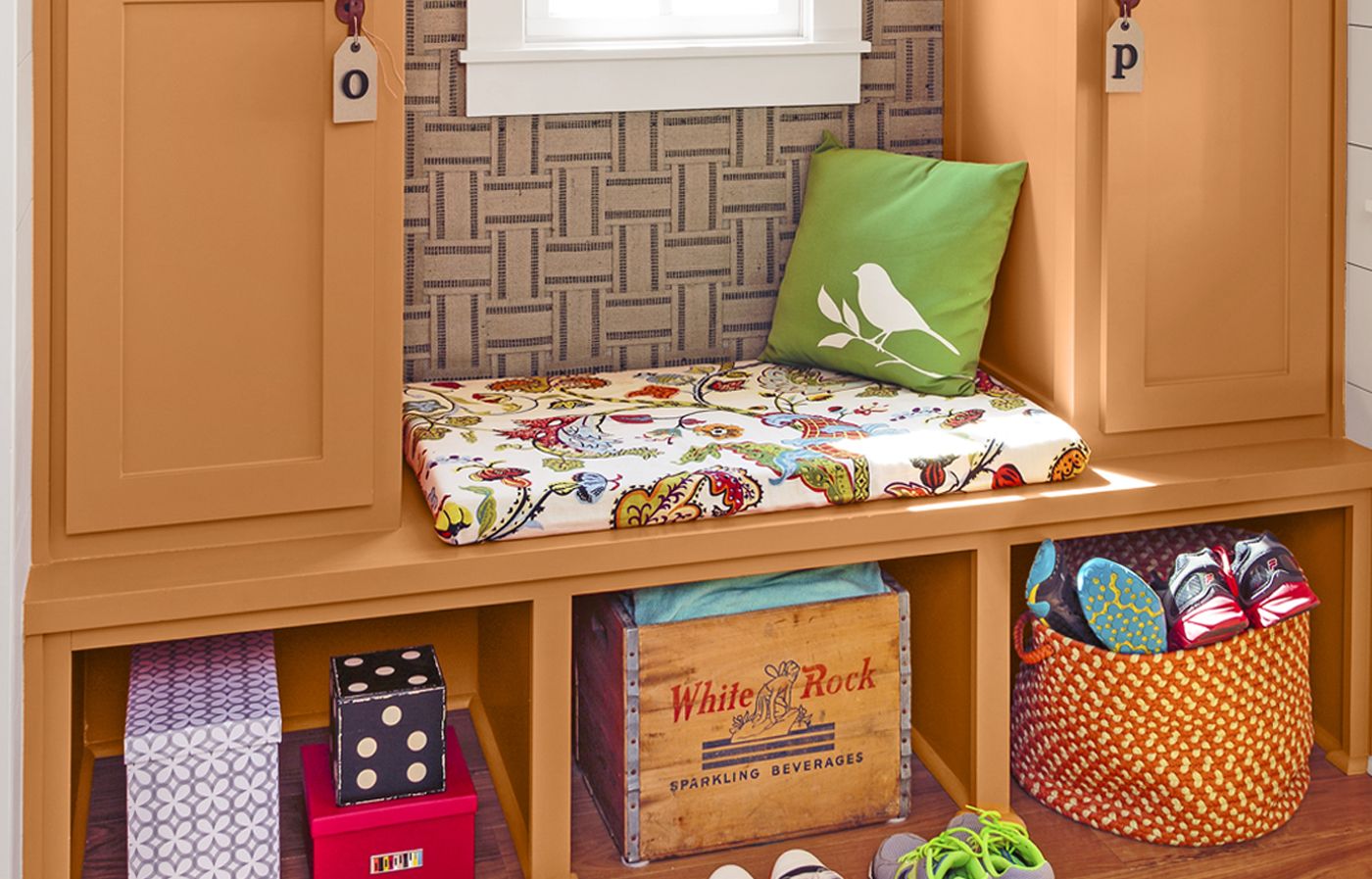 The bench seat isn't just a sunny spot to sit; plywood trimmed with a beefy face frame provides a solid base for the side cabinets. Vertical supports act as dividers for shoe bins and baskets.
Bright, Bold Back Entry: Budget Jute Wallcovering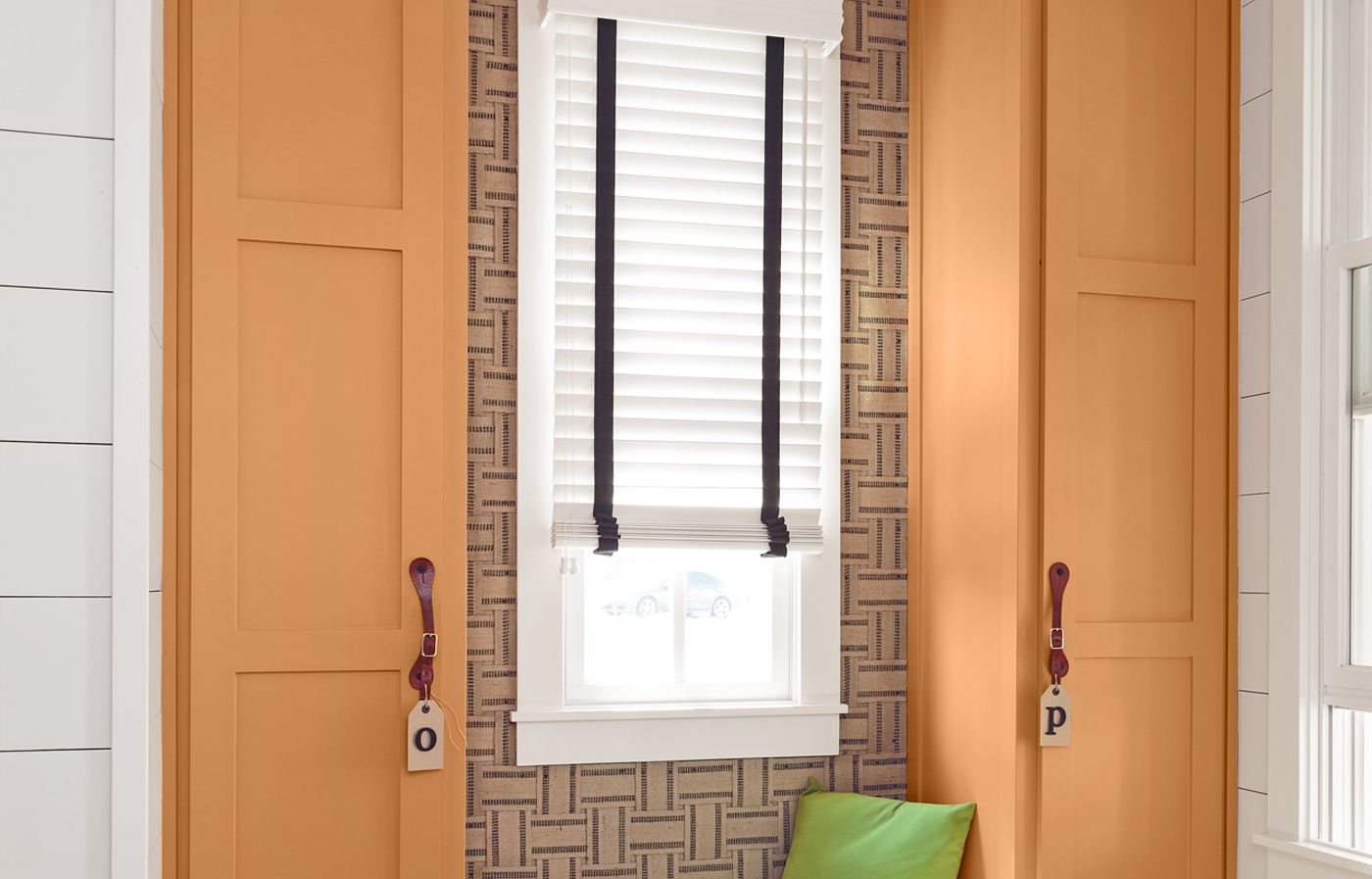 Wall coverings for a mudroom need to be durable, but they don't have to cost a fortune. The homeowner handcrafted this textural treatment by interweaving jute chair webbing and tacking it to the wall with small nails. Total cost: $6.
Bright, Bold Back Entry: Outdoor-Fabric Cushion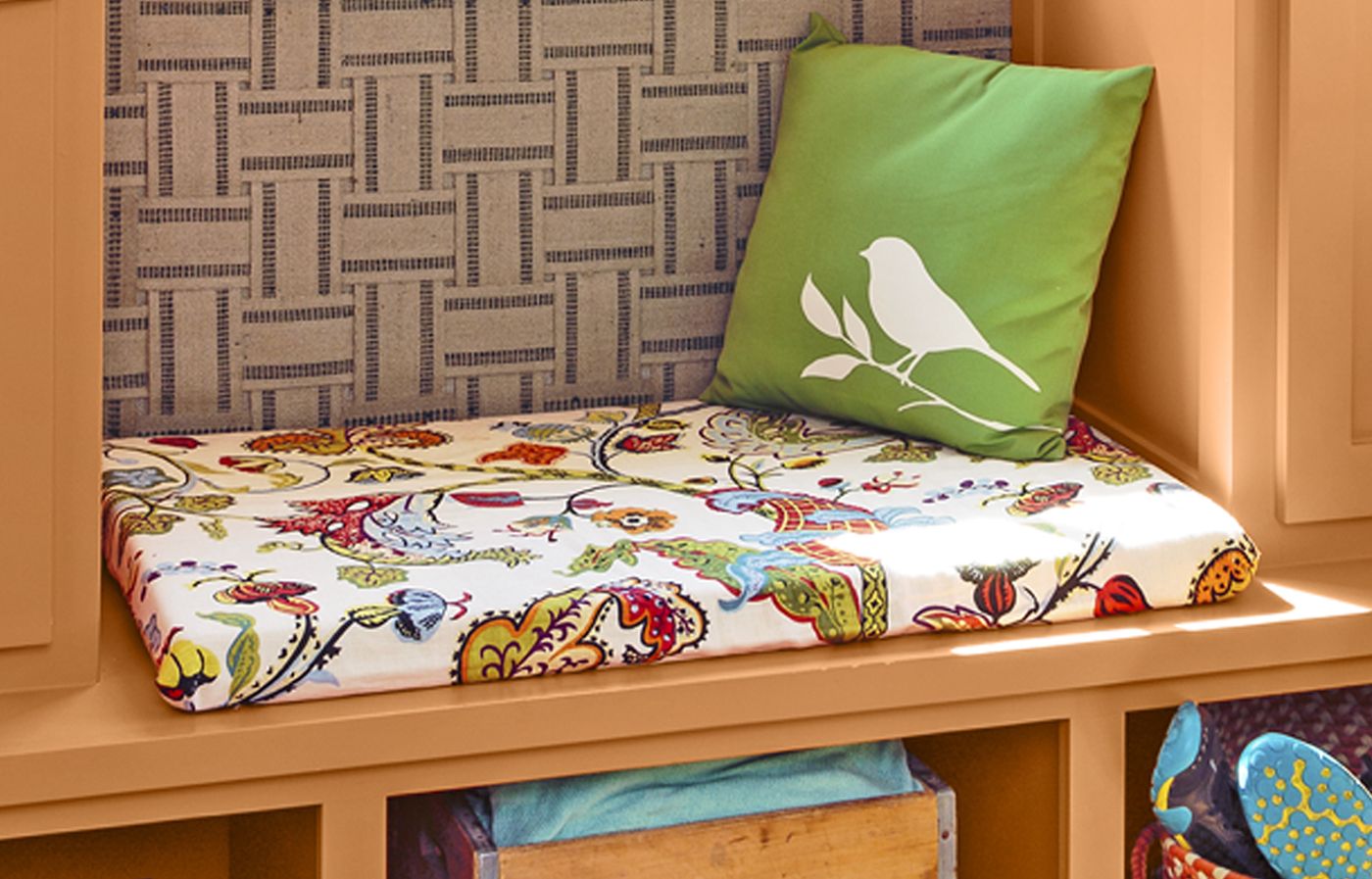 Outdoor fabrics are ideal for cushions since the mudroom is a buffer zone for dirt from outside.
Bright, Bold Back Entry: Mud-Trapping Outdoor Rug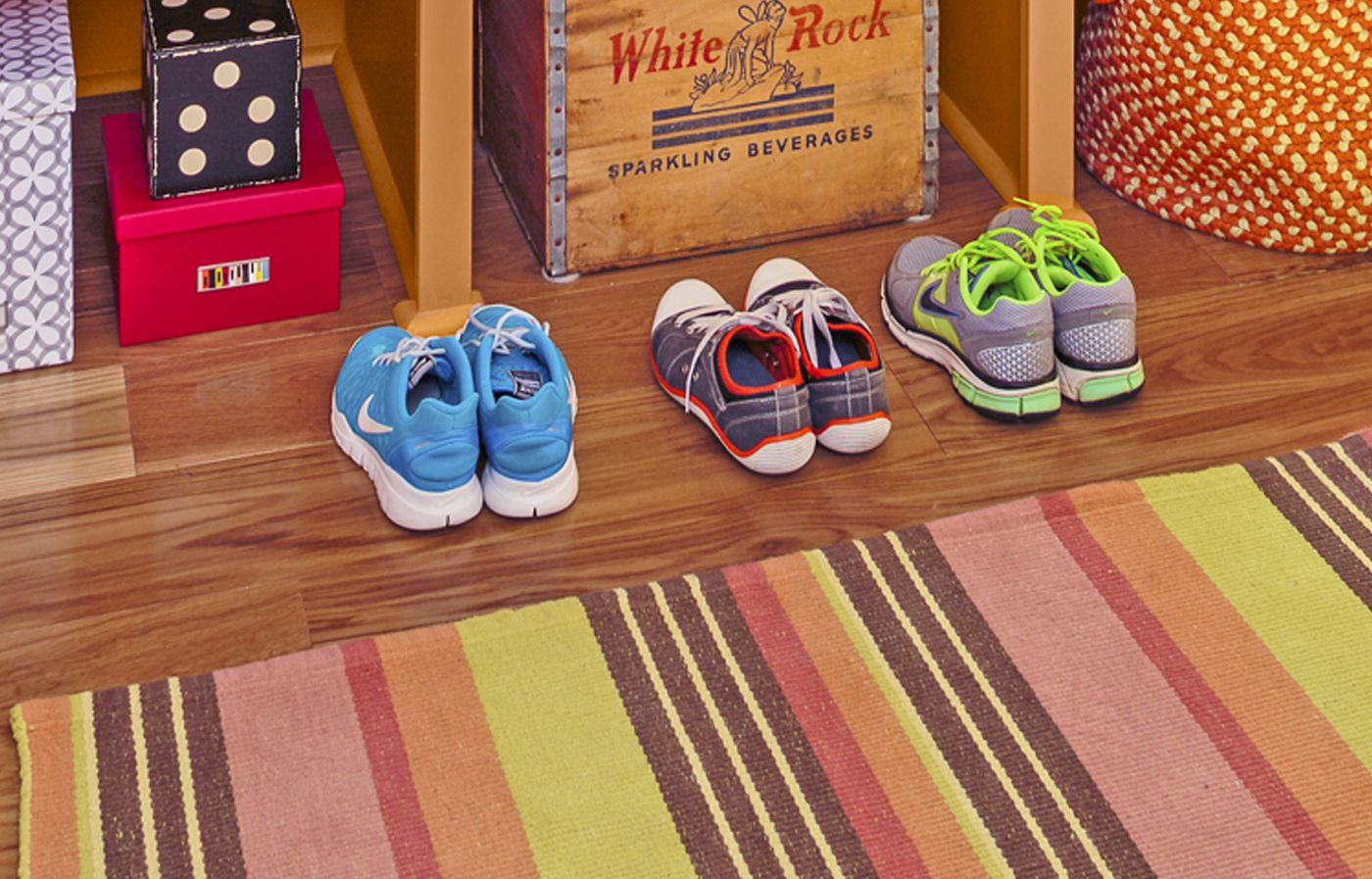 An easy-to-clean throw rug, especially one made for outdoor use, stops family members from tracking mud all over wood floors.
Stair-Side Armoire: Tall Cabinets for Coats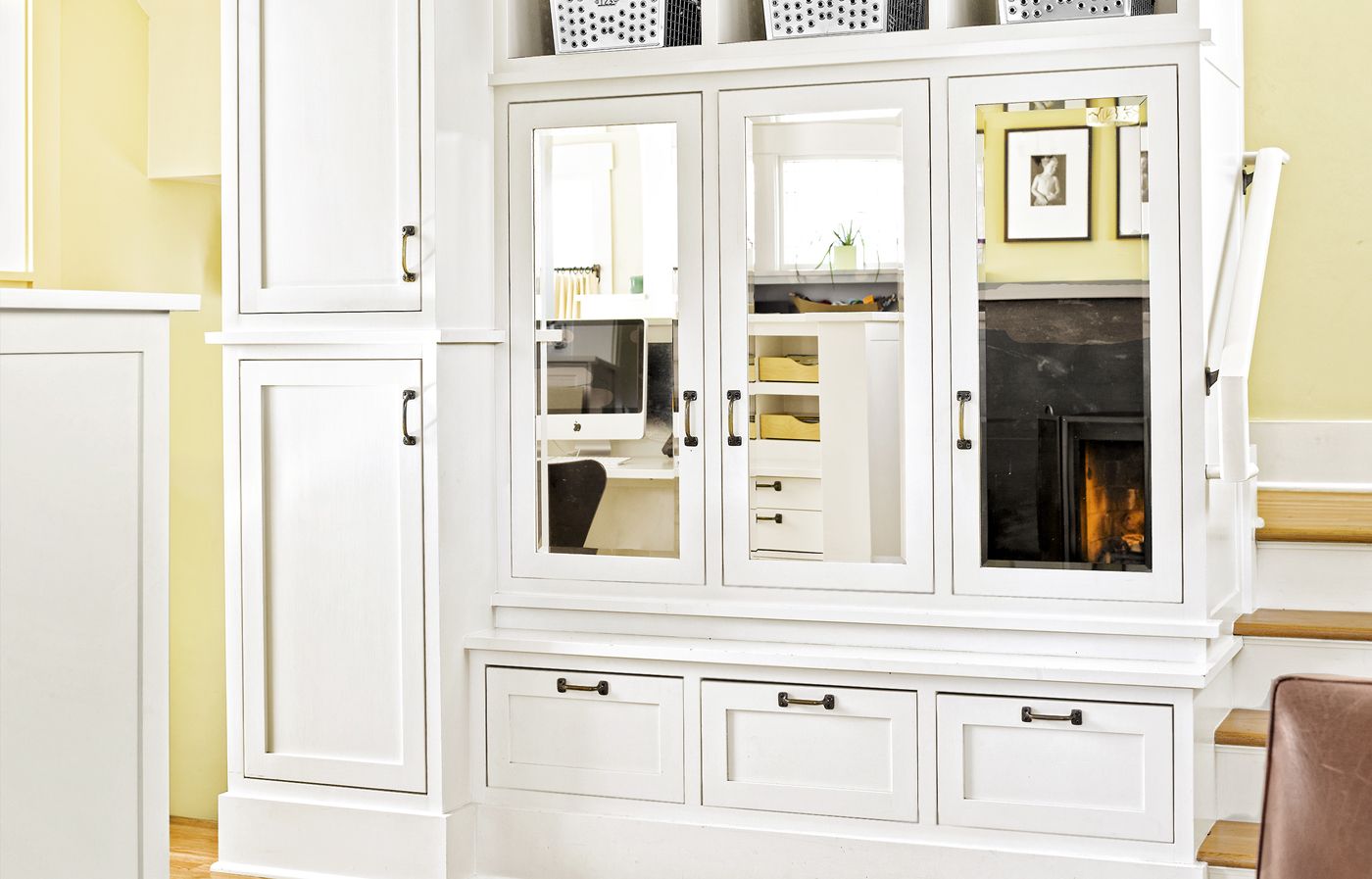 In a small bungalow with three active boys, space is a valued commodity. Designer created this built-in to resemble a large wardrobe just beyond the front stairs, knowing open lockers would never work since the spot faces living room seating.
Stacked cabinets on the left are an adults-only affair. Each parent gets a place to hang coats and jackets as well as a shelf for charging electronics.
Stair-Side Armoire: Mirrored Cabinet Doors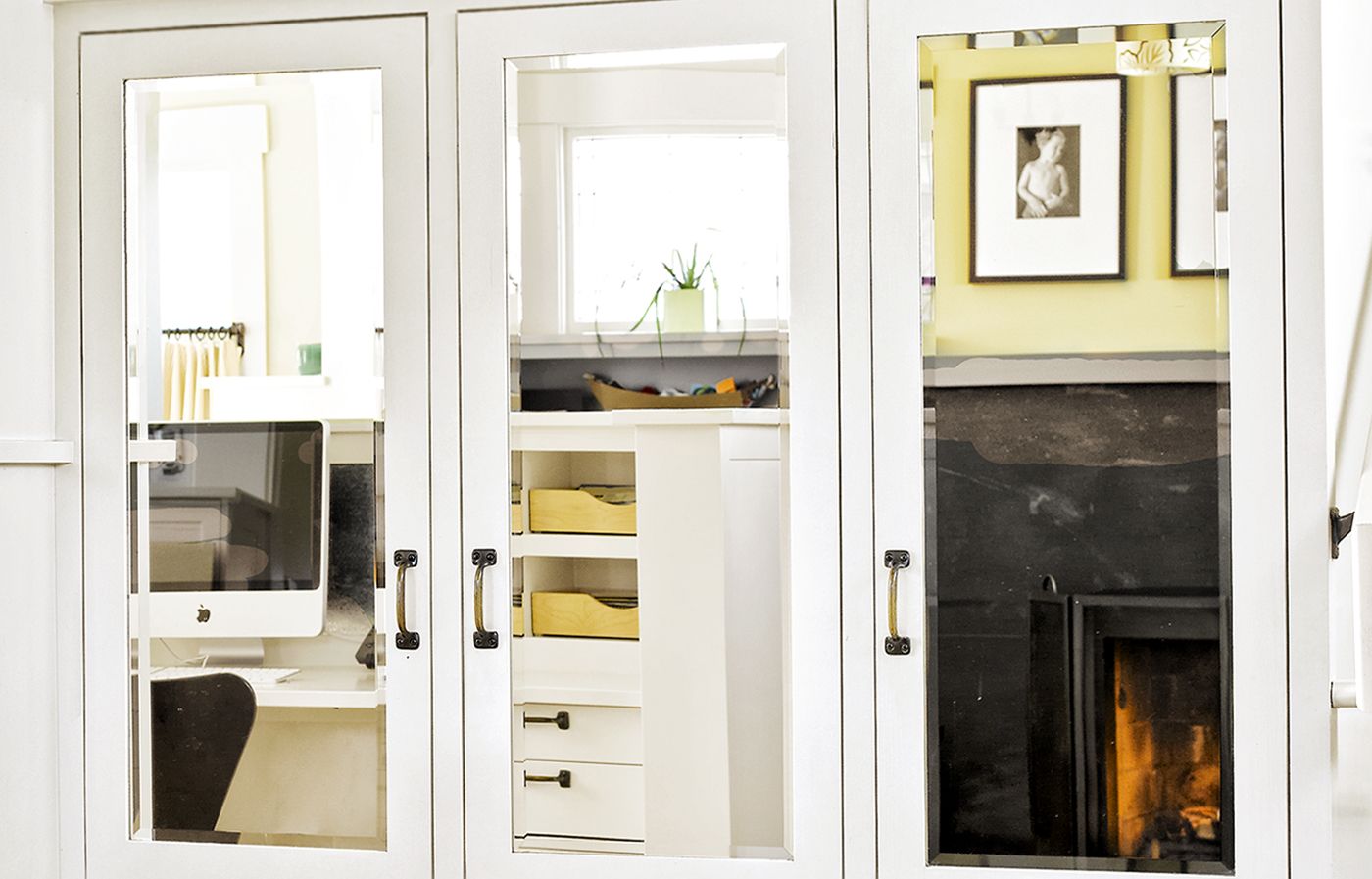 Mirror fronts dress up the cabinets, which give each boy a place to stash jackets and athletic gear. On the back of each door is a magnetized piece of sheet metal for sticking up homework schedules and the like. Deep bottom drawers conceal shoe clutter.
Stair-Side Armoire: Mounted Gallery Light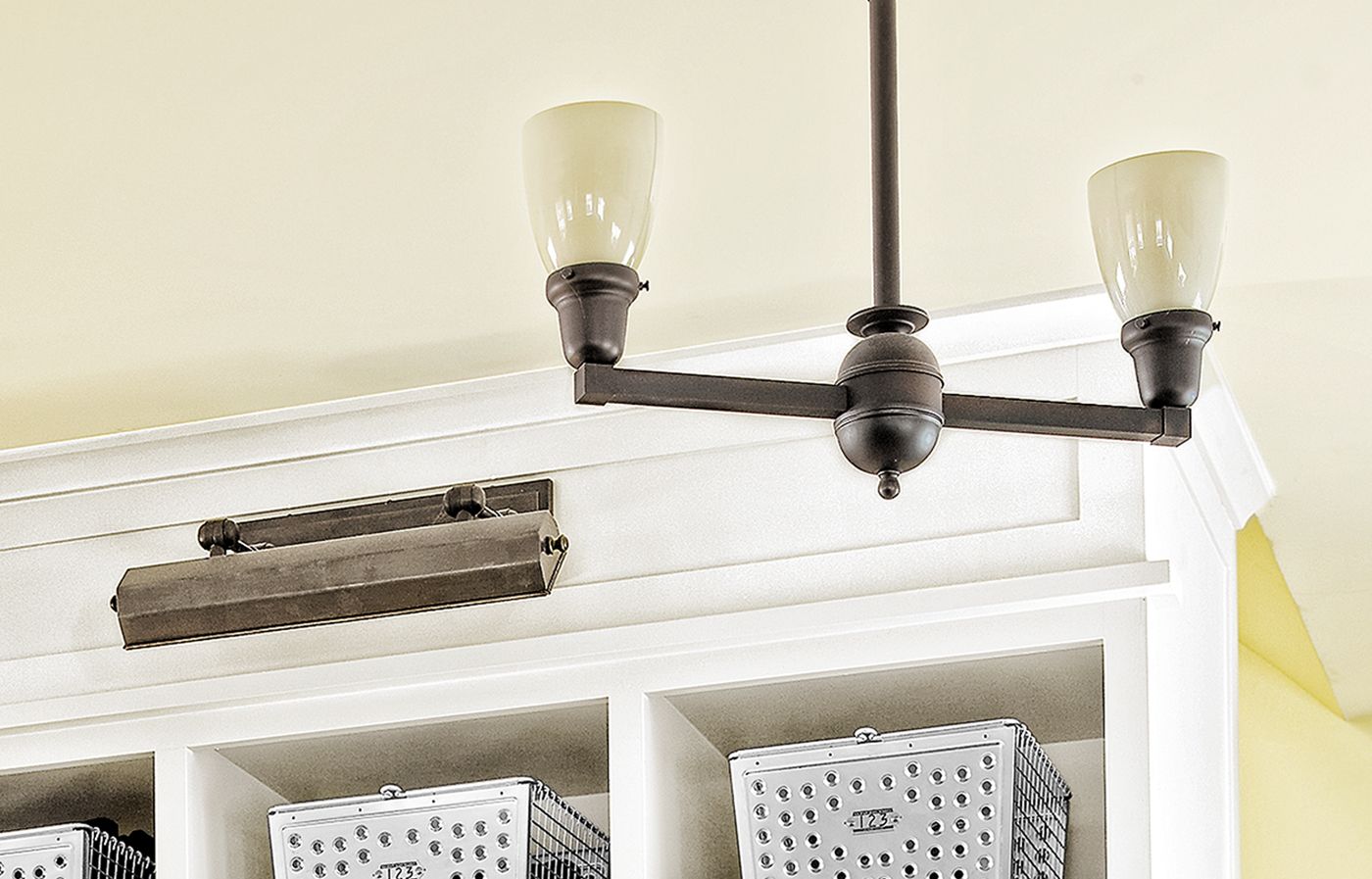 A gallery light mounted above two neat rows of galvanized bins ensures a well-lit reflection for quick spot-checks before heading out the door.
Stair-Side Armoire: Lofty Storage for Less-Used Items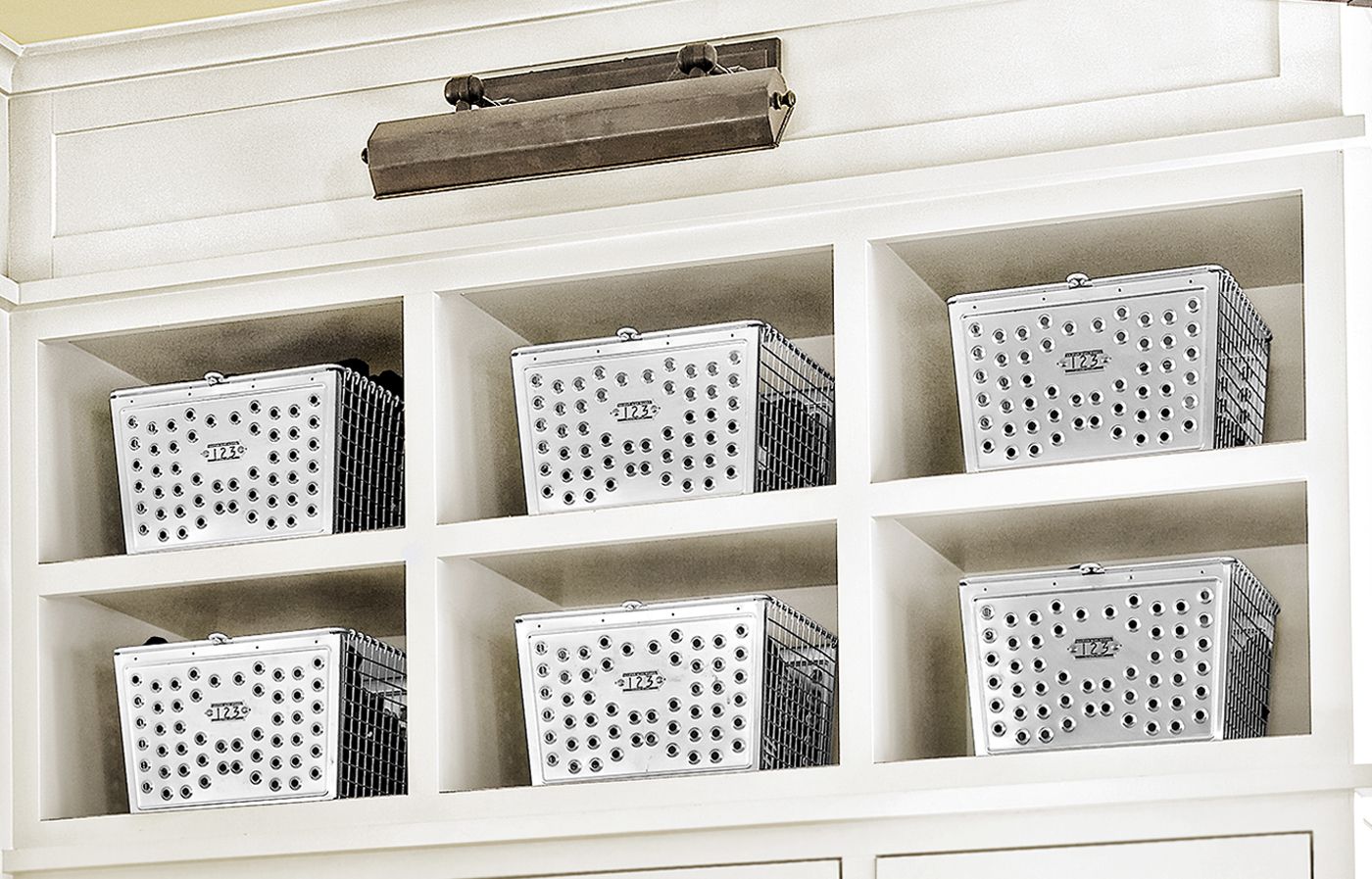 Bins corral off-season gear up high.
Fanciful Foyer: Cheerful Patterned Wallpaper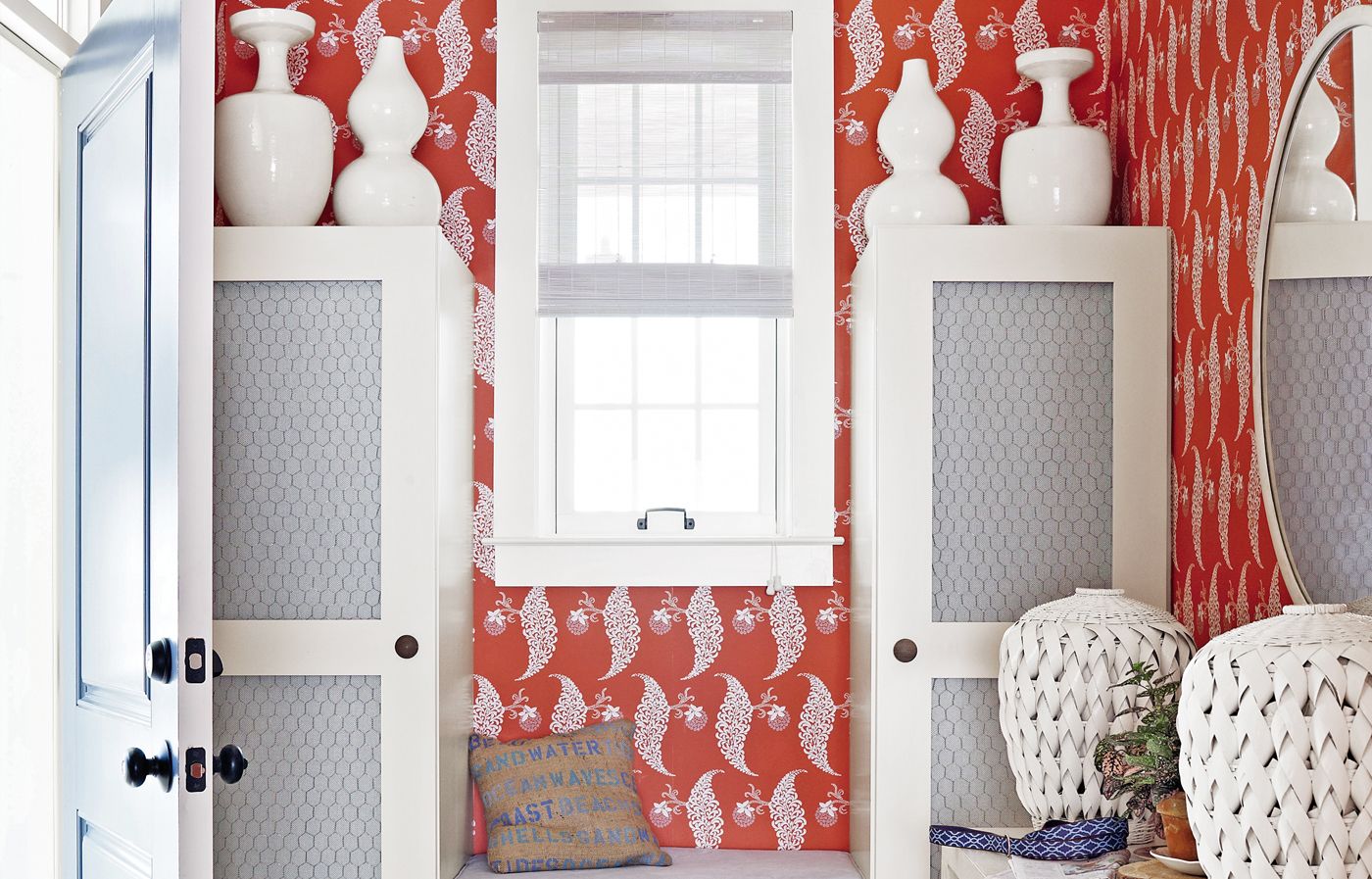 Mudrooms tend toward the utilitarian, but there's no reason they can't also be elegant—especially if they're the first thing you see, as in this entry space from interior designer Katie Ridder. The setup's cheerful vibe is established the minute you walk in the door.
Pretty, patterned wallpaper sets a welcoming tone suited to a space that sees high traffic but less heavy-duty wear and tear.
Fanciful Foyer: Chicken Wire-Fronted Storage Cabinets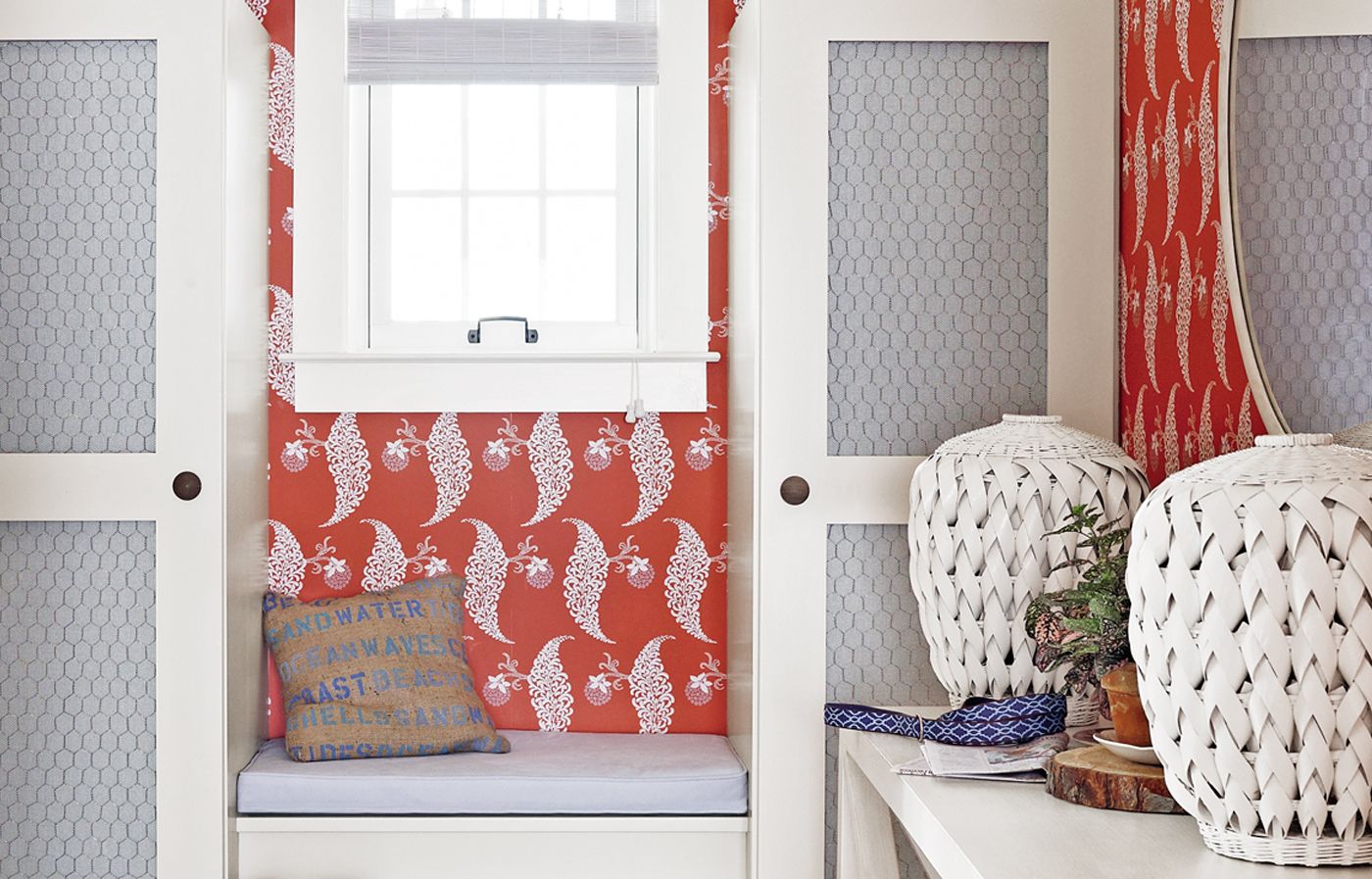 Closed cabinets are just tall enough to hold coats, leaving plenty of room up top for displaying decorative objects; chicken wire makes a charming addition to the door fronts.
Fanciful Foyer: Console Table Drop Spot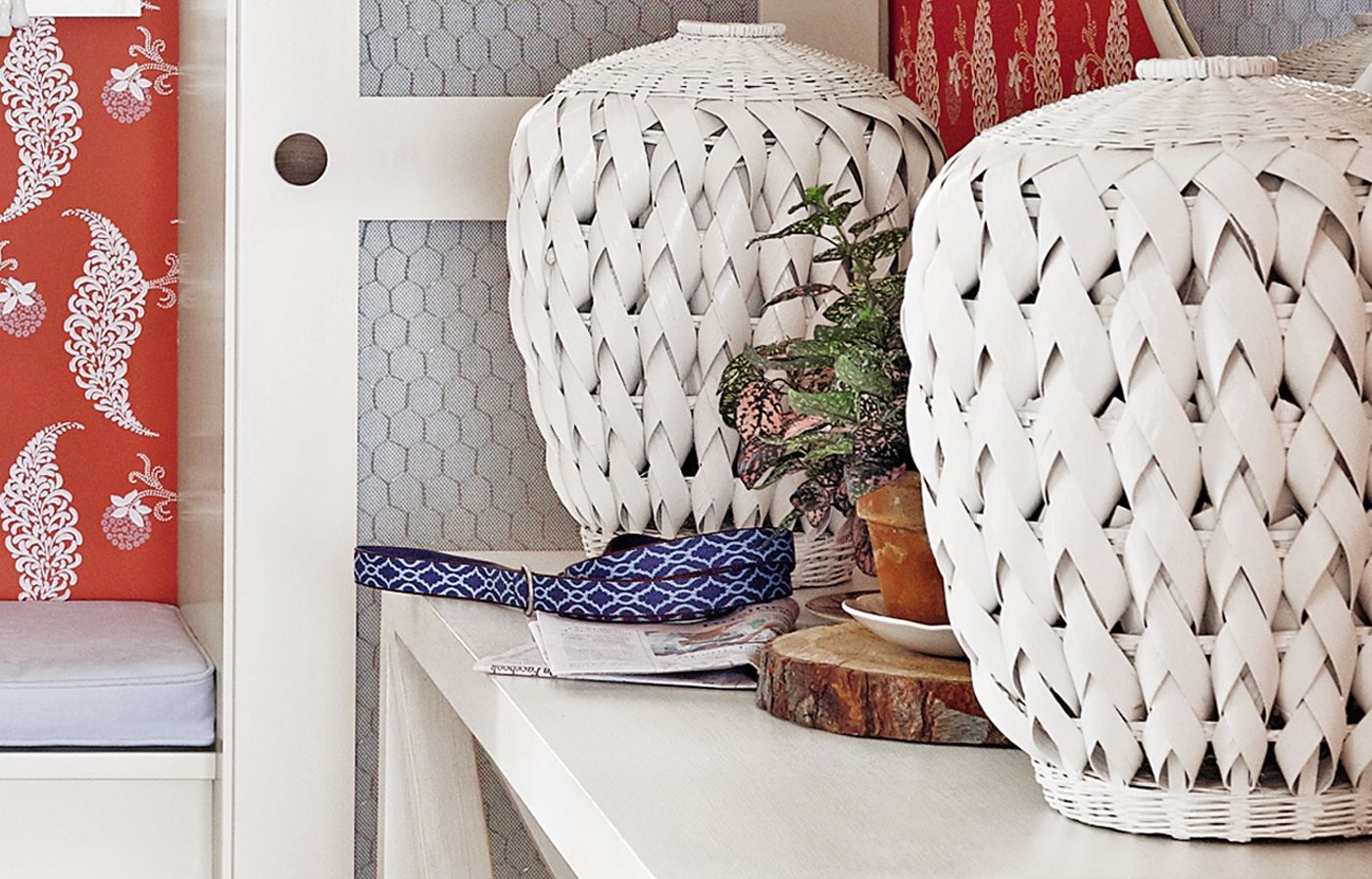 A narrow console table provides a chic and practical spot for dropping keys and mail.
Fanciful Foyer: Handy Storage Basket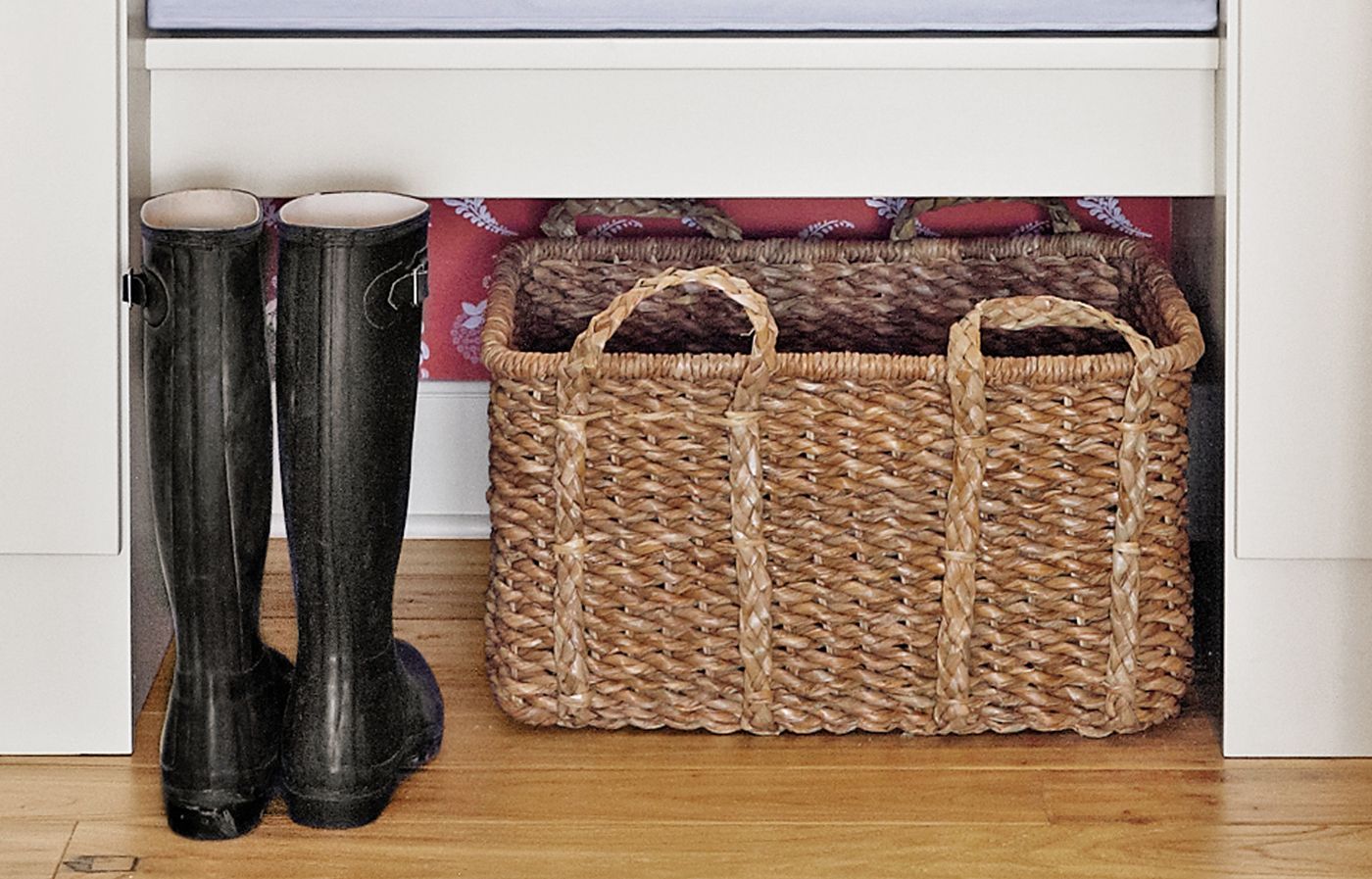 A woven basket keeps shoes, comfy slippers, or pet accessories out of sight.
Place to Perch: Shelf-Style Bench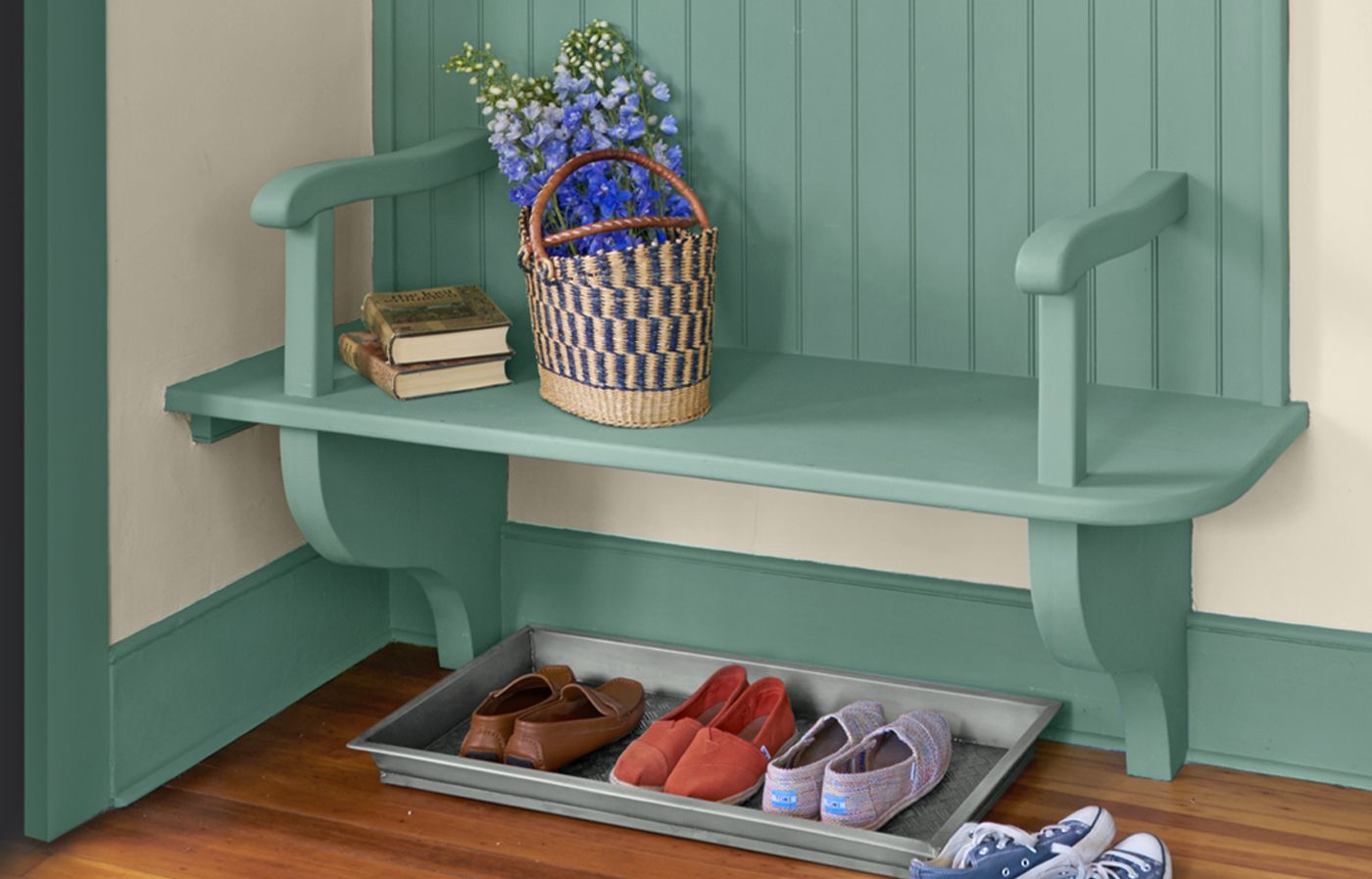 A corner of a multi-purpose room with backyard access can become an inviting spot to pause for a change of footwear. For this cottage-style bench, general contractors Robert Anderson and Ellen Burcroff paid plenty of attention to period details throughout the rest of the home.
A shelf-style bench that's open below shows off decorative brackets, which echo corbels in adjacent rooms. It also allows for an old-fashioned boot tray.
Contractors: Robert Anderson and Ellen Burcroff, Sharon, CT; 860-364-5194
Place to Perch: Durable Beadboard Backing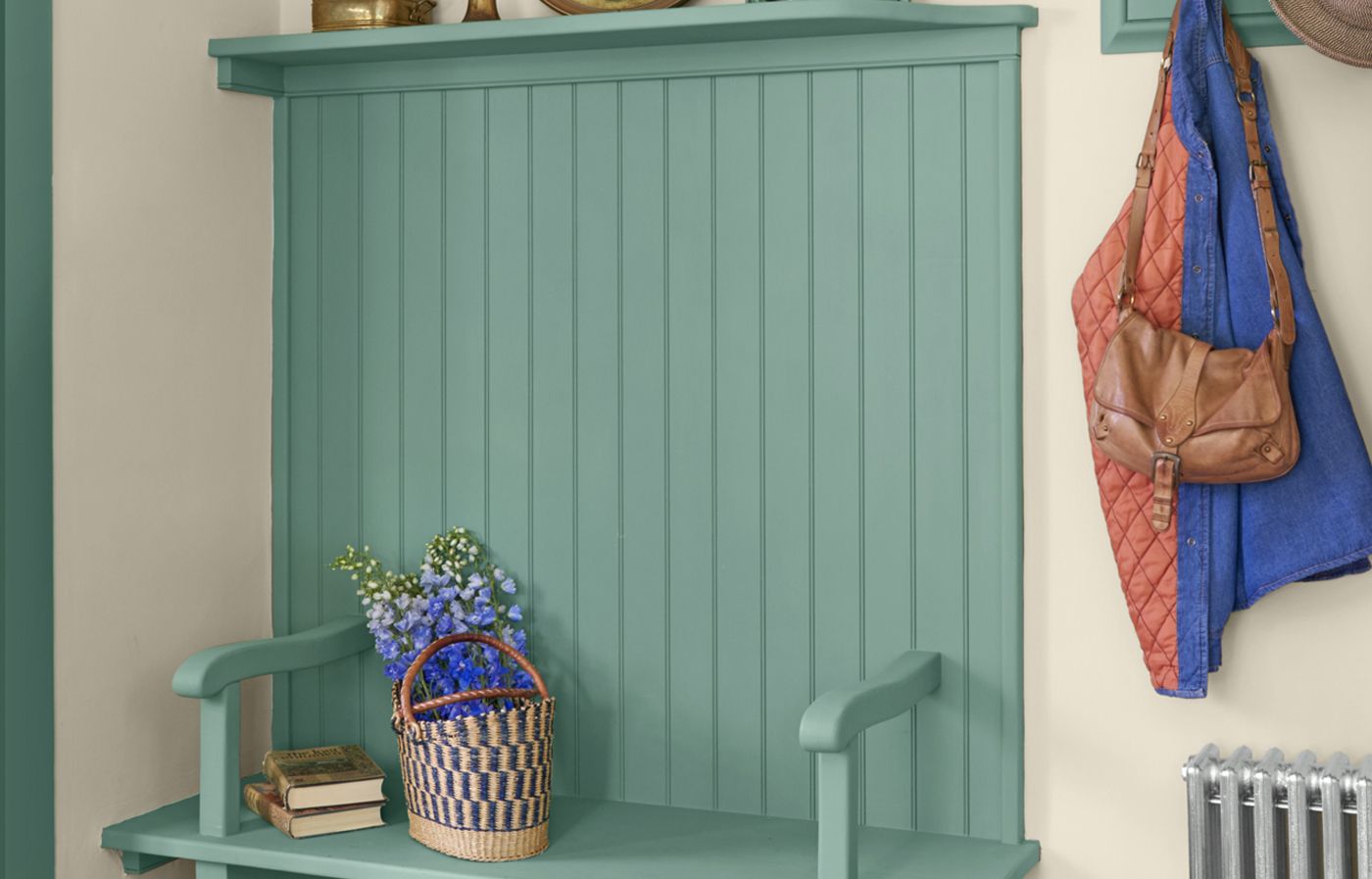 Hard-wearing beadboard provides a durable bench back. A ledge on top puts a clock front and center.
Place to Perch: Coatrack Above a Radiator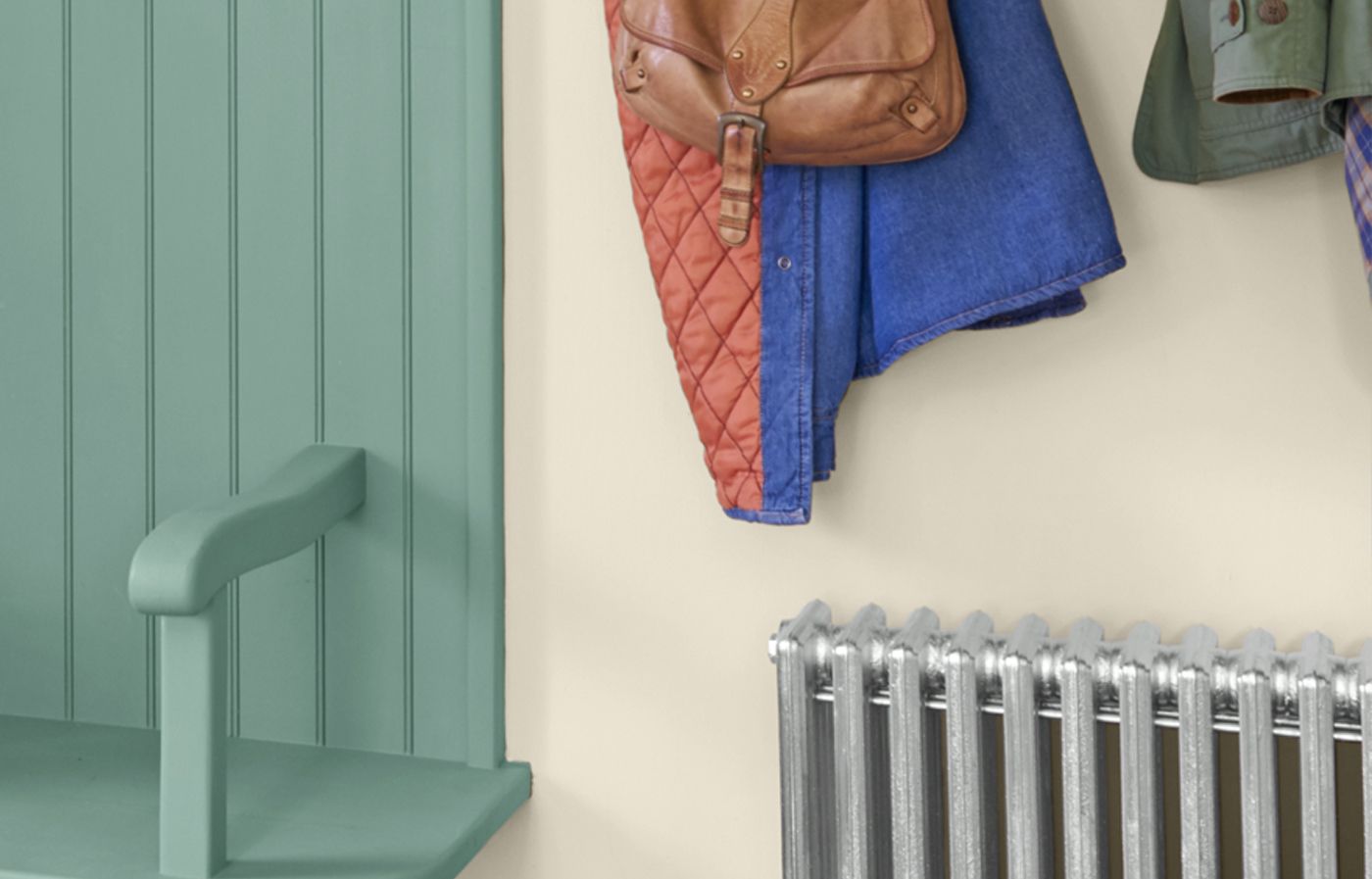 A wall-mounted coatrack over the radiator makes a toasty spot to hang damp clothes.
Place to Perch: Matching Painted Woodwork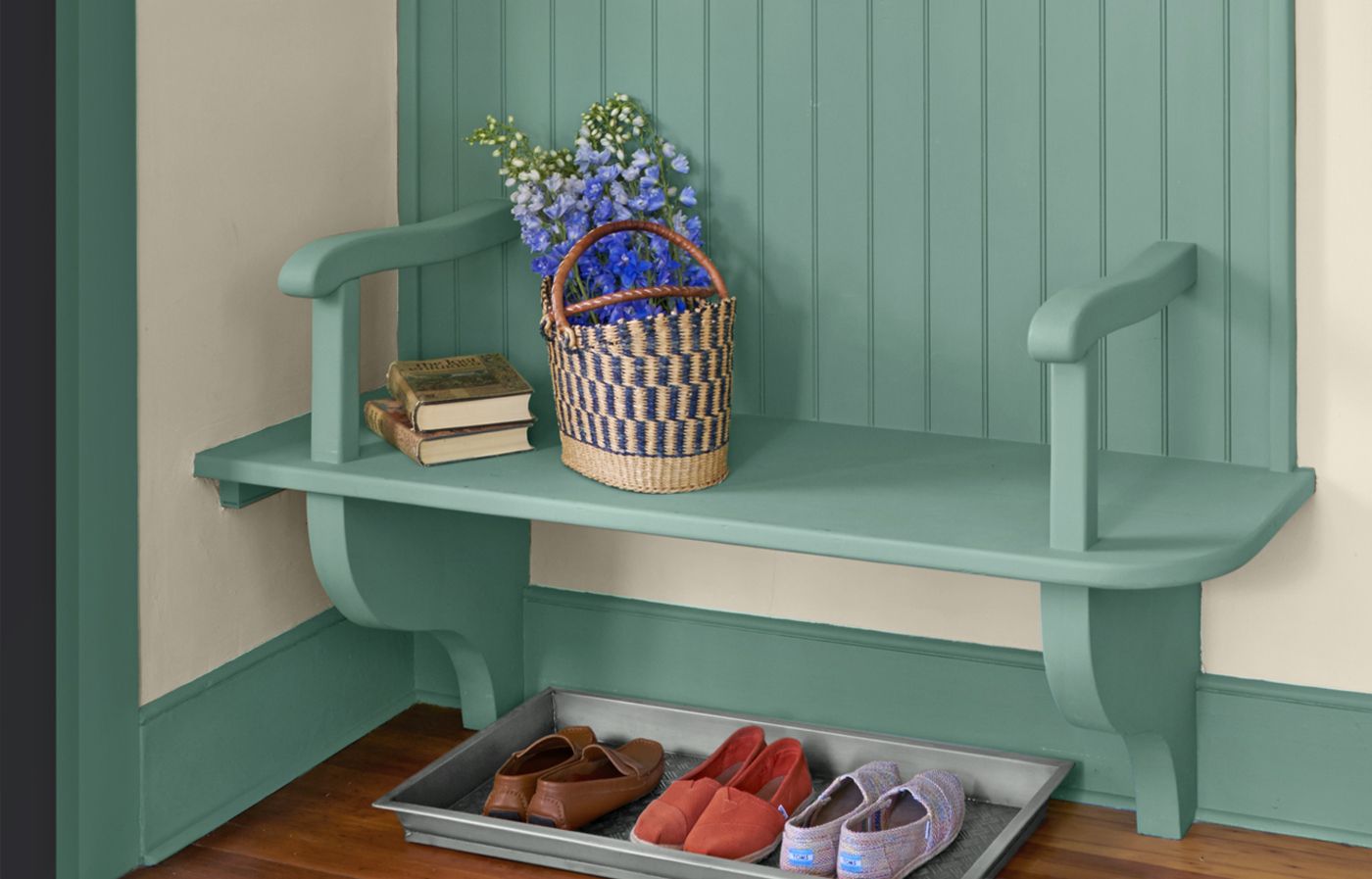 Painted woodwork, inspired by the color of the baseboards and door casings, makes the bench look like it's always been there.
Place to Perch: Display Shelf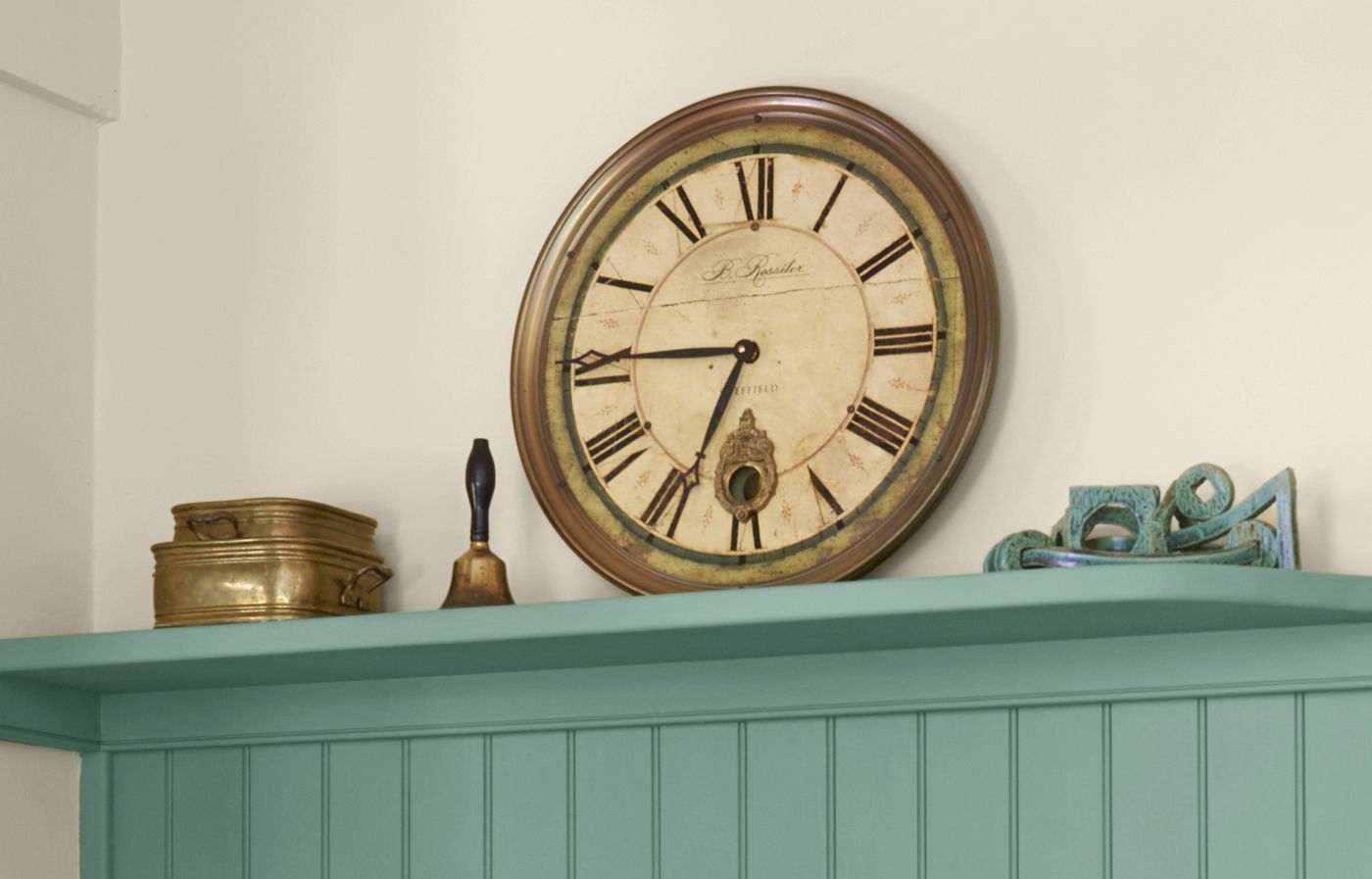 A shelf atop the beadboard displays favorite objects.
Out-of-the-Box Solution: Three Easy Pieces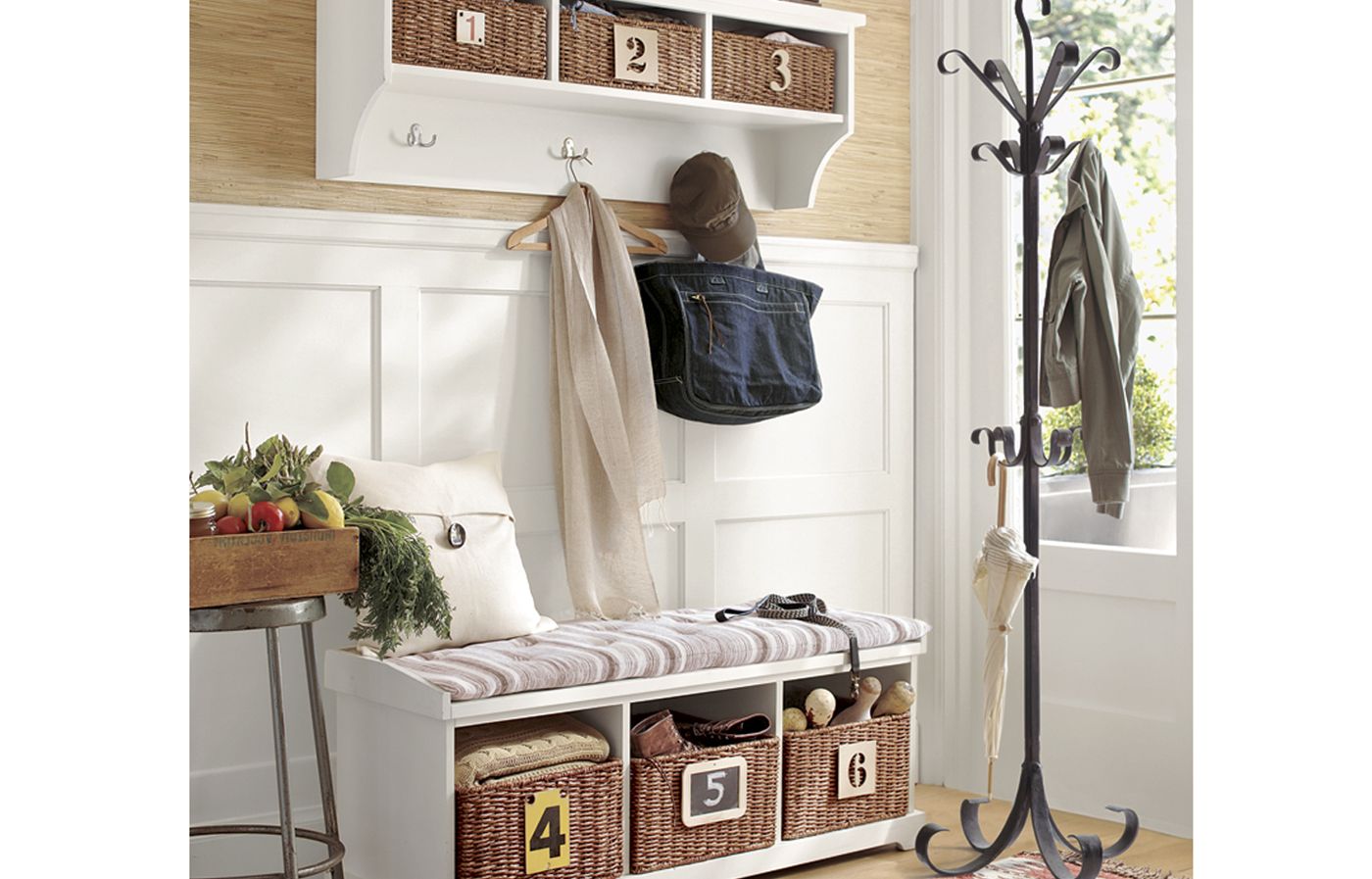 Here, a storage bench combines with a wall shelf and a coat tree for a wallet-friendly setup that's as functional as a built-in. Wainscoting acts as a bench back and ties the pieces together.
Similar to shown: Samantha bench and shelf, about $600 for both, and Moran coatrack, about $240; all, Pottery Barn
Out-of-the-Box Solution: Salvage-Style Hall Tree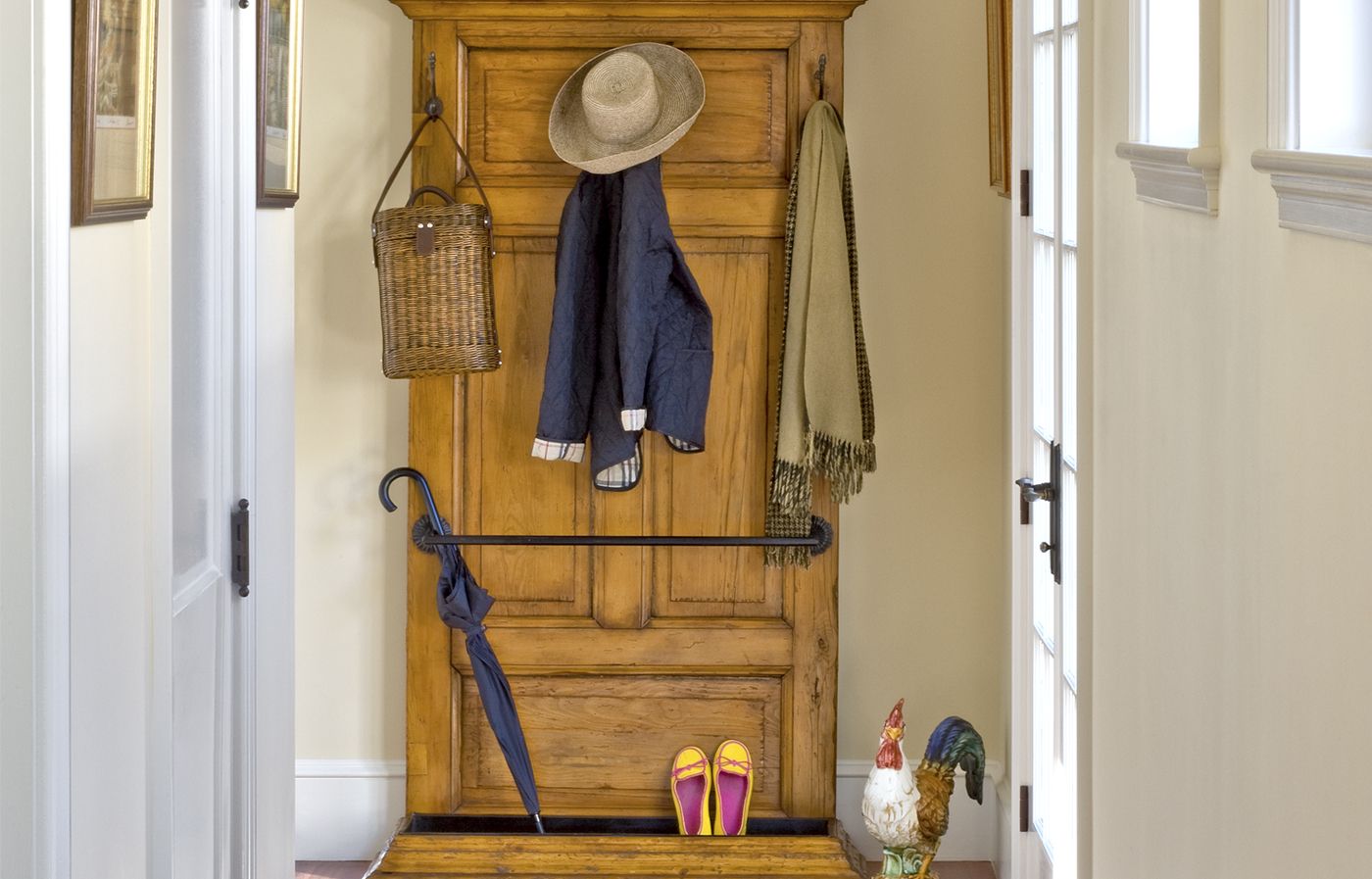 In this entry designed by architects Siemasko and Verbridge, a vintage door is repurposed as a backing for coat hooks; a length of pipe cleverly corrals umbrellas. Crown molding trims out the top and bottom, where it forms a tray. Find similar doors on Craigslist for about $100.
Out-of-the-Box Solution: Slim Shoe Cabinet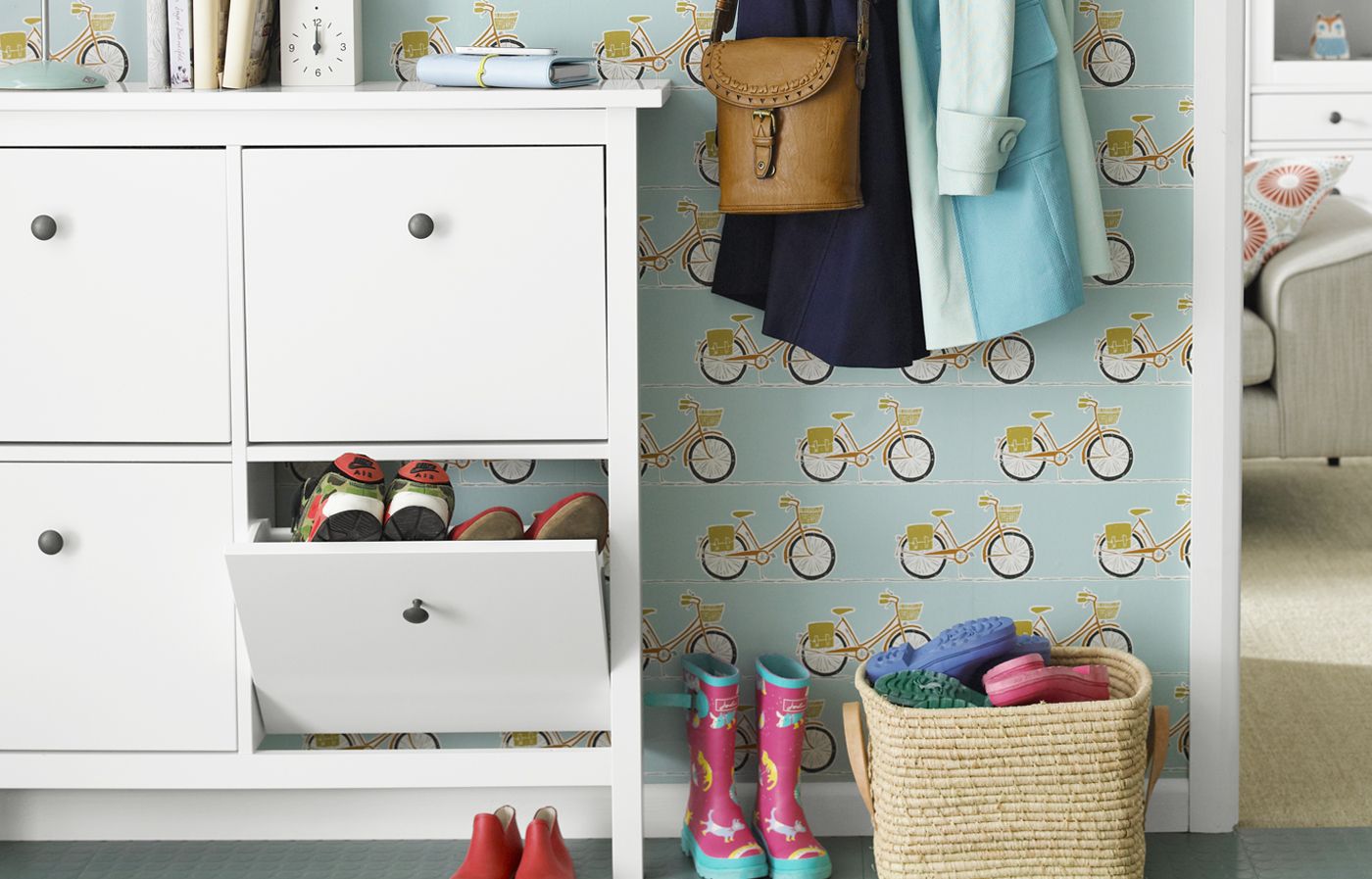 These space-saving wonders are perfect for narrow hallways and families with a lot of footwear; wall-hung cubbies hold odds and ends and outerwear.
Similar to shown: Hemnes shoe cabinet, about $320; Amazon shelf with cubbies and pegs, about $155; Etsy.com
Out-of-the-Box Solution: Minimalist Approach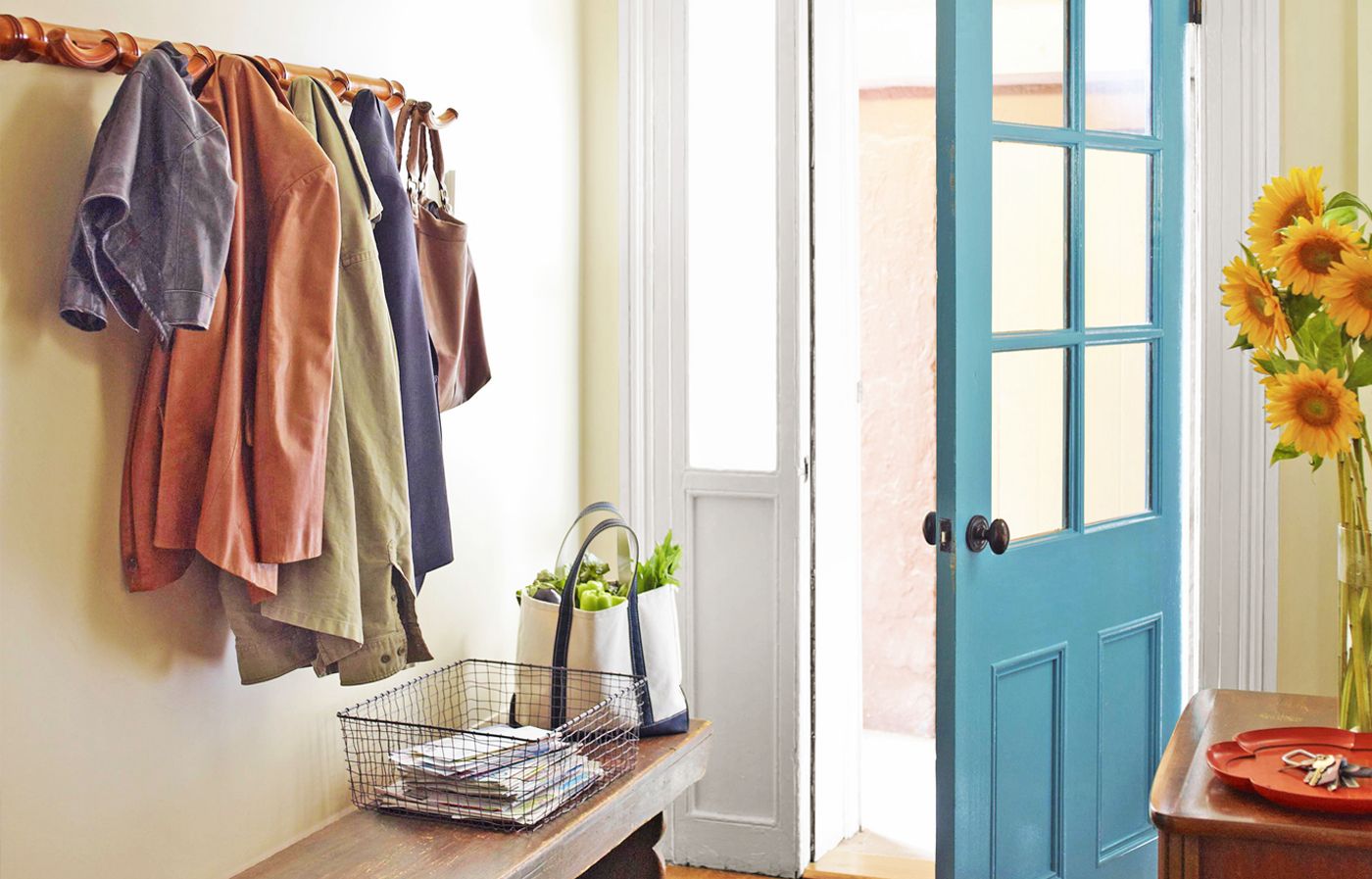 Go bare-bones with a bench and a peg rail.
Similar to shown: Cottage bench, about $150; L.L.Bean; 35-inch oak Shaker peg rack, about $77; Amazon
How It's Made: Open Lockers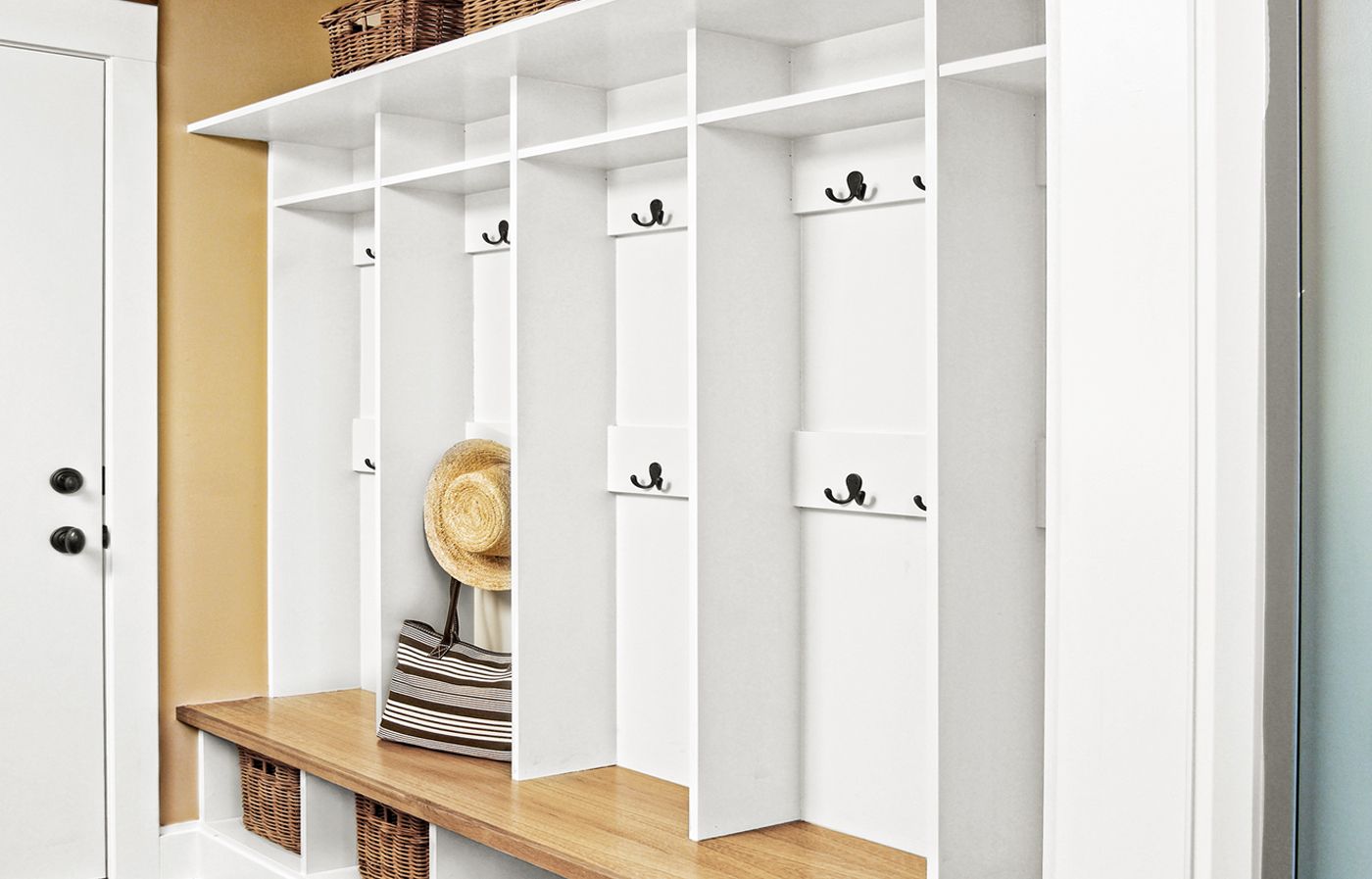 Create a custom storage wall by hitting the home center for stock materials. Click through to see our detailed diagram.
Open Lockers: Design Details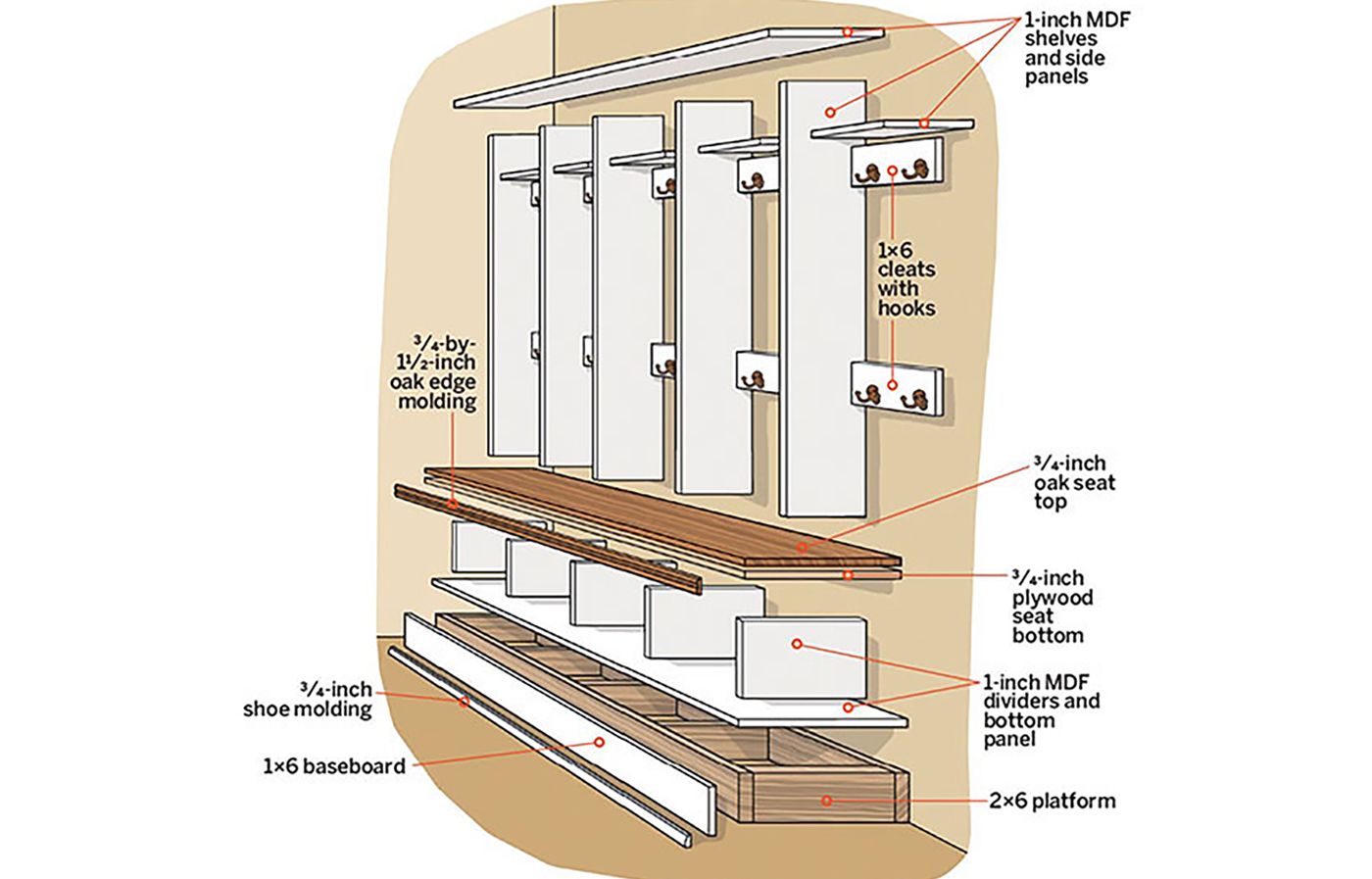 • A platform made of 2×6s raises the built-in so that the baseboard can run around it, making the piece look like it's always been there.
• Short lengths of wood with double hooks set the locker spacing and brace the walls. To allow enough room for backpacks and bulky winter jackets to hang side by side, consider making lockers as large as 2 feet wide.
• A solid-oak panel—resting on a plywood substrate and trimmed with molding—creates a sturdy bench seat. Most everything else is made of MDF, a perfect surface for paint.