Your Outdoor Project Ally
A sprayer can be a DIYer's best friend: It can spread paint, stains, and finishes faster than any brush or roller, and it excels at applying a smooth coating to uneven surfaces, like window shutters and stair balusters, making it a perfect companion for this collection of outdoor projects.
In addition to choosing the paint or stain you will need for your project, you'll need to determine which sprayer is best suited for the job. To do that, take into account the size of the project, the material, and the location. Some models have an adjustable nozzle, which allows you to change the size and shape of the fan of paint it puts out. Test your gun before spraying to find a shape and volume that helps you control the overspray but still provides efficient, effective coverage.
Ready to get started? Grab a sprayer and read on.
PS: You've never used a paint sprayer? Learn how in this video
Front Porch Facelift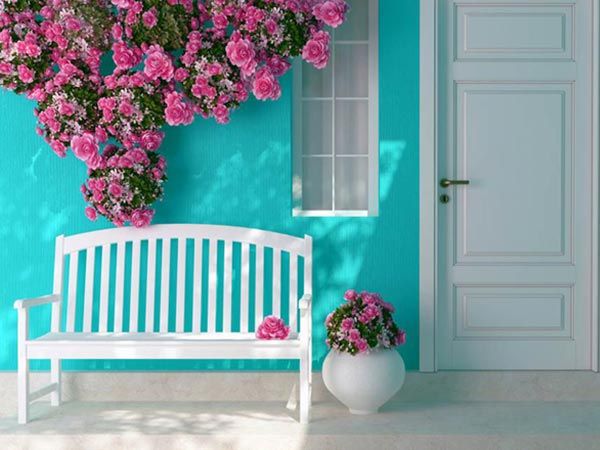 Instantly update your front porch with a fresh coat of paint in a bright, summery shade. For broad surfaces such as this, consider a sprayer like the Wagner Flexio 990, a spray system that pulls paint directly from the container so you can paint longer without stopping for time-consuming refills.
Not sure which paint to use? Check out our handy guide to selecting exterior paint. Never used a paint sprayer? Learn how here
Beautify Your Brick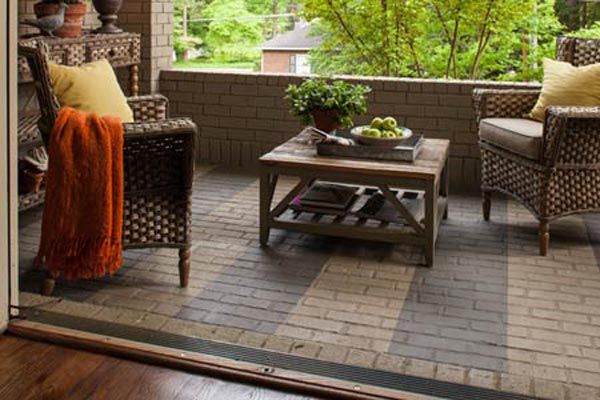 Update your outdoor room floor by creating a permanent design using two complementary shades of tinted exterior stain. Be sure to use an exterior-grade concrete primer before applying the base coat. Let the base dry at least 24 hours before embarking on your design.
Click here for complete project instructions (you can save time by employing your paint sprayer to apply the primer).
Refinish Your Fence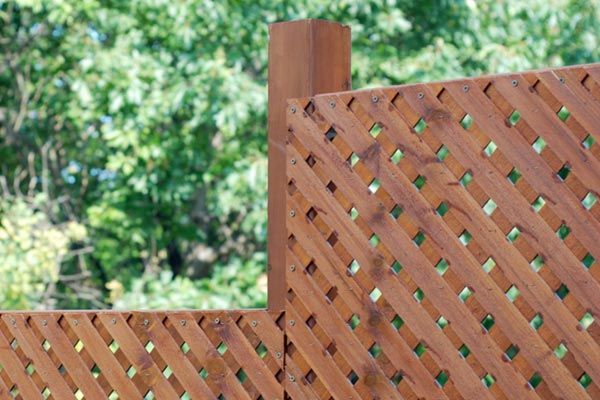 Over time, harsh weather and sunlight can cause your wood fence to fade and crack. So every few years it is important to re-stain it and protect it from the elements.
Fill your sprayer with stain, and work your way down from the top of the fence. Start a spraying motion, then engage the trigger; release the trigger at the end of the coverage area, then finish the spraying motion. Keep the sprayer 10-12 inches from the surface, moving at a steady pace to maintain a smooth, even finish.
Get the simple how-to instructions
Give New Life to Lawn Furniture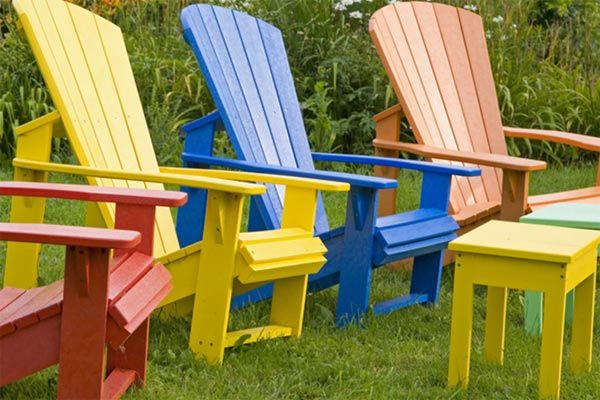 Instantly revitalize plain brown furnishings by refinishing them in a vibrant new color. When preparing to stain or paint lawn furniture, be sure the surfaces are free of dirt, dust, mildew, and mold. Also check for dark yellow or gray wood, which are signs of UV damage; those pieces should be replaced.
Get the simple how-to instructions
Color Your Shutters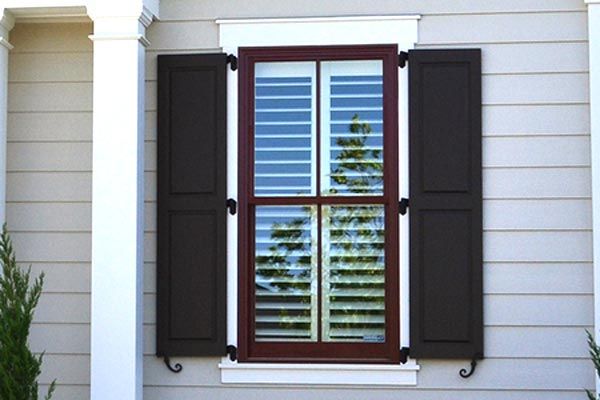 If you're not ready to commit to painting your whole house, but you're looking for a fresh new look, consider painting your shutters. You'll need to remove the shutters from the house, and lay them on a drop cloth or tarp. Start spraying at the top of the shutter and work your way down. Angle the sprayer to reach into the slanted louvers of the shutter for full coverage.
Get the project instructions
Protect Your Pergola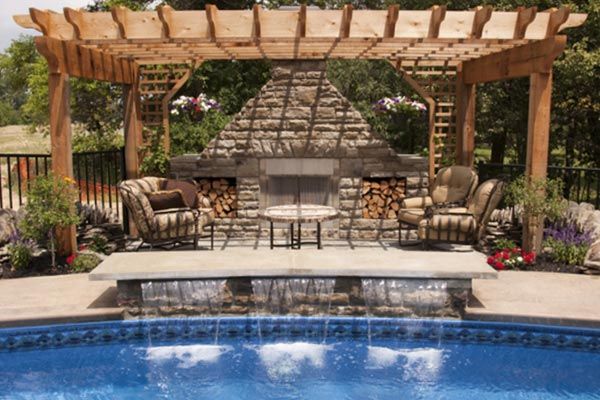 Staining your wood pergola is important to keep it looking beautiful for years to come. First, choose a quality stain. Determine how much you will need for the project, what color will look the best, and whether you want an oil or water-based product. Before you begin, take precautions to cover all items and furnishings under and around the pergola to protect them from overspray.
Read the easy how-to instructions
Repaint Your Picnic Table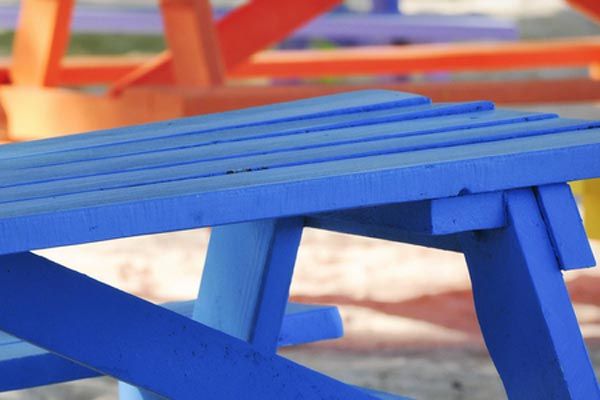 In half the time it would take using a brush, you can seal, stain, and restore the luster to one of the most iconic of all summertime furniture pieces―the family's picnic table.
Get the easy how-to instructions
Modify Your Mailbox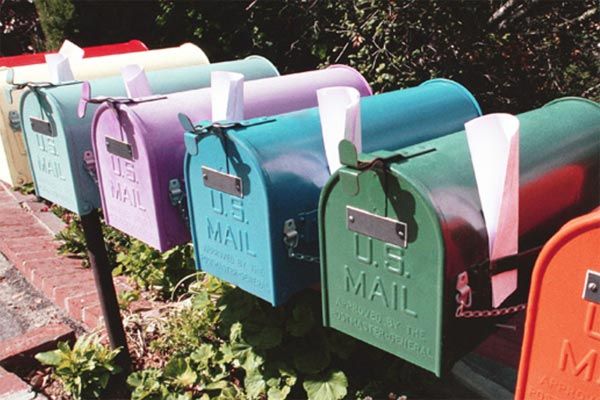 Looking for a simple project that can boost your curb appeal? Paint your metal mailbox in a fun, unexpected color. To prepare the mailbox for painting, remove it from the post, and place it in a working area that is well-ventilated and out of the direct sunlight. Scrub the surface to remove any dirt and grime, and allow to dry completely. Scuff-sand the surface before priming and painting.
Got a difficult surface you're not sure how to paint? The TOH pros answer your toughest painting questions.
Preserve Your Play Structure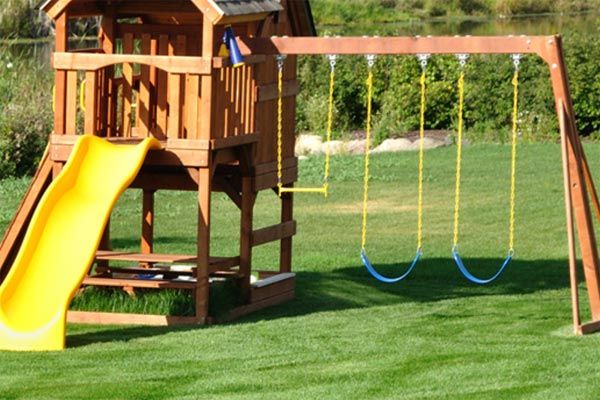 To prevent water penetration and keep your wooden outdoor play structure looking good for years to come, apply stain or a waterproof coating every 1-2 years. Be sure to mask off all areas that will not be stained, such as swings, railings, and slides. Using a spray shield (or piece of cardboard) will block any spray from unwanted areas.
Check out the simple how-to instructions
To find the right sprayer for any home improvement project, visit wagnerspraytech.com