Showing Off Architectural Assets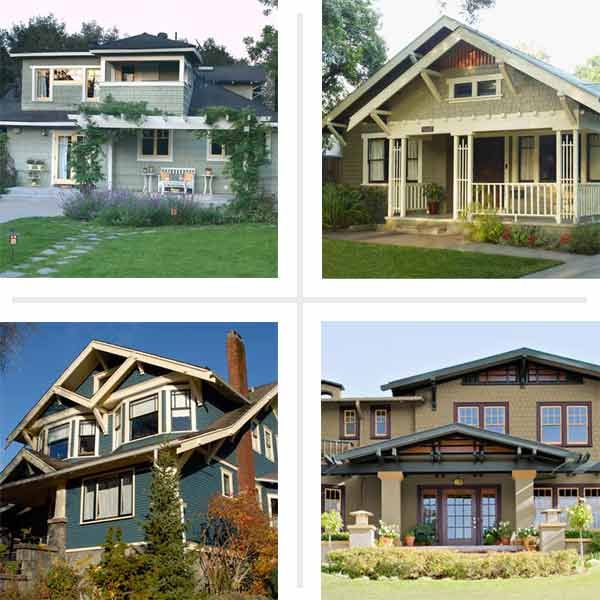 Characterized by low-pitched roofs with exposed rafter tails, and deep porches supported by prominent posts, Craftsman-style homes deserve an exterior paint scheme that calls out their ample architectural assets. Often incorporating natural materials—such as fieldstone chimneys, foundations, and porch piers—Craftsman exterior paint colors have historically been complementary earth tones. These natural hues persist today, though shades are often brighter and cheerier. To help pick a pleasing palette for your Craftsman, we've compiled a raft of inspiring examples:
Richly Detailed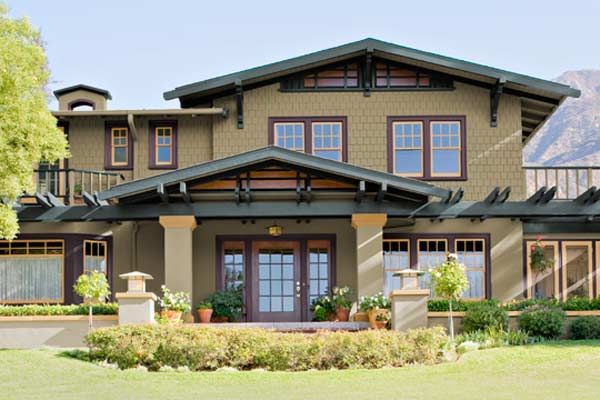 A neutral green body color is the backdrop for more standout shades of blue, purple, and yellow on the trim and other architectural elements.
Shown: Thicket (body); Schooner (roof eaves and pergolas); Chambourd (window surrounds); Citrine (window sash); from Benjamin Moore.
Cool Greens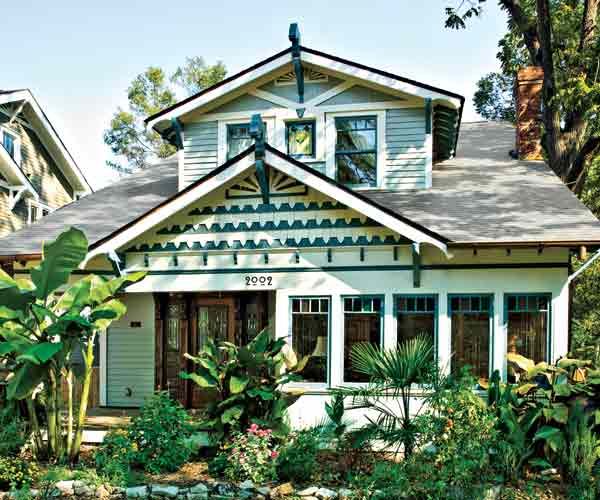 White and two shades of blue-green highlight this restored 1911 bungalow's features, including horse-head-shaped brackets and intricate shingle and half timbering designs in the front gables.
Similar to shown: Sparkling Lake (body); Subway Tile (trim); Pond (accents); from Valspar Paint.
Sun-Kissed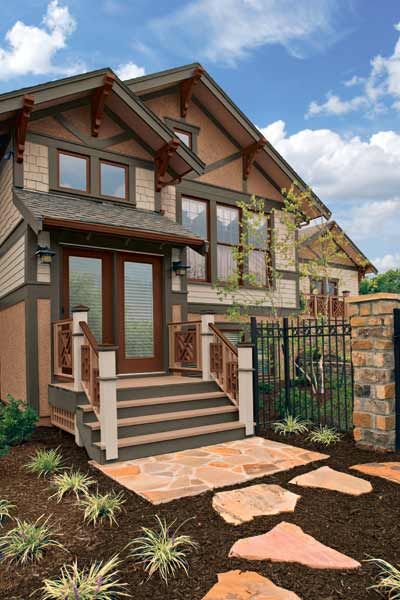 Warm ochre, sand, and sage hues give this bungalow a Southwestern vibe to complement the plantings and hardscaping elements that surround it.
Shown: Dune Drift and Ranch Tan (body); Rooftop Garden (trim); Iron Oxide (brackets, door, and window sash); from Behr.
Cohesive Look
Terra-cotta paint on the brackets and window sash, and creamy white on the trim tie the wood elements in with the brick chimney and prominent stone piers and foundation walls.
Similar to shown: Sundance (body); Old Parchment (trim); Sweet Sunrise (accents); from Mythic Paint.
Details in Focus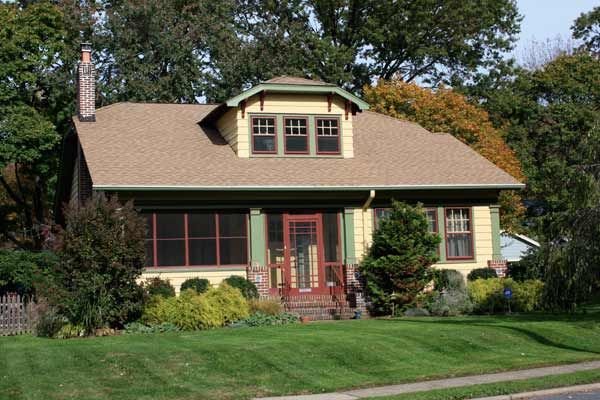 Brick-red and green accent colors call attention to a dormer punctuated with three divided-light windows and a handsome front entry framed by boxy columns. Both hues, as well as the warm yellow clapboards, tie in with the existing sand-colored asphalt shingle roof.
Shown: Birdseye Maple (body); from Sherwin Williams. Trim and accents are custom, but similar to Great Barrington Green by Benjamin Moore and Aurora Brown by Sherwin Williams.
Emerald Beauty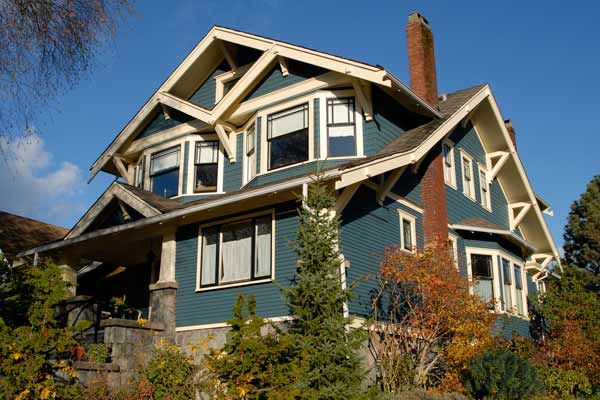 A saturated green on this hilltop home makes a powerful statement. Trim and architectural focal points, such as brackets under the roof eaves, are highlighted by a contrasting cream color. Window sashes and muntins are painted a green that's so dark it's almost black.
Shown: Iron Creek (body); Fluffer Nutter (trim); Sayward Pine (window sash and muntins); from California.
Garden-Fresh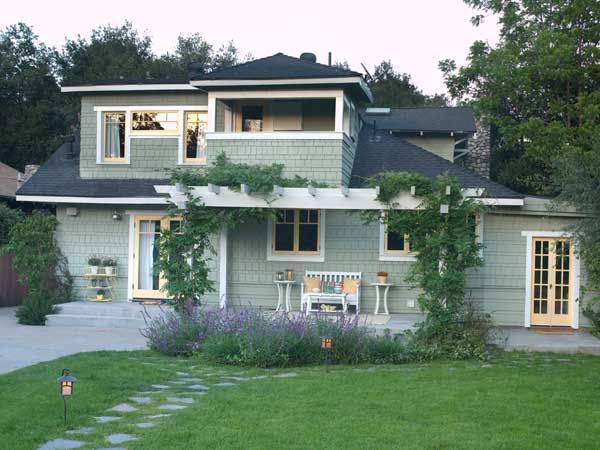 A soft sage body color and sun-yellow accents complement the surrounding landscape, as well as the silvery gray concrete patio and bluestone pathway. By painting the pergola white to match the home's trim, the add-on feels like a natural extension of the architecture.
Shown: Scotland Road (body); Oklahoma Wheat (windows and doors); Snow Fall (trim); from Behr.
Natural Neutrals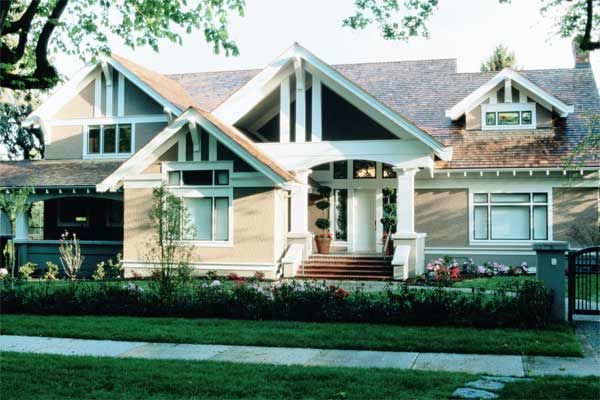 Beige paint on the stucco makes the siding recede behind the more elaborate trim, which is brushed with a bright, scene-stealing white. Foundation walls and window sashes are painted an earthy gray-green hue to emphasize the home's connection with its natural setting.
Shown: Bittersweet Stem (body); White Flour (trim); Majolica Green (foundation and windows); from Sherwin Williams.
Bold Blue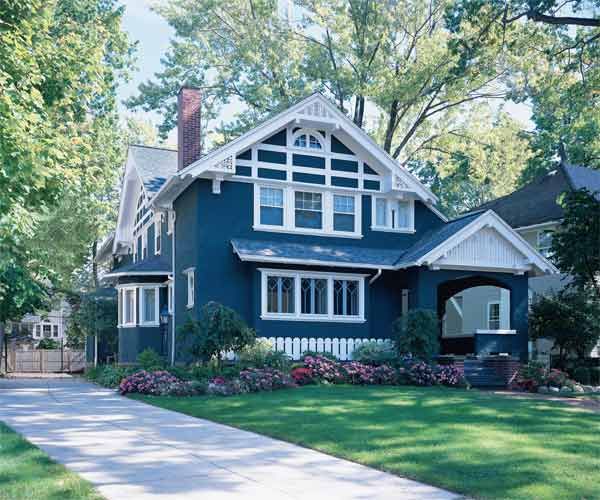 Deep, inky blue on the stucco siding gives the impression of a solidly constructed home with real permanence in the landscape. Bright white trim provides a clear contrast with the dark body color and keeps architectural details, such as the patterned stick-work in the roof and porch gables, from being upstaged.
Shown: Bunglehouse Blue (body); Pure White (trim); from Sherwin Williams.
Down-to-Earth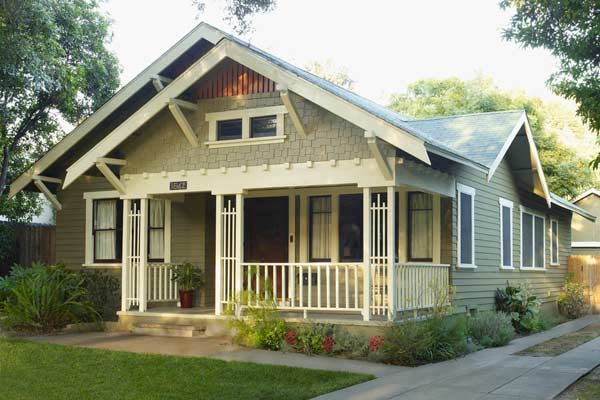 A taupe body color with a slight green cast has a grounding effect on this one-story bungalow. The muted tone also ties with the existing roof shingles and concrete walkway. Trim is called out in a creamy white and windows are painted a deep red wine hue to tie in with the stained wood entry door.
Shown: Shortgrass Prairie (body); Powdered Snow (trim); Chianti (window sash); from Behr.