Norwalk, CT, April 19, 2021 – This Old House is pleased to announce that it is joining forces with husband-and-wife-team Jerry and Sandy Effren of Greyrock Homes and Clay Fowler, CEO and Chairman of Spinnaker Real Estate Partners, on an exciting pocket neighborhood of ten cottages in Norwalk, CT. The Cottage Community is sited on a wooded lot overlooking Five Mile River and consists of five structures—each housing two cottages attached to their neighbors by single-car garages to ensure quiet privacy. Two of the connected cottages will become the trusted home improvement brand's second Idea House project of 2021—and ninth to date—and are designed to inspire homeowners and builders with fresh ideas and innovative building techniques.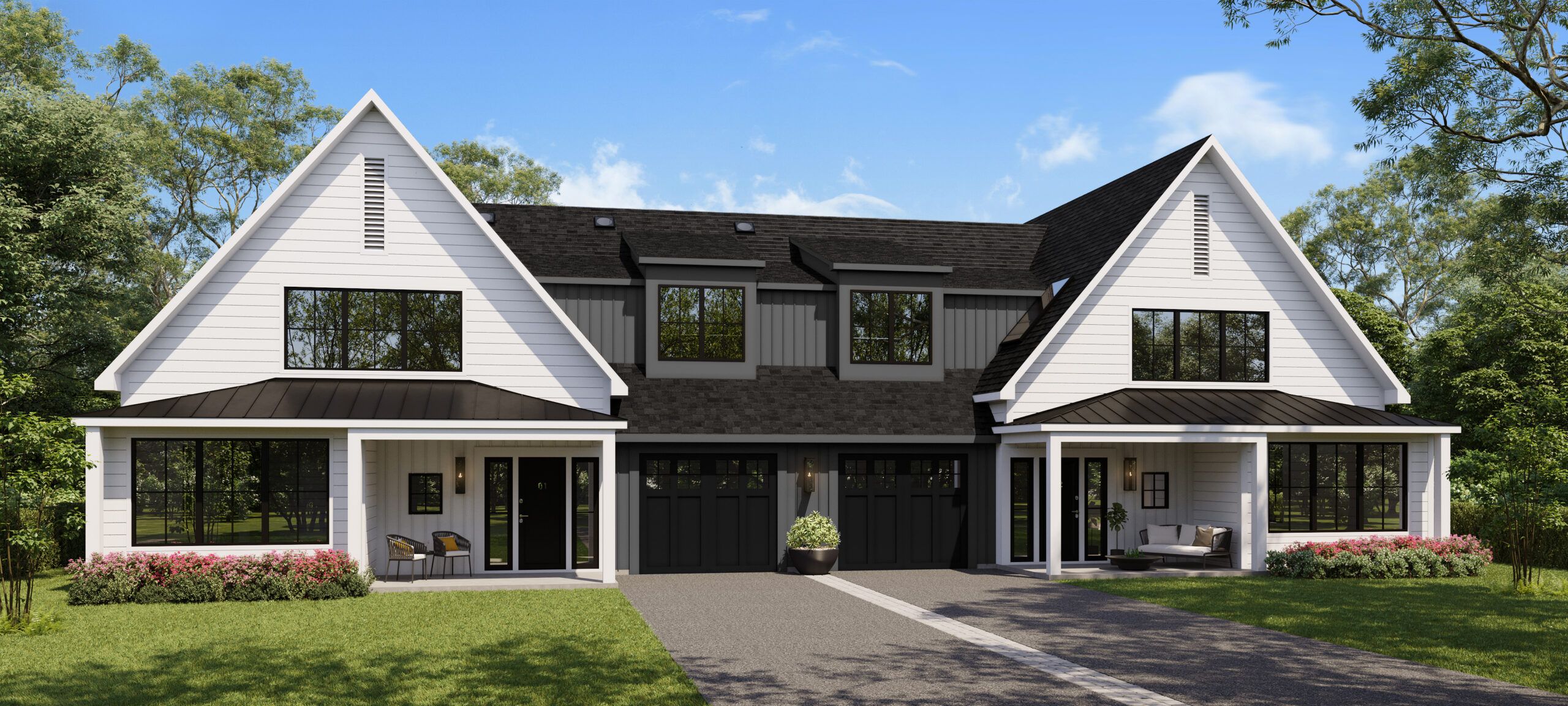 This is the second time This Old House has partnered with Greyrock Homes. The Effrens, who recently completed the TOH 2020 "Farmhouse in Fairfield County" Idea House, were so happy with the way that home turned out, they became its proud owners. Says Jerry, "We are extremely excited to be working with This Old House on another Idea House. And we look forward to helping ten families enjoy the latest and greatest products in these terrific cottages."
With bedroom/bathroom suites on three floors, the plans by Jim Jamieson of Jamieson Architects are designed to be flexible and adapt to the life stages of the residents who will live there. "The eventual occupants," says Jamieson, "could be empty nesters who want to downsize but have room for adult children and grand kids to visit, or they could be a family with children or grown children returning to the nest, or even a couple making room for an elderly relative."
To make life easier for busy parents or retirees, the cottages will feature durable, low-maintenance materials, and a homeowners' association will maintain the landscaping which includes walkways and a common outdoor space with a pergola and seating by the river. The combination of easy-upkeep suburban homes with lifestyle flexibility, a sense of community, access to the outdoors and proximity to New York City "add up to a rare offering in what is already a red-hot real estate market," says Jerry.
This Old House will be covering the build with a live webcam, galleries, videos, an OTT video series and continual social posts since Greyrock Homes just broke ground! The in-progress content is curated on an Idea House landing page where the furnished reveal will be posted on September 20, 2021. The URL for all Idea House content is https://www.thisoldhouse.com/cottage-community-idea-house. The reveal will also be featured in the winter issue of This Old House Magazine.
The TOH 2021 Cottage Community Idea House already boasts an impressive roster of sponsors including: AdvanTech, Aeratis, All Weather Armor, The BILCO Company, Clopay, Elkay, GAF, Leviton, LP SmartSide, Panasonic, Rockwool, Signature Hardware, Trane, VELUX, Walpole Outdoors, and ZIP System. There are still several category-specific sponsorships available; for more information, please contact Claudia.Jepsen@thisoldhouse.com.
---
About This Old House
This Old House is a leading multi-platform home enthusiast brand, serving over 20 million consumers each month with trusted information and expert advice. This Old House connects with audiences through its Emmy award-winning television shows This Old House and Ask This Old House, its highly regarded This Old House magazine and its inspiration and information-driven digital properties, including ThisOldHouse.com, streaming app, free ad-supported streaming channels, podcasts (Clearstory and Ask This Old House), social platforms, popular YouTube channel, and Insider subscription club. This Old House and Ask This Old House are presented on PBS by WETA Washington, DC. National underwriting for This Old House is provided by The Home Depot, GMC, Gorilla Glue, Marvin, HomeAdvisor, Schneider Electric, Kubota and Louisiana-Pacific Corporation. This Old House Ventures, LLC is a Roku (NASDAQ: ROKU) company.
About Roku, Inc.
Roku pioneered streaming to the TV. We connect users to the streaming content they love, enable content publishers to build and monetize large audiences, and provide advertisers with unique capabilities to engage consumers. Roku streaming players and TV-related audio devices are available in the U.S. and in select countries through direct retail sales and licensing arrangements with service operators. Roku TV™ models are available in the U.S. and in select countries through licensing arrangements with TV brands. Roku is headquartered in San Jose, Calif. U.S.A.
About Greyrock Homes
Greyrock Homes has built over 750 homes in Connecticut since 1979 ranging in size from 1,200 to 12,000 square feet. Led by Principal Jerry Effren, Greyrock has earned numerous awards for its development efforts, including the prestigious HOBI "Builder of the Year" in 1990 and 2004 for the State of Connecticut and in 2003 for Fairfield County Home Builders & Remodelers Association. To learn more, visit: https://www.greyrockhomes.com/
About Spinnaker Real Estate Partners
Spinnaker Real Estate Partners is a second-generation real estate company engaged in the acquisition, development, ownership, and management of commercial and residential properties with its corporate office located in Fairfield County, CT. Beginning in the 1950s in Stamford, CT., Spinnaker Real Estate Partners has completed more than $1.5 billion of acquisition, development, and redevelopment projects.
Focusing on urban redevelopment over the last 20 years, the firm has acquired, developed and redeveloped in excess of 3.5 million square feet of commercial space and thousands of multi-family units nationwide. The company is well-regarded in the industry for its commitment to the communities it operates in, its high design standards and the ability to execute complex and difficult mixed-use projects. It is known for its culture of collaboration and its ability to forge private/public partnerships with state and local government, community stakeholders, and not-for-profit organizations to produce projects of lasting value. To learn more, visit: http://spinrep.com/
About Jamieson Architects
Jamieson Architects is a boutique architectural design firm that has been specializing in the creation of unique architectural throughout New England for over 20 years. Our architectural design solutions focus on the client, not the size of the project. We are dedicated to providing customized professional architectural design services for each client regardless of the size of the budget or the scope and complexity of the project. Stylistically we tailor each architectural design solution to the dreams and identity of the individual client. Nothing is more fulfilling than to share a client's satisfaction upon completion of their unique architectural design solution. To learn more, visit: http://jamiesonarchitects.com/