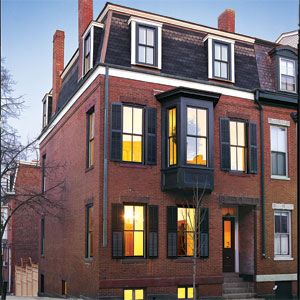 Like many kitchen renovators, Dan and Heather Beliveau, owners of This Old House TV's Charlestown project, had some tough decisions when it came time to choose cabinets. Should we go with cherry, maple, red birch, oak or painted? Out of the hundreds of stains, which color goes best with our appliances, countertops, flooring and walls? How long is this going to take? And will our selections fit our
budget? Now take all these questions, double them (the house includes a full rental unit) and you have a tale of
two kitchens.
At first, Dan and Heather thought that designing their kitchens wouldn't
be too tough—after all Dan's in the business and Heather has been
keeping a file of things she likes from magazines. They decided to focus
on their own kitchen and spend less on the rental unit's while still
making it look attractive. So while Dan and the crew gutted and
reframed, Heather began to choose appliances, going with the higher end
stainless steel in her home and moderately priced black appliances in
the rental unit.
Next came cabinets. Heather has always wanted a white kitchen, a clean
and classic look. Both she and Dan envisioned the rental unit in
cherry. The first thing that caught their eye in the kitchen show room
was a beautiful cherry kitchen. Heather thought they could use these
cabinets in the rental and Dan agreed. But, as we started to discuss the
white kitchen, Heather and Dan kept drifting over to the cherry kitchen. Dan finally blurted out, "We don't want to like the downstairs one
better than ours!" So they decided that their kitchen would be cherry.
Then Dan and Heather chose several custom features, such as a wine rack,
moulding details, tray dividers over the oven, and also upgraded the
cabinet's construction, outfitting them with plywood sides and full
extension drawers.
For the rental unit, Heather was still clinging to the idea of a white
kitchen but, because its appliances are black, she agreed to go with
natural red birch cabinets. The design of this kitchen was both more
straightforward and more modest than the one upstairs, but we did
include some special design features such as a double wastebasket unit
and lazy Susans.
The bottom line of this renovation was that Heather and Dan wanted to be
smart. They were trying hard to stay in a budget and keep a close eye on
the real cost of such an undertaking. When choosing cabinets, it's easy
to forget that you're making selections that you will be living with for
years. Give yourself time to consider your choices but also keep in mind
the project's overall time frame. Dan and Heather did all this, and the
results—both upstairs and downstairs—will speak for themselves.