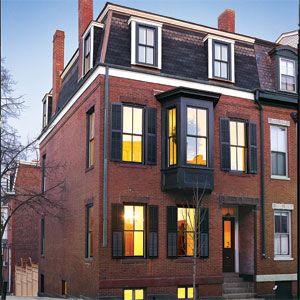 When it came time to choose light fixtures for This Old House TV's Charlestown project, Dan and Heather Beliveau
faced a problem many owners of old houses confront: how to respect the
period of their home and make it comfortable for modern life. Sleek
modern fixtures can clash with the classic lines and historic details
that constitute much of an old house's charm. At the same time,
old-fashioned lights can look fusty and dated and leave homeowners
without enough light. Compromise is tricky but not impossible. Focus on
fixtures that reflect modern sensibilities but also give a nod to
history.
So it went with Dan and Heather. After several meetings, we compiled a
list of where they needed and wanted light, including, accent, direct
and indirect lighting. With list in hand, we set off for the lighting
showroom, where they quickly realized the challenge of selecting
fixtures. There are so many, and they were choosing not only for their
own home but also for the rental apartment downstairs. Budgetary
concerns were on the table right beside aesthetic ones.
I suggested that we start in the foyer and main living spaces. The foyer
is both square and tall; I suggested a round period fixture that
corresponded with the Civil-War era exterior of the house. From the
foyer, we headed to the upstairs hallway, where Dan and Heather decided
on wall sconces with oval backplates and round arms that echo the form
of the foyer's light.
The living room-flooded with light in the daytime-already sports an
ornate plaster medallion on its ceiling, the perfect home for a
chandelier. We looked at several with the flair and design of the
house's era but decided on a less ornate though still traditional
fixture. More modern, recessed accent lights, nearly invisible, accent
the room's plaster details and the artwork above the fireplace.
Looking through the colonnade and into the dining room, visitors will
see another chandelier, two wall sconces and perimeter lighting that
complement those of the living room. These different light sources will
create a layering effect that will keep the rooms well lit and
comfortable at any time of day.
In the kitchen, we left behind our period lighting concerns and looked
to contemporary features for this updated space. We selected two, small,
low-voltage pendants for the bar area, recessed ceiling lights, and
halogen, under-cabinet task lighting. Indirect lighting will give this
room a soft glow and keep the space feeling open and airy.
The first floor bathroom also has a modern twist in the form of a
pendant lamp with a lemon scavo glass shade, hand-blown in Italy. While
still hot, the glass is dipped into minerals, ash and sand, which give
it a weathered look. The choice is a bit of a surprise for a
mid-19th-century home, but it is a prime example of the ways in which
the old can be combined with the new to great effect.