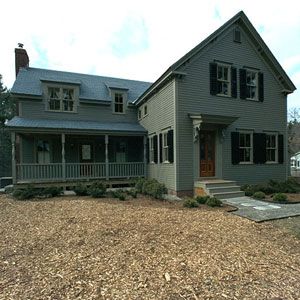 Homeowners often ask me how to decide whether or not they should hire a landscape architect. I tell them that, just like house architects, landscape architects can be instrumental in the creation of their dream home, since a home is a product of the house and its grounds. A good landscape architect will listen to a client's ideas and concerns, recognize the opportunities and constraints of their site and help them develop a master plan. Good landscape architects exploit site views, topography and natural features, and work with site constraints, such as utilities, zoning, water table, wetlands or bad views. Working with the house's architect, a landscape architect can insure that the grounds are integrated with the overall plan.
Designing the landscape master plan for the Silvas was a unique task. After the loss of their home, the Silvas were left with only a few reminders of what once was—most of them in the yard that surrounded their house. However, during my first visit, I discovered that the newly framed house and garage—along with the new septic tank—were crowding out those fire survivors, the pool, frog pond and gazebo. My challenge was to create a plan that blended the old landscape and the new house.
While feeding the fish in the frog pond, Dick Silva and I discussed his and his wife's ideas for their yard. Car traffic and the need to define "outdoor rooms" were issues that needed attention. He showed me photos of their original home and backyard before the fire, and I could see how Dick and Sandy had been avid gardeners. With this information and my initial impressions of the yard, I hit the drawing board and developed three schematic plans ranging in scope from minimal to significant change. From these alternatives, we developed a master plan that defined driveway traffic patterns as well as created outdoor rooms—an herb garden, a woodland garden, a tree grove and a terraced pool overlook. To give the house more breathing room—and to allow these features to be better appreciated—we proposed moving the frog pond and gazebo to the edge of the existing woodland.
When a master plan is complete, a landscape architect can help identify necessary permits, estimate costs, develop construction documents, help homeowners find a contractor or oversee construction to ensure the best quality and craftsmanship. No matter how much of the plan is instituted, however, the beauty of a master plan is that it provides a road map for the future, ensuring that all the pieces will fit together in the end. With the Silvas, we jumped from development of the master plan straight to construction. Working with the This Old House team and landscape contractor Roger Cook, we had more than enough knowledge and craftsmanship to break ground.