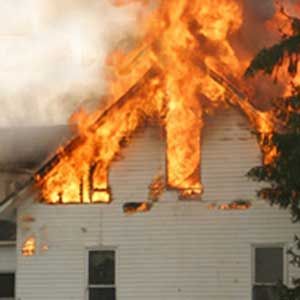 Most of us think of home as a refuge from the world's dangers and threats, so it's no wonder that most people feel safest from fire in their homes. However, about 80% of the fire deaths in the United States occur at home. Whether you're building a new home, or making improvements to the one you live in now, there are many ways to protect your home and family from fire's devastating effect. In our 1999 Billerica house, the This Old House crew installed a system of safeguards against fire, including smoke alarms tied to a central alarm system, automatic fire sprinklers and an arc-fault interrupter that can prevent the electrical sparks that often start fires. With this line of defense in place, the homeowners and their new home are well protected.
Smoke alarms provide crucial minutes to escape fire safely. There should be at least one smoke alarm installed on every level of your home, including the basement. Depending on the design of your home or if you sleep with the doors shut, you might consider installing smoke alarms inside each bedroom to insure the alarm is audible in all rooms of the house. Hard-wired systems can maximize the alarms effectiveness; when one alarm detects a fire, the others will sound automatically, alerting everyone to the fire. At the Silvas house, the hard-wired system is connected to a central alarm system that will also signal the fire department. No matter how simple or complex your smoke alarm system, it will cut your chance of fire death nearly in half. At the same time, smoke alarms that don't work can't protect you. All smoke alarms, including hard-wired, need batteries. (The batteries in hard-wired alarms enable them to operate during power outages.) Test your alarms monthly, change the batteries each year and replace smoke alarms that are ten or more years old.
The automatic home fire sprinkler system installed in Billerica is the single most effective way to minimize a fire's impact on a home and its residents. It can contain and even extinguish a fire in less time than it takes firefighters to arrive on the scene. And, contrary to what many people think, home sprinklers are actually quite cost-effective, particularly when installed during new construction. In fact, they add, on average, only one to one and half percent to the total cost of building a new home. As people have become better informed about sprinklers' effectiveness, their use in homes has increased significantly. Cities that require residential sprinklers, such as Scottsdale, Arizona, have seen a dramatic drop in fire deaths and property damage. The Silvas' sprinkler system is also tied into their central alarm network, which will alert the fire department if a sprinkler goes off.
As a final preventative measure, master electrician Allen Gallant installed an arc-fault circuit interrupter in the Billerica house. These devices detect the kind of dangerous electrical arcing that can occur when a power cord gets frayed or old wiring begins to fail within a wall. Arc-fault interrupters first will be required on circuits that serve bedrooms, where many fires begin thanks to power cords run under carpets, where they can become worn, and plugs that get squished against the wall by pieces of furniture.
People often underestimate fire's power and speed and overestimate the time they have to escape. Ultimately, these misconceptions contribute to the 4,000 fire deaths that occur in the U.S. each year. Fortunately, with proper use, installation and maintenance of today's fire protection technologies, you can greatly reduce that risk and make a life-saving difference for your family.