A Masterful Bedroom Upgrade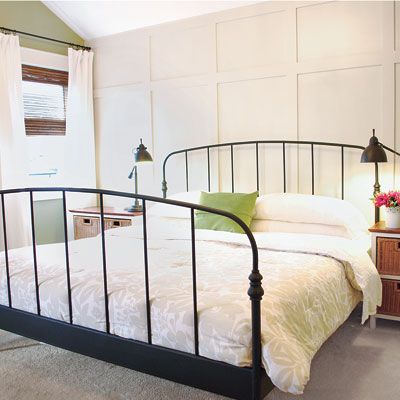 Who: Ashli and Lee Malinek
Where: Cloverdale, British Columbia, Canada
What: Faux paneling crafted from stock trim adds character to
a bland master bedroom
When it comes to giving a house architectural detail, the bedrooms too often get passed over in favor of the public gathering spaces. That was the case in Ashli and Lee Malinek's builder spec house in Cloverdale, British Columbia, Canada. While the couple loved the Arts and Crafts–style wainscot in their front entry and downstairs study, the second floor, and their master bedroom in particular, lacked any similar flourish. So after spotting ½×4 MDF trim for a song at the home center, the couple decided to tackle a DIY version of the downstairs paneling for the wall behind their bed. Lee took measurements, made sketches, and mocked up a few configurations on the wall before they settled on the five-panel design shown here.
Glum Green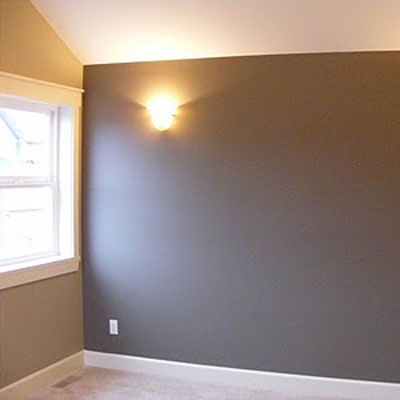 An army-green wall made the master bedroom dull, while sconces mounted high on the wall weren't practical for reading.
Measuring Up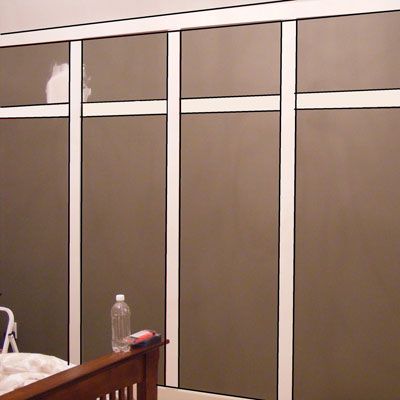 After removing the old sconces and patching the holes, he cut a top rail to mimic the existing baseboard, positioning it at the top of the wall with adhesive and tacking it in place. He did the same with six evenly spaced stiles and another rail of five pieces trimmed to fit in between, placed just above head height.
Farmhouse Fittings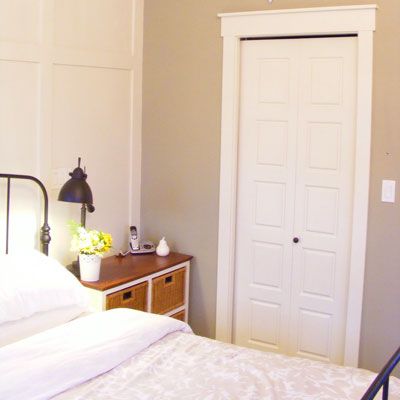 Once the glue set, Lee filled nail holes with joint compound and the seams with paintable caulk. Then they covered the wall in creamy white paint to set off a $93 black metal bed frame and their old side tables. "The plain green walls were boring and screamed 'new build,'" says Ashli. "Now our bedroom has a vintage farmhouse look worth showing off."
The Project Tally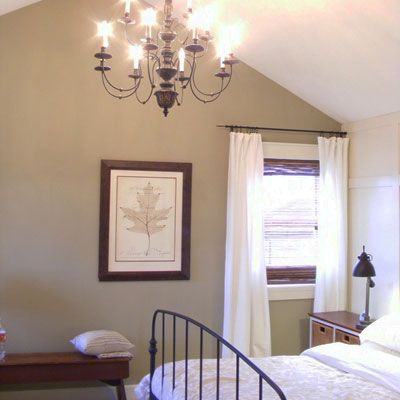 • Trimmed MDF molding into rails and stiles to create fake panels: $41
• Used two tubes of panel adhesive and a brad nailer already on hand to mount pieces to the wall: $9
• Brightened the room by coating the wall with leftover white paint: $0
• Scored a cottage-style metal bed on Craigslist: $93
• Traded builder-grade sconces for oil-rubbed-bronze reading lamps bought on sale: $91
• Added light control with woven blinds and white curtains on the room's three windows: $187
Total: $421