Spa-Like Master: After
When life hands you an impossibly long, skinny space, think about Jennifer DeLaney and Chris Reid. Their challenge began when they asked architect Lauren Strutman to design a three-story rear addition for their 1914 house, in St. Louis, no deeper than 8 feet. One result was a ribbon of space running nearly 19 feet across the back of the second floor—an opportunity, the couple ultimately decided, to decamp from the small hall bath they had been sharing and create a spa-like space off their bedroom.
One existing bath had subway tile, another had a claw-foot tub."I wanted to re-create that look," says Jennifer. Working with interior designer Joni Spear and general contractor Steve McMillan, the couple framed the focal point of the new bath—an updated freestanding tub—with glass pocket doors, textured for privacy. "We have two kids who love to come bursting into the bedroom," says Jennifer with a laugh. She adds: "With the new windows, there's wonderful light. It's such a pretty scene. And it fits so well with the rest of the house."
Shown: The roomy new master bath, part of an addition, has amenities like radiant floor heating. Marble floor tile was hand-cut to mimic discontinued tile the designer had seen online and laid in a dynamic herringbone pattern.
Tub: Victoria + Albert
Tub filler: Jado
Custom-cut floor tile: Ann Sacks
Windows: Pella
Side table: West Elm
Light fixture: Circa Lighting
Small and Sparse: Before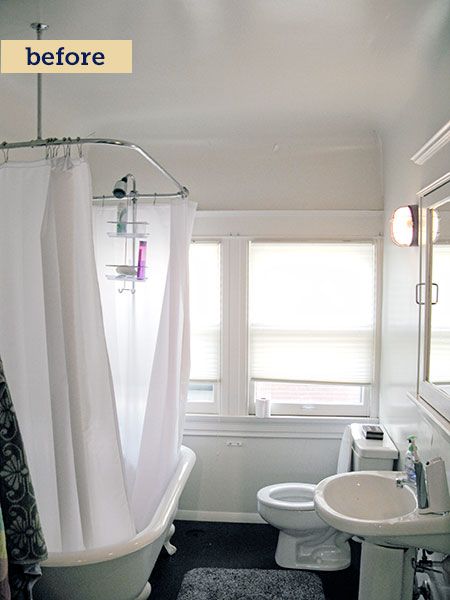 The hall bath the couple had been using was short on creature comforts.
Period-Style Finishes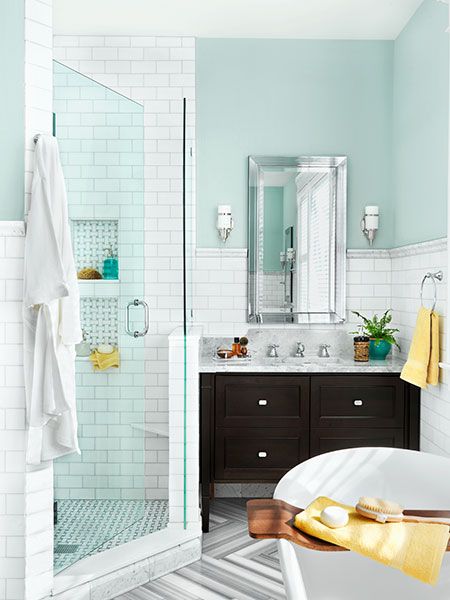 Leggy vanities were finished with a dark stain to evoke Art Deco furniture.
Vanities: McMillan Cabinetmakers
Sconces: Rejuvenation
Shower Niche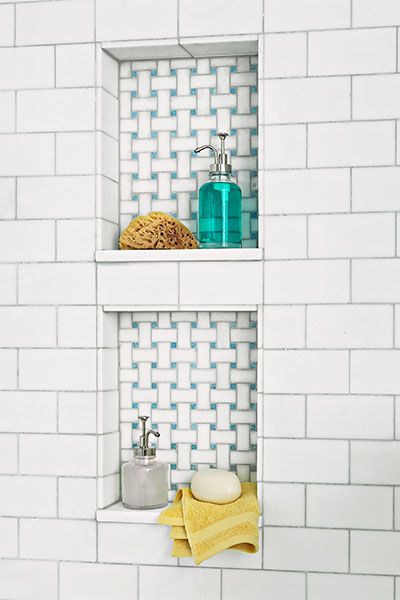 Basketweave tile in updated blue and white marble covering the shower niches and floor, and white marble subway tile on the walls.
Tile: Ann Sacks
Stain-Free Countertop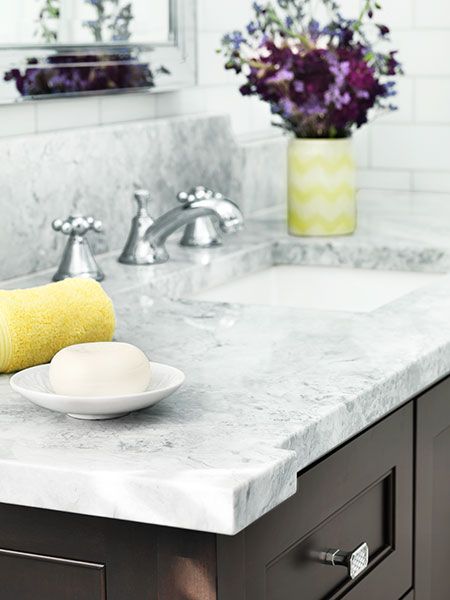 The vanity tops are quartzite, a stain-resistant natural stone.
Vanity tops: Unique Stone Concepts
Faucet: Grohe
Vanity Details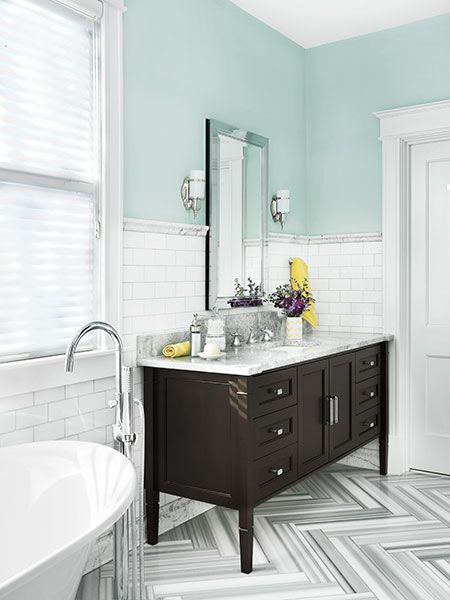 The marble-look bullnose trim was inspired by chair rails elsewhere in the house. Outlets in the medicine cabinets reduce vanity-top clutter.
Cabinet: Robern
Ceramic bullnose and base trim: Walker Zanger
Private Toilet Room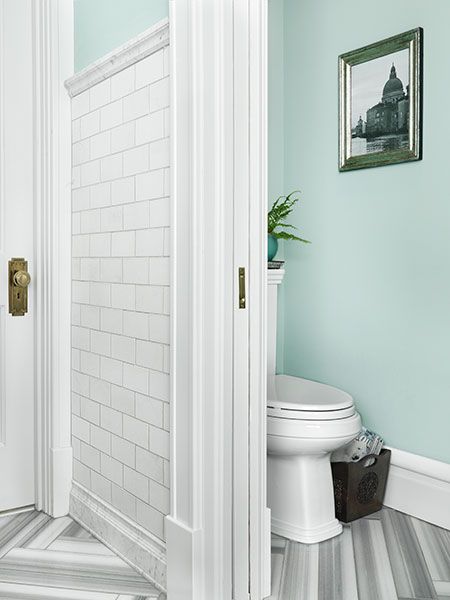 The toilet is tucked discreetly in a corner shielded by a pocket door.
Paint (walls): Waterscape; Sherwin-Williams
Toilet: Toto
Tall Linen Cabinet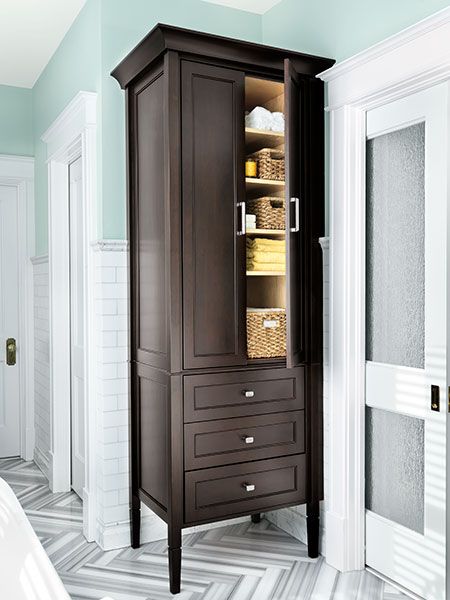 A custom cabinet holds linens and extra supplies.
Pro advice: "A graphic floor pattern can be oriented to draw the eye toward the most important focal point in a room—in this case, the freestanding soaker tub." — Joni Spear, Interior Designer, St. Louis
Knobs and pulls: Top Knobs
Floor Plan After: More Usable Space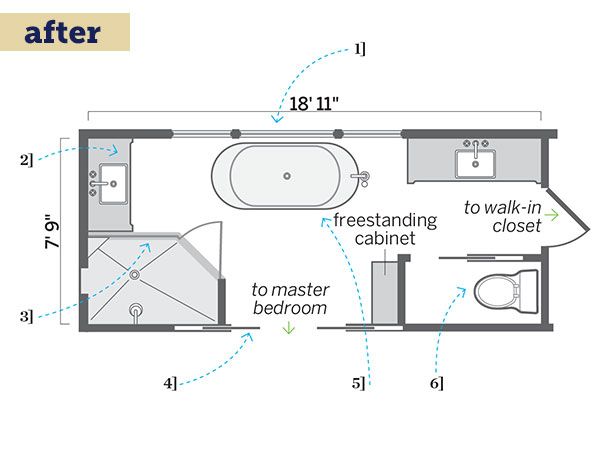 The new 142-square-foot space, located in an addition, is large enough for twin vanities, plus a separate tub and shower.
1. Opened up the new exterior wall with a row of three windows.
2. Opted for two separate custom vanities to maximize the available space.
3. Enclosed the shower in frameless glass to let natural light flow through the space.
4. Replaced a window in the original exterior wall with glass pocket doors.
5. Centered the tub under the windows and in the sight line from the bedroom.
6. Hid the toilet in a corner alcove with its own pocket door.