Create a Space With Character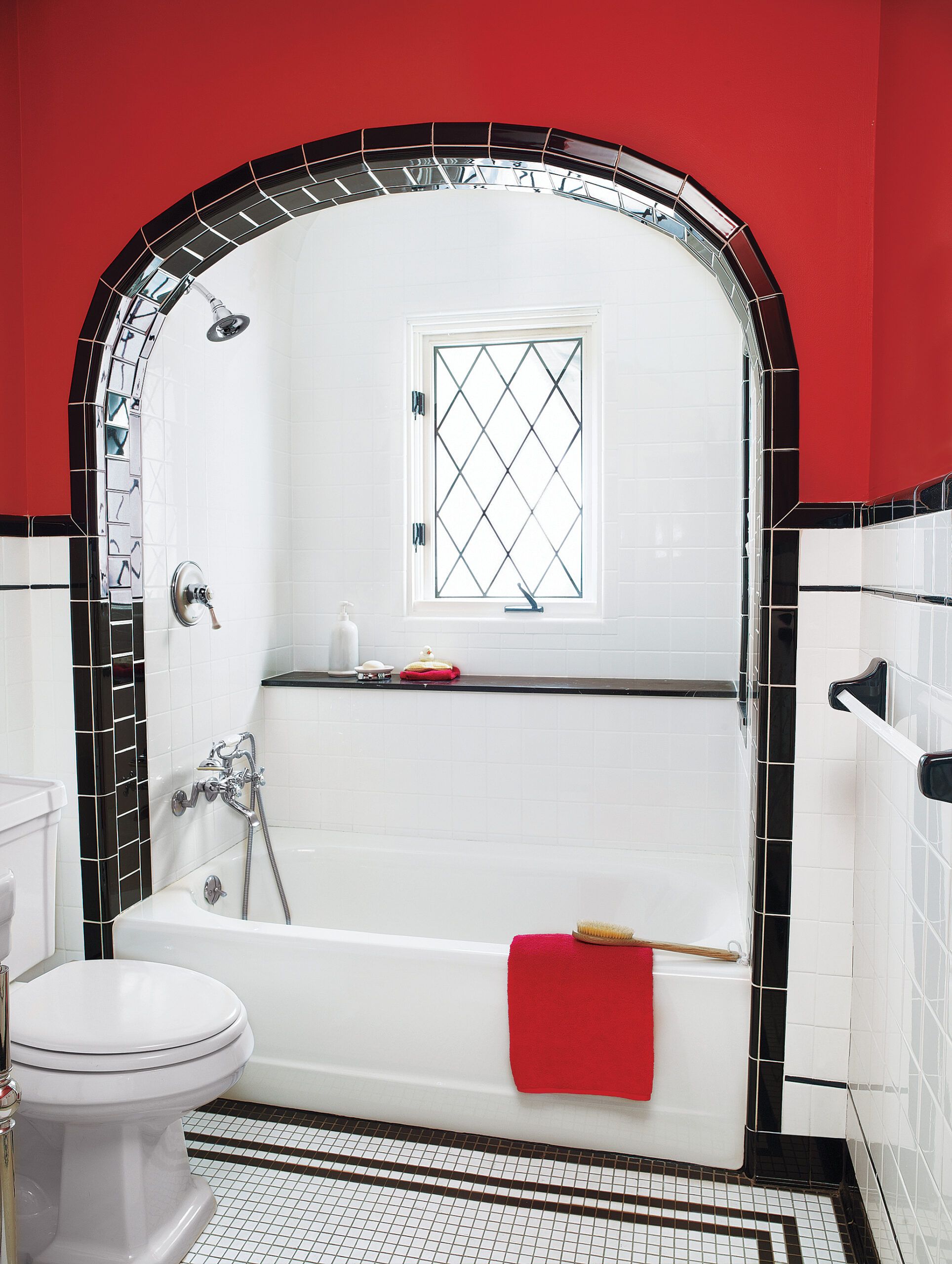 Staying true to a home's character doesn't mean you have to keep banging your knees against the bathtub. Annmarie McCarthy and Mark Le­Page, both architects, were drawn to their 1934 Tudor Revival in Chappaqua, New York, for its vintage look. But after a few years of living with its original black-and-white L-shaped bath (the lone full bath upstairs—and one they share with their three children), the couple craved a little leg room.
Shown: Now wider and brighter, the room has vintage-style tile, chrome fittings, and a windowed alcove.The marble ledge offers a handy spot for bath supplies while reinforcing the horizontal lines of the tilework.
Floor: Daltile
Paint: Benjamin Moore's Cinco De Mayo
Before: Cluttered and Cramped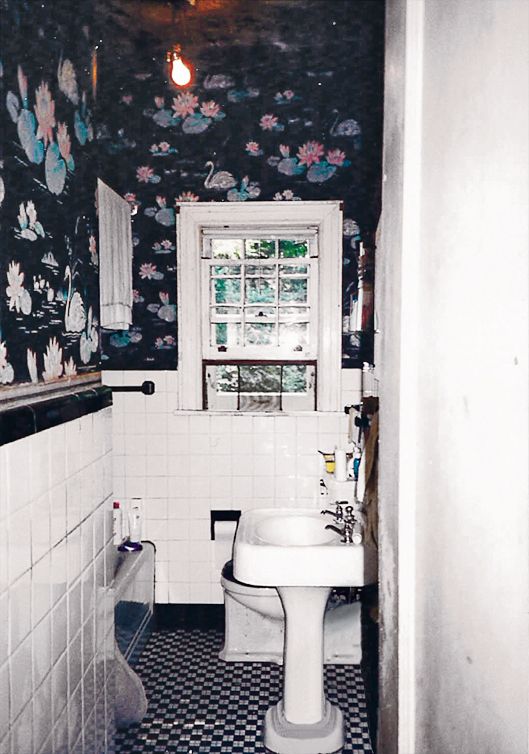 Since they were renovating the adjacent bedroom anyway, they decided to gut the cramped bath and enlarge it by annexing closet space. That allowed a new layout, with the tub in a tile-rimmed alcove. The couple chose vintage-style fixtures and a classic black-and-white tile scheme, then finished the walls with a warm red that glows when the sun shines through a leaded window. "The dust was hard to live with," says Ann­marie, "but now it's the perfect bath for us, with plenty of room to maneuver."
Shown: The bath was so narrow the tub was practically on top of the toilet.
Kid-Friendly Shared Bath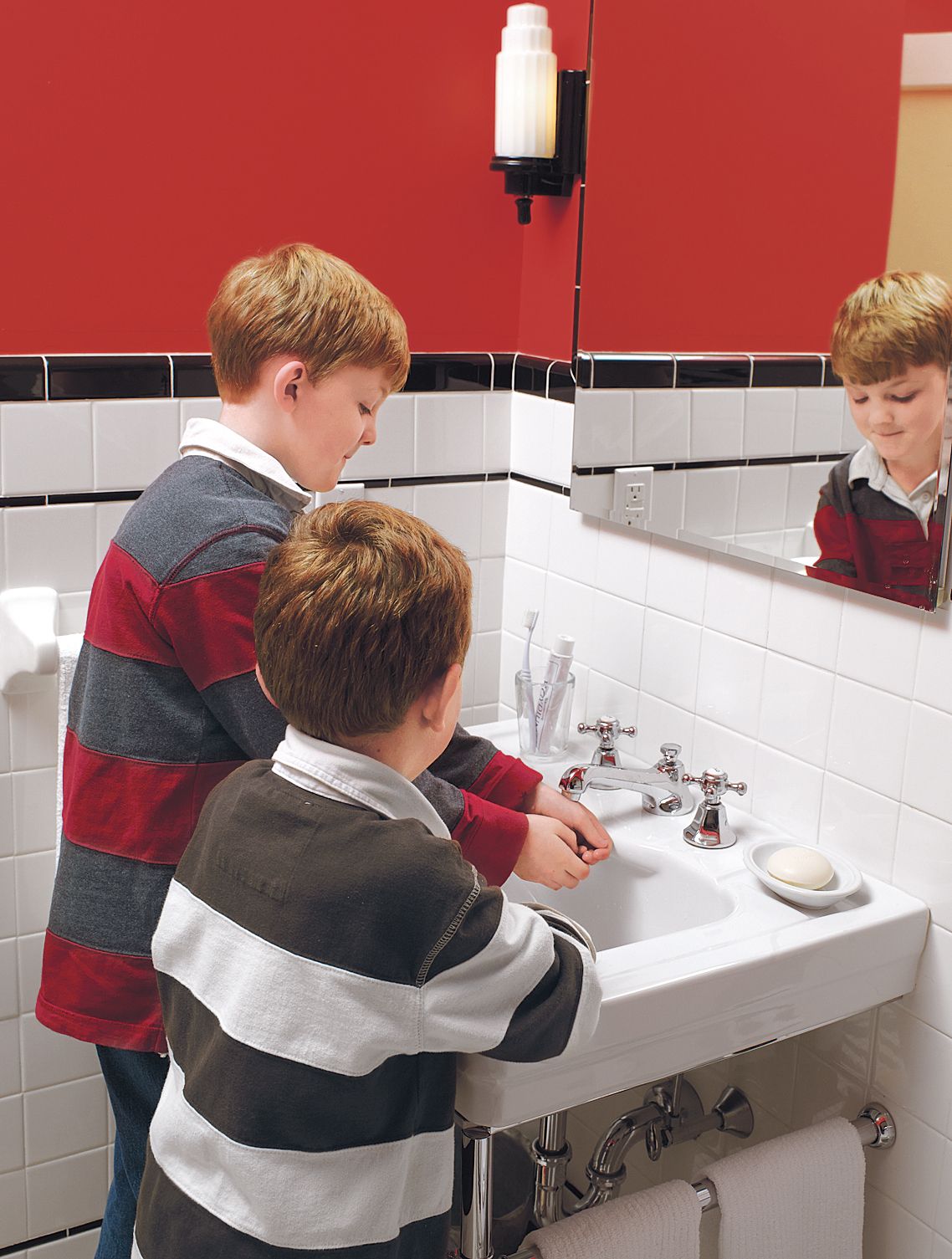 The console sink, manned by James, 7, and Henry, 5, reinforces the Art Deco look, with handy towel bars underneath, adding a shot of chrome.
Sink: Porcher
Faucet: Kingston Brass
Built-In Bath Storage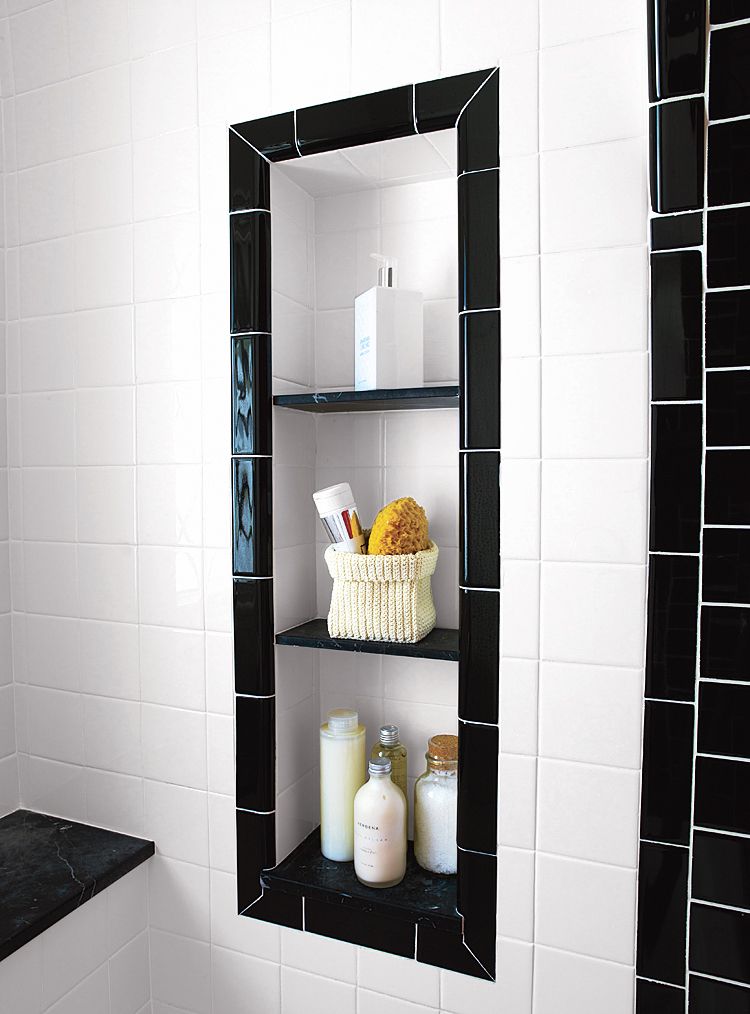 A wall niche added to the room offers space-saving storage. The marble shelves were scraps from making the ledge over the tub.
Homeowner Tip: "Dress up cheap white tile with black bullnose caps and thin black trim pieces. To get the look of heavier vintage tile, thicken the mud bed."—Mark LePage, Chappaqua, N.Y.Wall tile: Daltile
Attention to Detail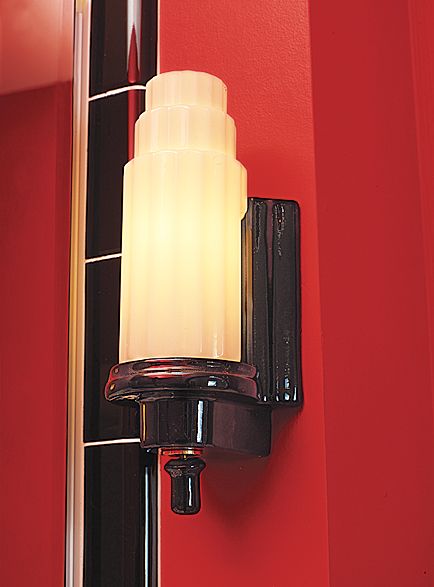 Deco-style sconces with fluted backplates and stacked glass shades add a graphic vintage accent.
Sconces: Rejuvenation
Floor Plan: Before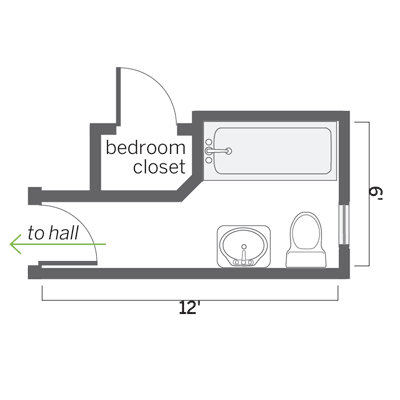 The tub, toilet, and sink were jammed at one end of the 65-square-foot room; the rest of the space was too tight to be useful.
Floor Plan: After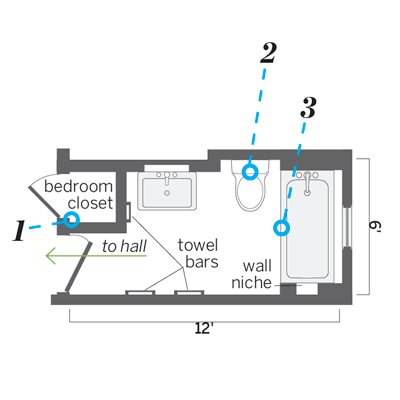 Annexing 12 square feet allowed for rearranging the fixtures, making the bath feel brighter and more spacious.
1. Added 3 feet to the width of the room by stealing space from a bedroom closet.
2. Aired out the toilet and sink on the wall across from where they were, moving the tub to the windowed wall.
3. Designed an arched alcove for the tub and swapped in a leaded glass window. The arch echoes others found elsewhere in the house.