Create a Festive Powder Room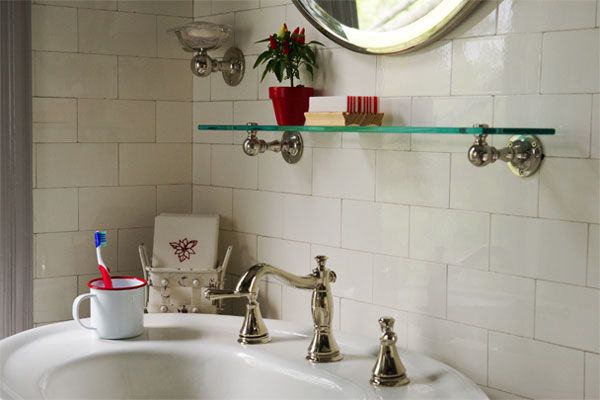 If you're expecting holiday guests, welcome them warmly into your home by getting every room into the spirit of the season…even the bath! A few colorful accessories and some quick and easy accents that you can make yourself (with a little bit of mess and a whole lot of fun), are sure to make your guests feel right at home.
Stock Up on Soothers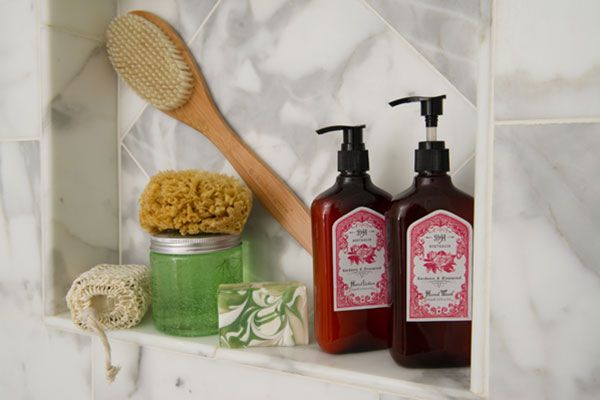 Nothing beats a long, hot shower after traveling all day. Offer an array of aromatic soaps and gentle scrubbers for guests who want to freshen up.
Here, we've chosen cold-process bar soap infused with rosemary and mint essential oils (available at Etsy) and all-natural loofah sponges.
Give a Cozy Treat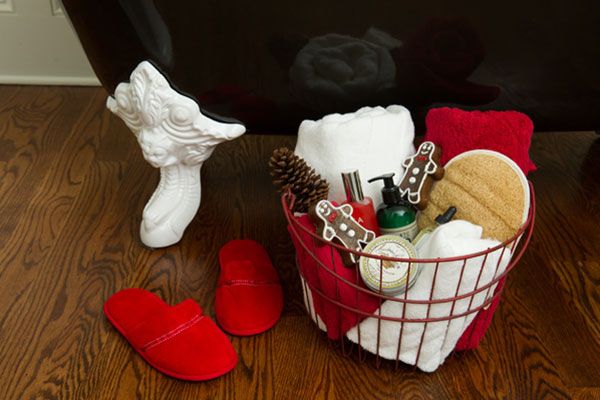 Offer a welcome basket packed with fluffy towels, scented toiletries, and a pair of warm slippers for overnight guests to step into when exiting the bath. We found these fun gingerbread soaps on Etsy.
They look and smell almost good enough to eat!
Hook Them Up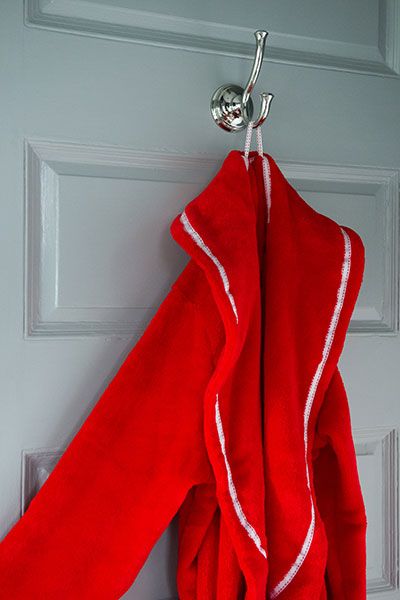 Affix a wall hook and hang luxurious holly-berry-hued robes for your guests to wear during their stay (or even take home as a parting gift).
TOH Tip: While it's generally recommended that hooks be mounted about 5 feet above the floor, take into account your own height, the reach of your little ones, and the length of your robes before making final placement decisions.
Shown here: The Delta® Addison® robe hook in Chrome. Find a retailer at Delta Faucet.
Upgrade Your Shower
Treat your guests to a spa-like experience by swapping out your existing showerhead with the easy-to-install Delta In2ition® + H2Okinetic®. This 2-in-1 shower sculpts water into a unique wave pattern that gives you the feeling of more water without using more (which is incredibly helpful when you've got a house full of guests). Available in five finishes to match any decor. To learn more, click here.
Find a retailer at Delta Faucet.
Get Crafty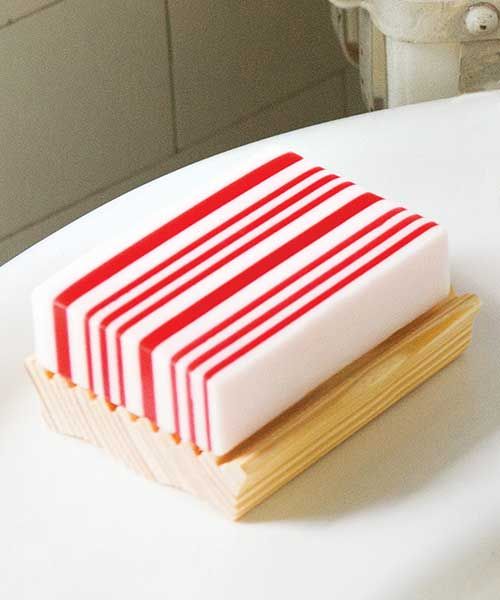 Create your own candy-stripe soap with this easy-to-follow recipe:
• You'll need clear and solid-white glycerin; following the instructions on the package, melt down the clear glycerin, using ¼ cup at a time.
• Add a few drops of red food coloring to the clear glycerin.
• Stir in a few drops of peppermint essential oil, and pour the melted glycerin into a mini (2-cup) loaf pan.
• Once cooled (about 20 minutes), score the top of the "loaf" with the tines of a fork.
• Spray the finished layer lightly with rubbing alcohol—this will help the next layer adhere to it.
• Repeat the process with a layer of melted white glycerin, alternating layers until the pan is full.
In about 4 hours the soap should be set; remove from pan and slice into bars (you should get about six). Individually wrap each bar in pretty waxed paper or clear cellophane.
DIY Your Decor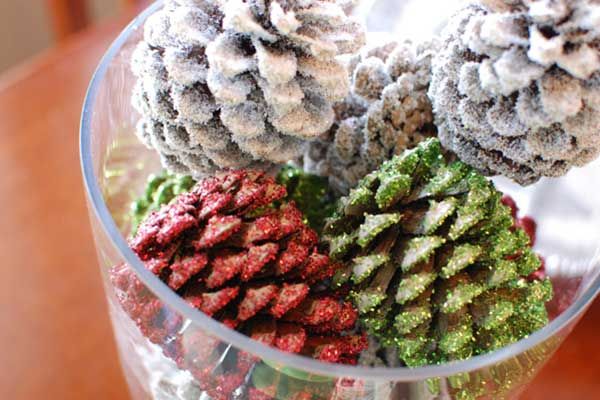 Holiday-themed accents like these sparkly pinecones take only a few moments, cost just a few dollars, and are fun and easy to make.
Partially fill a large zip-top storage bag with a handful of colored glitter. Spray pinecones with spray mount adhesive and drop them into bag. Secure the top and gently shake until all of the adhesive is completely covered. Shake off any excess glitter, then allow the cones to dry overnight.
Plant a Tree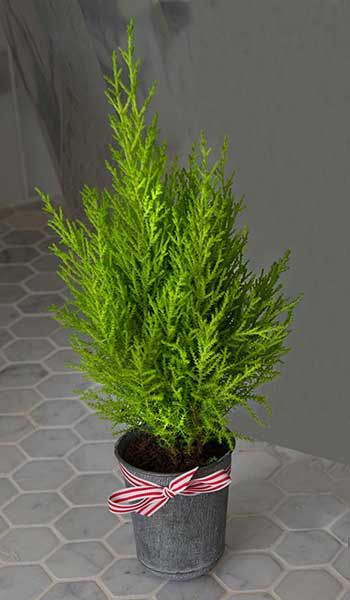 Outfit your bath with petite holiday trees by replanting miniature evergreens in festive pots. They're a cheery addition to any room, and also make a lovely hostess gift.
TOH Tip: Lemon cypress is a great choice for your miniature tree thanks to its natural cone-like shape and bright-green color. As an added bonus, the needles, when brushed with your fingers, give off a fresh, lemony scent. Cypress does best outdoors, but it will be just fine indoors for the holiday season as long as it receives ample indirect sunlight and the soil is kept moist (but not soaking wet). Prune regularly to keep at desired height.
What the Hotel Pros Know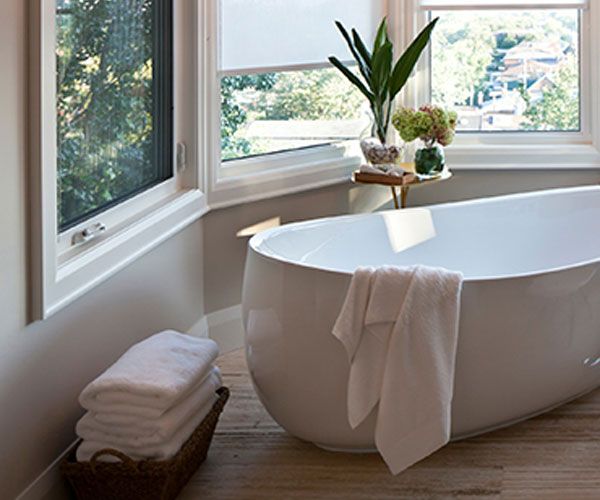 Admit it: Having houseguests can elicit a mini panic attack. So much cleaning to do, cooking to prepare for, and entertaining to schedule—it's no wonder prepping the guest bath can end up as an afterthought. But a welcoming bath with personal touches can make all the difference in their stay.
Click here for a few expert tips from Delta Faucet on getting your guest bathroom "hotel ready," and your guests will feel like you've rolled out the red carpet (or at least the red bath mat).