Return to the Jazz Age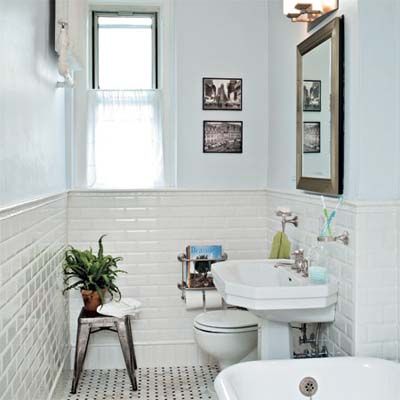 Old doesn't always mean quaint. That was the lesson Filip and Ruxandra Balasov learned after moving into their 1920s co-op apartment in Queens, New York. Previous tenants hadn't been kind to the master bath: Chipped subway tiles lined the walls, rust spots marred the cast-iron sink, and concrete peeked out beneath the broken ceramic floor squares.
Restoration wasn't an option, and the 5-by-11-foot space didn't allow for changing the fixture placement. So the couple enlisted contractor Patrick McCormack to update every element—but with a vintage look. A new claw-foot tub and pedestal sink and a black-and-white tile scheme added plenty of period charm.
Today the cast-iron soaker's definitely the star of the remodel, having turned the master bath into a favorite relaxation zone for son Sebastian, 13, and daughter Catinca, 2. Says Filip, "For us, it's a 10-minute shower, but the kids spend hours in there!"
Pictured: A cast-iron tub, a clean-lined pedestal sink, white subway tiles, and a black-and-white marble floor are classic early-20th-century touches. Light-reflecting beveled subway tile has a period look and helps a small space feel bigger.
Contractor: Patrick McCormack, East Coast Interior Construction, Maspeth, NY; 347-581-9009
Before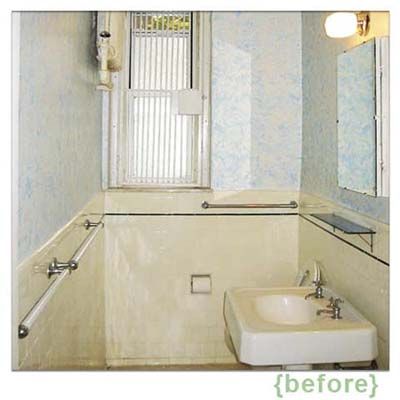 Chipped tile and worn fixtures made the original bath feel dilapidated.
Fixture Finishes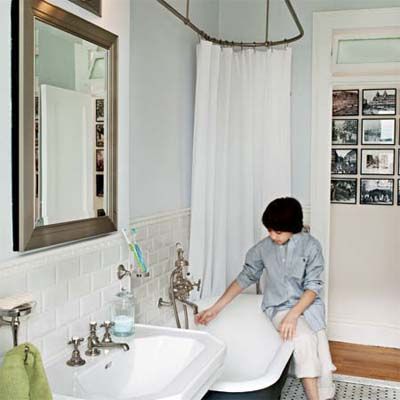 Satin-nickel finishes warm up the clean lines of the medicine cabinet, light fixture, and cross-handle faucet.
Medicine cabinet: Robern
Sink: Duravit
Tub and faucet: Waterworks
Tub Filler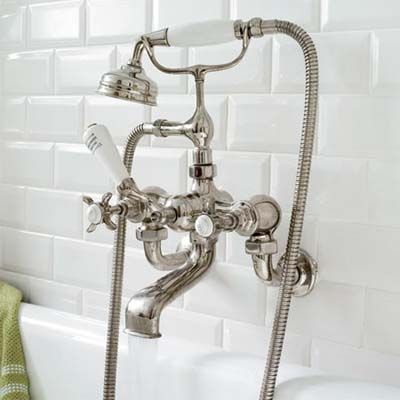 A wall-mount tub filler with its own hand shower makes hair washing (and tub cleaning) much easier.
Tub fittings: Waterworks
Tile Baseboard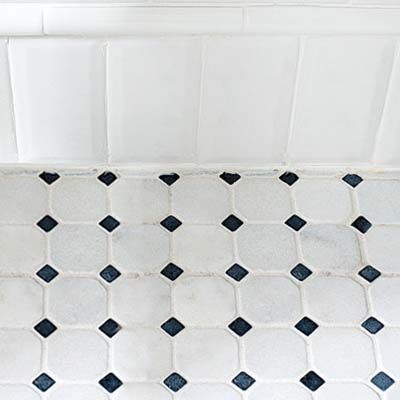 Tile Baseboard was fashioned by turning field tiles on end and topping them with trim for a custom look at minimal added cost.
Homeowner Tip: "We browsed big plumbing showrooms for inspiration, but buying from a smaller, local dealer got us a 20 percent discount on our marble floor tile," says Filip Balasov.
Wall tile: Adex USA
Floor tile: Marino Ceramic Tile Inc.
Towel Hook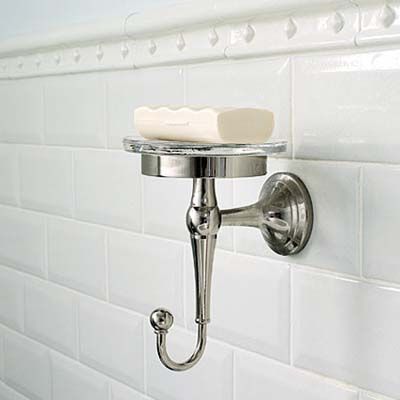 A hand-towel hook built into the wall-hung soap dish saves space and adds to the room's period feel.
Before & After Floorplan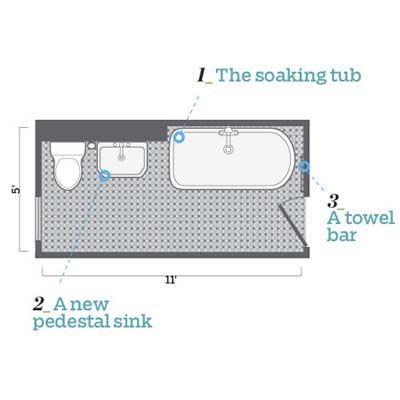 The layout of the bath, with all the fixtures arrayed along a single wall, remained the same. Tiny tweaks made it more functional.
1. The soaking tub gives the space a vintage feel; elevated on claw feet, it helps the room feel airier than a built-in would. Mounting the sculptural tub filler on the wall saved floor space.
2. A new pedestal sink with clipped corners eases movement in the bathroom's
tight quarters.
3. A towel bar mounted behind the curved end of the tub keeps bath sheets at the ready.