A Clean Slate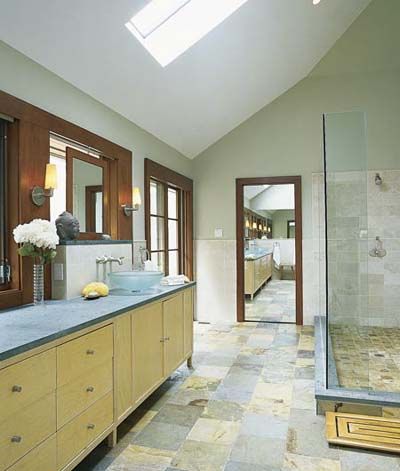 The owners of this home, self-declared gym rats and outdoor sports enthusiasts, were tired of fighting for shower time and bathroom space. Annexing a section of a second-floor roof deck, they created a spacious master bath with double vanities and a two-person shower. To achieve a clean, open look, they incorporated rich, natural materials like slate floor tiles, limestone on the wall, and a mix of maple and mahogany cabinets. Two skylights and a sliding door to the deck connect the space to the outdoors.
Mirror, Mirror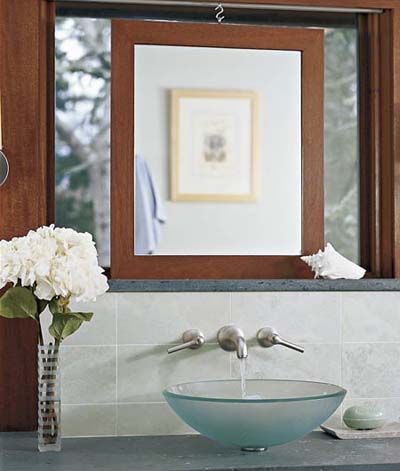 A framed mirror is suspended from the window casing above each Kohler vessel sink.
Hidden Closet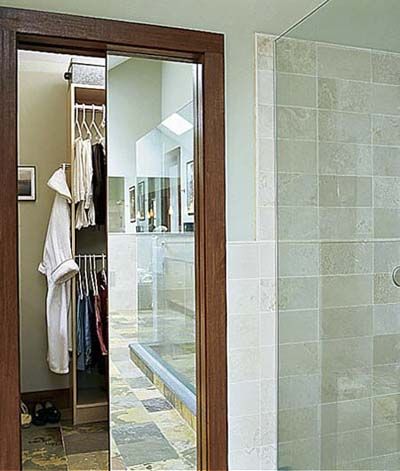 Another framed mirror serves as a closet pocket door.
Shared Shower
The 5-by-8-foot limestone shower is partially enclosed in frameless glass to preserve the view outside. In addition to two showerheads and multiple body sprays, it has built-in corner seats and wall niches for toiletries.
Master Plan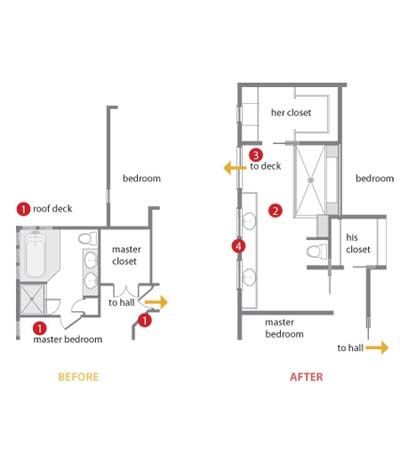 Before: The old bath had everything but room to move.
After: Nearly doubled in size, the new space has an extra-long vanity, a two-person shower, and a pair of dressing closets.
What They Did
1 | Enclosed part of a deck.
By taking in a 10-by-11-foot section of an adjoining roof deck over the garage, the homeowners enlarged their master bath to a 10-by-19-foot space. They also relocated the bedroom door that leads to the bath and the one to the hallway.
2 | Created an efficient room for two.
An extra-large, two-person shower, twin sinks, and his-and-hers dressing closets allow a busy couple to clean up at the same time.
3 | Saved space with sliding doors.
To keep open doors from jutting out into the long, narrow room, pocket doors were installed on
the closets and sliders put in to give access to the deck.
4 | Brought the outdoors in.
Windows above the vanity, sliding French doors to the deck, and a pair of skylights in the 12-foot cathedral ceiling bring light and views into the room. Organic materials—limestone walls, a gray honed-slate countertop and shower seats, maple and mahogany woodwork, and a multicolor, cleft-finish slate floor—also usher nature indoors.