Period Pieces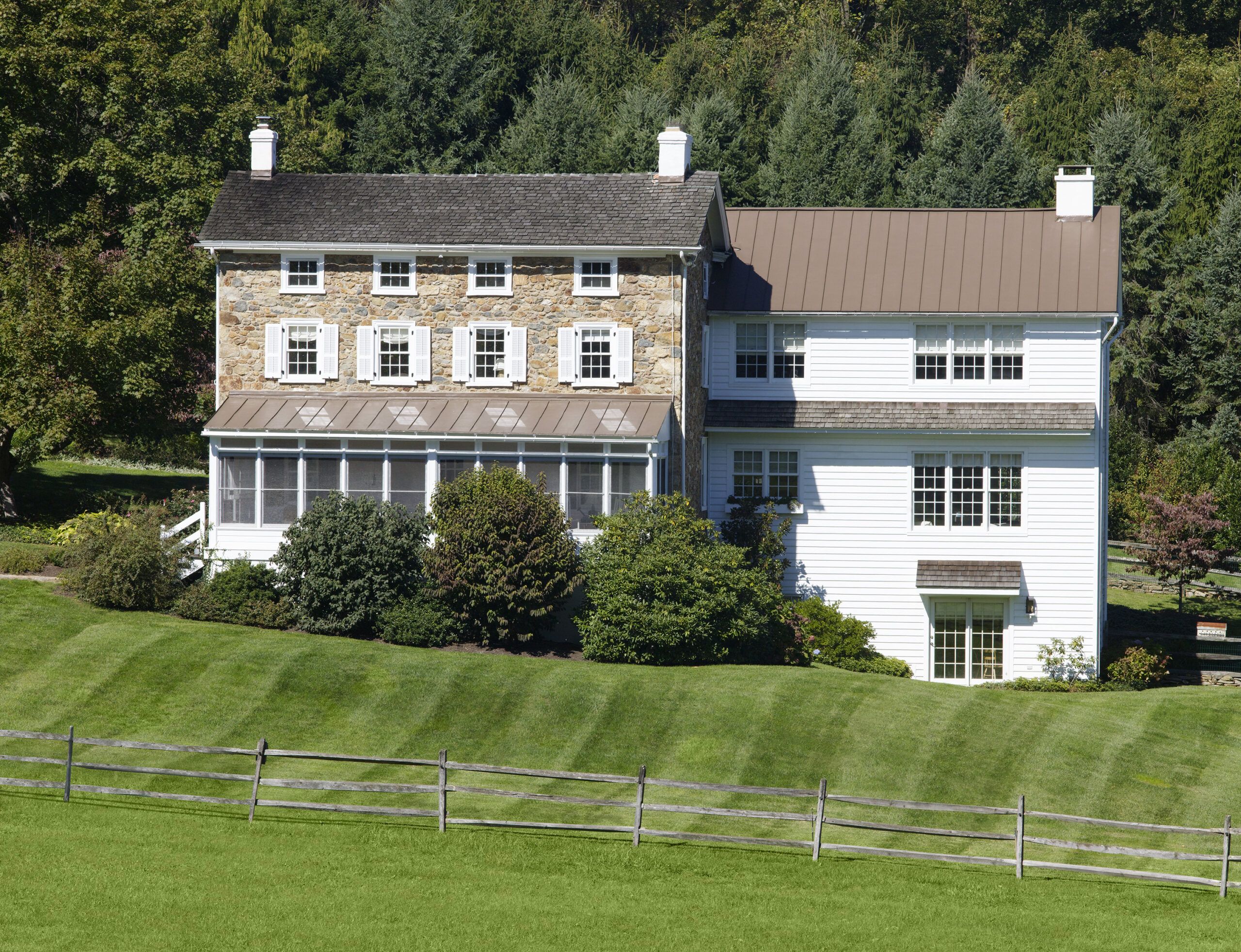 Few things are as great as getting your home's particulars just the way you want them: the marble slab at the right height for rolling out pie dough, a dimmer control that correctly calibrates the lighting, a barstool that's not just cool but comfy.
But it's not everyone who conjures a wish list like Joan Riddle's.
Shown: The original house was built with stone from the surrounding fields, likely in the 1840s or '50s, when this area of Pennsylvania was bustling with newcomers.
Windows and doors: Marvin
Kitchen with a Colonial Touch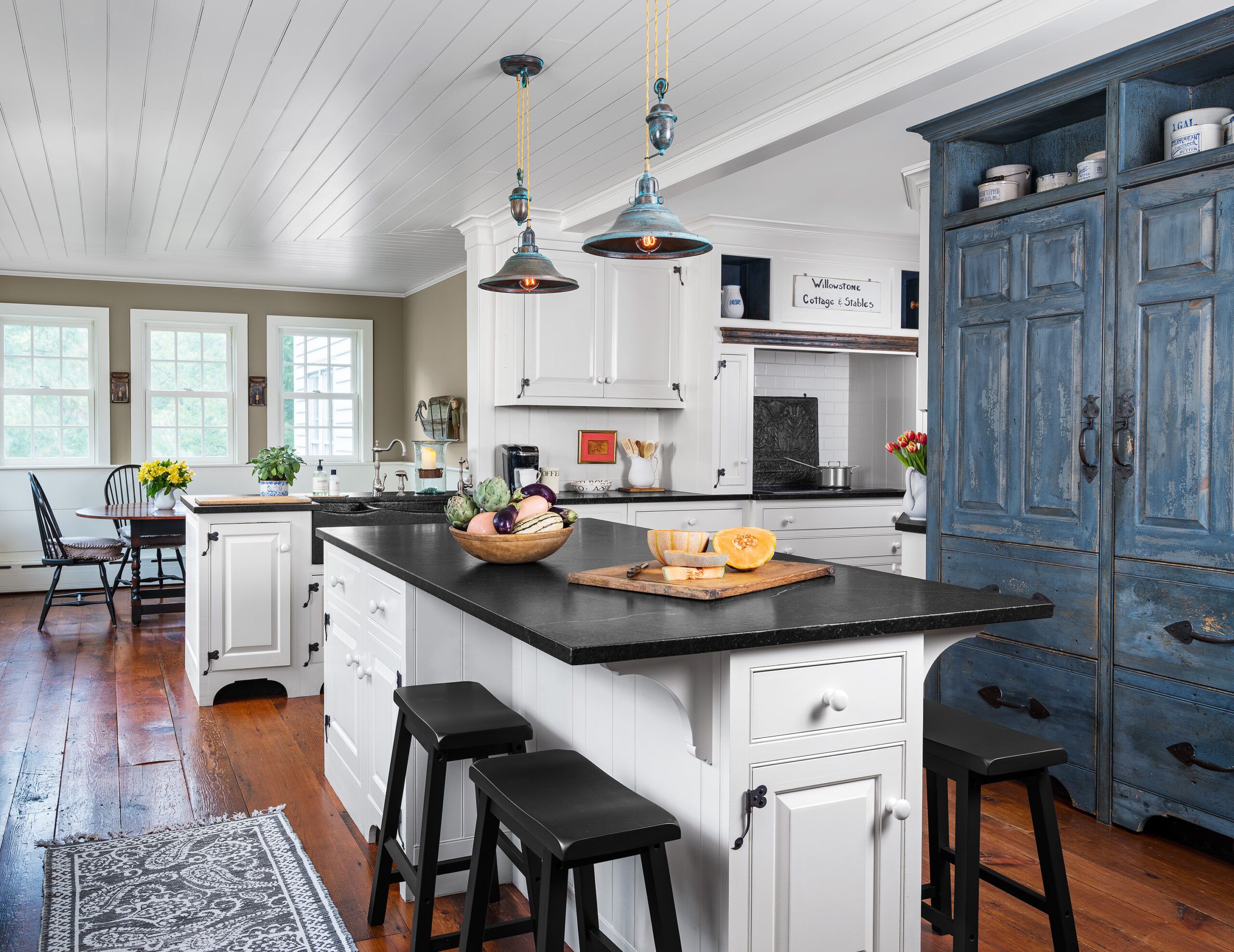 "You saw the sinks: We struggled with them. That's Joan," says her longtime general contractor and major fan, Mark Hoopes. Those sinks would be the two cast-iron wall hangers in the master bath. Except she didn't want them to hang, but to sit. "She gets these quirky ideas, but then she does her research and makes it happen," Hoopes continues, "and that's why it's so much fun to work with her."
Shown: Soapstone countertops and brush-painted cabinets, including a colonial-blue "armoire" that hides the refrigerator and freezer, give the kitchen a been-there-awhile look.
Fireback over cooktop: Monroe Coldren and Son Antiques
Versatile Island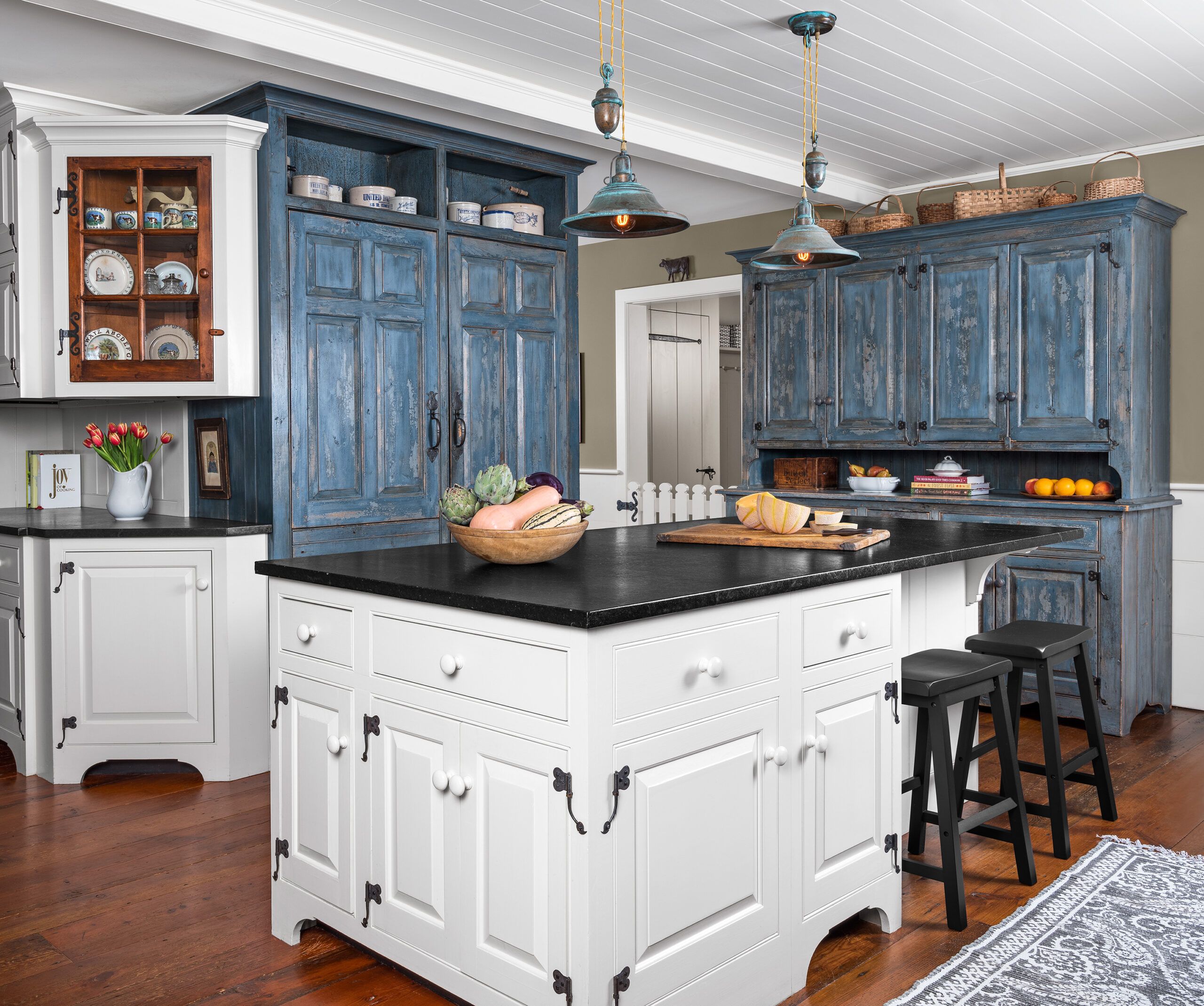 Attention to detail and some fun are what friends and associates have come to expect from Joan, who shares her sprawling house in Chester Springs, Pennsylvania, with a menagerie of pets and an accommodating husband, Tim. The household also includes offspring, Kate and Joe, now grown but often around. In fact, the latest installation, a basement pub, was Joe's idea.
But let's back up.
Joe was born the year after the couple moved into the four-bedroom, three-and-a-half-bath house and began tinkering. As the years went by, their sights shifted among the house and the grounds and the outbuildings, which include a stone barn. You've heard of slow food? Think slow reno.
Shown: The kitchen island holds all kinds of surprises, like a pull-out ironing board to touch up table linens and a cabinet on the fridge side with a press-latch opening where the kids used to hide their toys and Halloween candy.
Custom cabinets: Timeless Kitchen Cabinetry
Cabinet paint color: The Real Milk Paint Co.
Refrigerator and freezer: Sub-Zero
Cooktop and wall ovens: Wolf
Countertops: Bucks County Soapstone Company
Butler's Pantry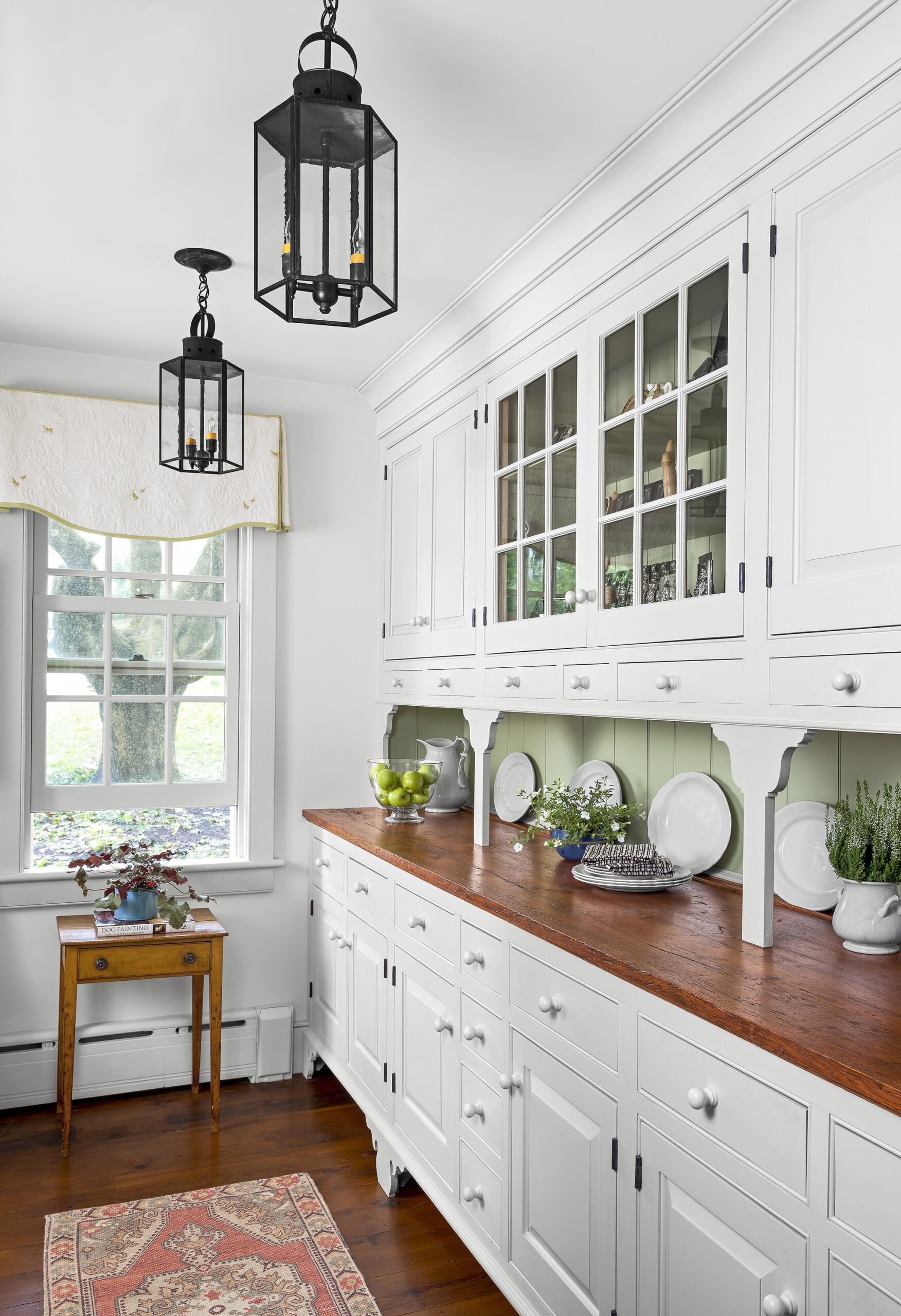 The couple had inherited a crazy quilt of old and new. While the township started keeping records only in 1996, the stone walls in one section of the Riddle house probably date to the 1840s, when the house would have been two rooms over two, with attic living space and a below-ground kitchen, according to a 1980 document prepared for a state historical commission. Jim Helms, a neighbor who serves on the local historical commission, speculates that the stone walls may have been built by masons who arrived with an influx of Lutherans in the 1840s, but he throws his hands up when it comes to the barn. While 1805 is inscribed on a date stone, that year may refer to the barn's predecessor.
Shown: The butler's pantry has salvaged pine flooring, period-style windows and built-ins, and a stained-oak countertop.
Attention to Hinges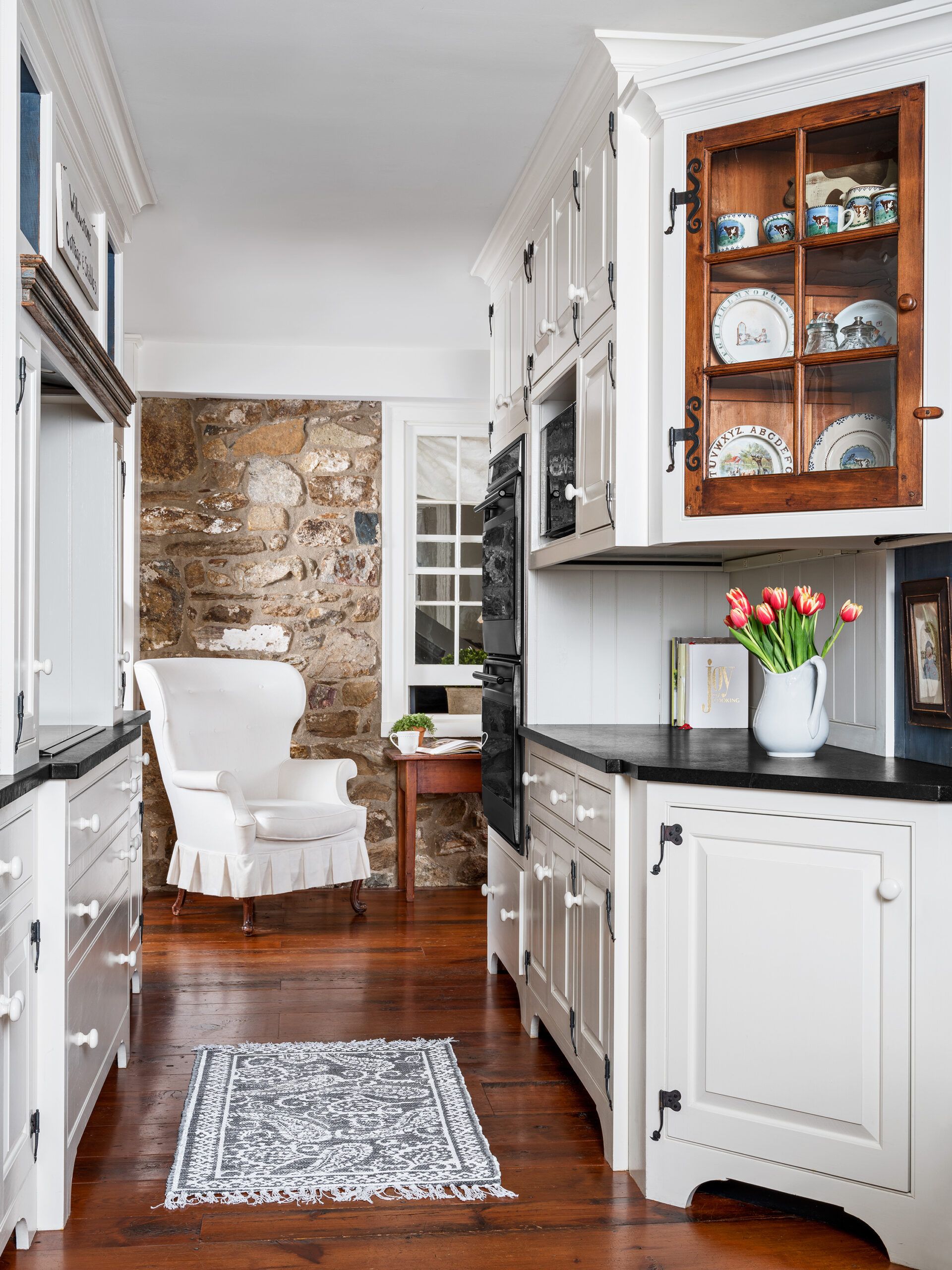 House, barn, and caboodle couldn't have fallen into the hands of more passionate history lovers. Asked for the sources of her reno inspiration, Joan says she has always enjoyed books about period architecture—including one of her favorites, Survey of Chester County, Pennsylvania Architecture: 17th, 18th and 19th Centuries. When the couple moved in, the kitchen had last been renovated in the 1970s and was sitting in a Depression-era addition with "very scary electrical," Joan recalls. There was also a white-sided three-story addition, also likely from the '70s, rising on one side to nearly dwarf the main house. Between the original stairs and the ones in that addition, Joan says, it was easy to get lost.
Shown: Rustic stone walls—exposed during the renovation—reinforce the history of the house. The kitchen addition was designed in the same spirit, with salvaged heart-pine floorboards and details like the cabinets' rat-tail hinges.
Rat-tail hinges: Monroe Coldren and Son Antiques
Salvaged wood flooring: Waltz Millworks
Stonemason: Dennis H. Miller
Joan Riddle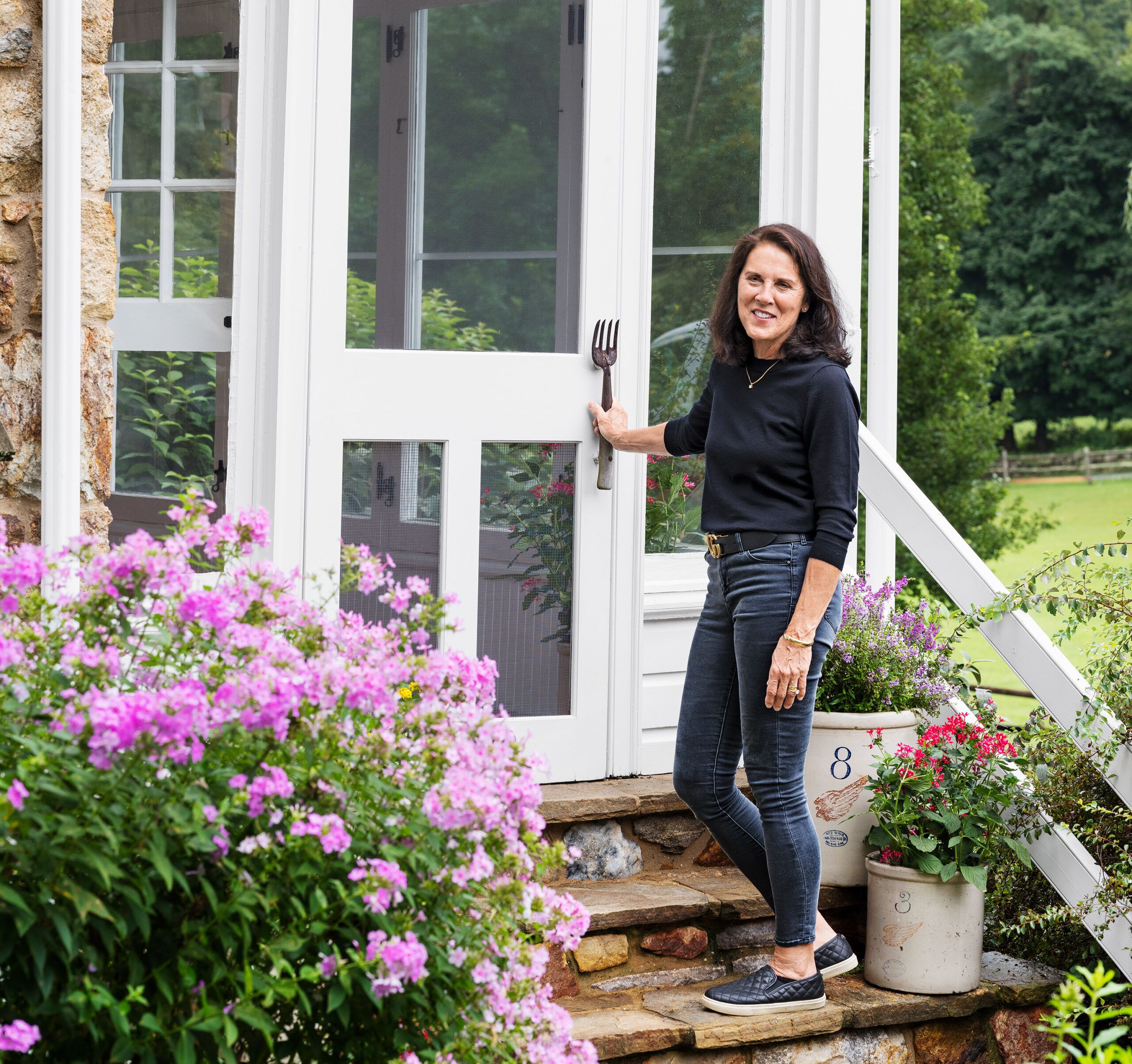 "The house was in great shape and well taken care of, but too contemporary for my taste," Joan says. The couple stripped wallpaper and painted, and changed every light fixture, aiming for "a farmhouse look." Their budget was small, so work inched forward, not all of it, Joan notes wryly, involving "fun" stuff. They replaced windows and doors, relined a chimney, put in a new furnace, shingled the roof, replaced plumbing and wiring, and put down terra-cotta-look tiles while repairing the porch, which tilted. "The 1930s work was a mess, but we didn't uncover that until we did the kitchen," Joan says, alluding to their first real undertaking and the discovery of odd electrical fixes inside an exterior wall.
Shown: Homeowner Joan Riddle climbs stone steps she and husband, Tim, added, along with a patio, to one side of the porch.
Exterior paint: Sherwin-Williams Superwhite
Dining Room
"That's what's so much fun with old houses," Hoopes says kindly. "You uncover history and you are scratching your head, asking, 'How come that's never started a fire?' "
This wasn't just any old exterior wall, Hoopes notes, but "a wall bearing the second-floor joist system, right up to the rafters." Working with architectural designer Susan Frens, Hoopes left the old kitchen intact—thus preserving access to hot meals at the height of a major remodel—and took up the proverbial sledgehammer only after the new addition was weathertight. To keep the house standing, he and a small army gradually raised and installed a cumbersome 22-foot engineered beam. Then "we had to secure fasteners to the existing joists in the old house and get everything set up so it wouldn't sag," Hoopes says.
Shown: The dining room has its original yellow pine floorboards, finished with a sisal rug and period-inspired furniture and lighting.
Quilted Landing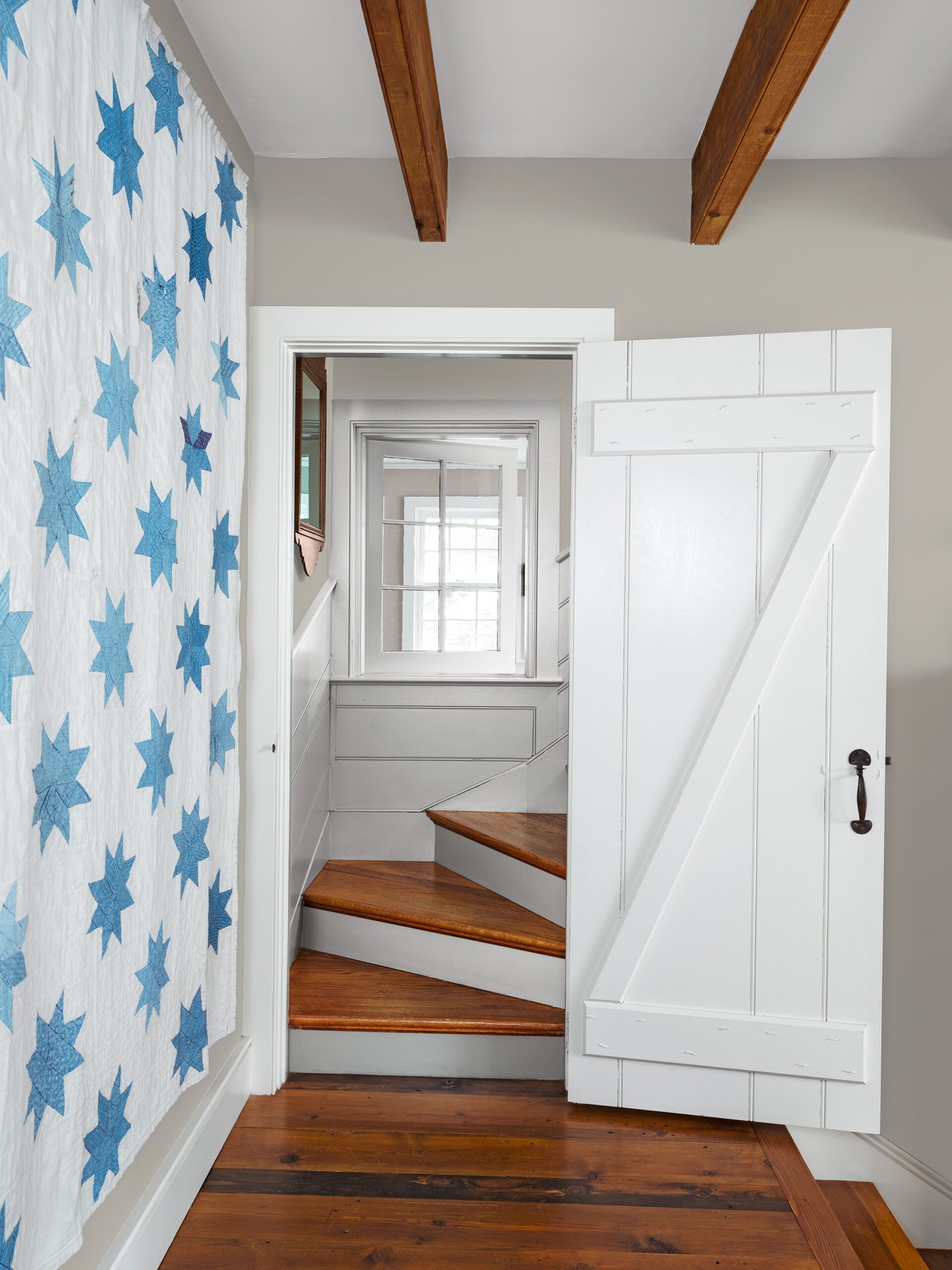 The addition, which added 481 square feet, and also required relocating the septic tank, allowed the kitchen to expand and new spaces to fit together like jigsaw puzzle pieces—"modern things needed by a modern family," Frens says. She clustered a butler's pantry, a mudroom with its own side entry, a powder room, and a laundry area on one side and the more public spaces, with a rear entrance, on the other.
Shown: In the family room, the homeowners added a board-and-batten door and replaced a 1970s window with a vintage one that now overlooks the kitchen. Joan's sister, an antiques dealer, contributed the circa-1900 quilt.
Quilt: Crocks and Quilts, Alexandria, MN
Family Room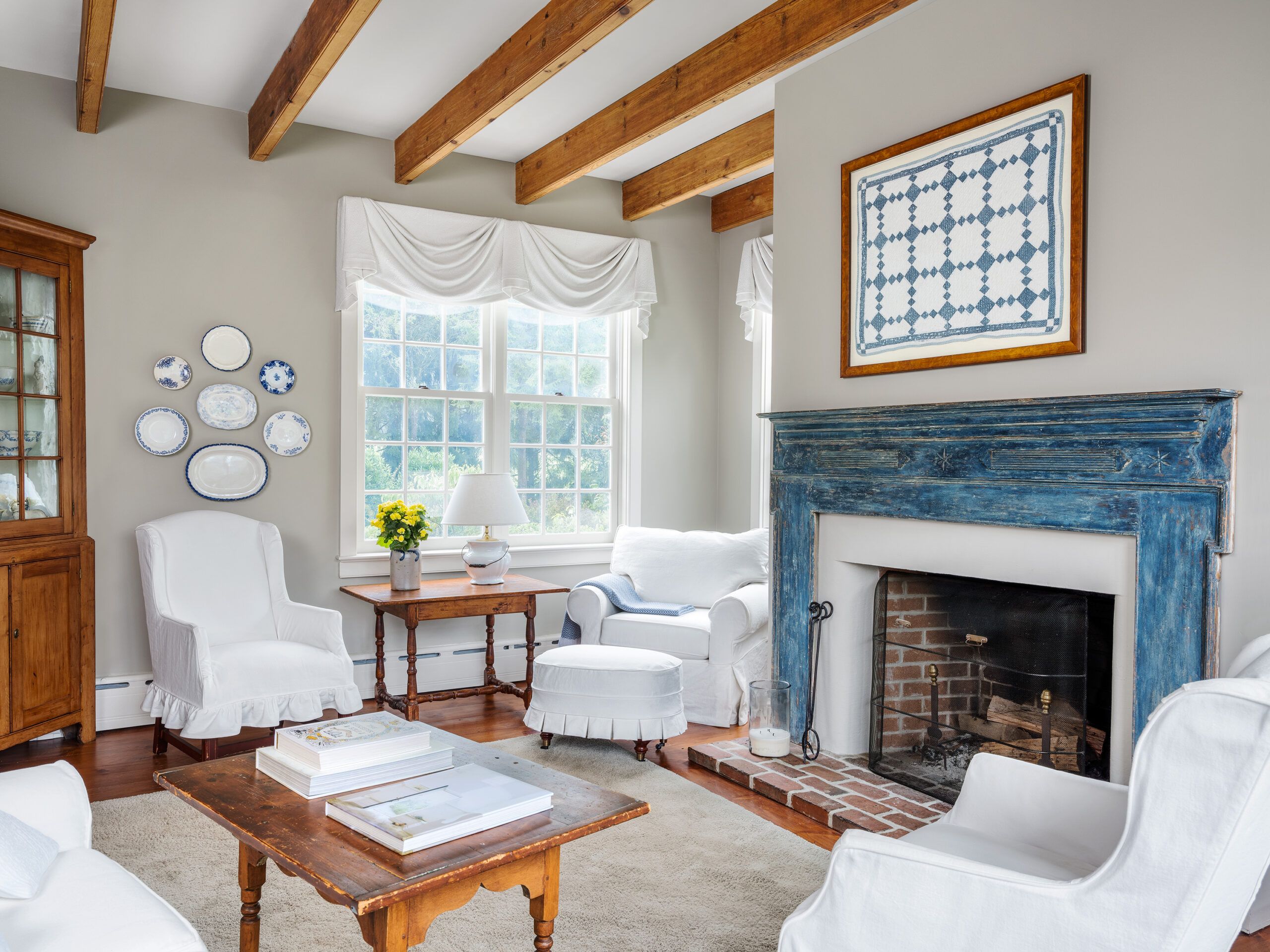 Frens worked to create an open traffic flow, with a straight shot from the rear entrance to the stairs in the original core of the house. The expanded kitchen and a new breakfast area connect to the side addition and its step-down family room. While sunken rooms may sound strictly 1970s, "typically, stone houses have level changes," she notes.
Shown: A framed baby quilt over the mantel and decorative beams salvaged from a Lancaster County shoe factory add warmth to the existing family room, which was a 1970s addition. Joan specified many of the custom slipcovers' dressmaker details.
Maple Canopy Bed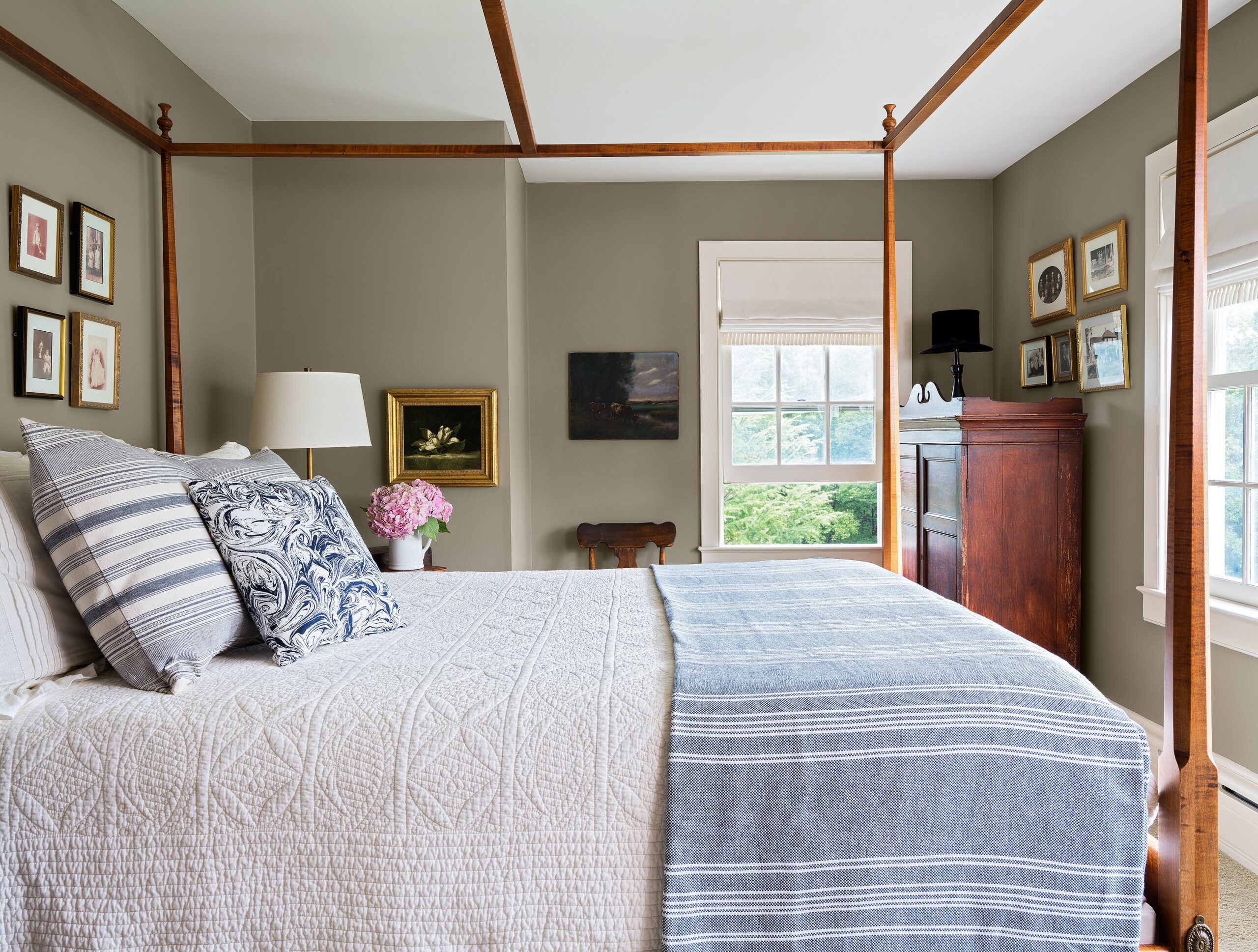 Capped by standing-seam metal, the addition is out of view from the road, and incorporates details that allow it to stand proud as something new while also striving to blend in. "Windows were scaled to the original, and with a farmhouse we like to repeat the trim, but not to the same size," Frens says.
Shown: A period-inspired maple canopy bed graces the master bedroom.
Wall paint: Benjamin Moore Pelham Gray
Bath Expanded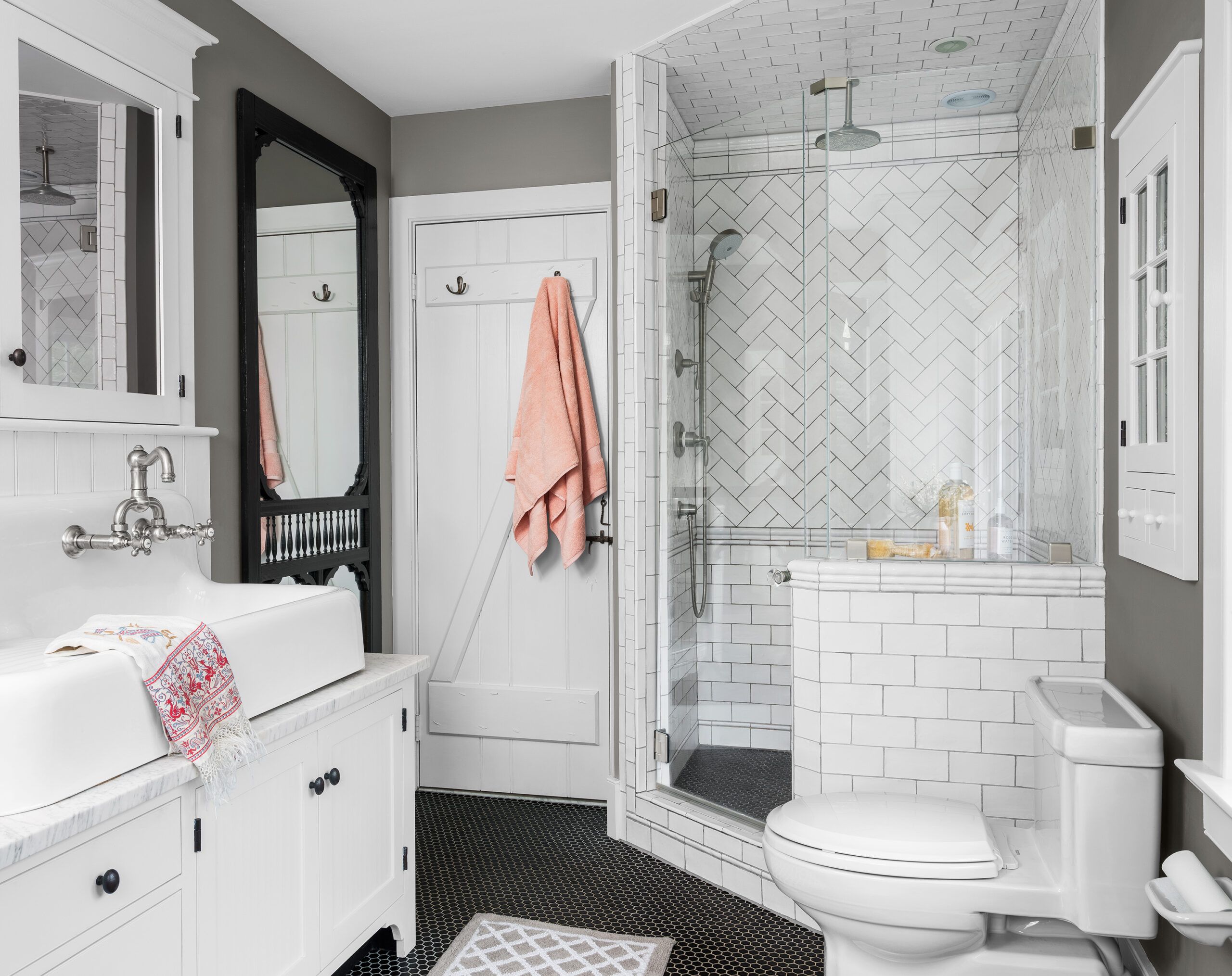 With the help of an old friend and interior designer, Julie Rice Beeson, Joan chased down paint colors, antiques, and finishes that would further the broken-in look. The addition's flooring combines reclaimed heart pine and bricks salvaged from a street in Wilmington, Delaware. The amenity-filled kitchen was also designed "to make it look like it had been there for a while," says cabinetmaker Kevin Ritter, who together with his dad, Bryce, a furniture maker, built simple cabinets, brush-painted white to look like throwbacks. They finished them with wax, and with colonial rat-tail hinges, meticulous replicas handmade by local metalworker and hardware historian Tim Coldren, based on ones Dutch settlers used.
Shown: The homeowners gutted the master bath to make room for a double vanity and a generous shower enclosure. A vintage screen door was used to create a wall mirror.
Wall paint: Benjamin Moore Dolphin
Trim paint: Sherwin-Williams Extra White
Toilet: Toto
Shower fixtures: Grohe
Two Sinks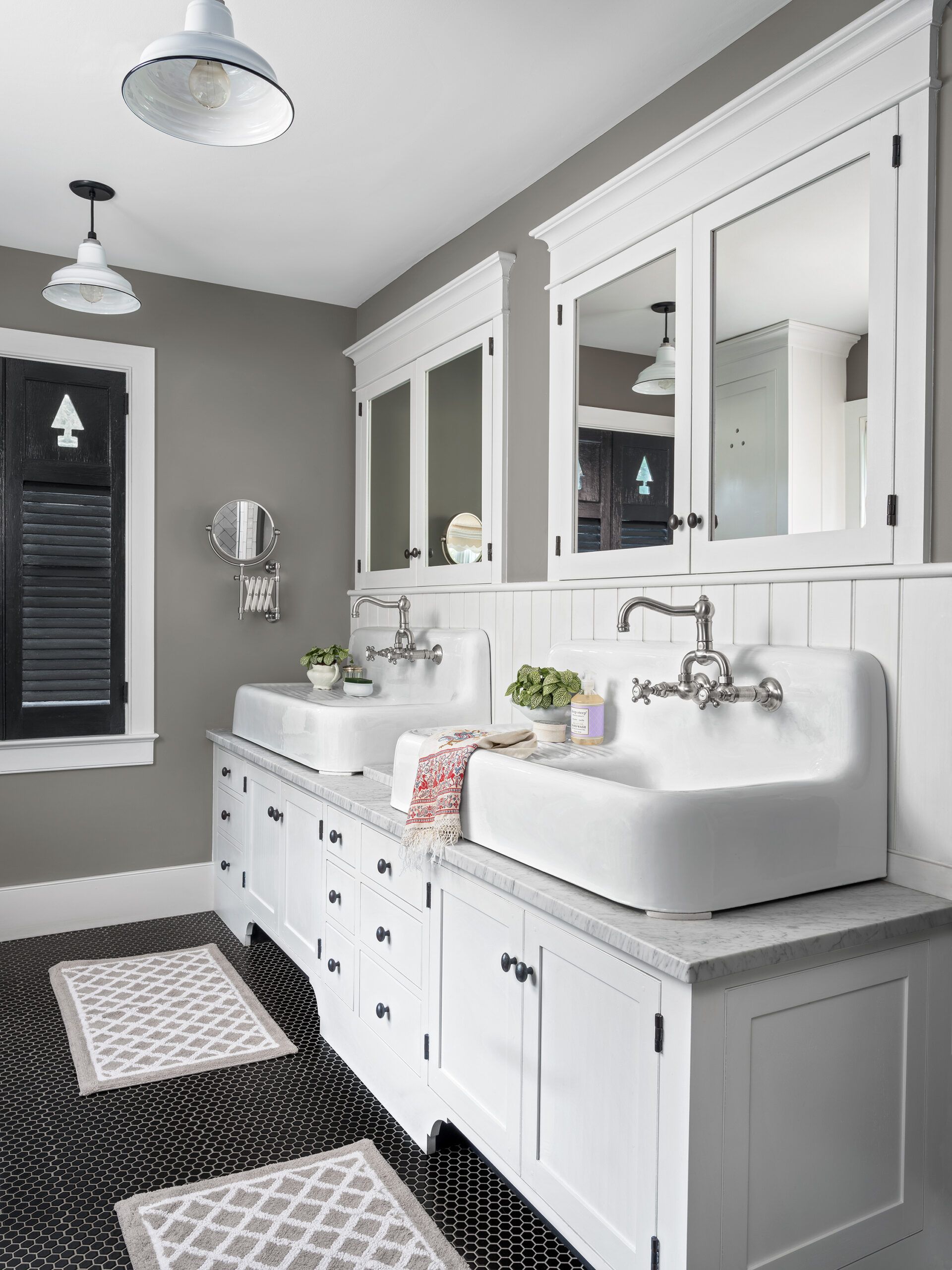 The Ritters created armoire-style cabinetry to hold the built-in refrigerator and freezer columns and a hutch-like built-in, both finished with brushed-on milk paint in the same colonial blue as the fireplace mantel, a vintage piece previous owners found and restored. Hoopes pieced in more salvaged pine flooring in the new spaces and, in the family room, added decorative beams with wood salvaged from an old shoe factory.
Shown: Cast-iron wall sinks sit on shims atop a custom vanity with a marble top. Black marble hex tile covers the floor.
Sinks: Signature Hardware
Faucets: Rohl
Cabinet hardware: Whitechapel Ltd.
Floor tile: Eagle Tile & Marble
Vanity and cabinets: Jeffrey J. Williams Furniture Maker
Light fixtures: Barn Light Electric Company
Basement Pub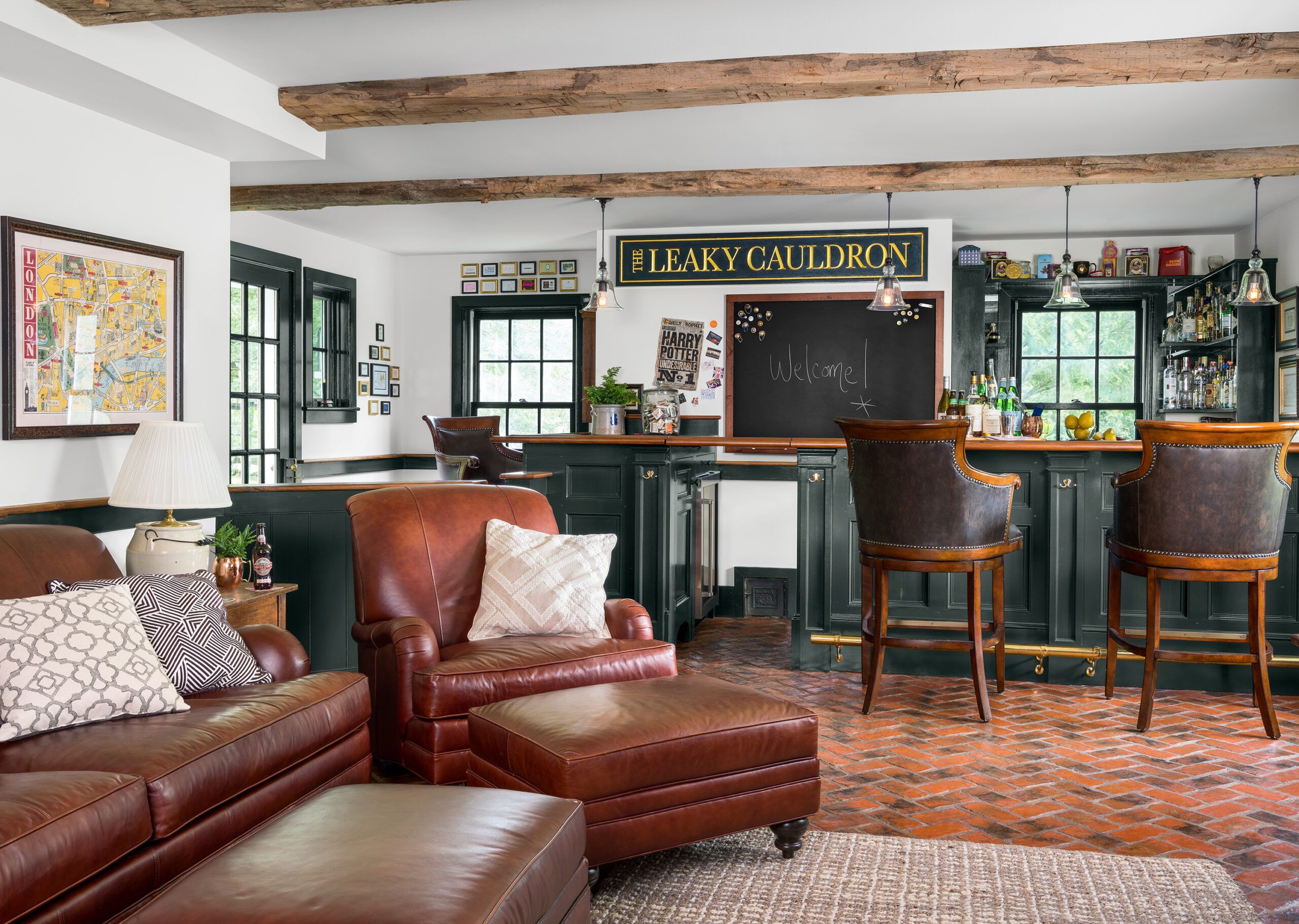 The house kept evolving as the kids grew. When Kate, then a teenager, claimed the third-floor bedroom and bath, her folks replaced the claw-foot tub with a shower. When she and Joe went off to college, Joan trained her sights on the master bath. Hoopes gutted and rebuilt it, eliminating the tub, expanding the shower, and adding radiant floor heating.
Shown: The family-friendly pub, in the basement of the 1970s-era side addition, has a Harry Potter theme. Radiant heat keeps the brick-veneer floor warm in winter.
Carpentry and flooring installation: Taylor Custom Woodworking
Brick tile: Inglenook Tile Design LLC
Tile setter: Dennis H. Miller
Paint color (trim): Benjamin Moore Black Forest Green
Barn Beams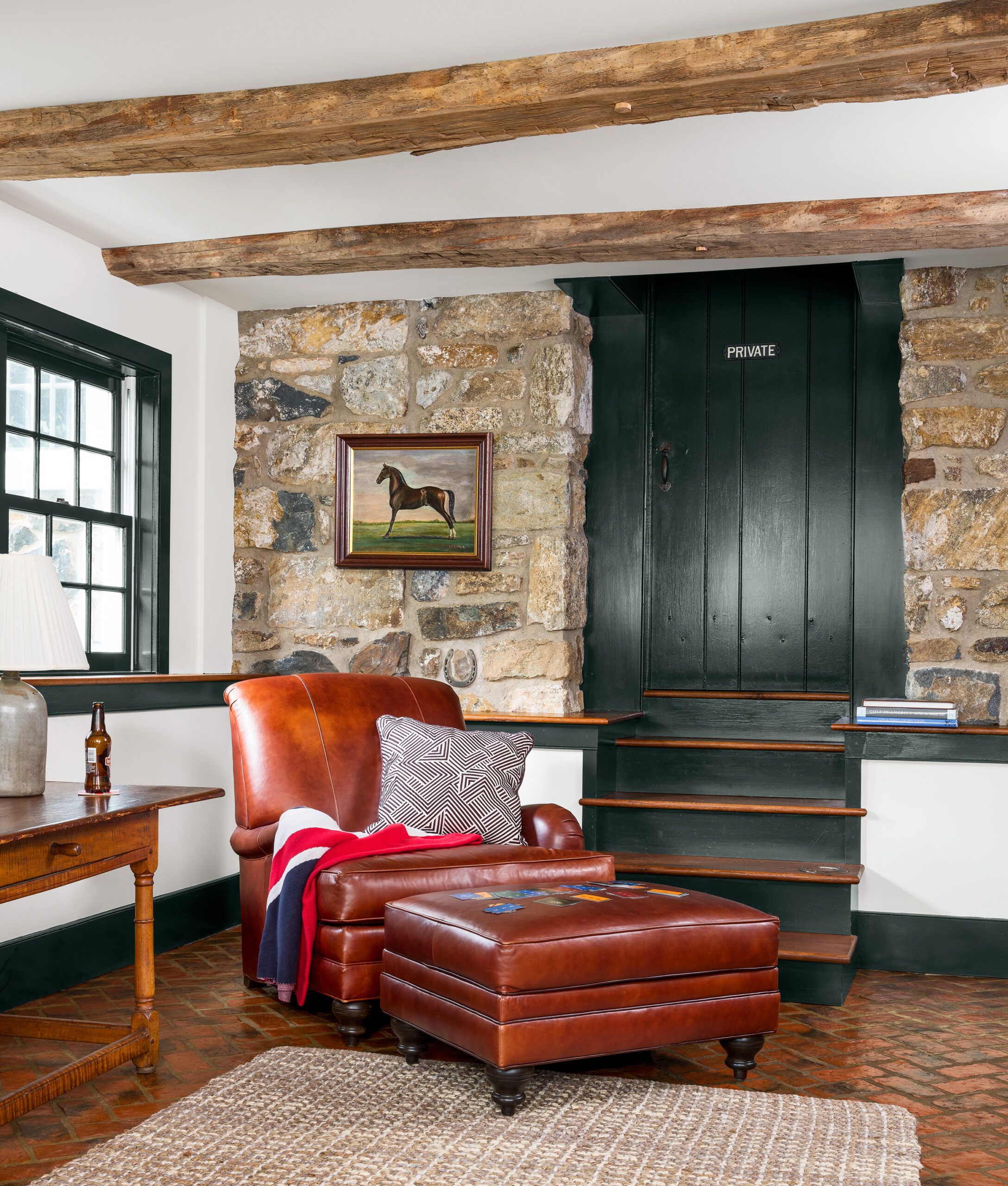 Each chunk of the house has a basement, which invited creative spelunking. Tim claimed the original portion, with its cook's fireplace, as his man cave. The walk-out portion under the side addition, formerly a playroom, became an outlet for the family of Harry Potter enthusiasts.
Shown: The decorative ceiling beams in the pub were made by splitting white oak rafters plucked from the property's barn. Steps lead to the family room.
Mudroom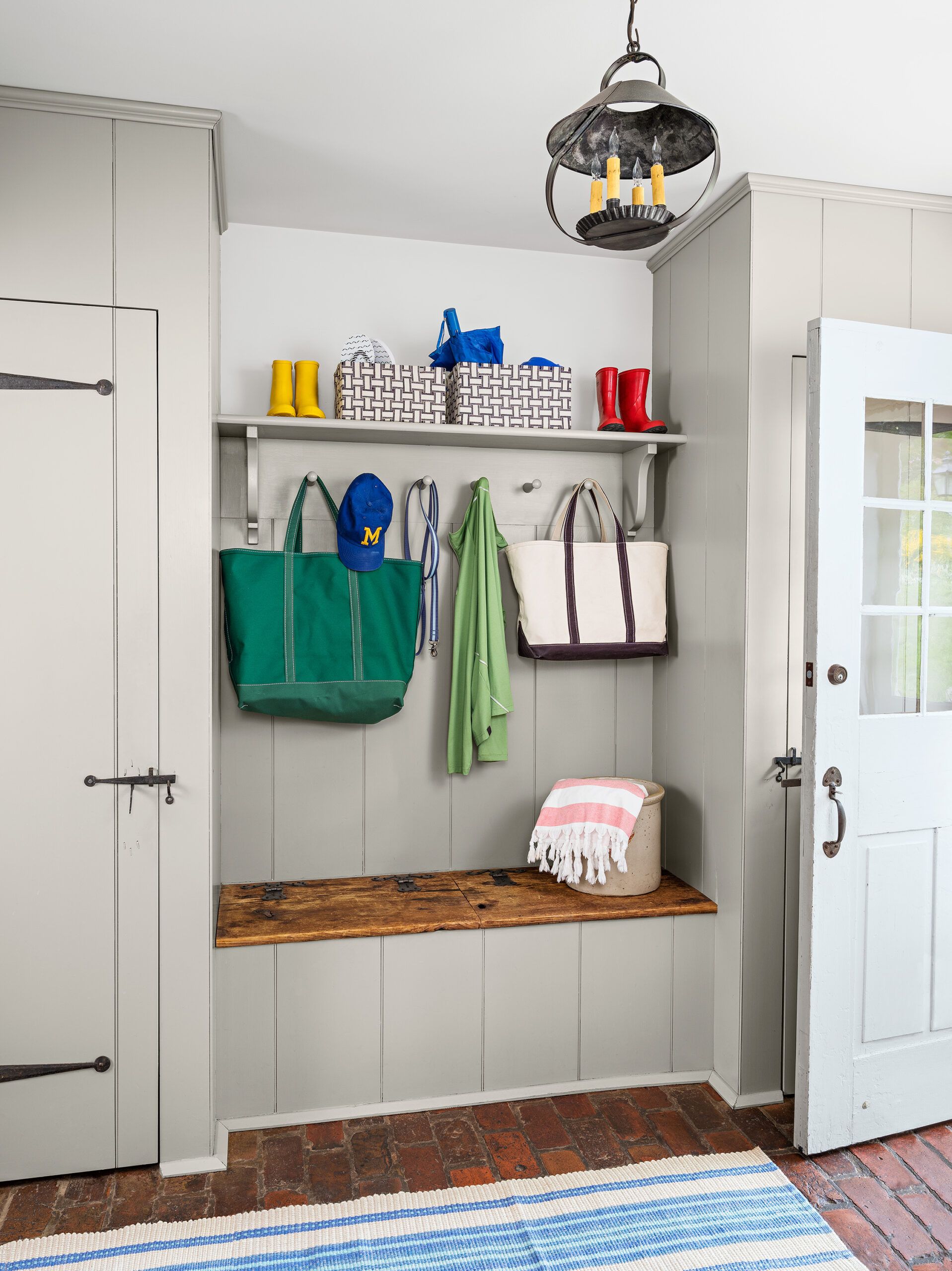 "We love London, and Riddle is a key name in the Harry Potter stories," Joan says of the pub's Leaky Cauldron theme.
By most accounts the house's resident space planner should be ready to put her feet up. But don't expect Joan to relegate home improvements to whatever is the opposite of a bucket list.
Shown: A mudroom area in the addition has its own side entrance and vintage-style lighting and hardware.
Upstairs Bedroom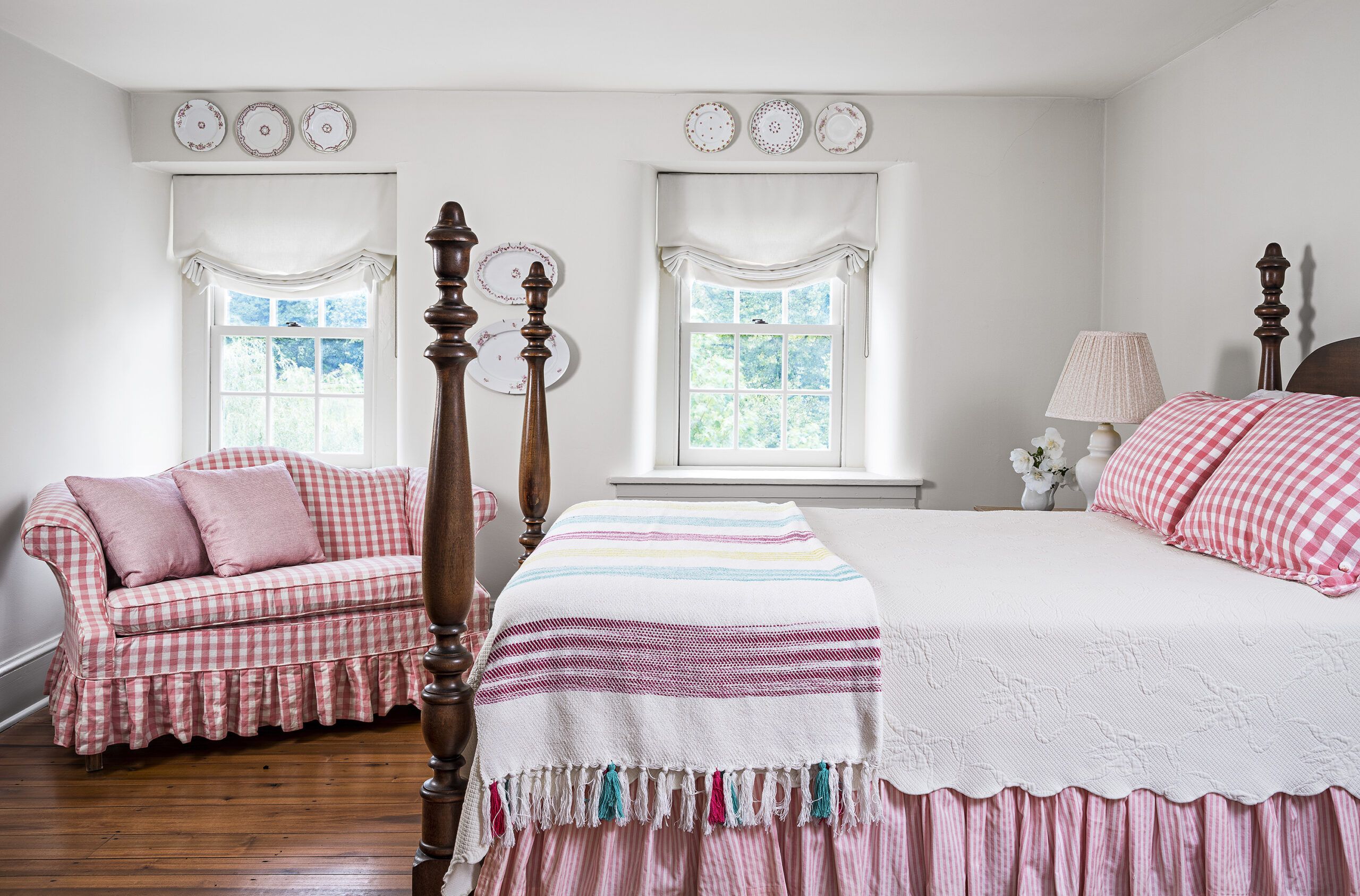 "We would think about things for a long time," she says, musing on serial renovations that have stretched over several decades. And Hoopes, her longtime collaborator, says he doesn't expect those ideas to stop coming anytime soon.
Shown: An upstairs bedroom in the original part of the house overlooks the backyard.
Terra-Cotta Porch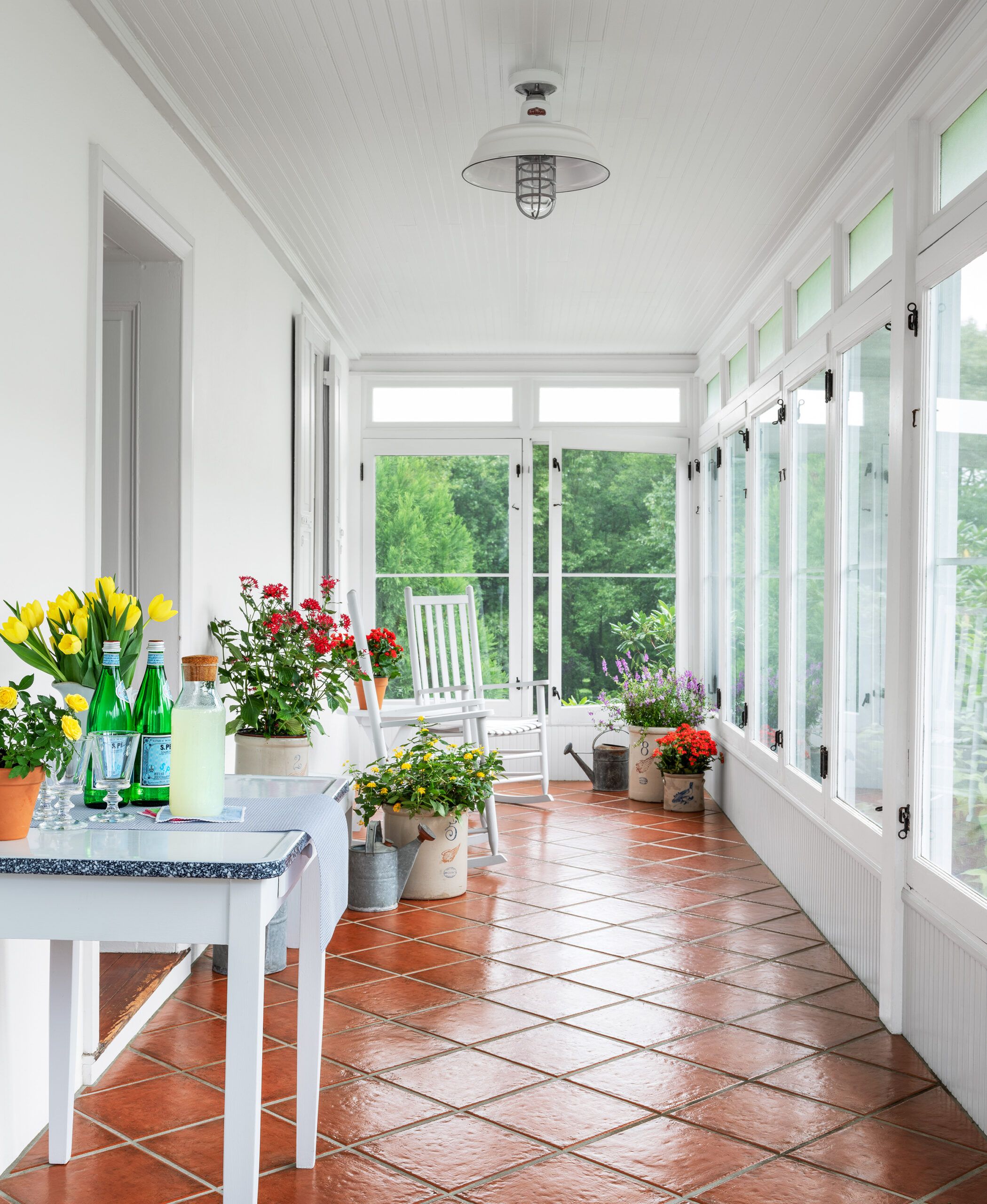 The front porch, likely added in the 1940s, has new terra-cotta-look tiles, installed at an angle to visually expand its corridor-like dimensions. The family likes to gather here during thunderstorms to watch the clouds roll in.
Restored Hearth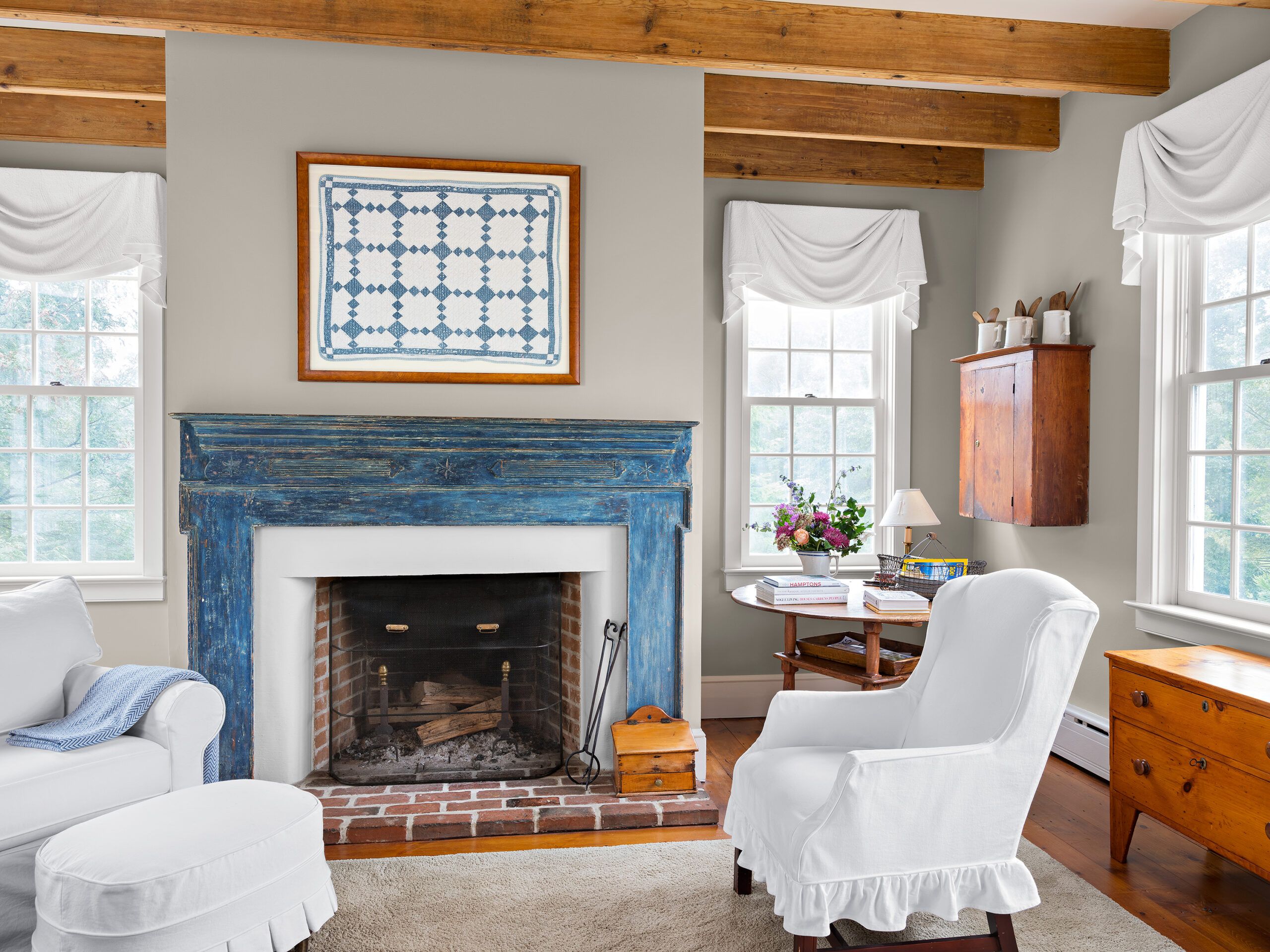 Previous owners salvaged and restored the blue fireplace mantel in the family room addition. The current owners added the decorative ceiling beams.
Floor Plans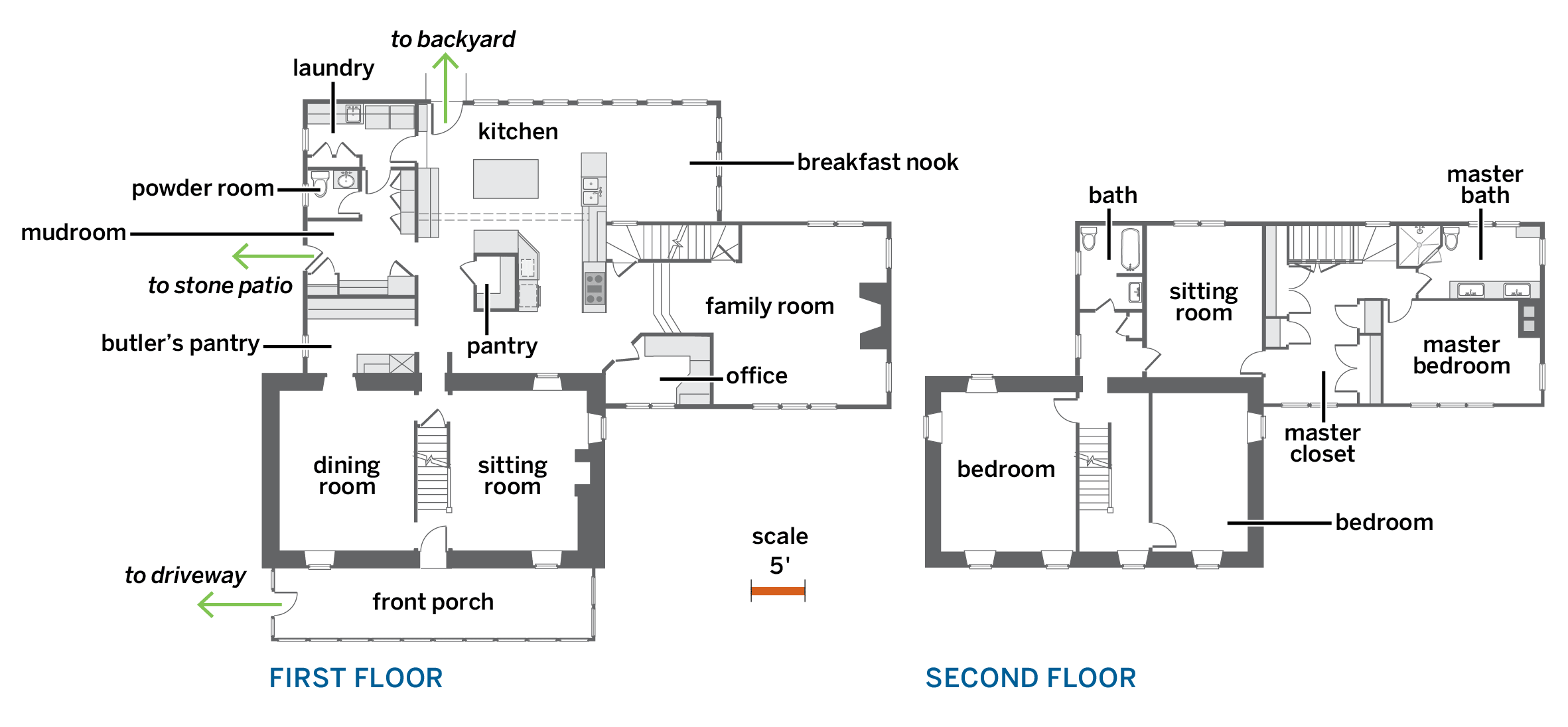 A one-story rear addition from the 1930s was replaced with a larger one that holds the new kitchen, pantry, powder room, mudroom, and laundry. This added 481 square feet to the 3,494 on the first and second floors. A dining space was reworked as an office area, and upstairs, the master bath lost a tub and gained a large shower. On the third floor (not shown), a bath was rebuilt, and a playroom in the basement (not shown) was converted into a pub.