Artfully Battered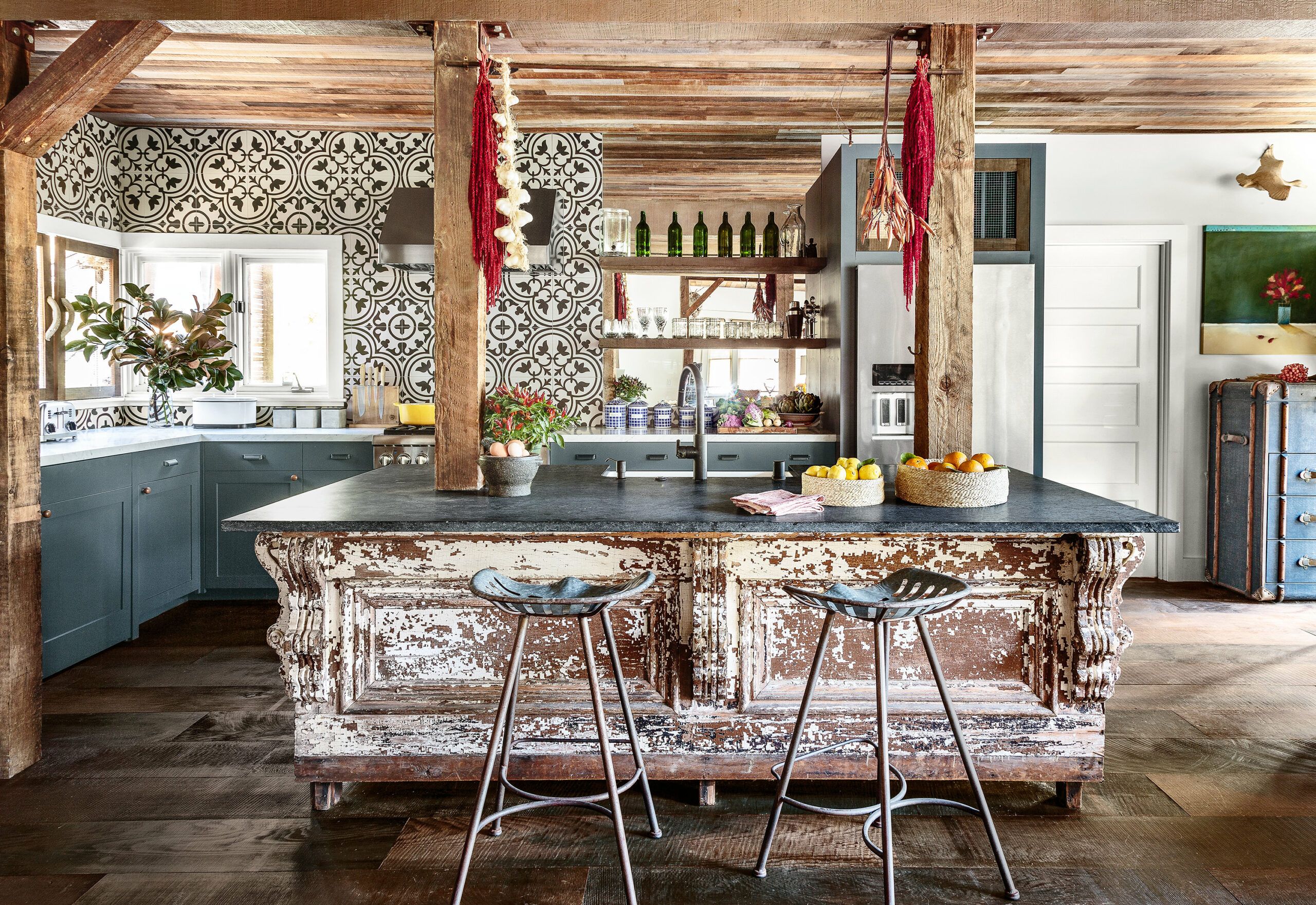 They say the cobbler's children have no shoes, but if that truism were always apt, Scott Kalmbach's kids would be living in tents. Instead, Finn, 16, and his sister Remy, 13, roam around a rustic-modern two-story house filled with fun artifacts like animal bones and a reclaimed wasp's nest. When they get bored, there's the yard, which their dad, a real estate agent and serial house renovator, compares to a Costa Rican adventure park. Maybe it's the zip line over the creek in back, which Remy uses to get to school.
Shown: The artfully battered island started out in one of Scott Kalmbach's furniture stores. It's now the focal point of his family's renovated kitchen, where soapstone, marble, and porcelain-tile surfaces blend with exposed posts and a reclaimed old-growth-redwood ceiling.
Salvaged redwood: McMullin Sawmill
Paint: Normandy (cabinets); Benjamin Moore
Tile: SpecCeramics
Sink: Rohl
Faucet: Watermark Designs
Refrigerator: KitchenAid
Charcoal Front Entry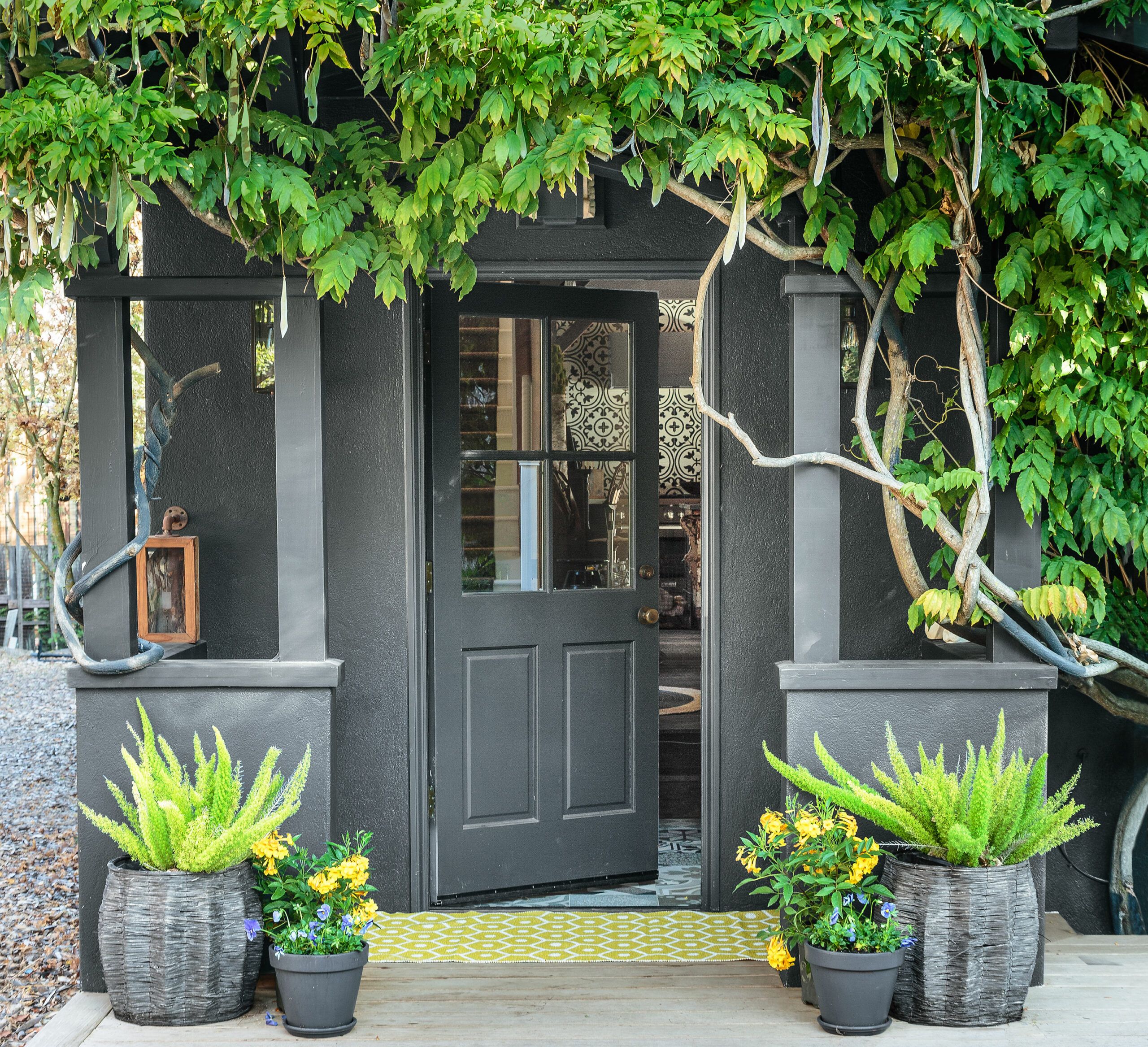 It wasn't supposed to be this way. When Scott first spotted the stucco house, built in 1930 in a quiet neck of misty, redwood-forested Mill Valley, California, he and his family were ensconced in a sweet little bungalow nearby. So he sold his business partners on the idea of investing in the property for resale. "It had charm and character and a great vibe I thought we could build on," he recalls.
Shown: Charcoal-gray paint gives the 1930 house an updated look.
Exterior paint: Stormy Sky (facade); Benjamin Moore
Crazy-Quilt Entryway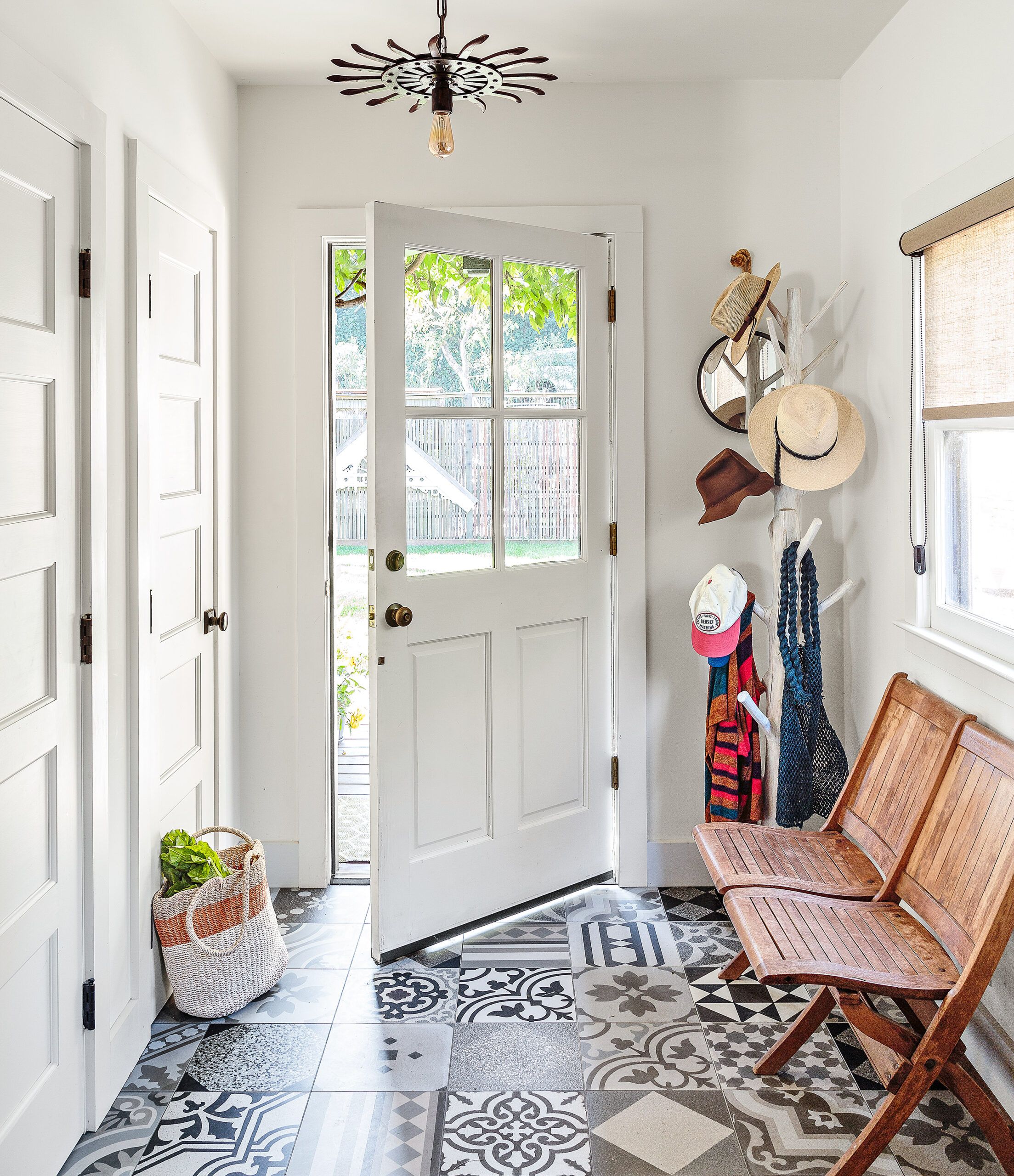 That was two and a half years ago. Well into the partners' fix-and-flip reno, Scott had a change of heart and decided this was no investment but rather the potential embodiment of his easy-living dreams—and a game of catch-and-release became a matter of catch-and-keep. After persuading his wife, Tjasa Owen, to endorse the adventure, Scott bought out his partners. Then he guided the reno away from the generic look the real estate market demands—all-white kitchen, lots of marble—and toward the family's eclectic world-travelers' taste.
Shown: The front entry has its original door, along with a crazy-quilt tile floor and a ceiling fixture made from a tractor part.
Tile: SpecCeramics
Paint: White Dove (walls); Benjamin Moore
Gymnasium Dining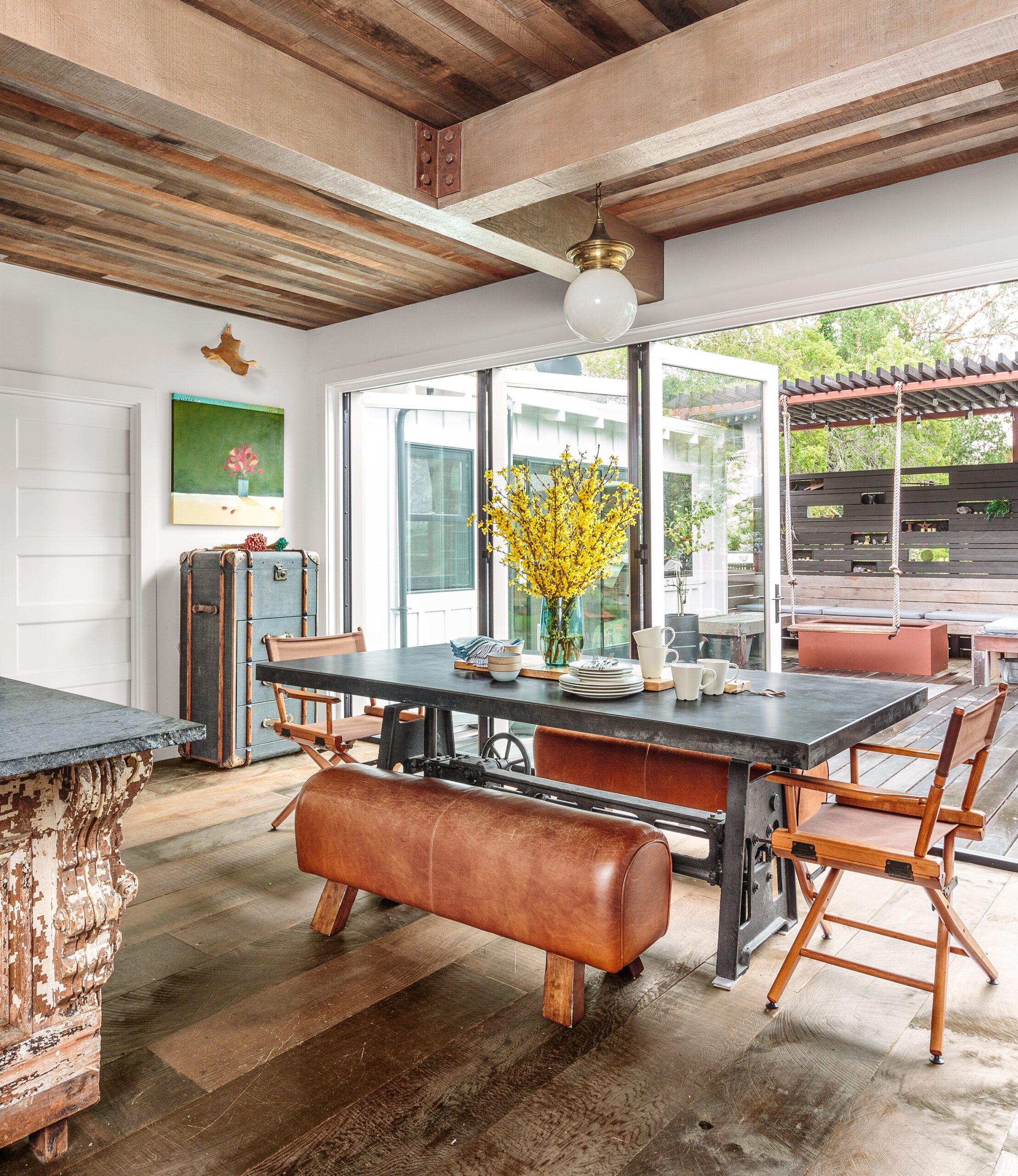 "We had recently sold our vacation house, in Sonoma County, and were missing the wine-country outdoor lifestyle," Scott says. "This house is in a neighborhood that has a rural feel, with larger lots, fewer houses, and more acreage and greenery than where we were."
Shown: A sidewall was rebuilt with a folding glass-door-and-panel system that opens onto an ipe deck that has a windowed privacy screen made from salvaged wood. The dining table's leather benches were inspired by a gymnast's pommel horse.
Glass wall system: LaCantina Doors
Dining table: Industry 8; Sonoma Country Antiques
Flea Market Furnishings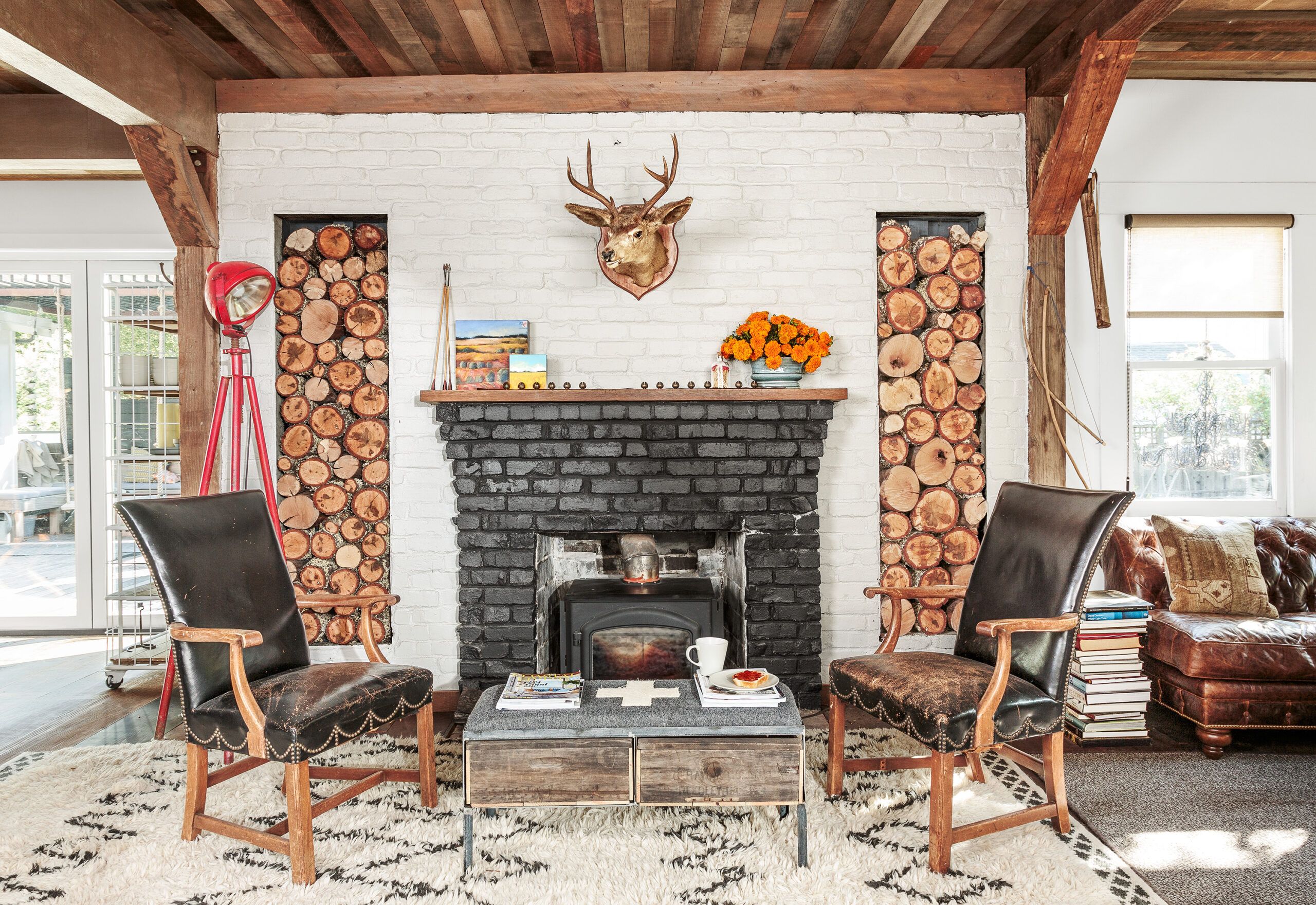 More important, he adds, "once I started spending time in it, I really fell in love with it."
With 2,300 square feet, the house was not too big, not too small, and the lot, at 18,000 square feet, was luxurious. Helping to seal the romance was that on-again, off-again creek, an assortment of mature fruit trees, and a funky trapezoidal pool—"Seventies style, but nevertheless a pool!" Scott says, adding, "With so much space to work with, I could keep myself busy for years making improvements."
Shown: The living room fireplace holds a woodstove, fed by a woodpile outside—the 3-inch log slices stacked on either side are a decorative flourish. Other furnishings were gathered at flea markets and during trips to Kenya and Bali. New windows and doors splash the house with daylight.
Windows: Marvin
Paint: Normandy (cabinets); White Dove (brick walls); Benjamin Moore
Hanging Out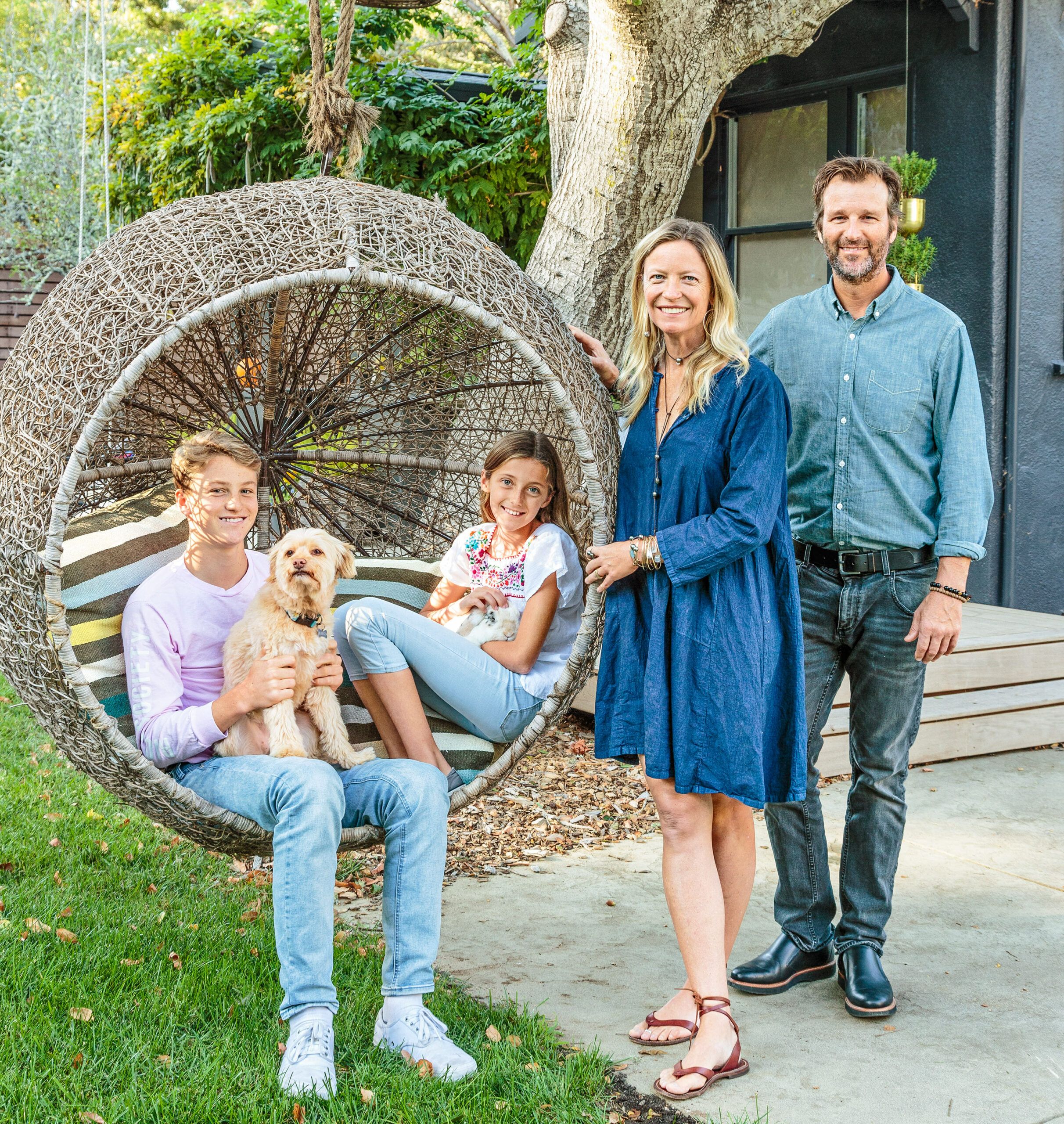 "The Energizer Bunny in human form," wife Tjasa says of her husband.
He had his work, as they say, cut out for him. The house came with three bedrooms and one and a half baths, plus a rental unit in a one-story board-and-batten side addition. The kitchen was partially open but, with its galley feel and tan floor tile, it didn't exactly evoke 21st-century style—and Scott likes to cook. The powder room was dated, as was the one faded full bath upstairs, and while former owners had bumped out the dining area with French doors opening to a deck, the house felt cheated—much of that great outdoor space was so near yet felt so far away.
Shown: Homeowners Tjasa Owen and Scott Kalmbach, with their children Finn and Remy, found the hanging globe chair in San Miguel de Allende, Mexico, a favorite destination.
Library Lounge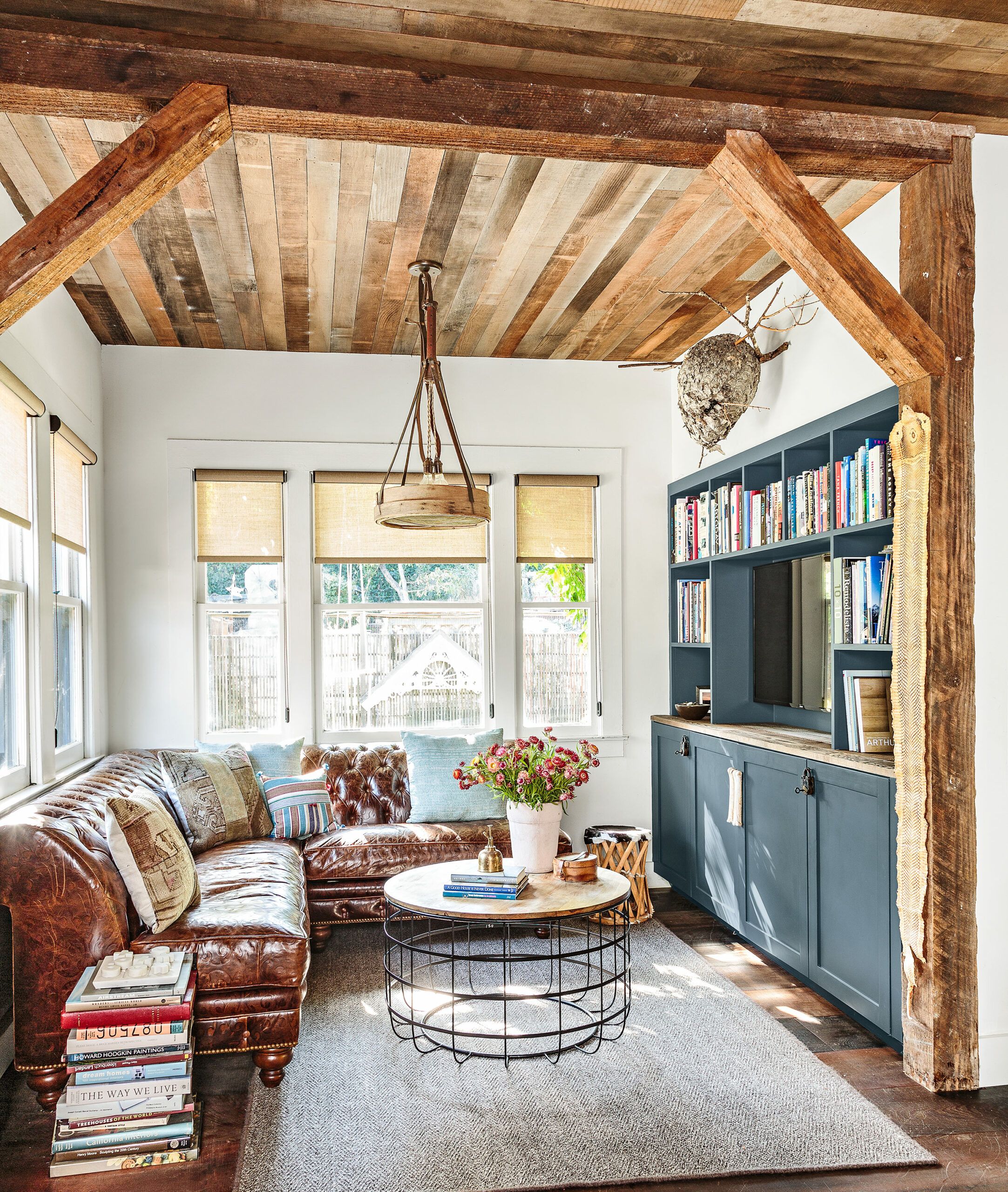 General contractor Justin Tupper found himself dealing with more mundane issues, from replacing the HVAC system to adding insulation and new plumbing and wiring. Not to mention, he says philosophically, "the house was not level"—no small thing since Scott wanted all new windows and exterior doors, including a seamless glass-door-and-panel assembly opening wide onto a new deck. To fix the sloping floors and handle the enlarged openings, Tupper would have to insert beams and repair and replace the framing, upstairs as well as down.
Shown: A small library off the living area holds a decorative wasp's nest and a ceiling fixture made from salvaged sifter parts.
Paint: Normandy (built-ins)
Window shades: 3 Day Blinds
Pillows: West Elm
Light fixture: repurposed sifting devices from Rejuvenation
Master Suite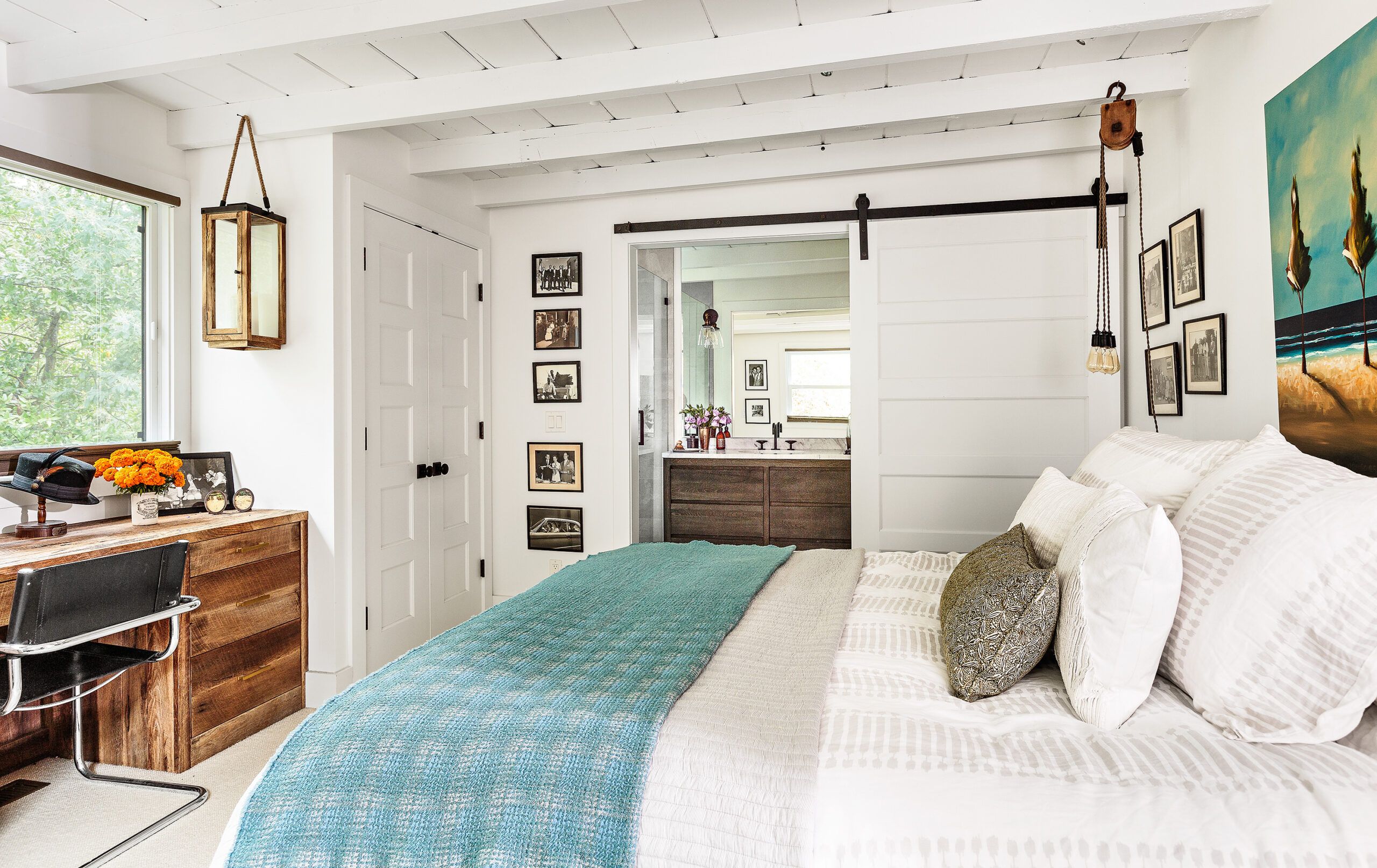 The design-build process included a few fits and starts, or what Tupper calls "a lot of brainstorming."
"The flow was not cohesive whatsoever," recalls architect Ann Bool. "We looked at many ways to approach the floor plan and thought about putting the master suite above the addition." That got expensive fast. Over time, she says, "Scott came up with a perfect outcome, without breaking the budget and while keeping the charm."
Shown: The master suite is located on the first floor. Sliding-barn-door hardware and unpainted wood reinforce the house's rustic-modern style. The painting over the bed is by homeowner Tjasa Owen.
Custom barn door: Rafael Lumber & Building Supply
Paint: White Dove (walls); Benjamin Moore
Chicken Run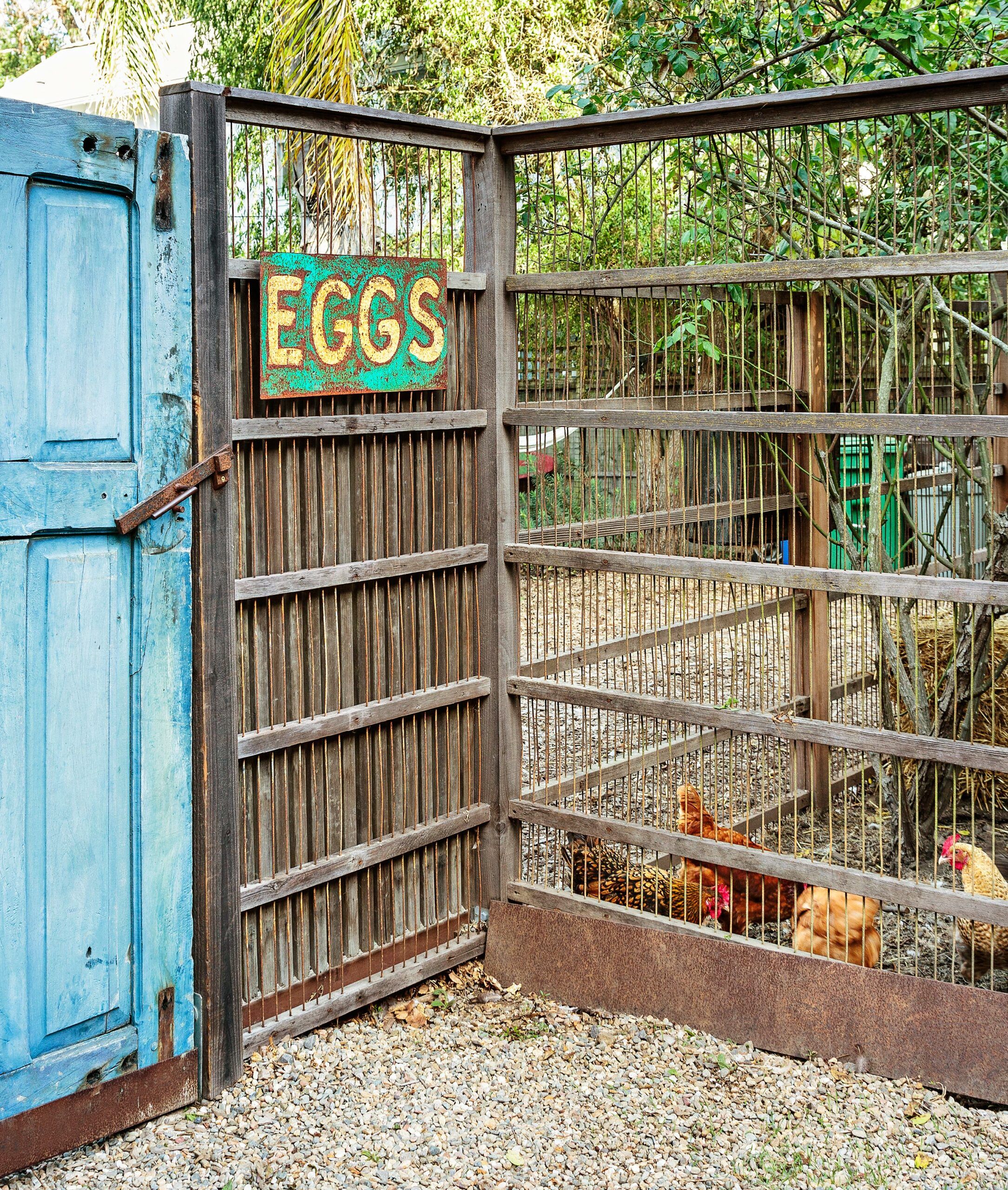 The team kept the addition at one story but took down the wall separating it from the main house. Now rebuilt, it holds the master suite and a family room where kids' stuff can be corralled when adults are afoot. Walls upstairs also came down to convert three bedrooms into two, and one bath to two.
Shown: The household menagerie includes chickens, corralled by a salvaged fence and gate.
Lounge by the Pool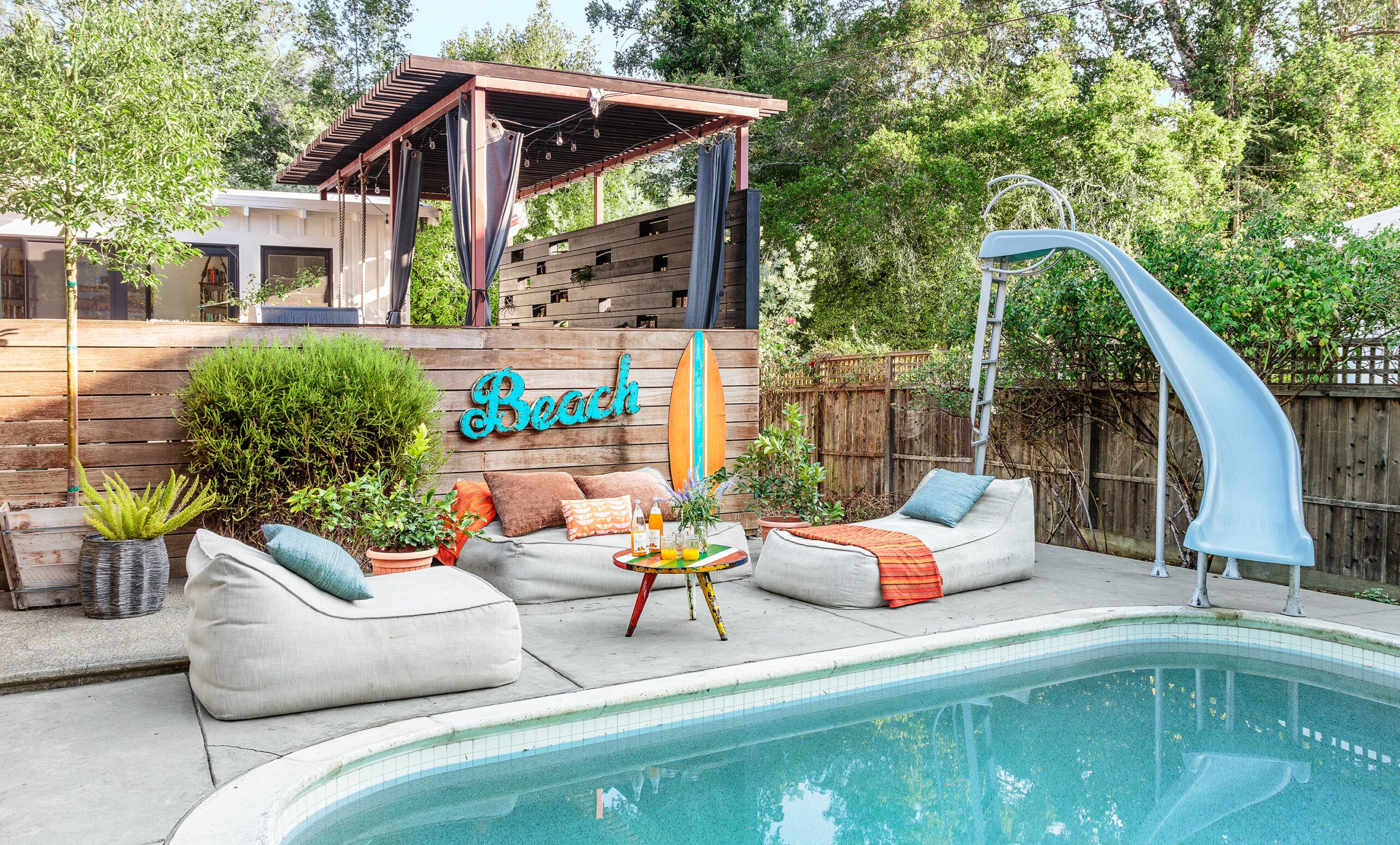 Tearing out what remained of the wall between the kitchen and living room—"everybody lives in the kitchen, so why not unite it with the living space?" says Scott—and merging the living room with a small sitting room, yielded a big open plan with easy circulation and quick access to what ultimately became two decks, one with outdoor dining and lounging spaces—this is, after all, California.
Shown: Frequent great weather in this part of Northern California means plenty of opportunities to dip into a trapezoidal pool that dates from the 1970s.
Beach sign: Harvest Home
Pillows: Restoration Hardware
Spacious Pergola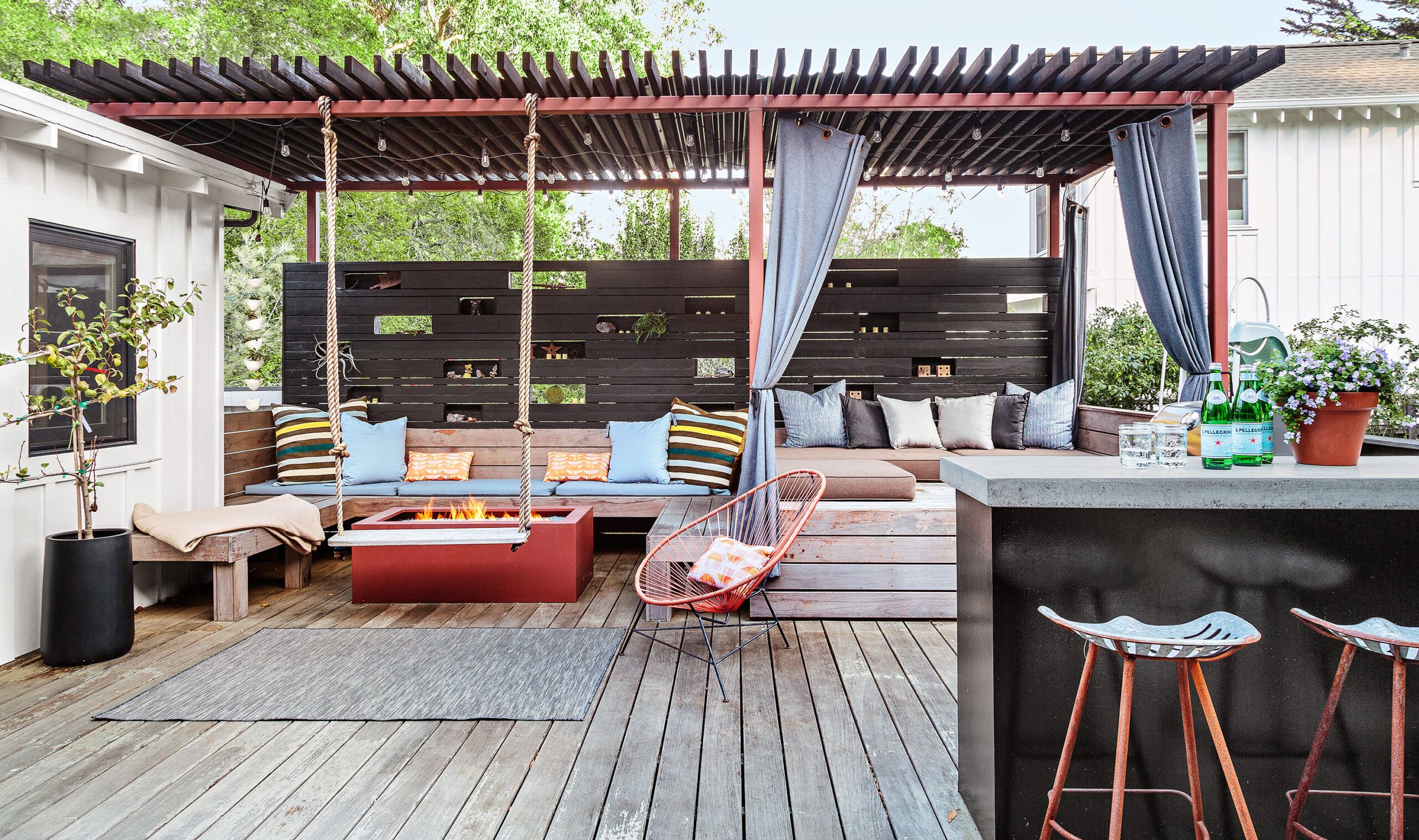 "With kids, having good circulation, being able to move in a circle, is key," Scott says. "Anytime we do a spec project we try to keep things open so kids can zip from the kitchen to the family room and come around without getting jammed."
And because he and Tjasa (pronounced tee-AH-shah) like to entertain, they appreciate having the master suite downstairs. "I like that the kids have their private area upstairs," Scott says.
Shown: A new deck, off the indoor dining area, is partially enclosed by a porous wood wall and an airy pergola.
Pergola, privacy wall, and custom fire pit: Modernscapes SF
Outdoor curtains and pillows: Restoration Hardware
Barstools: Harvest Home
Kitchen Update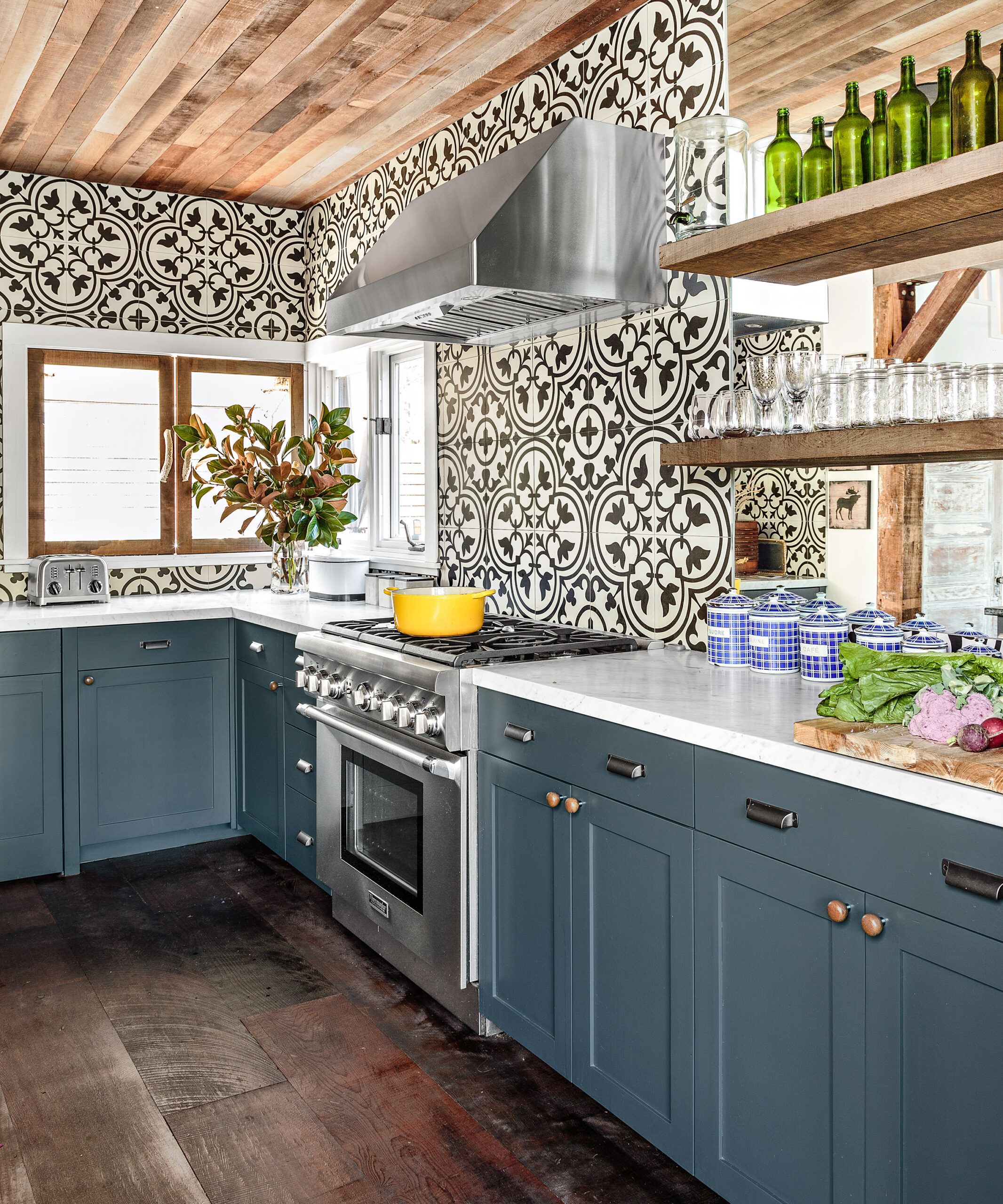 Born with an eye for design—he once co-owned a chainlet of vintage-furniture stores—Scott honed it while renovating his first house, in San Francisco, then a second one there that he and Tjasa redid after they married. Then came the place in Sonoma County, which they built from scratch, and the bungalow they artfully salvaged before moving to their current home. And of course Scott's design sense sharpened even more when he shifted from selling furniture to selling real estate, allowing him to poke around other people's houses and get a sense of what works.
Shown: Homeowner Scott, an avid cook, turned a dated kitchen into an open space with blue-painted cabinets and a pro-style range.
Range: Thermador
Son's Bath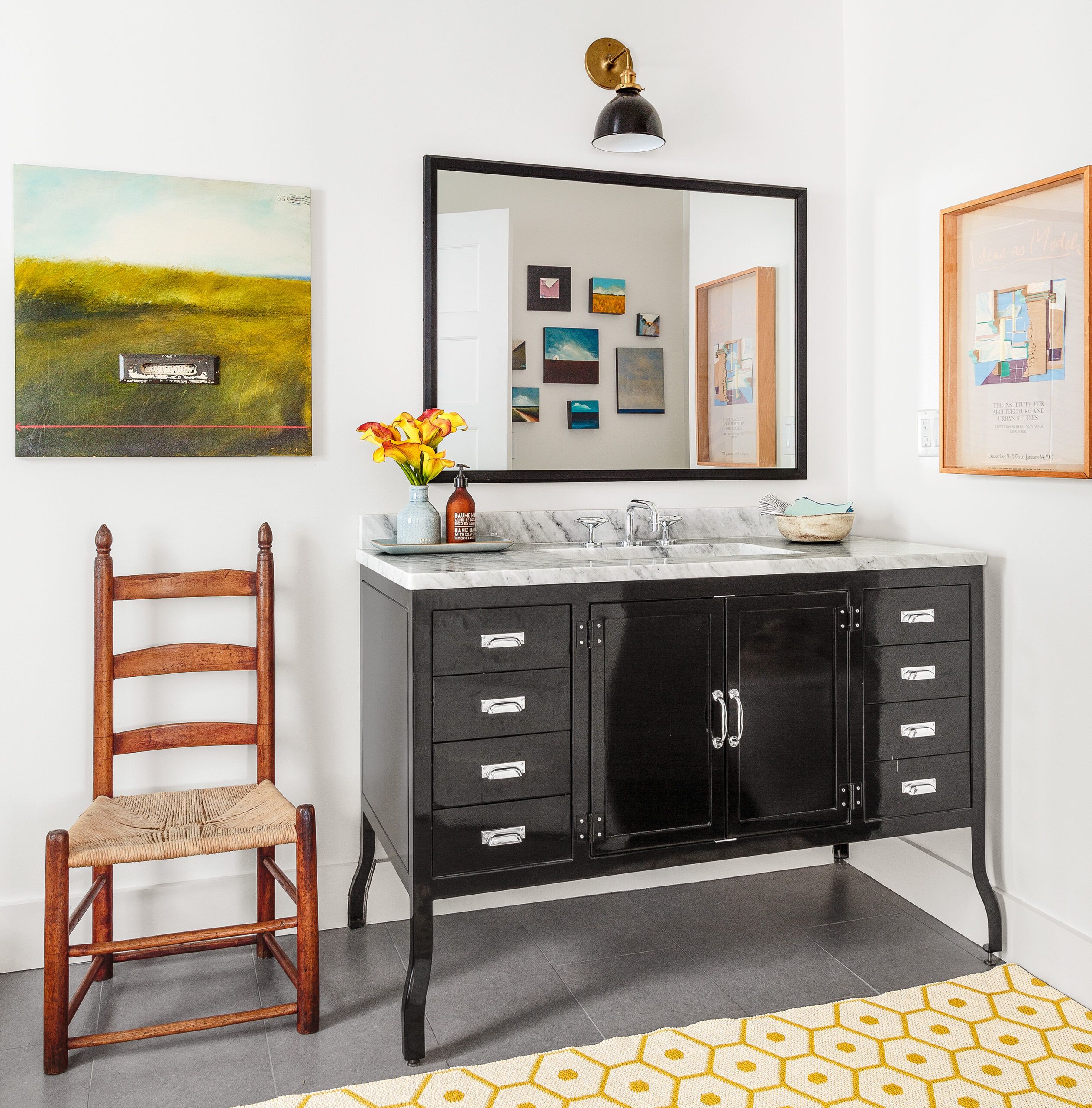 While as an investor or a seller's agent he might have waded in with gallons of white paint, for his own house he chose a lumberyard's worth of reclaimed redwood. Whimsical touches include an aviary that took over an existing ceiling-high greenhouse window in the kitchen, and a fish-tank room divider between the family and TV rooms.
Shown: The son's new second-floor bath has a metal vanity that recalls a vintage medical cabinet and a black-metal sconce.
Vanity: Restoration Hardware
Sconce: Schoolhouse Electric & Supply Co.
Spacious Walk-In Shower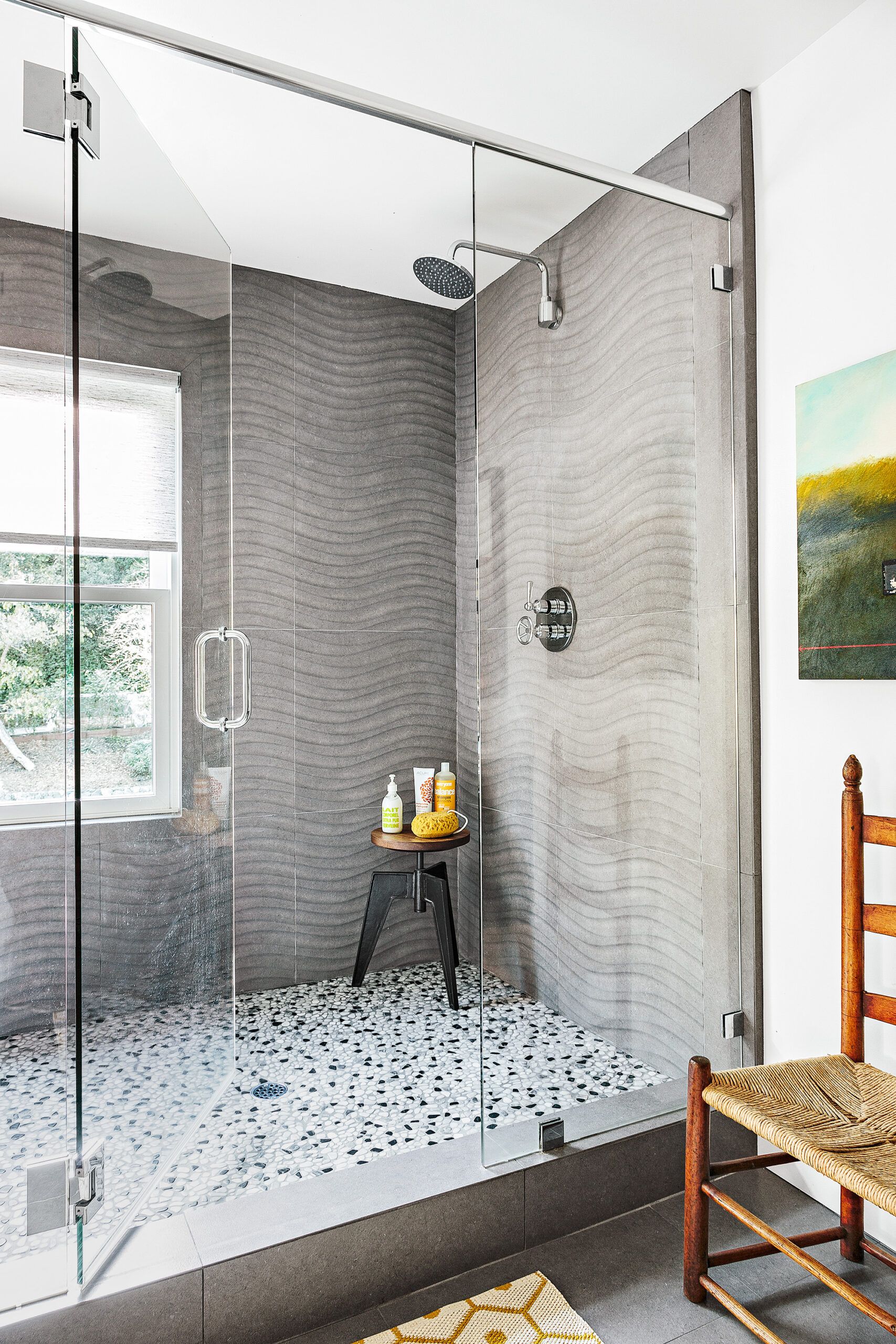 Patterned wall tile and moody-blue cabinets set off the kitchen, where an existing peninsula, framed by structural posts, came out, replaced by a large island pierced by those same posts, fitted with a porcelain farmhouse sink, and topped with leather-smooth soapstone.
Shown: The windowed shower in the son's bath has textured wall tile and a pebble-mosaic floor.
Tile: SpecCeramics
Fittings: Watermark Designs
Kitchen Wall Tile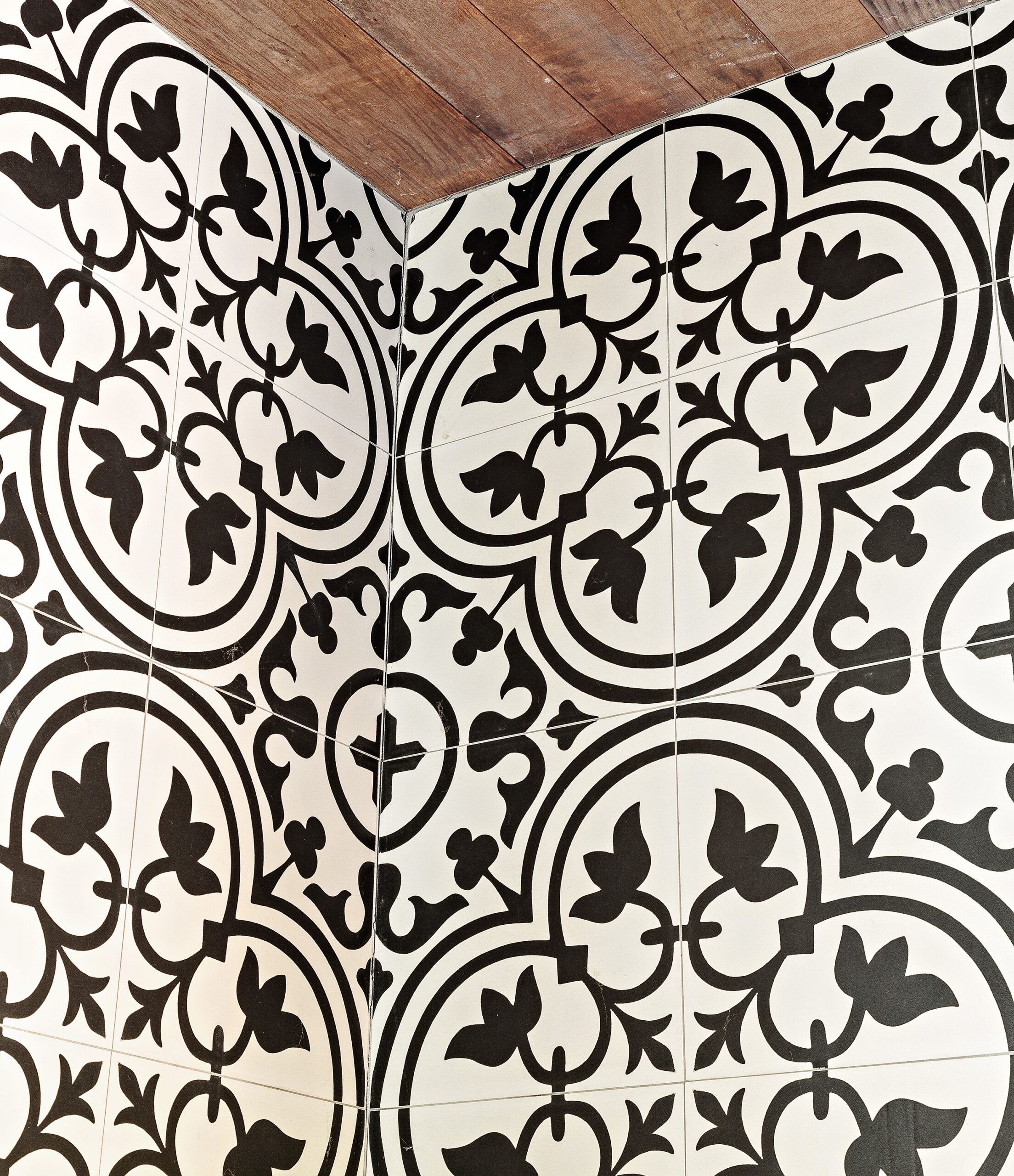 The open kitchen shelves have mirrored backs. "I wanted walking into the house to be an experience, like when you are traveling and you run across an old tavern that is warm and welcoming, with natural materials and a collection of curiosities hanging from the walls," Scott says.
Shown: The porcelain wall tile in the kitchen mimics vintage cement tile without the weight.
Tile: SpecCeramics
Island Patina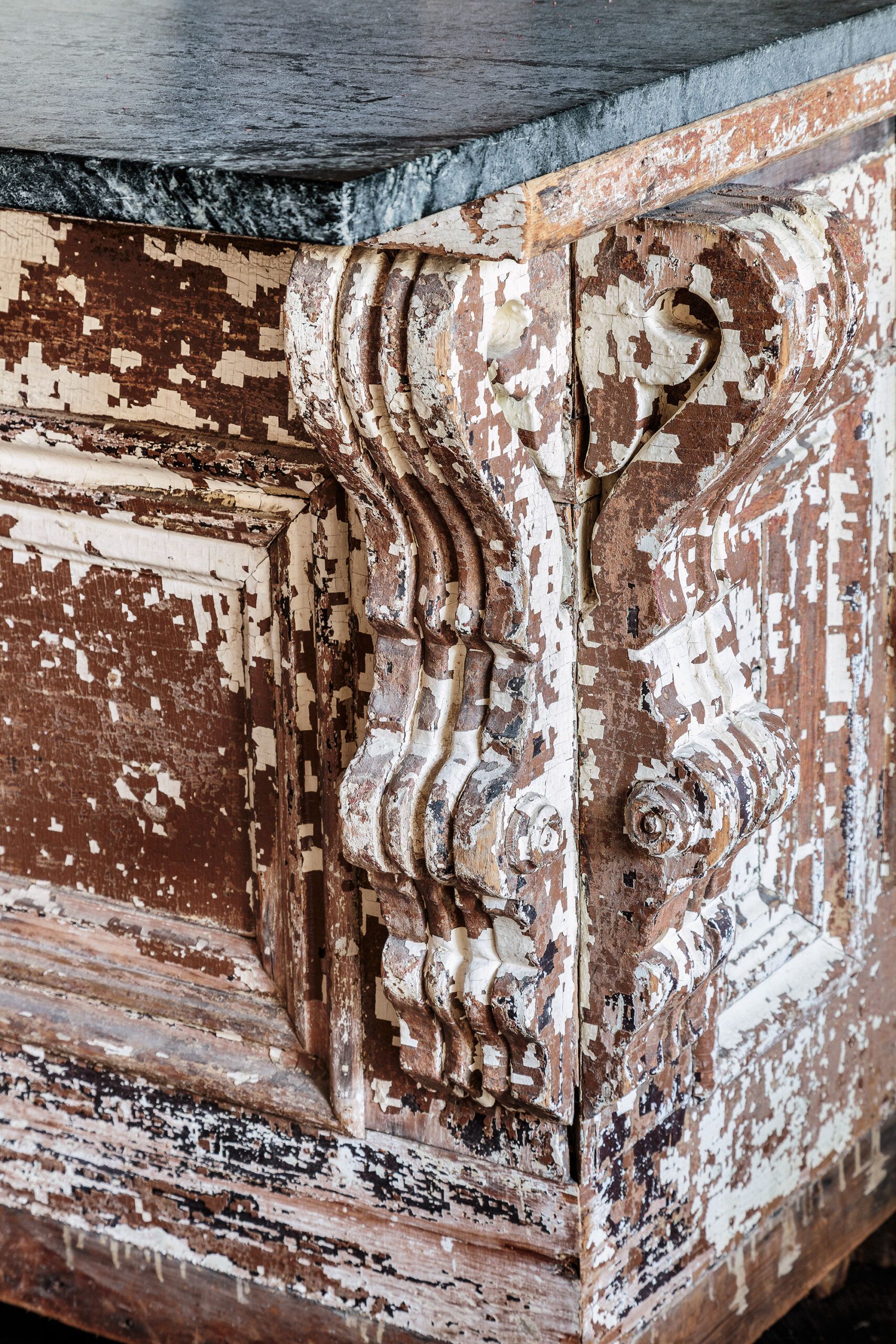 Though Tjasa is a painter, with a studio/gallery on Union Street in San Francisco, she steered clear during the early design work, preferring to weigh in later on things like pottery and artwork. "We are kind of a team," she says. "Scott handles the big picture and I like the fine details."
Shown: The vintage kitchen island's painted wood base has a weathered patina that will only get better with use.
Antelope Pulls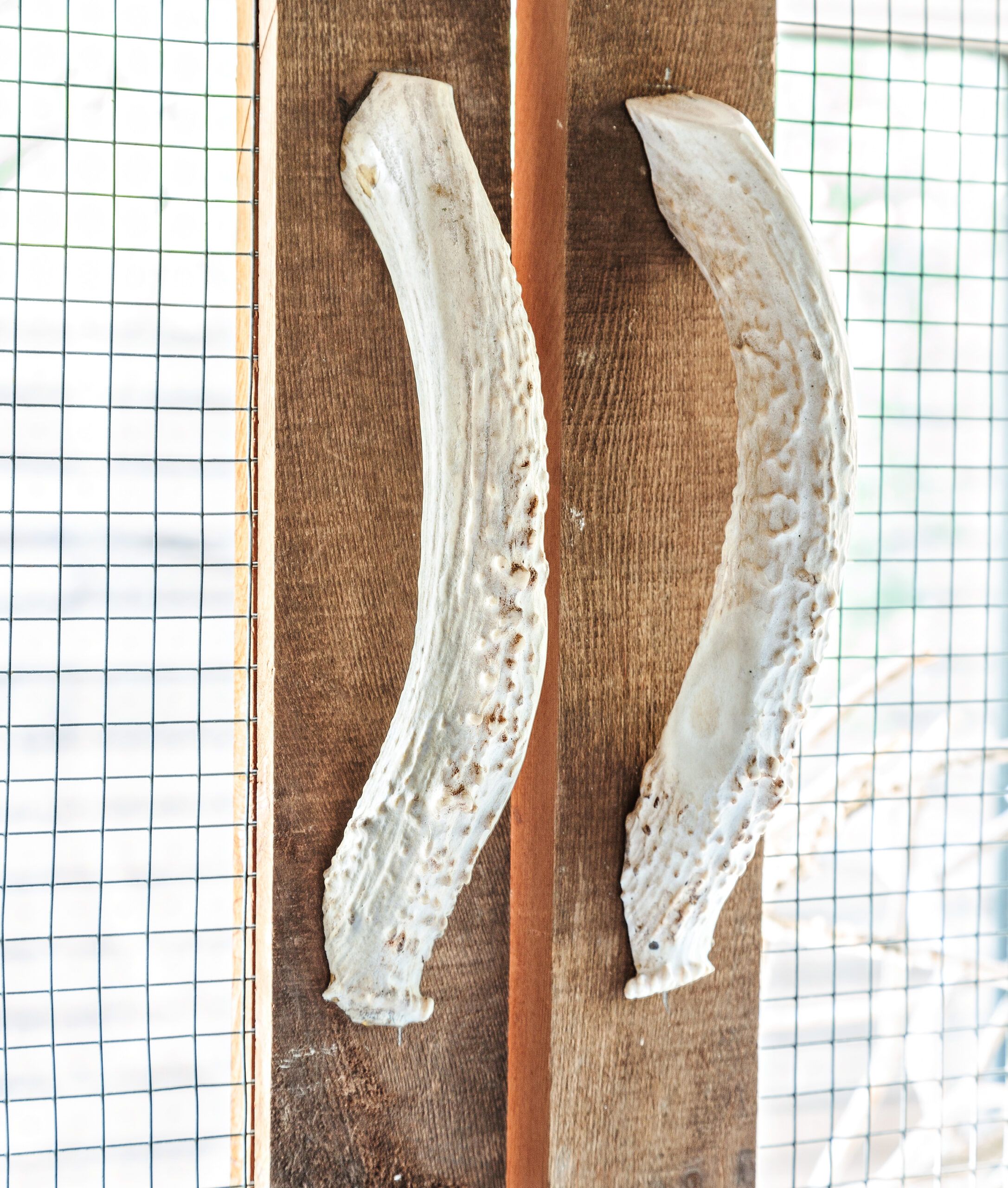 Wire-front doors with antelope-horn pulls access a screened aviary in the kitchen that houses the family's parakeets.
Sliding Bath Door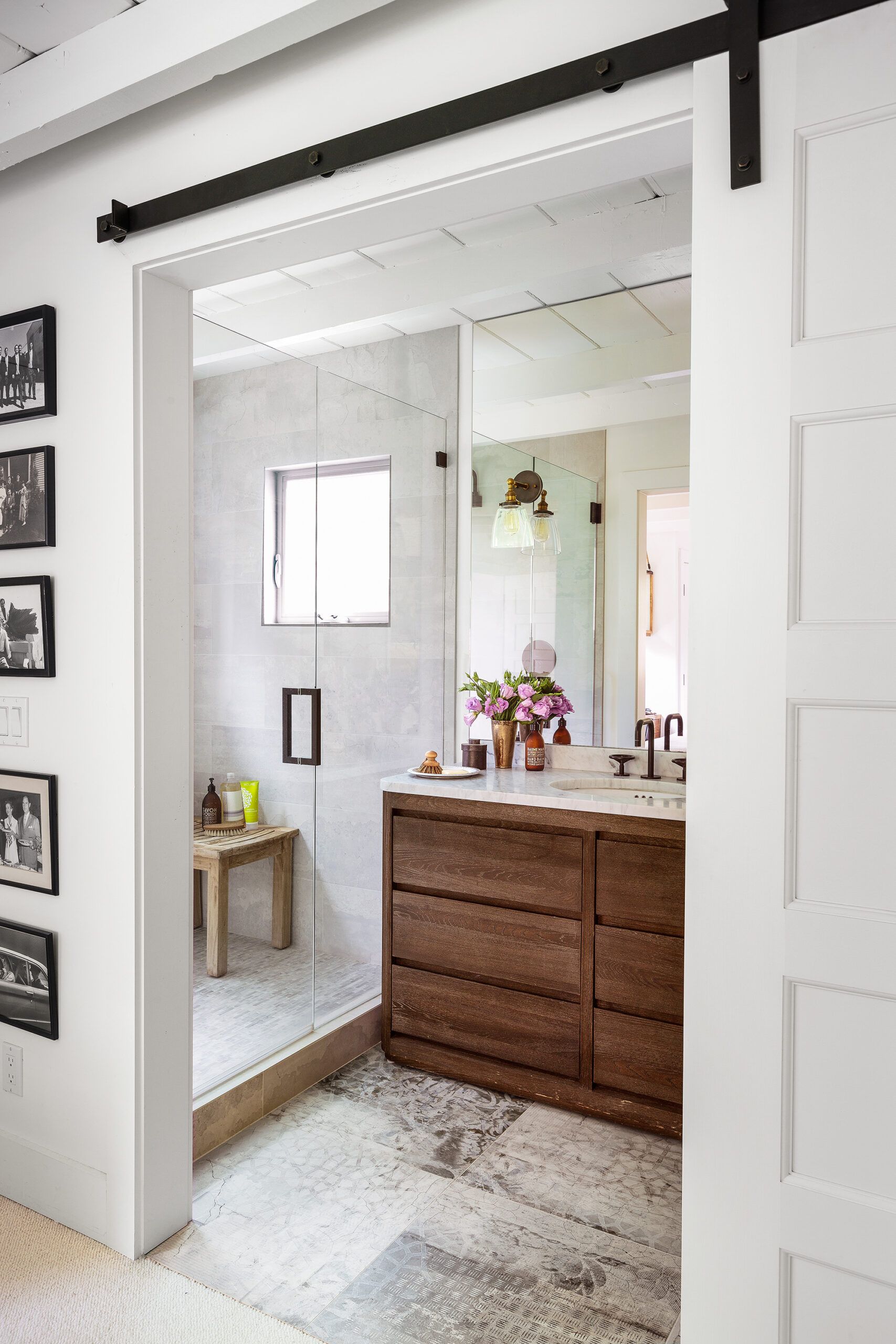 The master bath is set off by a sliding barn door.
Vanity: Restoration Hardware
Faucet: Watermark Designs
Tile: SpecCeramics
Poolscape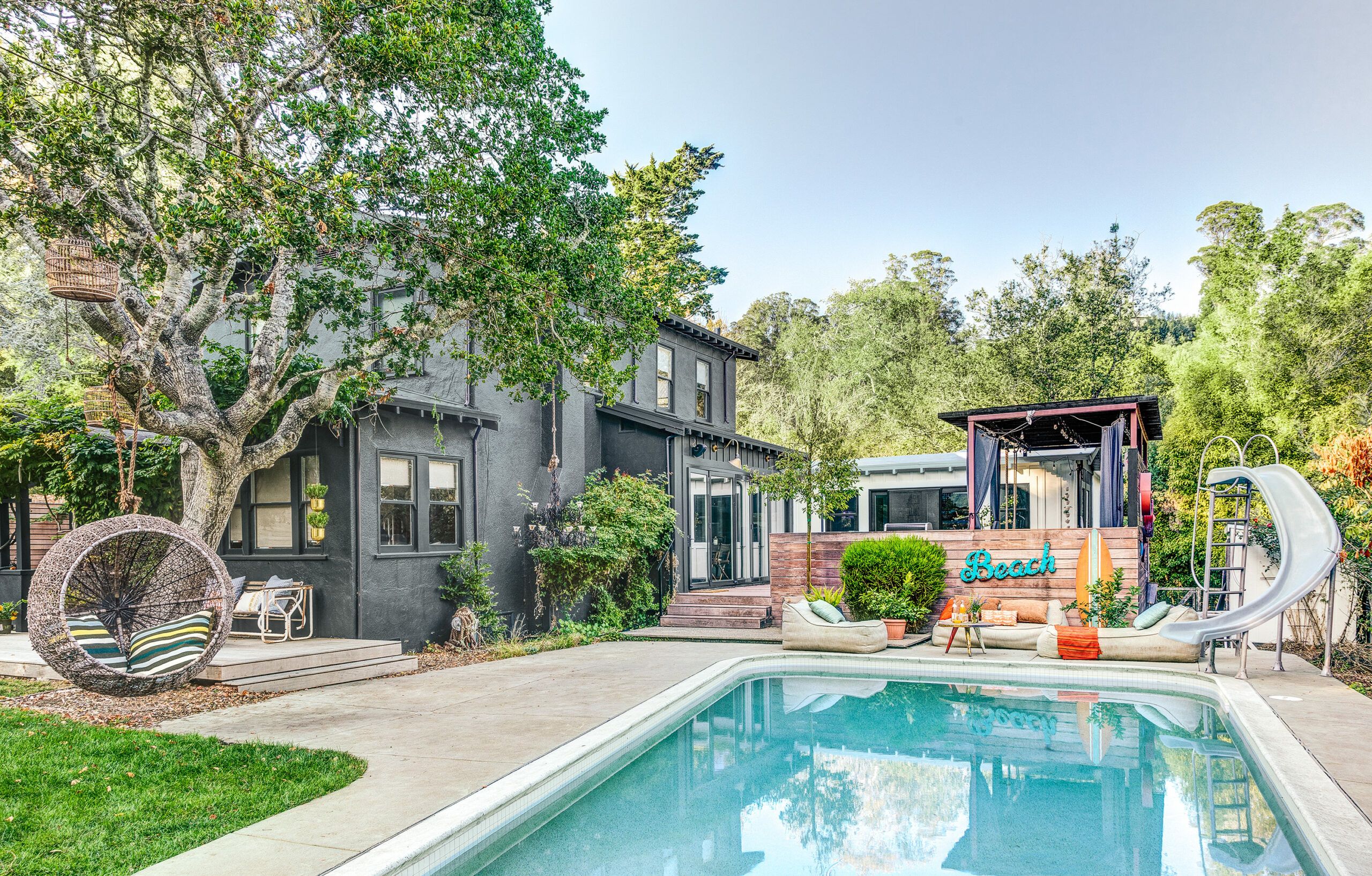 But never mind all that went on inside. The goal of the redo was to get everyone outdoors. Working with a landscaping firm, Modernscapes SF, Scott incorporated deck-top dining space and a daybed for lounging, like ones he saw in Bali.
There's even a henhouse. (Along with fish, chickens, and parakeets, the household includes two rescue dogs, one adopted in Guatemala.) Scott scored a vintage fence for the coop—just high enough to slow down the occasional coyote—at a secondhand store in nearby Petaluma, one of his favorite hunting grounds.
Shown: The homeowners outfitted their 1970s pool with a vintage slide.
Daughter's Room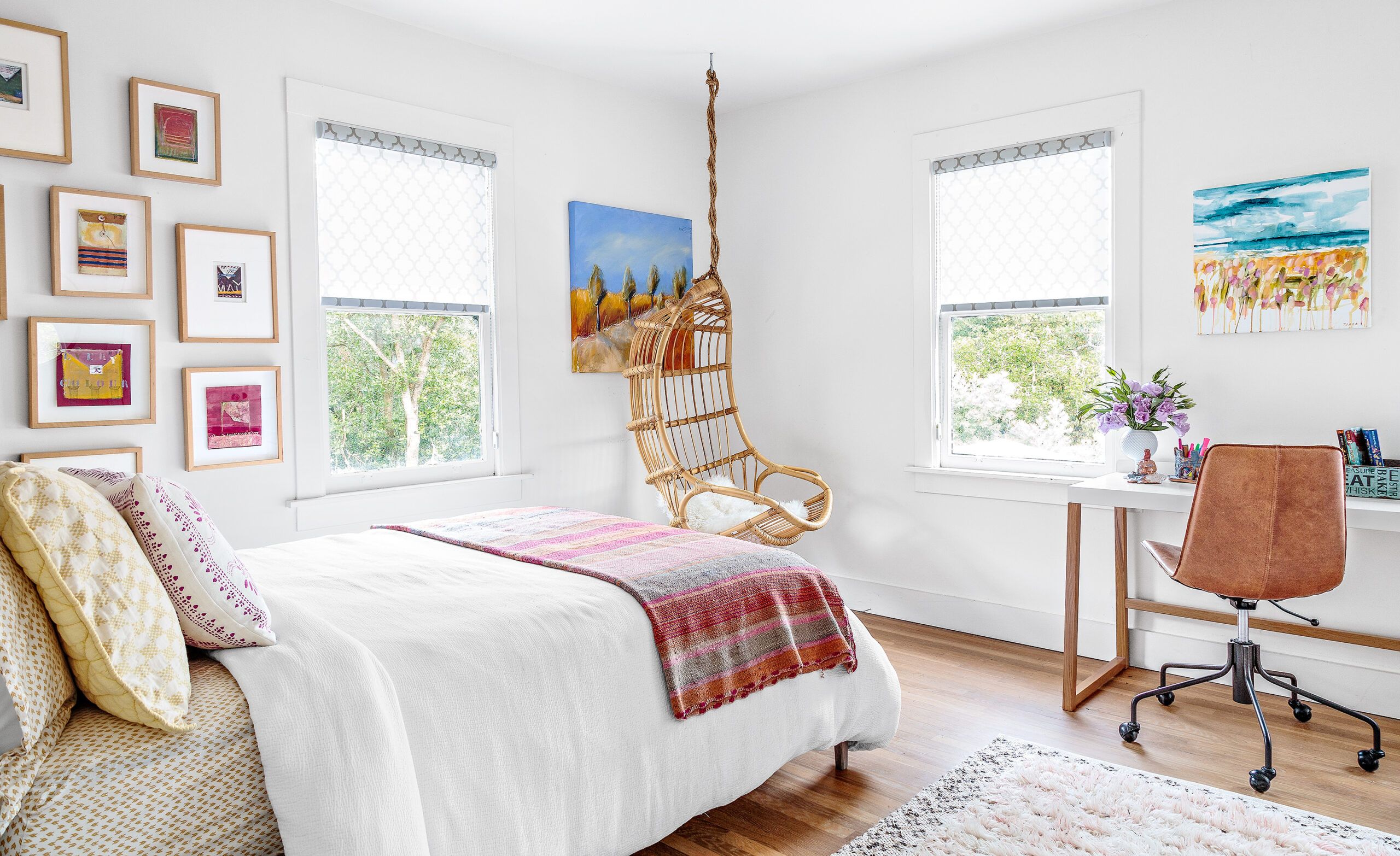 "People walk by and see the chickens and the pool, and they say how much fun it's been to see the house come together," Tjasa says.
Scott couldn't agree more. While others might pause at the prospect of enduring another top-to-bottom renovation, thinking, Oh, no, not again!, for him each project is an adventure, complete with its own rewards, from a kitchen that really cooks to a zip line that carries kids off to school.
Shown: Daughter Remy's bedroom has a ceiling-hung swing seat and artwork by her mother, Tjasa Owen.
Floor Plans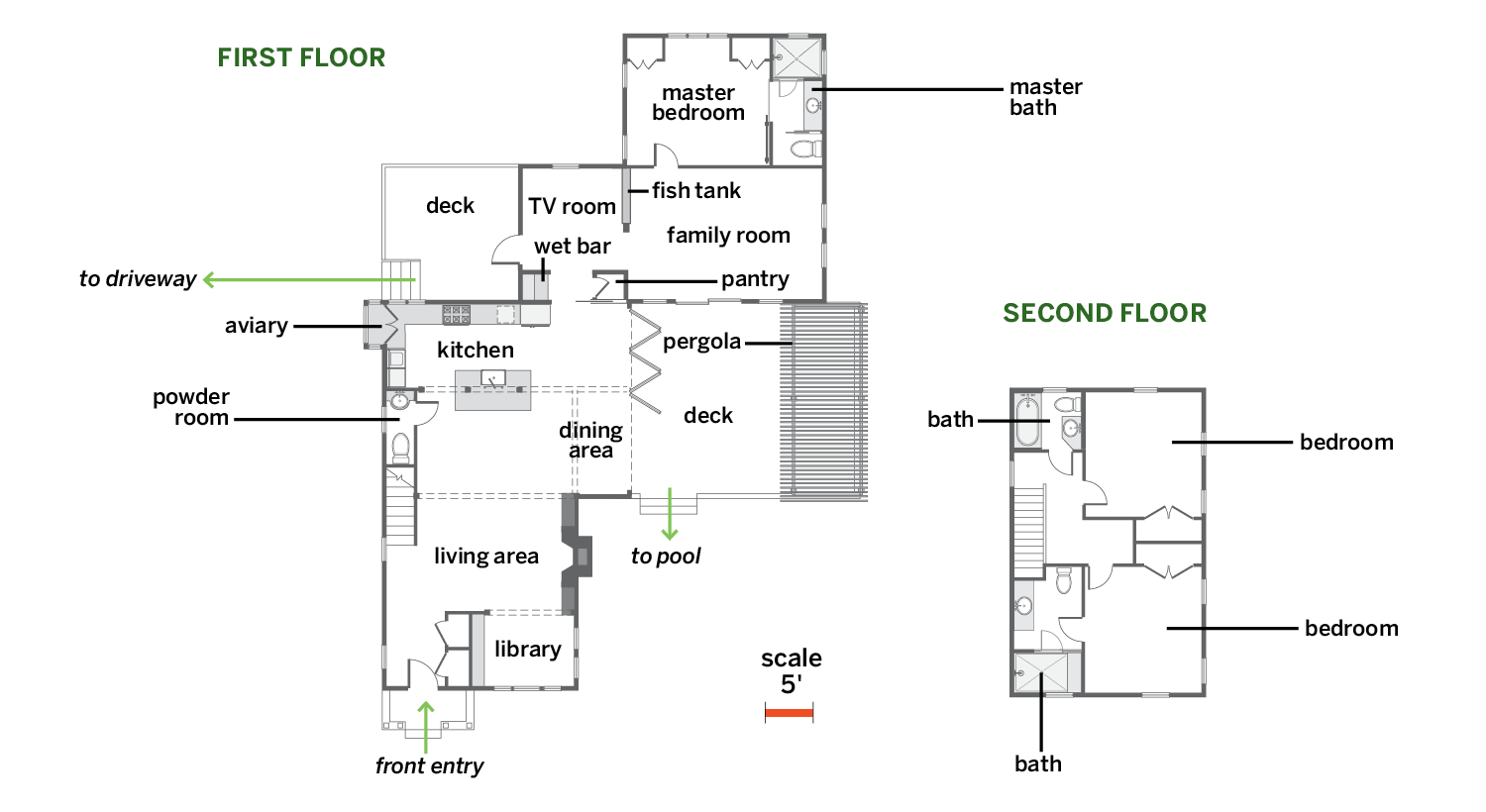 The 2,300-square-foot house came with a rental unit in a one-story side addition that was rebuilt to hold the master suite and a family room. The kitchen, formerly part galley, was enlarged and fully opened to the living room, and a folding glass-door-and-panel system replaced a row of French doors. The powder room was updated, and two new decks added. Upstairs, three bedrooms and one bath were rearranged to become two bedrooms and two baths.