1. Jack-o'-Lantern House Numbers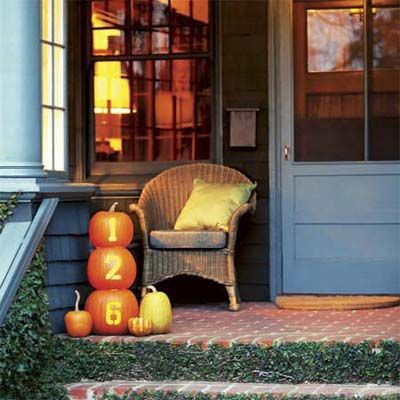 Sure, you want to welcome trick-or-treaters this Halloween, but why set out the same old sawtooth pumpkins they'll see on every porch? Make yours stand out from the crowd by inscribing them with your house numbers. Use a template to draw an outline on each pumpkin, then grab a woodworking chisel or a carving tool (like Dremel's battery-operated one, about $21; Dremel) to form the numbers without slicing all the way through the flesh. Remove the tops from all but the uppermost pumpkin so that you can stack them. For safety's sake, illuminate them with battery-operated lights instead of candles. The warm, homey glow will surely lure lots of little monsters to your doorstep.
2. Tin-Can Luminaries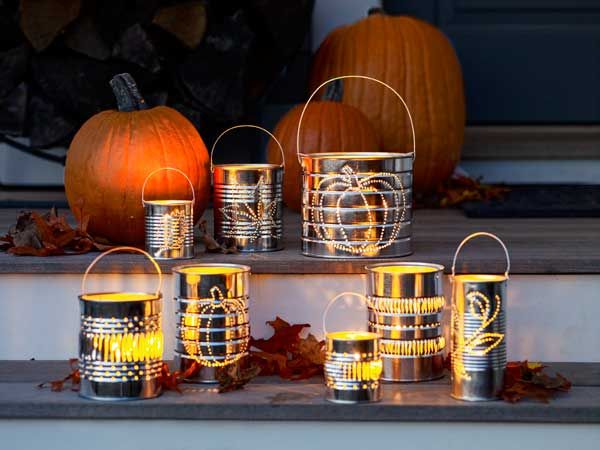 Welcome trick-or-treaters by candlelight with festive punched-out luminaries made from leftover food cans. Raid the recycling bin for a variety of vessels in different shapes and sizes; those that housed tomatoes, soups, or vegetables are all fair game. Remove the labels, and deodorize the insides by wiping with a damp sponge dipped in baking soda. Steer clear of containers that once held flammable materials, and don't bother with the fuss of cleaning out old paint cans—empty ones can be found cheaply at a crafts store.
See the step-by-step to learn how we banged them out.
3. Drill Holes Into Pumpkins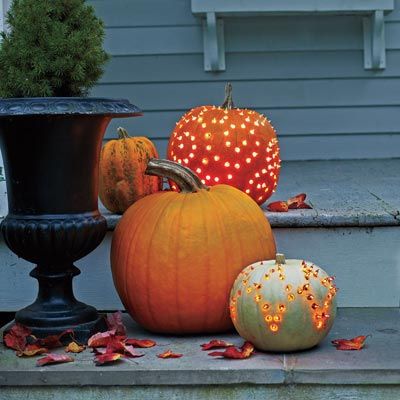 Sure, you rely on it to hang shelves and assemble furniture, but your drill is also the key to turning the pumpkins on your doorstep into out-of-the-ordinary Halloween luminaries. Studded with tiny bulbs in swirling or geometric designs, the gourds shown here make brilliant use of white and orange outdoor Christmas lights (for the most bang for your buck, use energy-efficient LED bulbs)—plus they look far more sophisticated than the average toothy jack-o'-lantern. Come trick-or-treat time, simply plug this crop into your nearest power outlet to illuminate evern the blackest night.
4. Make a Wreath with Cable Ties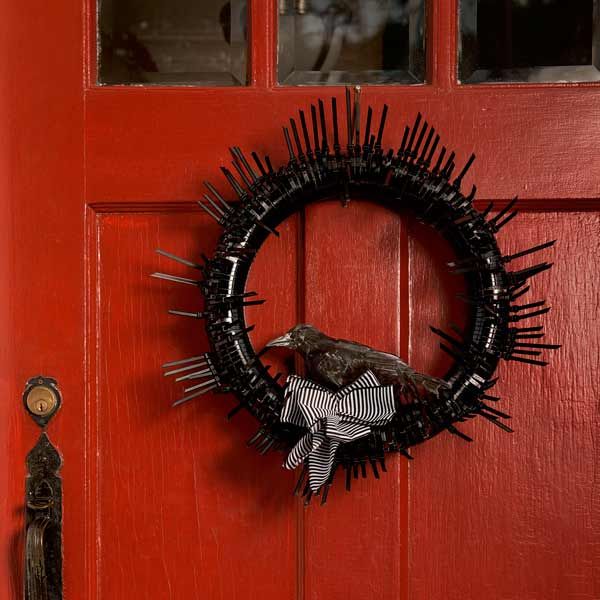 Unwelcome guests might think twice about rapping at your door with this raven keeping watch.
See the full instructions
5. Make a Chickenwire Ghost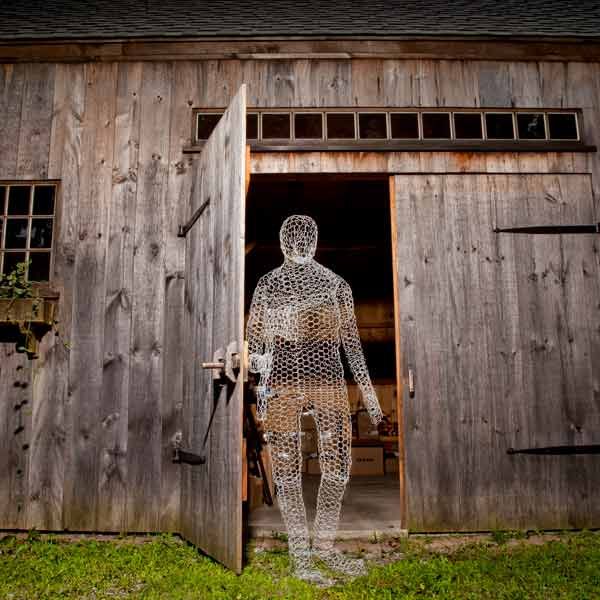 Barely-there chicken wire gives just the right ethereal look to a ghostly apparition. There's a lot of trial and error in the process of pinching and cinching the wire hexes to form a life-like shape, but luckily this malleable medium can be easily reshaped as you go.
Here's how to conjure up your own: How to Build a Wire Ghost