1914 American Foursquare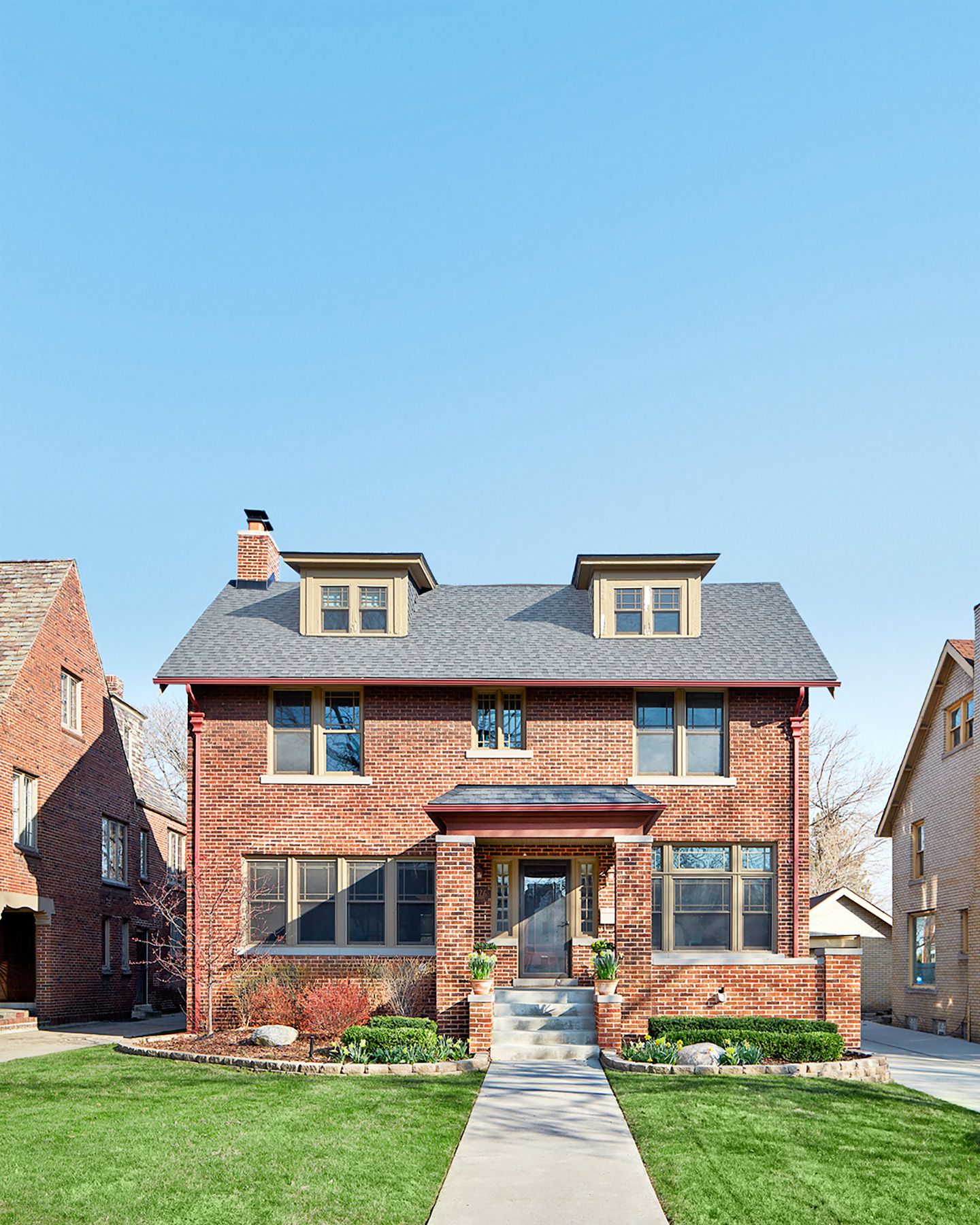 When Abir met Andre, owning a house in Detroit wasn't on either one's must-do list. But couples rarely know ahead of time how emotions will run, and that was the case here.
At the time, Abir Ali and Andre Sandifer were architecture students at the University of Michigan. She's from Detroit, once known for its lively skyline, more recently for being the largest U.S. city to declare bankruptcy. Sandifer grew up in Grand Rapids, Michigan, also known as Furniture City. After he earned his master's in architecture at Michigan, and she hers at the University of Toronto, he fell in love with the idea of designing and making bespoke wood furniture. It was 2003; she joined him a year later, and they would move to still another place, Chicago.
Chicago was great, Ali says, but "five years in, it still didn't feel like home"—and never mind trying to buy one. "We placed a dozen offers and lost each one," she says of their exhausting two-year quest for a house for their two young boys. What's more, getting around required surprising amounts of driving.
Shown: the 1914 American Foursquare which was empty and boarded up before being renovated about four years ago.
Family Hub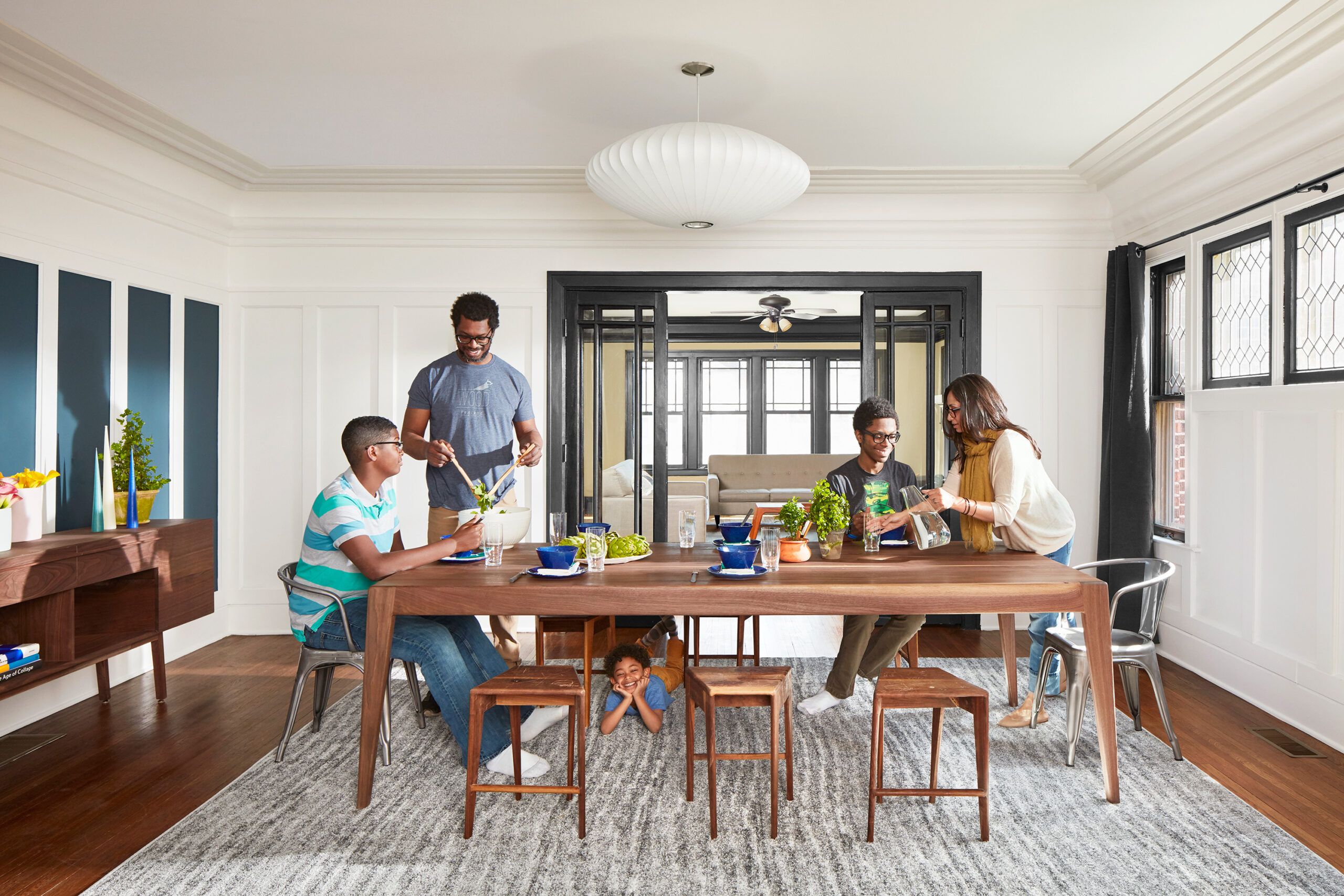 Their studio, with clients mainly on the two coasts, could move easily, and in 2011, with another son on his way, the couple cast about for a new place to live and work. Toronto was appealing but expensive. Ann Arbor was behind them. They began to think about Detroit. Ali's folks, who settled there in the early 1970s, would be nearby. The problem would be finding a livable house. There were so many abandoned houses in Detroit five years ago that tearing them down and salvaging their parts was something of a cottage industry.
Ali, who had been working in Chicago as a designer of affordable housing as well as high-end furniture, decided to test the water by applying for a two-year fellowship in Detroit, through a program aimed at engaging midcareer professionals in the city's revitalization—or previtalization, as some were calling it. One of a number of efforts to help keep and attract creative thinkers, the fellowship proved so rewarding it helped persuade the couple to stay.
Shown: Andre Sandifer, standing, and Abir Ali, far right, designed and built the walnut dining table in their 1914 American Foursquare. The couple, with kids Ziggy, 16; Ali, 14; and Rami, 5, were drawn to Detroit partly because it offered a chance to live and work among fellow artists and craftsmen.
Vintage Modern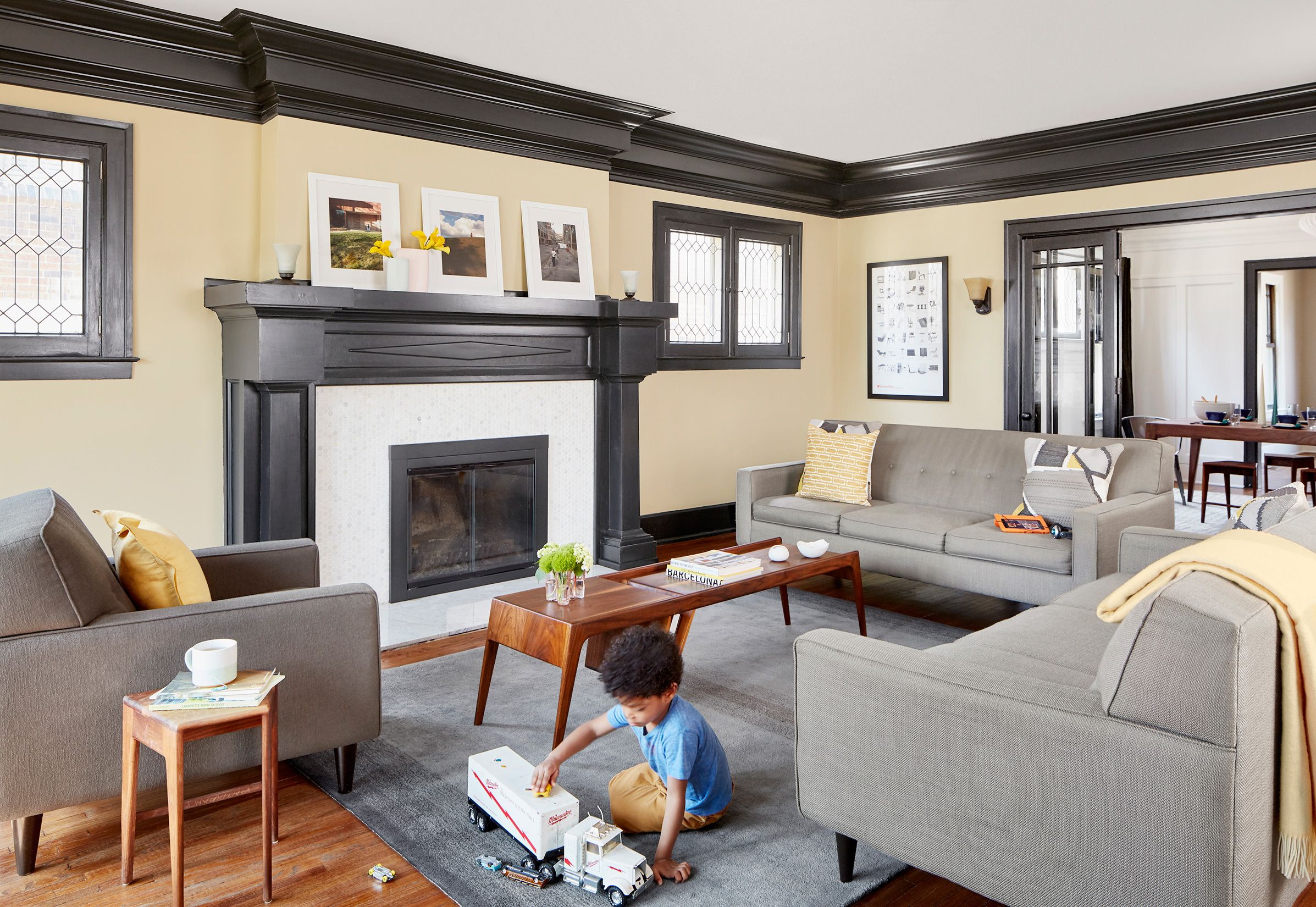 Friends balked. "It was, 'Why would you go from Chicago to Detroit?' " Sandifer says. "They imagined that our business would do better in Chicago—but the opposite turned out to be true, because here we have a higher profile." Finding good schools was relatively straightforward too; Ziggy, now 16, attends a charter school led by Detroit's College for Creative Studies, and Ali, 14, just graduated from a charter middle school.
While the city is filled with empty buildings, workspace can be very raw, and the couple's goal was to beat a smooth path from home to school to work. Gradually the pieces fell into place. Studio space was available in the Russell Industrial Center—home to an auto factory in 1916, now a hive of artisans and artists. The studio offers a handful of signature pieces and also accepts commissions. The couple's design work involves a lot of back and forth between them, before Sandifer crafts the furniture in walnut, maple, or white oak.
Shown: Rami finds getaway space in a century-old living room that still has its original leaded-glass windows and built-up crown molding. His parents gave the house a contemporary feel by furnishing it with clean-lined furniture. The two tables are products of their studio, Ali Sandifer, in the Russell Industrial Center (RIC), a cluster of buildings designed by Albert Kahn around the time the house was built. Back then, Detroit was growing fast.
Homegrown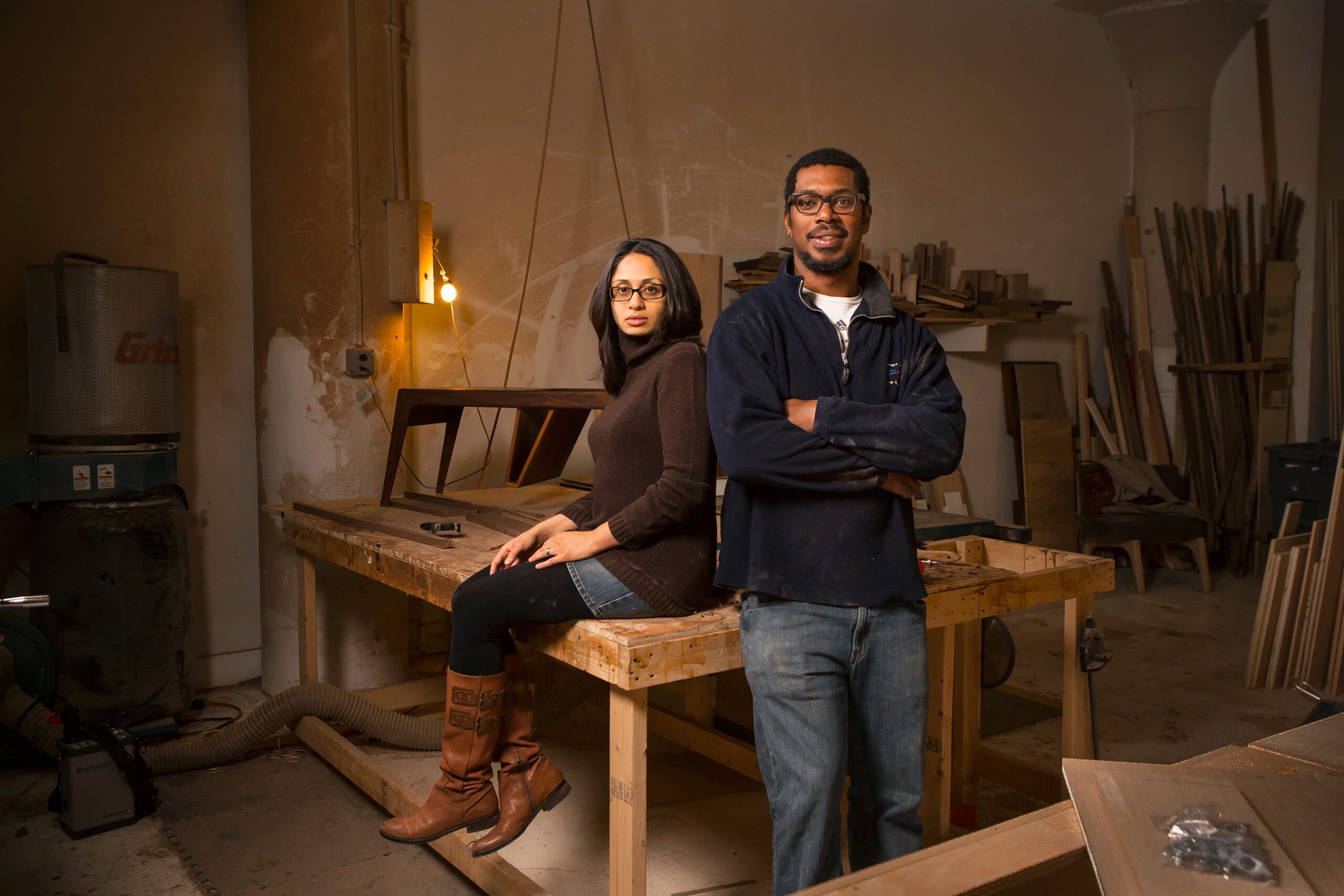 When they first saw their house, it was being renovated under a federal program created after the foreclosure crisis; dilapidated houses dragging down otherwise healthy areas were being fixed up and sold with the goal of making a neighborhood whole again. "Friends of friends said, 'Hey, you have a small business and a large family, and you may qualify,' " Ali recalls.
It's important to keep in mind that Detroit is spread out over 139 square miles and lost more than half of its population between 1950 and 2011, leaving vast amounts of real estate untended. The city's ballyhooed effort to resurrect itself is easiest to see within Greater Downtown, an area of about seven square miles that includes not only glittering skyscrapers but easy access to historic neighborhoods like Boston-Edison—where the couple's house-to-be sat, on a tree-lined street.
Built in 1914, four years after Henry Ford opened his famed Highland Park assembly lines, it's a sturdy Foursquare, not far from the boys' schools and even closer to the furniture studio. In 2013, when they finally bit, it held not only three baths and five bedrooms but an upgraded infrastructure.
Shown: Ali and Sandifer collaborate at their studio in the RIC, nestled among dozens of other austere workshops run by designers and makers.
A Magnet for Creative People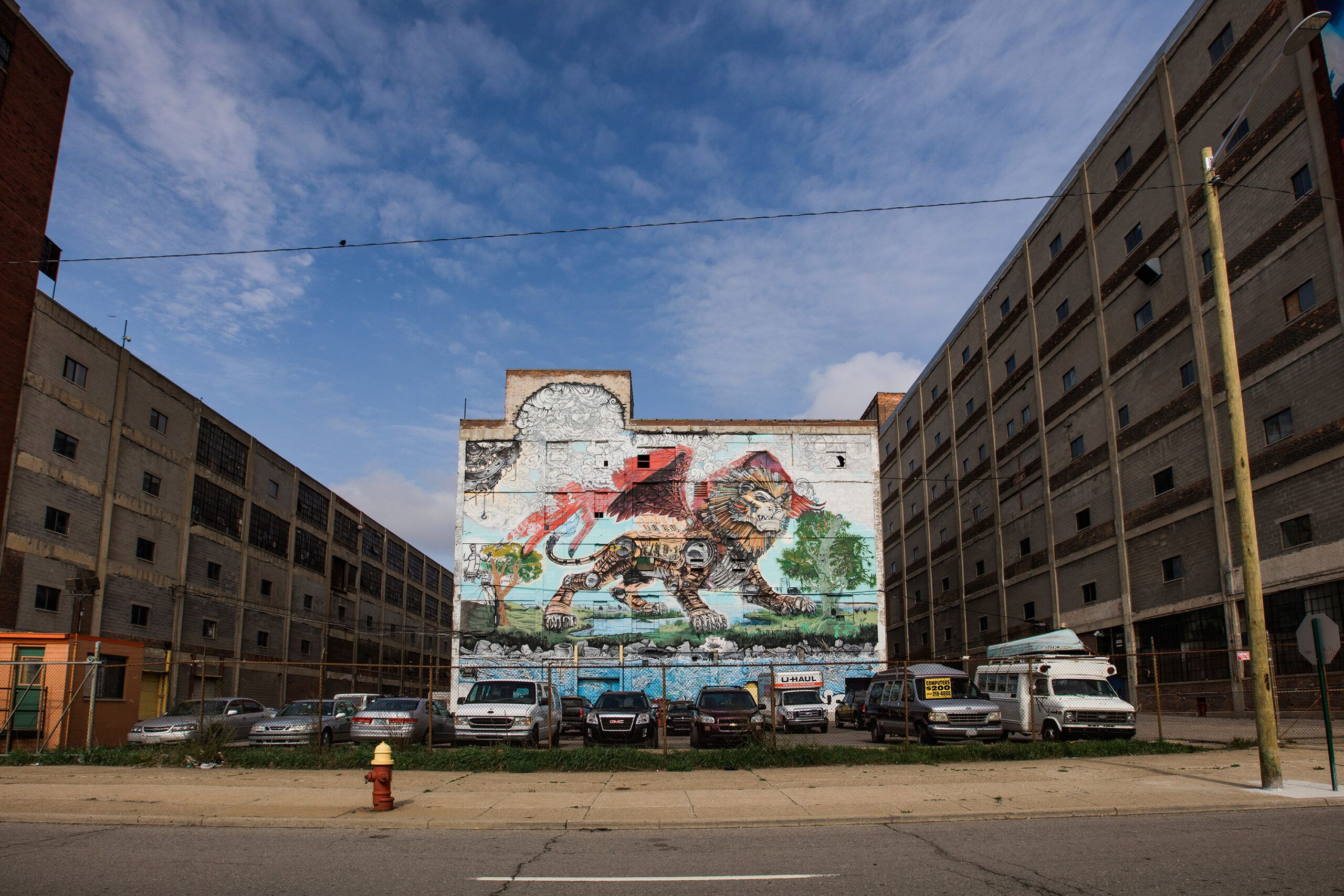 Not to torment home buyers in Brooklyn and Boston, but get a load of the price: $100,000.
"So we're in this beautiful old house and, wow, we're these modern-furniture designers," Ali recalls. "How are we going to make it our own?" She continues: "We're known for our handcrafted tables, and we're all about food and family. So we said, let's start with the dining room, here's where we can merge our more modern sensibilities with a hundred-year-old house."
You know the old joke about the cobbler's son having no shoes? Let's just say that getting that table from the drawing board to the dining room took more than the customary 8 to 10 weeks.
About 8 feet long and 42 inches wide, it has elegantly angled legs, part of large U's that frame a top made by gluing together eight boards, Sandifer explains, adding, "It's all about structure."
When Ali isn't busy at the studio, she directs NEIdeas, which gives away $500,000 a year in grants to existing businesses. "It's how I use the other half of my brain," she says.
Like other converts to "lean urbanism," which stresses the role of small businesses, creative entrepreneurs, and community organizations in redevelopment, Ali believes in a gradual upward spiral. "There's this energy you see, whether philanthropic or grassroots. That's why Detroit's such a magnet for creative people."
Shown: Artist Kobie Solomon finished one prominent wall at the RIC with a painting of a chimera, incorporating references to the city's major sports teams and its artisans—that mane is bristling with brushes and chisels.
Window Whisperer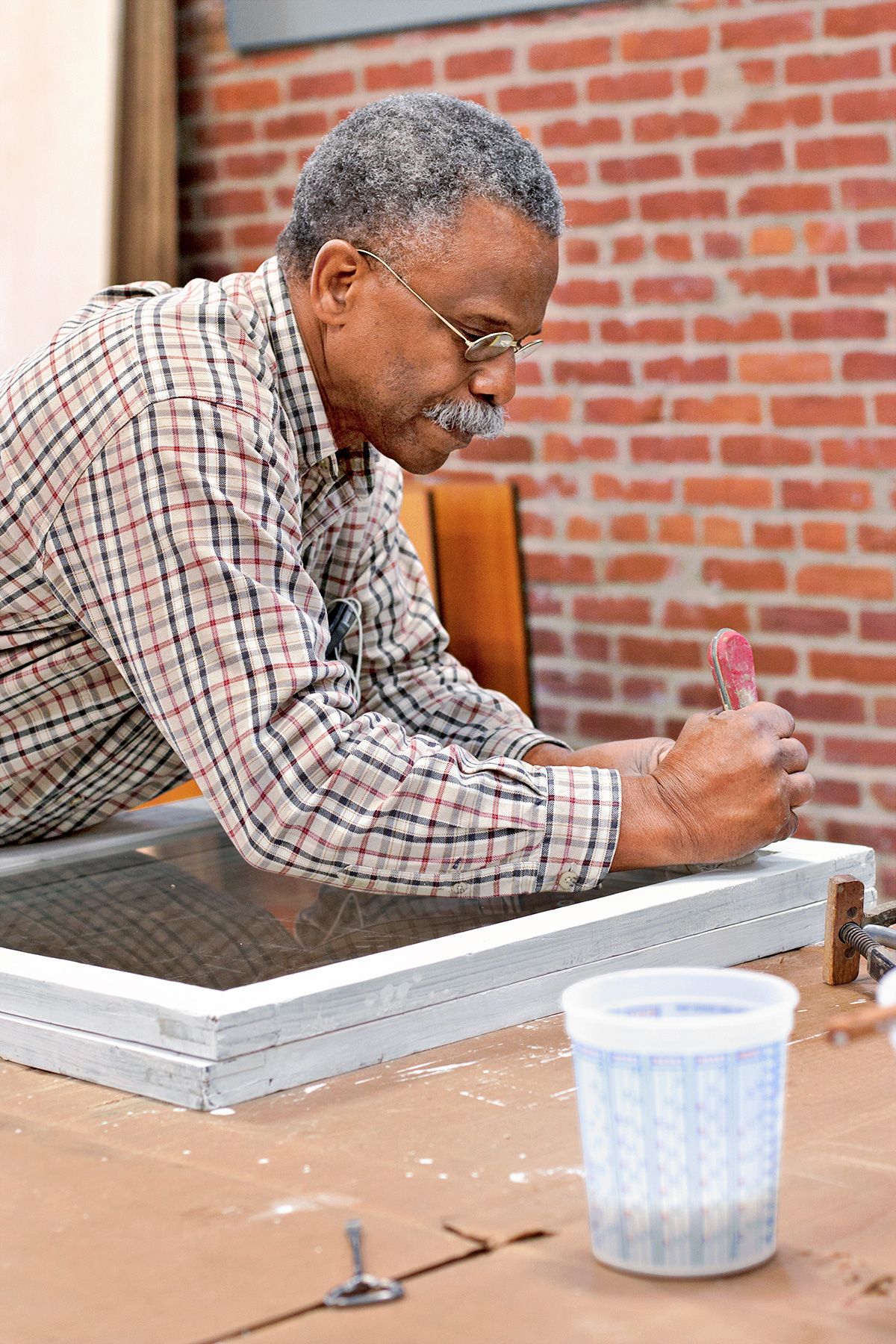 Though his calling is all about the details, James Turner—fixer of wobbly sashes, loose panes, and wood trim—likes to keep an eye on the big picture. "I've always been interested in the history of this city and found it to be rich," he says, adding that today's new frontier spirit is similar to the one that fueled French settlers 300 years ago. "The opportunity is there to make your fortune, under the radar or in the heart of it," he says.
Turner's own journey began 28 years ago when he bought a house in the Arden Park–East Boston historic district-. Within a year he was an active preservationist, and in time he would become an expert in salvaging old windows and trim.
Though his business, Turner Restoration, has warehouse space, he works mainly out of his pickup, reasoning that if he did repairs back at his shop clients might get nervous. For one, who wants gaping holes inviting in the whole neighborhood? And what if he never came back? "If we take a window out, it will be in by the end of the day," he vows.
Turner finds time to teach apprentices in both Detroit and Louisville, Kentucky. He also squeezes in a little networking, key in this city of self-starters. "A young graduate from the University of Oregon shadowed me for a few days, then decided to move here," he says. "It was her talent and tenacity, but I felt honored to help her get an interview with an architecture firm."
Whether a maker designs new homes or glazes old windows, Turner has that big picture in mind: working with others to make what he calls "walkable, livable, enjoyable communities."
Shown: James Turner, longtime old-house champion